Luca Drawing Is Created In 9 Easy Steps
Creating A complete Luce drawing in just 9 easy steps
You learn how to draw Luca with our super easy-to-follow step-by-step Luca drawing tutorial. As we all love the character, 'Luca', from the movie, you would like to draw that character to make him real in our drawing and imagination, In this tutorial, we draw give nine instructions steps, and you can draw this on paper as well by following this tutorial. We also illustrate each step. You can refer to our simple step-by-step drawing guide below and get complete Luce. the favorite character. If you are a parent, you can learn to draw Luce with your kids; they get a great time and relax with this activity. Along with the tutorial, we have also included a couple of free Luca coloring pages that you can print off and give to your kids to color! You and your kids will become real artist.
How To Draw Luca – Let's Get Started!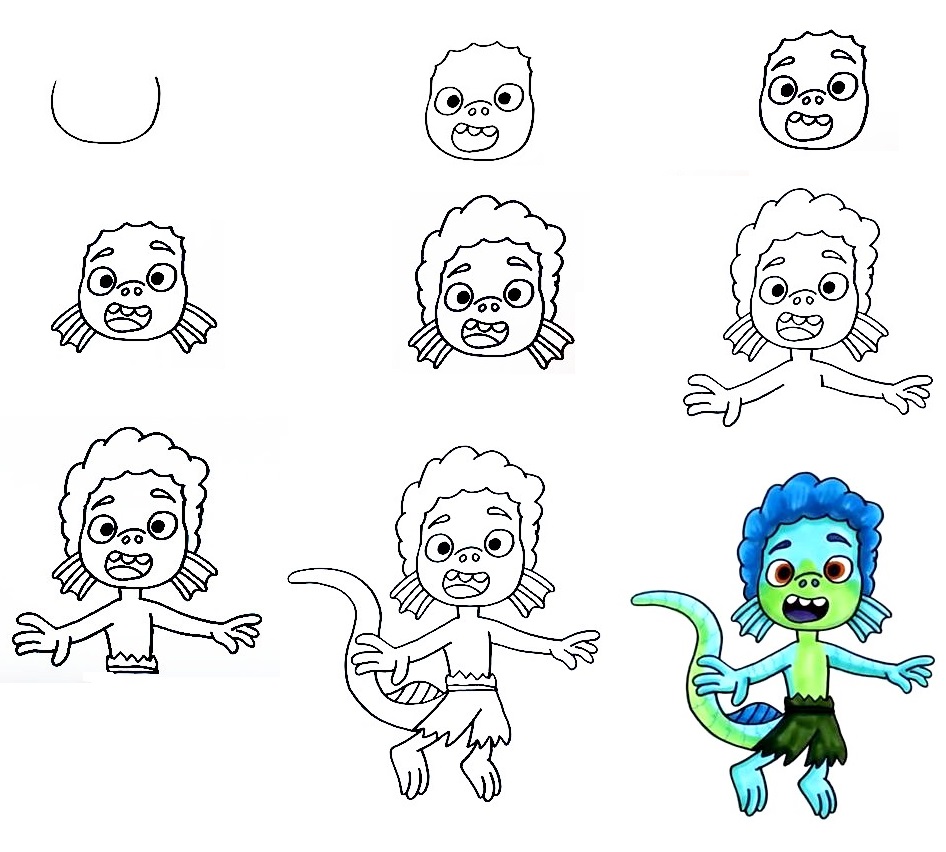 It would help if you prepared a pencil, eraser, colored pencils, and drawing paper before drawing. You will use a pencil to draw on paper, so you can erase mistakes easily. You will go to step by step in the instruction and realize your task. Your product is Luce. Whether you are a beginner, you are an expert, you can realize your task easily with your patience. Don't be afraid to draw wrong or draw right with your feelings and abilities. Drawing and coloring are good activities for everyone. You can enjoy them after the hard-working hours and get fun. Your time and a lot of practice( okay, at least some practice). Drawing complete Luce is not an easy task, but it is not too difficult; you need to keep calm and patient in the course of drawing. Now, let's get started drawing Luca with us
Step 1 – Draw Luca's Face Outline

You start drawing Luce with his face outline. Use a u-shaped curve to draw Luca's face. Very simple; you even spend some second to finish the task of this step and move to step 2.
Step 2 – Draw Luca's Face Details

Now, you continue to realize your task in drawing Luce. You will draw eyes, mouth, nose, and teeth for him. On the face, you draw two circles, and within them, you draw two small circles then you use black to color for two small circles. They are the eyes and pupils of Luca. Under the eyes, you draw a curved line and two small dots for the nose. You continue drawing mouth and teeth for luce, and you use some curved lines to create his mouth. Inside Luca's mouth, you draw small triangles representing his mouth. Don't forget to use one small curved line to make a tongue. That's all there is to it for this step, so when you're happy with the look of it we shall continue adding to this duck in the third step.
Step 3 – Draw Luca's Eyebrows

You must draw Luca's eyebrows in this step. On the eyes, you must draw two curved lines for the eyebrows. Then you can use black to color them as well. So, you finish your task in this step, and you can go to next to the fourth step now.
Step 4 – Draw Head Decoration

On each side of your neck you'll draw 3 parallel lines below Luca's hair, which is an additional decorative addition to Luca's head and hair. You finish your task here and move to the fifth step right now.
Step 5 – Draw Luca's Hair

so, guys, this is the fifth step of this drawing. In this step, we have to draw Luca's hair. You will draw curvy lines around the head to form Luca's hair. Since the hair covers his ears, you don't need to draw the ears; just show his hair. I hope you have understood everything now and are moving to step 6.
Step 6 – Draw Luca's Hands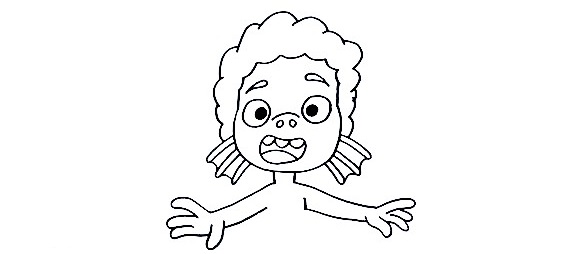 In this step, draw Luca's hands; you will use the straight lines to make his neck then you will also use the straight to draw hands and body for Luca. You finish your task in this task with four fingers of your hand. Now, you continue drawing Luca's in the seventh step.
Step 7 – Draw Luca's Body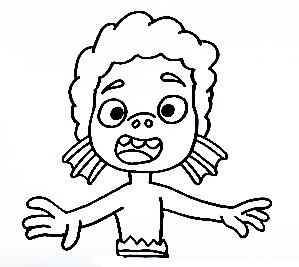 Your task in this step is very simple you just use two parallel straight lines and then you use curved lines to finish Luca's body. You can continue your mission to finish your drawing mission in the eighth step.
Step 8 – Draw The Lower Half Of Luca's Body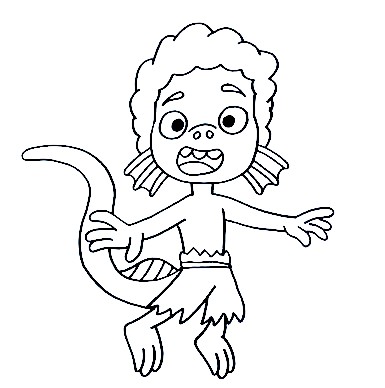 You finish your drawing mission with Luca here. This is the most important part of the drawing. If this part of the drawing doesn't look right, then Luca will not come out well. Please spend some time on this step to make it right. You draw legs and a tail for Luca. You will add all the little details you want from that character into your drawing. You have more steps to color Luca.
Step 9 – Color Your Luca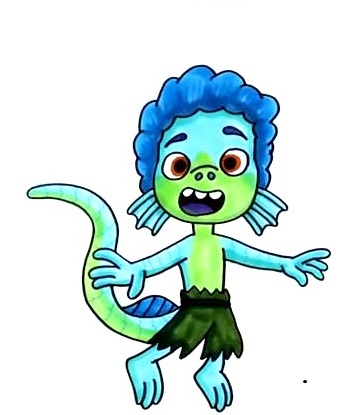 This is the easiest step for you. You just choose the colors to make coloring for Luca. You can take any color you like because there is no rules to choosing colors in a drawing. Here, we chose green as the main color for Luca, and we added some details with blue.
Your Luca Drawing Is Complete!
So, you get complete Luce with your drawing and coloring skills. If you participate in learning drawing Luca with your kids, they can learn some skills with drawing and coloring activities, such as pen skills, painting skills, and patience. You can move to Luca coloring pages to color images related to Luca. If you like our instructions, please share our article with your friends and come back here with us. Have fun!