Money Drawing Is Complete In 6 Easy Steps – 100 Dollar Bill
Creating Money drawing, 100 Dollar Bill drawing in just 6 easy steps
You will create money drawing with easy, step-by-step instructions and video tutorials. Great for you and your kids. You can become artists! By the time you reach the end of this guide, you will be a master at drawing a stack of money! You will follow our guide to make complete money – 100 dollars bill. Drawing a dollar bill is not easy. You won't be able to pass this off as a real bill, but it's a fun illustration to create! Daily life needs money so this is something close to everyone but not everyone can draw money, today you will have a chance to practice with 100 dollar bill with us. You will concentrate your mind, your passion, and your time here then you go to step by step to finish your mission and create a complete 100-dollar bill with your skill. Along with the tutorial, we have also included a couple of free money coloring pages that you can print off and give to your kids to color! You can find many 100-dollar bill images in this category that we update. You can refer and practice your drawing skills.
How To Draw Money, 100 Dollar Bill – Let's Get Started!

This tutorial will help you learn to draw money, 100 dollar bill! Drawing a simple dollar isn't really difficult. So instead of learning only how to draw a simple bag, you will also learn to draw a nice 100-dollar bill! But unfortunately, you might not be richer after this tutorial! You will follow our instructions and our illustration to make money with 100 dollar bill. It would help if you prepared a pencil, eraser, colored pencils, and drawing paper before drawing. Then you use your pencil to draw on paper. You can erase the mistakes easily, so please don't be afraid to draw. Please draw in the most comfortable mood. Drawing is an interesting activity for everyone from children to adults, you can enjoy this activity after the hard-working hours. No matter who you are, whatever you do, you also need to have leisure time to rest your mind, so choosing a suitable entertainment channel after stressful working hours and learning to draw is not the wrong solution for you. With our simple guide, you can finish your mission efficiently. Now, let's get started drawing money, 100 dollar bill with us!
Step 1 – Draw a 100 Dollar Bill Outline

To form the outline of the 100-dollar bill, draw a rectangle. You can draw by hand or use a ruler to draw a rectangle. It's so simple, it only takes a few seconds to complete the task for this step. Once you've replicated our reference image then you're ready for step 2.
Step 2 – Add More A Rectangle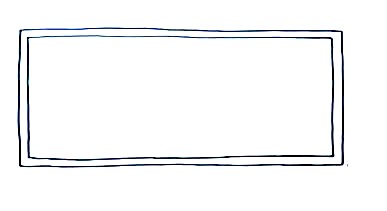 similar to step 1 in this step you add 1 rectangle for 100 dollar bill, also very simple for you you will draw this rectangle inside the rectangle in step 1, as you see our illustration. You can move to the third step to continue your drawing.
Step 3 – Start To Decorate For 100 Dollar Bill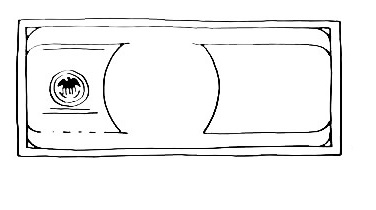 In this step, you start to decorate for 100 dollar bill. You will draw the symbol for 100 dollars. It's a bit complicated at this step you can refer to our illustration. You have to be meticulous with the smallest details to make the 100-dollar bill look more real and alive. That's all there is to it for this step, so when you're happy with the look of it, we shall continue adding to this duck in the fourth step.
Step 4 – Draw Benjamin Franklin's Portrait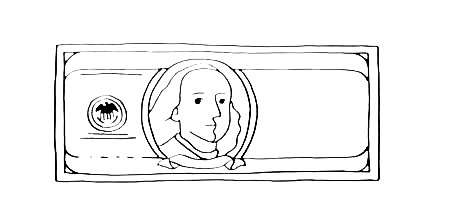 Although Benjamin Franklin was never President of the United States, his portrait is still printed on the most commonly used banknote in the world. The portrait of Benjamin Franklin appears on the $100 bill because he played a very important role in the early days of America's formation. And now, you must draw his portrait on 100 Dollar Bill. You draw all detail for his portrait before moving to step 5.
Step 5 – Finish Off Your Drawing Mission
In this step, you must finish all your drawing tasks for money, and 100 dollar bill. You add the rest of the details to make the 100 dollars more complete. You can decorate a 100 dollar bill with some lines or numbers,…That's all you need to do to move on to the next step of coloring the 100 Dollar Bill.
Step 6 – Color 100 Dollar Bill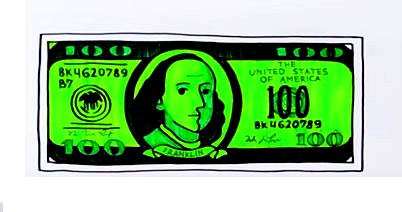 In this step, you will choose the suitable colors for your product, 100 Dollar Bill. Since the 100-dollar bill has its own color rule, you need to follow the color selection rule for this 100-dollar bill. Here we choose green for the 100-dollar bill as it is. This task is simple for you. So, you finish your drawing and coloring mission for 100-dollar bill.
Your money Drawing Is Complete!
Once you create a 100 Dollar Bill, you can move to money coloring pages to refer to images related to money. We update many images for free, and you can come here anytime and anywhere with your device connecting to the internet. You know how to draw money 100 Dollar Bill with our guide; you can recommend your friends to come here and get a great time!