8 Simple Steps To Create A Panda Drawing – How To Draw A Panda
Make A Cute Panda Drawing Through 8 Simple Steps
You will know how to create a panda drawing through eight steps with us.
You spend about 30 minutes creating a complete panda, but if you are gifted, you can finish this quest sooner.
Panda originated in China, and people worldwide love this animal.
Bamboo is the panda's favorite food, they can go around all day looking for and enjoying delicious bamboo, and that's their life.
Because of its popularity, the panda has become a topic for artists to compose.
Panda has also become a favorite toy for children, and you can find images of pandas in countless toys for kids.
If you also love pandas, here's your chance to show off your images through our tutorial
We also provide illustrations in each step to make your task for panda drawing easier.
Step by step, drawing a guide to get the fun as well.
You will also have to prepare complete supplies such as a pen, pencil, colors, eraser, and paper before starting to draw.
You will then learn to draw with a pencil and paper; you can also easily erase your mistakes with a pencil.
Once you complete a panda, choose the right color for your drawing product.
Drawing a panda looks very difficult, but when you go into a drawing, you will find it is not too difficult; you need to focus while learning to draw. You also enjoy panda coloring pages for free on our website to practice your drawing and coloring pages.
Let's go to the seven steps of our guide on how to draw a panda with us!
How To Draw A Panda – Let's Get Started!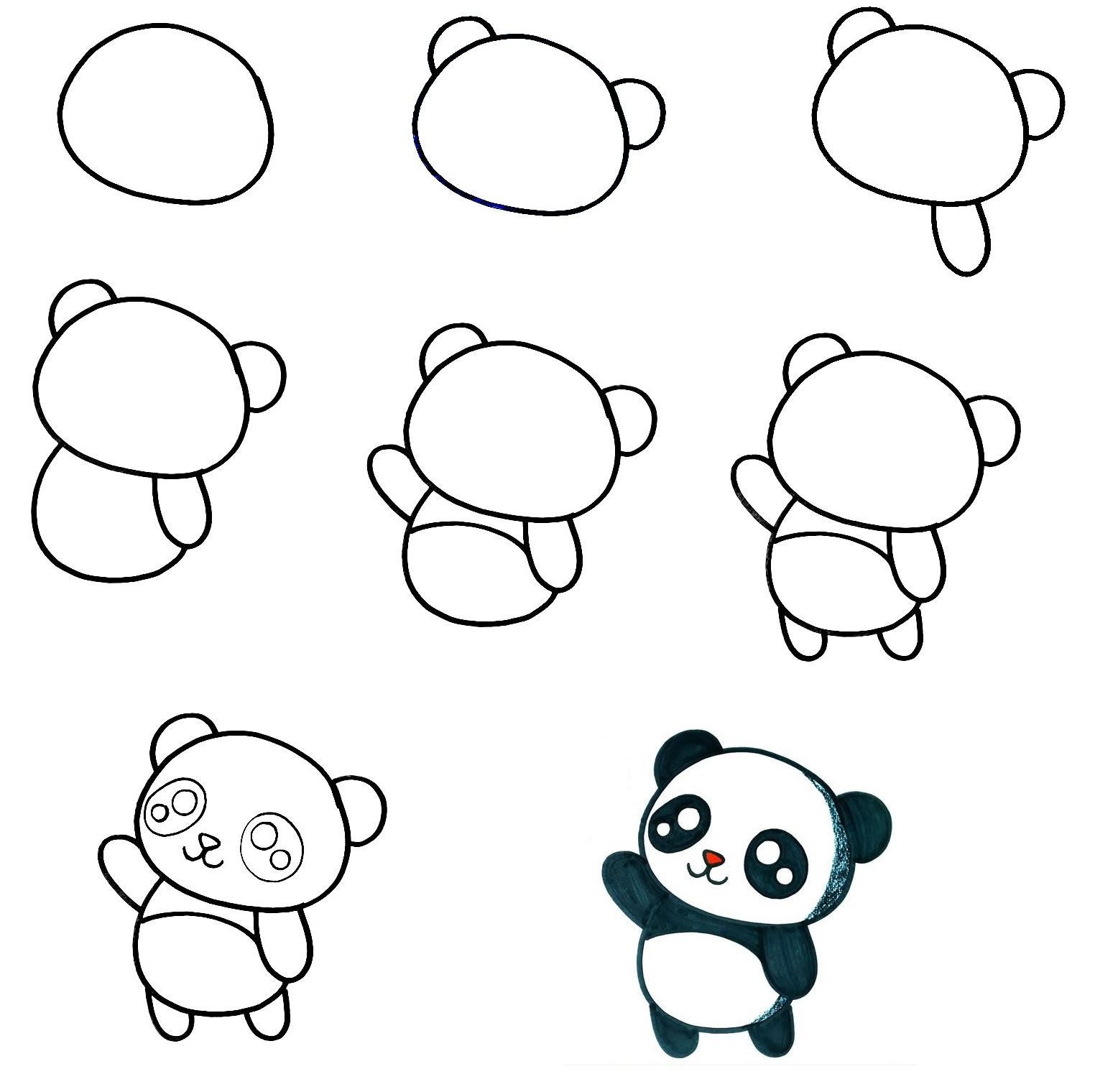 Step 1 – Draw Panda's Head Outline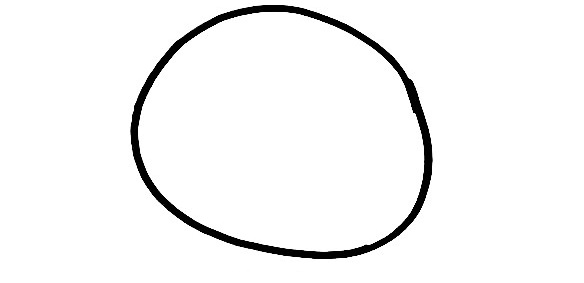 You will start drawing the panda with its head; use an imperfect oval for the panda's head in this step of our guide on how to draw a panda.
Your task in this section is simple; you only take a few minutes to complete and are ready to move on to the second step.
Step 2 – Draw Panda's Ears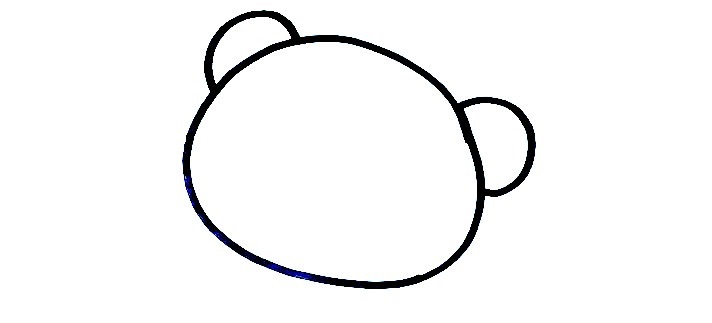 For this step of our guide on how to draw a panda, you will use two curved lines on the top of the head for the panda's ear.
As you see in our reference image, you only need to draw two curves for this part; it's too simple, right? Quickly complete it and move on to the next step.
Step 3 – Draw An Arm Your Panda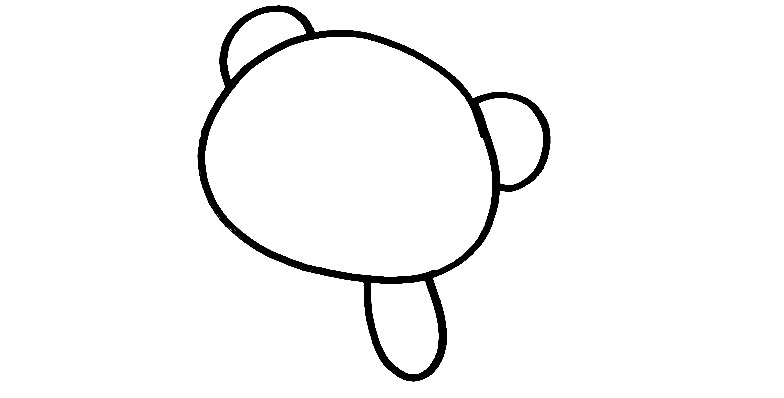 Your task in this step is to draw an arm for your panda.
From heal, you will use a downward and upward curve at the head to form the first arm for the bear.
For this step of our guide on how to draw a panda can only. You can move to the fourth step to continue your drawing mission.
Step 4 – Draw Your Panda's Body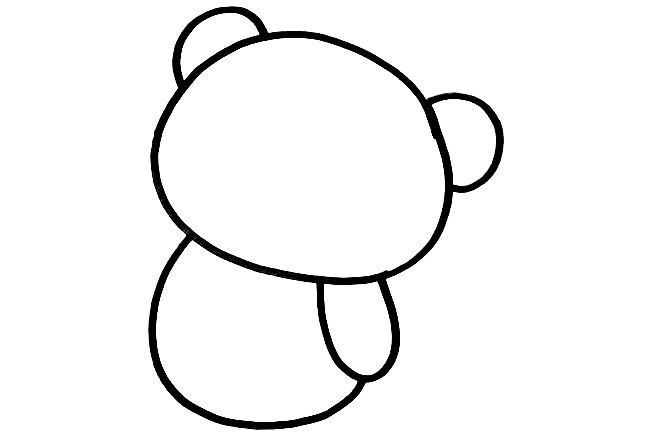 In this step for your panda drawing, you must show a long curved line that creates its body. This forms the torso and belly of your panda.
So, you finish off your mission in this step and go to the next step immediately.
Step 5 – Add An Arm to Your Panda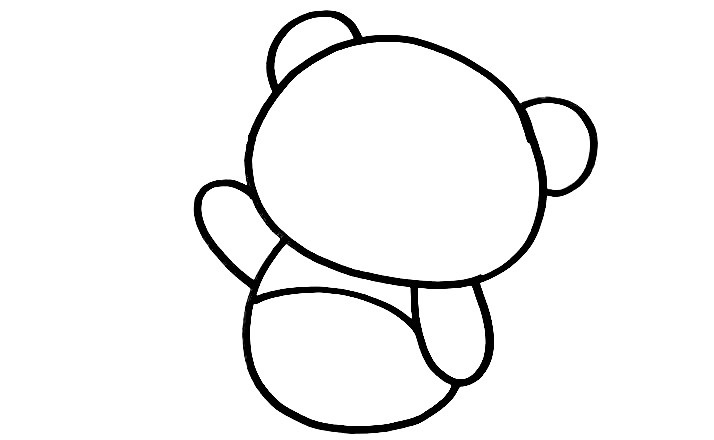 If in step 3 you drew the first arm of the panda, in this step of our guide on how to draw a panda, you draw its other arm. Similar to the task in the third step, you also use a relatively long curved line to draw this arm, and this arm, instead of pointing down like the first arm, points up. You can add a curved line on its body, as seen in our illustration.
Once everything is done, you can go to the sixth step.
Step 6 – Draw In Your Panda's Legs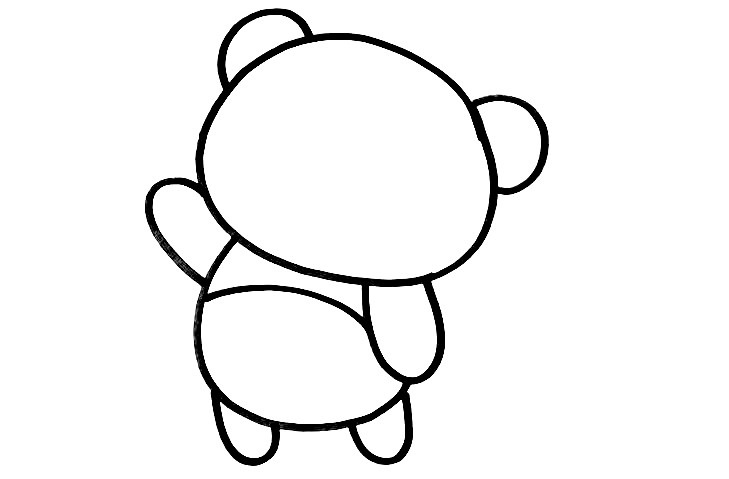 Panda is so adorable, and everything about pandas is pretty too. Similar to arms, you use two short curves to draw the panda's legs; you can look at our reference image to ensure you're on the right track.
You can move to the seventh step and continue your drawing mission.
Step 7 – Draw In Your Panda's Face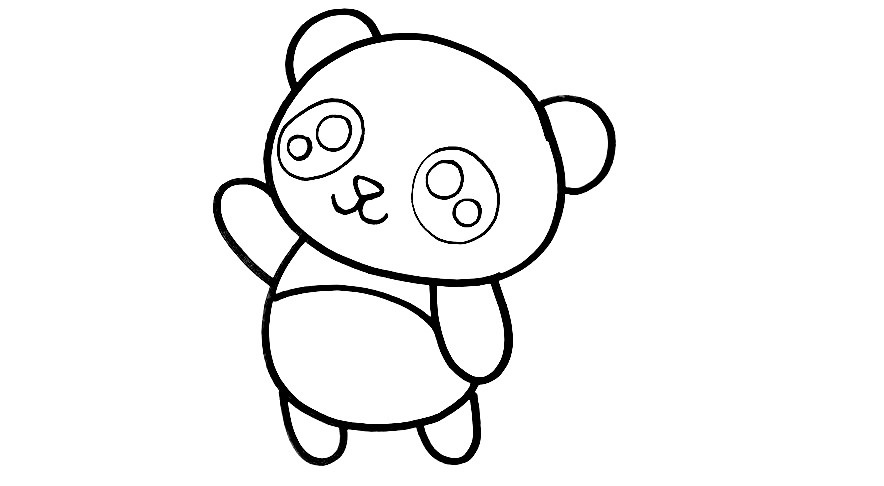 If in the previous tutorials you will draw the character's face first, in this panda drawing tutorial, you will draw the face in the last step before coloring.
You will draw an oval and two circles inside to create each eye.
Then you use a little rectangle for the nose and two little lines for the mouth, as you see in our illustration.
Step 8 – Color Your Panda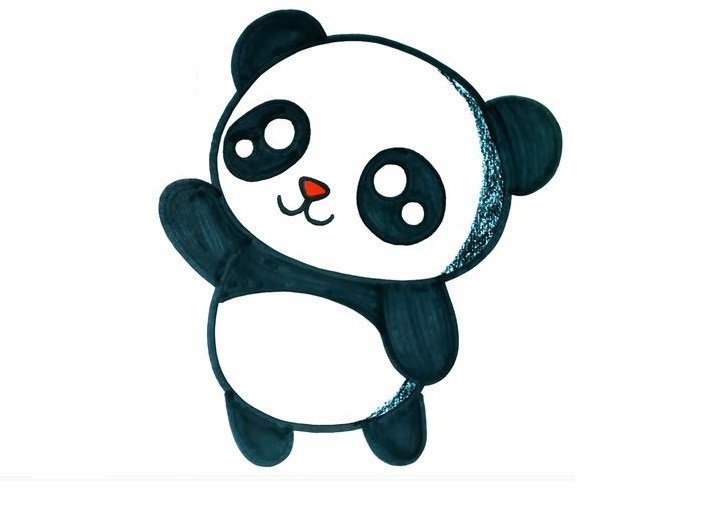 You will choose a nice color for your character, the panda.
Too simple for you; you can choose the color according to your preference.
As you see in our reference, we use dark blue and white for the body, black for the eyes, and red for the nose of our panda drawing.
You can use a different color than our picture. Once you get a complete panda drawing, you can shear your product on your Pinterest and Facebook pages.
Your Panda Drawing Is Complete
Through our eight simple steps, you have completed a panda. I hope you have a relaxing time with us. On our website Coloringcool.com, you can enjoy many products with drawing guides or coloring pages for free.
We update new information daily and hourly; you should check out our website regularly to ensure you don't miss any products.
If you love our educational products or this guide, recommend us to your friends and your kids to enjoy together. You can enjoy teddy bear drawing that are similar to panda drawing as well.
Drawing and coloring activities help you relax your mind and feel at ease. You will also find a balance in your life by participating in these recreational activities.