6 Simple Steps To Create A Palm Tree Drawing – How To Draw A Palm Tree
Create A Palm Tree Drawing Through Six Simple Steps
In today's drawing guide, you get a chance to create a palm tree drawing with us.
Palm is a reasonably common tree species grown in the tropics, people often plant them in a group or a row to form a palm forest with many palm trees creating a cool place, and many people want to come.
Have you ever dreamed of a relaxing time watching a palm tree or a beautiful palm grove? Today you get to explore the ferry with a drawing of a palm tree.
This simple tutorial on drawing a palm tree will be done in six steps, equivalent to the six tasks you need to go through to completion.
You will go to step by step with our drawing guide. In each step, we provide illustrations to help you perform your drawing efficiently.
Our palm tree drawing tutorials are arranged from easy to rugged, so whether you are a beginner or an expert in drawing, you can complete a palm tree.
In the process of drawing, if you make a mistake, you can also erase and redraw until you are satisfied, so don't be afraid to draw; draw most comfortably.
Of course, before starting to draw, you must also prepare all necessary supplies such as a pen, pencil, paper, eraser, and A4 paper. Then you will proceed to draw according to your ability. On average, it will take 25 minutes to complete this tutorial, but you can also finish the plam tree sooner or later, depending on your ability to learn to draw.
Learning to draw palm trees will also get more information about this plant.
You can also enjoy palm tree coloring pages to practice your drawing and coloring skills.
Now, let's go to six steps on how to draw a palm tree with us!
How To Draw A Palm Tree – Let's Get Started!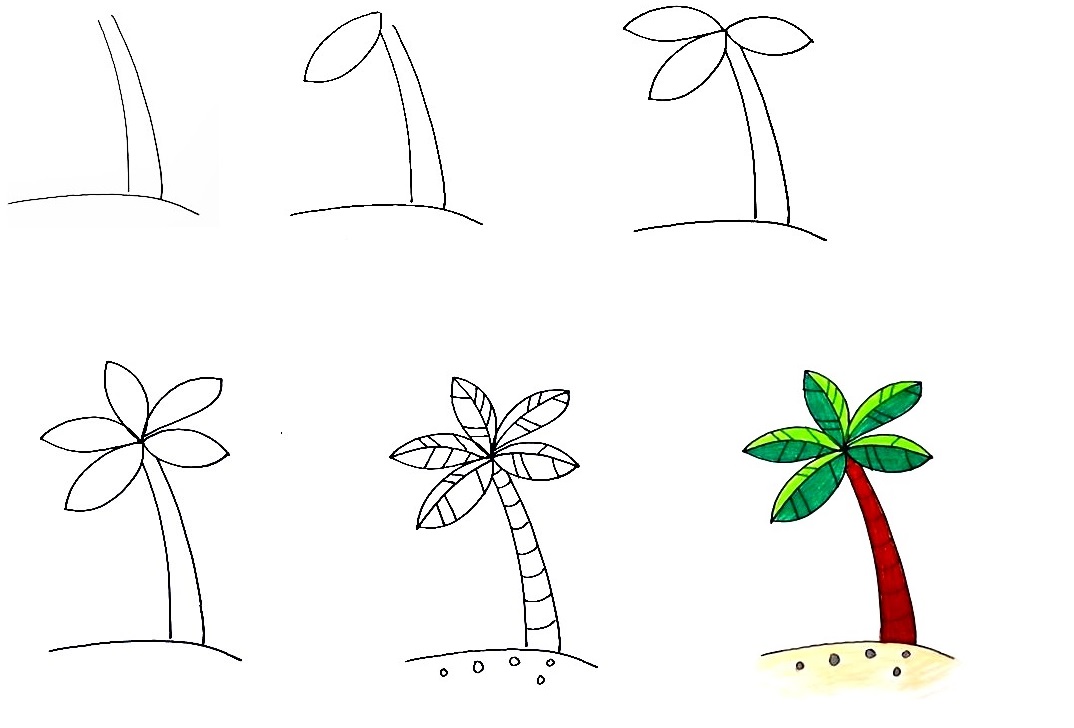 Step 1 – Draw The Bit Of Sand And A Trunk Of The Tree
You start with our guide on how to draw a palm tree with a long, thin curve that forms a sandbar for the palm tree to live on.
You will continue the task in this step by drawing two roughly parallel curves below to top to form a trunk of the above. It's not difficult for you; look at our reference picture and follow it for the best results.
Once you're happy with your image, you can move to the second step.
Step 2 – Draw A Leaf Of The Tree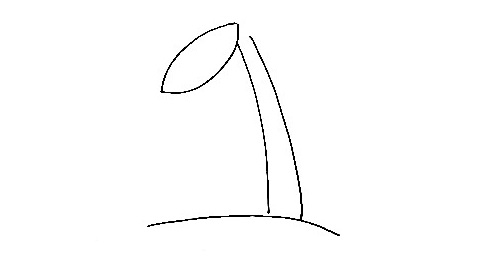 For this step of our guide on how to draw a palm tree, you draw a leaf for this tree.
The palm tree leaves are slightly rounded, as seen in our reference image. You will use two short curved lines for your palm tree drawing to form a leaf.
Your task in this step is just that; you will continue your drawing task in the third step.
Step 3 – Draw More Details Of Palm Tree Leaves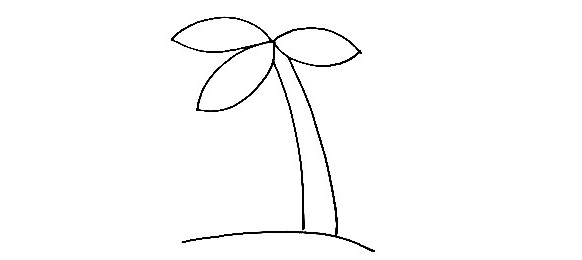 Your task in this step of your palm tree drawing is to continue drawing more details for palm tree leaves.
You must draw two more leaves for your tree in this step. You also use two curved lines for each leaf.
Once you finish your task in this step, you can come to the next step.
Step 4 – Complete The Draw More Details Of Palm Tree Leaves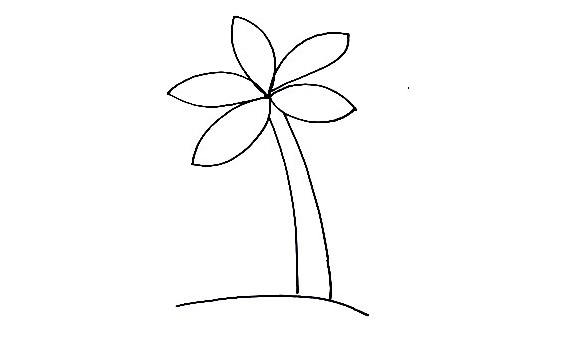 You continue to use curved lines for the palm tree leaves. You will use the curved lines for more details of the palm tree leaves.
You can go to the next step when you finish your tasks.
Step 5 – Draw The Final Details Of Palm Tree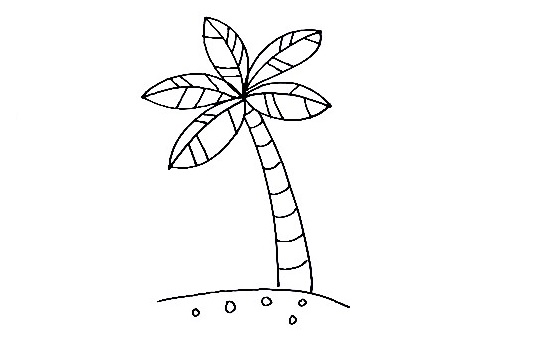 This is the final step for you to draw the remaining details of the palm tree before choosing its color.
You must add some details for your palm tree drawing, such as veins of leaves and segments of the trunk with some little lines.
So, you finish off your drawing mission of our guide on how to draw a palm tree, and you have the last step for coloring this tree.
Step 6 – Color Your Palm Tree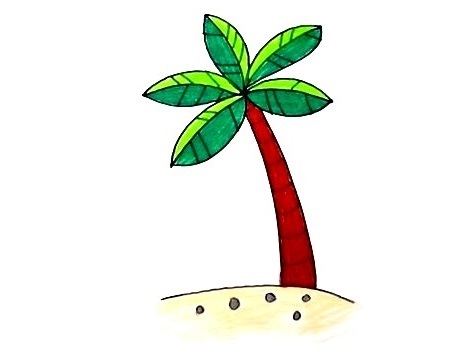 That brings the last step for coloring your palm tree. We all know palm trees have gray trunks and green leaves, and in our palm tree drawing, we have chosen green for the leaves and red for the stem, as you see in our reference picture.
In this step, you can be completely creative in choosing colors, so choose the color according to your taste. Don't limit your creativity, and make your image more beautiful.
Your Palm Tree Drawing Is Complete!
So in our six easy steps, you have finished drawing a brush and coloring it.
We're curious about your work, so don't hesitate to share your images on your Pinterest and Facebook pages for us to see.
On our website Coloringcool.com, you can freely explore many educational products free about drawing guides or coloring pages. We update new products, so please visit our site often to ensure you don't miss anything.
As you know, drawing and coloring will help us be more relaxed, so please spread this guide to your friends or relatives. Especially if you are a parent, recommend this drawing guide for your kids. Learning to draw and color will help your child develop many skills, such as concentration skills and pen-holding skills.
You also can find drawing guides similar to the palm tree drawing guide, such as christmas tree drawning, or tree drawing. These are tutorials related to drawing trees; they will help you gain more experience drawing leaves and trees in general and drawing palm trees in particular.
I also hope you understood everything we guide here to create a complete palm tree and that you like this drawing guide. Have fun!