Yo Yo Drawing Is Made In 7 Easy Steps
Creating an amazing yo yo drawing in just 7 easy steps
You will make a yo yo drawing in the seven easy steps with our guide. Many in childhood had such an entertaining toy as a yo-yo. In this tutorial, we will teach you how to draw a yo-yo in just a few steps. This is a not simple task, but it is not too difficult for you. You can follow our instructions and go to step by step and finish your job as soon as possible. You need to concentrate in the course of learning to draw. Our tutorial is to go from easy to difficult, and whether you are a novice or an expert in drawing, we're sure you can follow these steps effortlessly. In joining this activity, you can balance your life because, after the hard-working hours, you must find a suitable entertainment channel, and our guide is suitable for everyone. Why not? It is free and you can come here anywhere and anytime with any device connecting to the internet. Along with the tutorial, we have also included a couple of free yo yo coloring pages that you can print off and give to your kids to color!
How To Draw A Yo Yo – Let's Get Started!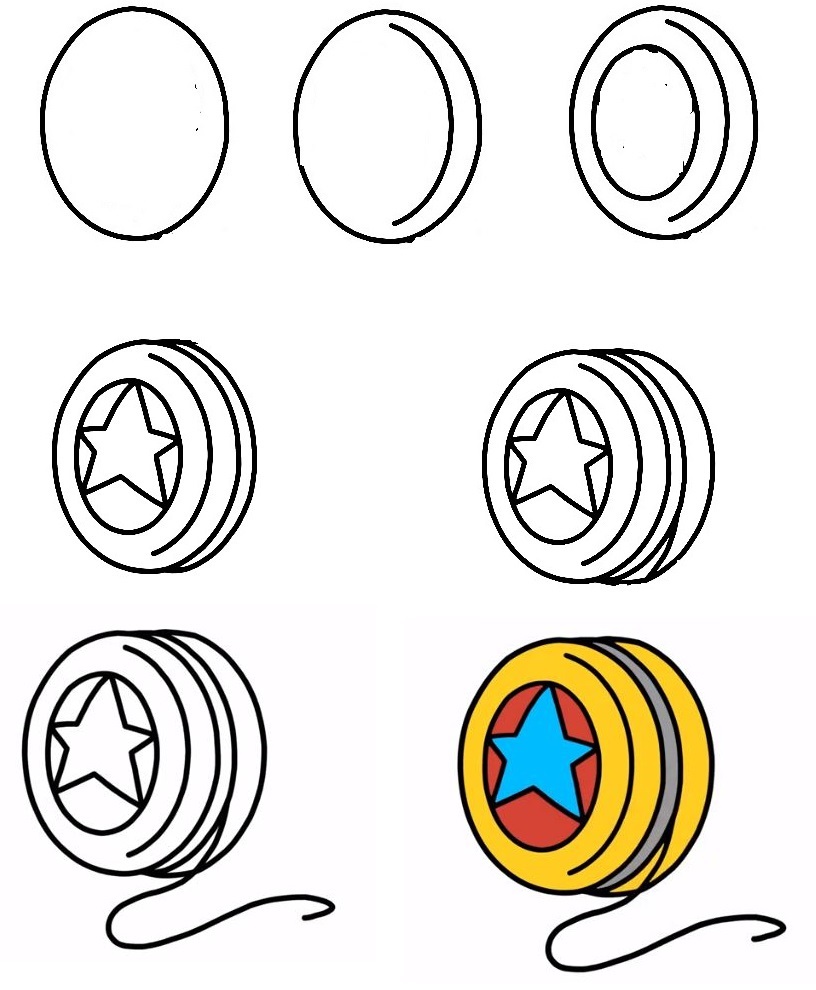 As you know, yo yo is the favorite toy for many teenagers and children. An interesting, restless toy. A bright toy consisting of two disks of the same size and weight, fastened together by an axis, on which a rope is put on with a loop. Works on the principle of Maxwell's pendulum and gyroscope. You can just have fun pulling the strong lace, or you can master various tricks and amaze all your friends and acquaintances. Today, you get an opportunity to draw a yo-yo and learn more about this toy. Following our yo-yo drawing tutorial, you will certainly succeed. Perhaps you will want to remember your childhood and buy an absolute toy after drawing. Do not deny yourself the pleasure! It would help if you prepared a pencil, eraser, colored pencils, and drawing paper before drawing. You will learn to draw yo-yo from easy to difficult until you finish learning to draw yo-yo… In this guide, you will use your pencil to draw on paper and erase your mistakes easily. So, don't be afraid to draw; you will draw in your comfortable mood. If you are a parent, you can learn this drawing with your kids, they will surely like it, and they can avoid using technical devices such as television, smartphones, and tablets. They are not good for their eyes and their evolution. Now, let's started to draw a yo-yo with us!
Step 1 –  Draw A Yo Yo Outline

Starting in the middle of the paper of your Yo Yo drawing, draw a circle to create the outline of yo yo body. You can draw a circle by hand or use a compass to draw a circle. It is simple for you in this step, and you can finish it in minutes and go to step 2.
Step 2 – Draw A Half Circle Inside

Very simple for you in this step; you draw a curved line for a half-circle inside. You spend some minutes finishing it. Don't hesitate to customize these details however you like. You can finish a task in this step and move to step 3.
Step 3 –  Draw A Circle Inside

Instead of drawing a half-circle in step 2, in this step, you will draw a circle inside. Similar to step 1, you can draw by hand or use a compass or use a circle tool to realize this mission. This is not complex in this step. You finish the task and continue your drawing in the fourth step.
Step 4 – Draw A Star Inside

Your task in this step for Yo Yo drawing task is to draw a star inside. You use straight lines to draw a small star and finish your task in minutes. Once you have these elements looking as they do in the reference image, you're ready for step 5.
Step 5 – Draw A Large Oval

At the yo-yo body, you use a curved line and show a part of a large oval to be beside the circle. It's also quite simple for you in this step, and you only need to use a pencil and one ingenuity to do this task perfectly. Once you are happy with your image, you can go next to the sixth step.
Step 6 – Draw A Ponytail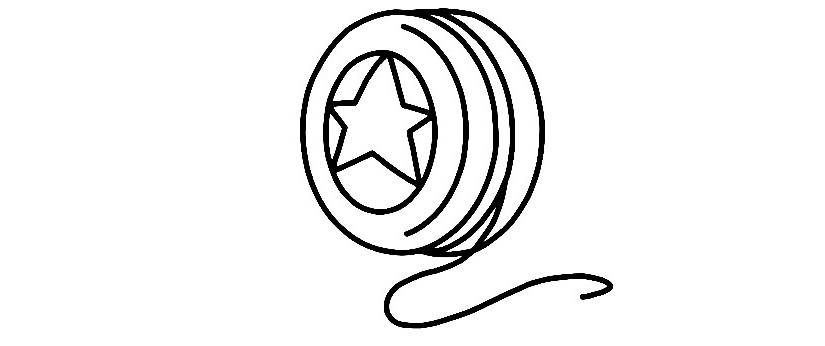 We draw the ponytail – this is the very string with which the yo-yo can perform a variety of tricks. You draw a long curved line for this mission. You will finish the yoyo drawing work with this task here, and you have more steps for coloring the yo-yo.
Step 7 – Color Your Yo yo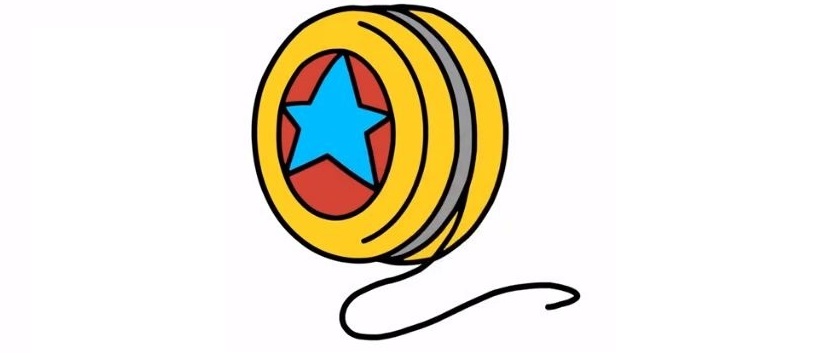 That will bring you to the final step of your yo-yo drawing! This step is a fun one, as you can finish off the drawing with some amazing colors. You will choose suitable colors for your product. We use yellow for the main color of yo-yo, blue for the star, ed, and decoration, and grey for the ponytail.
Your Yo Yo Drawing Is Complete!
So, you finish your drawing and coloring mission on your Yo Yo Drawing work. This is an interesting mission, and you finish it perfectly. You can move to yo yo coloring pages and choose the suitable to make coloring. They also are free on our site so that you can come here every day. If you like our products, don't forget to give us a thumbs up and recommend them to your friends! You know how to draw a yo yo with us. I hope you understand everything now. Have a great time!