7 Simple Steps To Create A Frightening Werewolf Drawing – How To Draw A Werewolf
Creating A Ferocious Werewolf Drawing In Eight Easy Steps
In today's simple tutorial, you know how to make a complete werewolf drawing. You have eight steps equivalent to eight tasks that you need to overcome.
You also need to focus on the process of learning to draw to get complete work.
Not easy but not too difficult, if you follow and follow all our instructions you will surely be satisfied with the result.
It takes you about 30 minutes to draw a werewolf; later, when you get used to drawing, you can finish the Werewolf at an earlier time.
This is also a fun quest and suitable for everyone. A werewolf is a creature that is half human and half beast, a terrifying creature in the creature world.
How To Draw A Werewolf – Let's Get Started!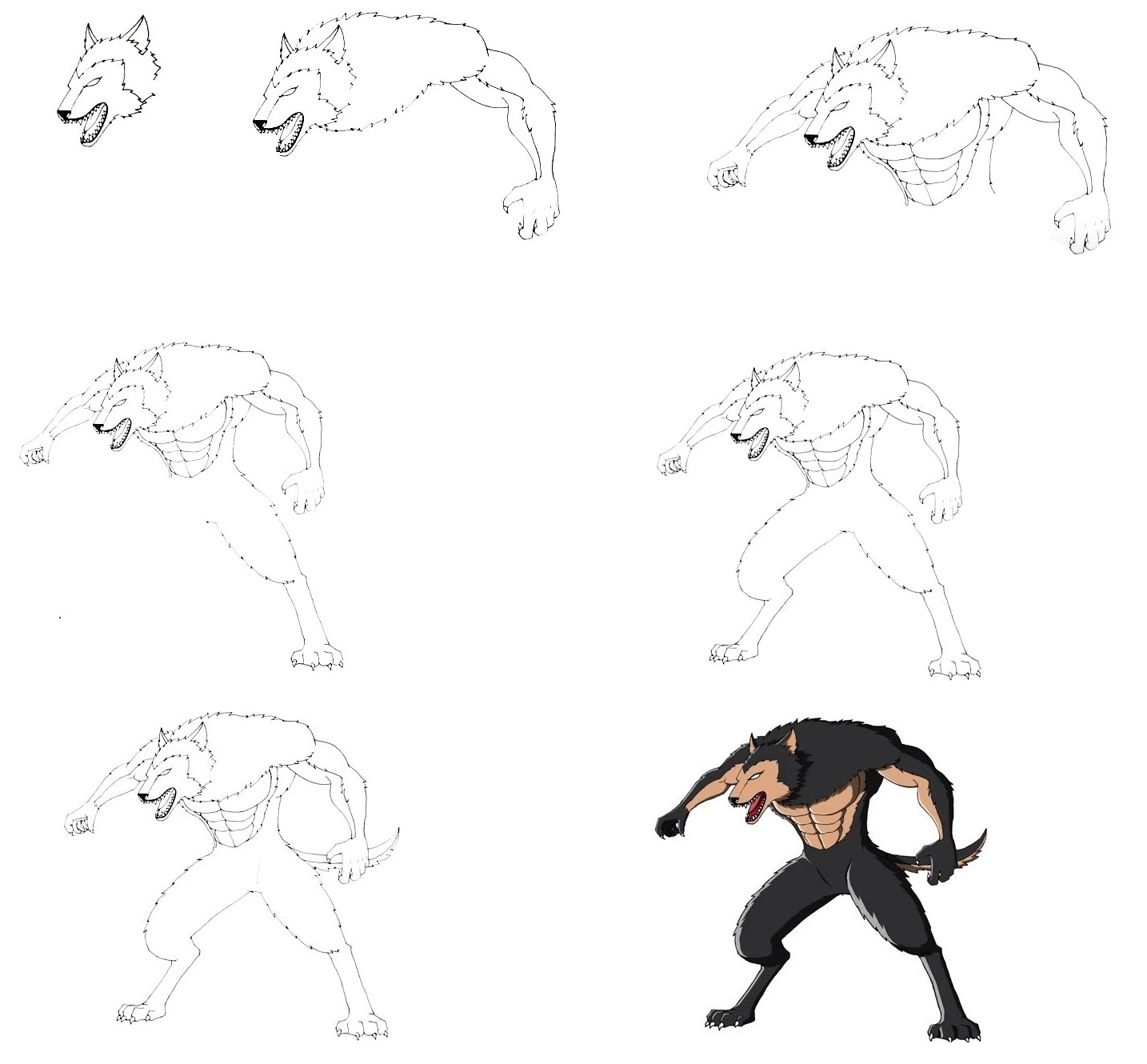 Werewolves are very aggressive, they can kill people and everything in a short time, so it can be said that people are also afraid of this type of creature. Now you have a chance to learn to draw this kind of scary creature. With each step, we always have illustrations to help you do this job efficiently.
First of all, you need to prepare some supplies such as a pencil, eraser, pen, and paper,…then you will proceed to sketch the Werewolf with a pencil and A4 paper. You can erase the wrong stroke and then redraw it correctly. When you finally get a full werewolf, you will choose the right color to color your work.
Along with this drawing guide, you can enjoy werewolf coloring pages for free on our website to practice your drawing and coloring skill.
If you have free time, visit our website often; you will gain experience, and then you can learn to draw many things on our website. Now, let's get started to draw a werewolf with us!
Step 1 – Draw The Werewolf's Head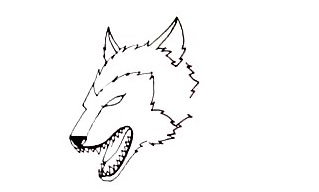 Start working on how to draw a werewolf; you must draw the head for your character. Create an oval to represent the head. Next, just add two small triangles to form the ears of our creature.
Now, you add eyes with two small triangles and a mouth for your creature. Don't forget to draw the teeth for your Werewolf drawing before moving to the second step.
Step 2 – Draw The Werewolf's Arm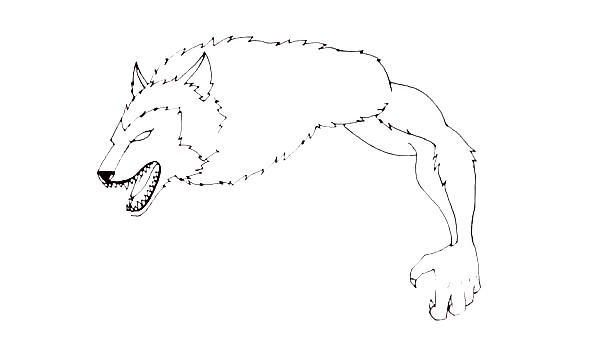 Your task in this step is to draw the arm for your creature. From the character's head, you will use the curve to draw the Werewolf's shoulder; then, you will draw the arm for it. You will finish the task of this step with your hand fingers.
Like us, the Werewolf has five fingers, but here you will also draw the part of the fingers that you can see.
Once you're happy, you can move to step 3 and continue your drawing task.
Step 3 – Draw A Remaining Arm And Chest For The Werewolf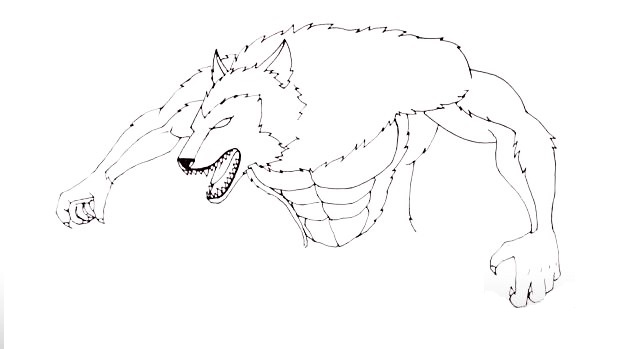 Your task now is to draw the chest and the remaining arm for the creature.
Just like in step 2, you draw this character's other arm with curves and finish with Werewolf's hands and fingers.
Then you start drawing the character's chest with muscles as you like in our reference image.
If you think satisfied with your image, you can go to the next step right now.
Step 4 – Draw The Werewolf's Legs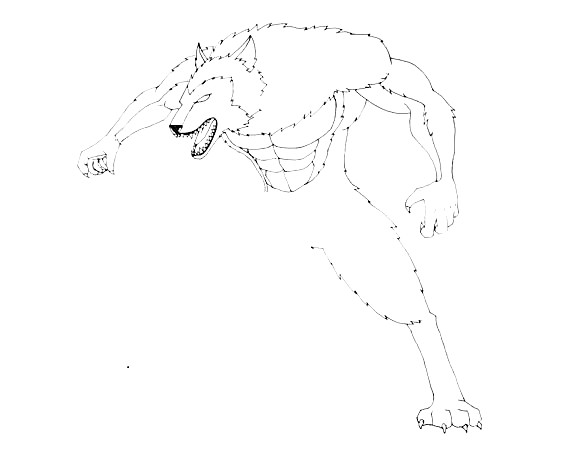 Right now, you must draw the Werewolf's leg. The creature's legs are made from large to small, from the top down to the thighs and shins. Just like the arms, you will finish off the legs with the feet and toes.
Around the character's body, you'll draw short curves that represent the Werewolf's short hairs.
Step 5 – Draw The Second Leg For Werewolf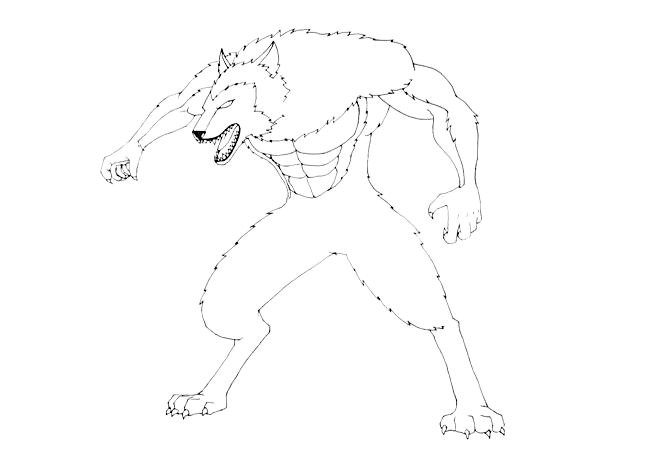 Similar to your mission in step 4, you must draw the second leg for your creature of this Werewolf drawing.
You also use curved lines for this task.
Since you drew the character's legs before, this part will also be simple for you. You spend some minutes on this work and go to the sixth step to draw its tail.
Step 6 – Draw The Werewolf's Tail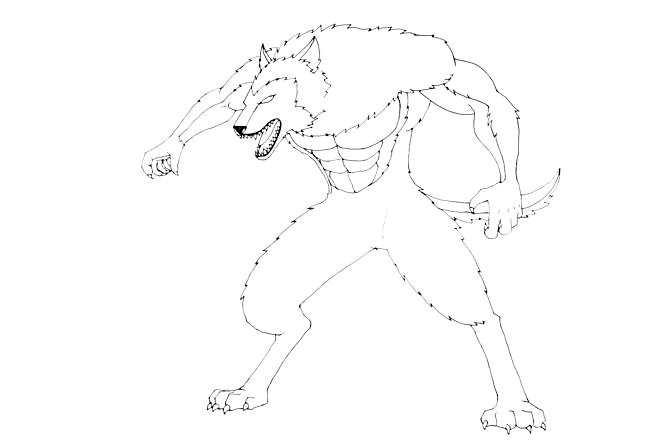 In this step on how to draw a werewolf, you must draw the tail for your creature.
Its tail is composed of two curves that are almost parallel and meet at a point, as you see in our illustration.
This is the final part of your Werewolf drawing time. It is simple, and you can finish in some minutes and go to the final step to color your creature.
Step 7 – Color Your Werewolf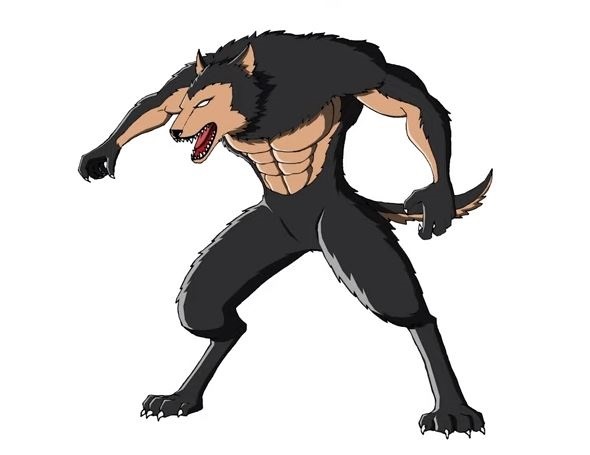 It's time to choose the suitable colors for your creature, Werewolf.
This step completely depends on your preference for color. You can choose any color that you like to make your picture more complete.
You can choose any color you like as long as you feel comfortable.
We use black and brown for our creatures. And you, what color do you use in your picture? You can show your product on Facebook, and Pinterest for everyone to see.
Your Werewolf Drawing Is Complete!
You finish off your drawing and coloring for your creature on how to draw a werewolf. Isn't it fun? Learning to draw will help you get a comfortable time.
If you are a parent, you can give this werewolf drawing guide them; they will enjoy in free time and avoid using technical devices such as television, smartphone, and tablets,…they are not good for your kids' eyes and evolution.
On our website Coloringcool.com, you can find many drawing guides such as wolf drawing, husky drawing,…Here is a drawing tutorial of scary and ferocious characters you can use to enrich your collection. We hope that you enjoyed our tutorial on werewolf art, and that you will join us again for more easy and exciting drawing guides! Have a great time with werewolf drawing!