Christmas Light Bulbs Drawing Is Create In 9 Easy Steps
Creating the nice Christmas light bulbs Drawing in just 9 easy steps
Today, you get an opportunity to draw great-looking Christmas light bulbs with easy, step-by-step drawing instructions and reference images to create the complete Christmas light bulbs drawing. Great for you and your kids; you can become a real artist. You will follow our instructions to create beautiful Christmas light bulbs. There are nine steps equivalent to nine missions that you must finish to realize your  drawing work. On how to draw the Christmas light bulbs, you need to concentrate on steps 1 to step 9. This is an interesting activity and suitable for everyone. We give a detailed guide from easy to difficult, and whether you are a novice or an expert in drawing, we're sure you can follow these steps effortlessly. You must finish off the task in each step until you finish all. Along with this guide, you will enjoy Christmas light bulbs coloring pages for free on our site.
How To Draw The Christmas Light Bulbs Drawing – Let's Get Started!

You will draw the Christmas light bulbs in nine steps with us. Before starting to draw, you must prepare something to service your drawing mission, such as paper or sketch, an eraser, pencil, Black Marker, crayons, markers, or any colored pencils…You will begin to start by using a pencil to draw on paper, and you can erase your mistakes if you draw wrong. You continue your drawing until you finish the final details of the drawing. Finally, you choose the suitable colors for your Christmas Lights Bulbs. Light Bulbs are used to decorate the Christmas party, Every one of us knows Christmas Light Bulbs, but to draw it not everyone can do it; you need to be patient and follow us. With our instructions in nine-step, you will make the perfect Christmas Light Bulbs drawing and get fun. Now, let's get started drawing the Christmas Light Bulbs with us!
Step 1 –  Draw The Strings Of Lights

Start the task on how to draw the Christmas Light Bulbs by drawing a pair of parallel, horizontal wavy lines – the lines are formed from segments of curved lines connected at upturned points. It is simple for you and you spend some minutes to finish. although simple, this is the first drawing step for the Christmas light bulb; you should be careful with each of your strokes, your drawing will be perfect, and you will realize your task easier in the next step.
Step 2 – Draw Details For The Strings Of Lights

You start drawing this string of Christmas lights is pretty easy to do! But your task in this step, you just to draw the first small square. Very simple for you, as you see in our reference image.
Step 3 – Add More Small Square For The Strings Of Lights

In this step, a guide on how to draw the Christmas light bulbs, you add three more small squares in the strings of light, making sure you leave quite a bit of space in between them. The details for each square are also simple, so it only takes you a few minutes to complete the task for this step. Once you are happy with your task, you can move to the fourth step.
Step 4 – Draw The Last Small Square For The Strings Of Light
Similar to steps 2 and step 3, you must draw the last square for the string of Christmas lights. At each vertex of light strings, there will be 1 square equivalent to 1 light bulb drawn in the following steps, and this is the last square for this detail. You continue your task of drawing of the guide on how to draw the Christmas light bulbs in the fifth step now.
Step 5 – Draw The First Light Bulb

On the first square, you draw the first light bulb on the light strings. You will use a curved line from the court to the top of the lamp, then bring it to the bottom of the square so you have completed the light bulb shape. the first in the light bulb series. It's a bit complicated here, and you should look at our reference and follow along.
Step 6 – Draw The Second Light Bulb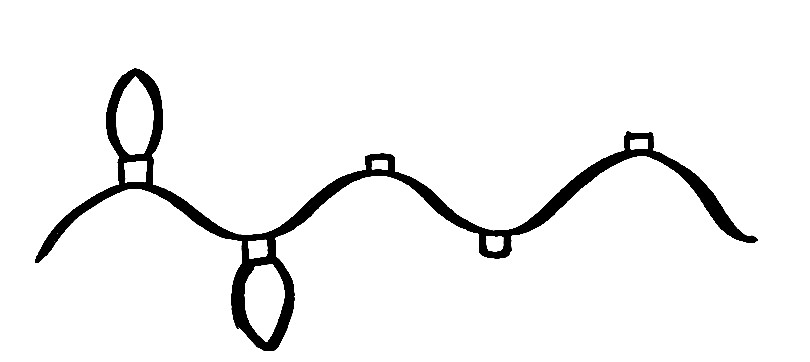 Similar to step 5 on how to draw the nice Christmas lights bulbs, you add a light bulb on the strings of light, but this time you will draw the light bulb upside down, as you see in our reference and the way to draw is to use a completely curved line like step 5. Once you're happy with how it looks, you're ready for step 7!
Step 7 – Add More Light Bulb To The Strings Of Lights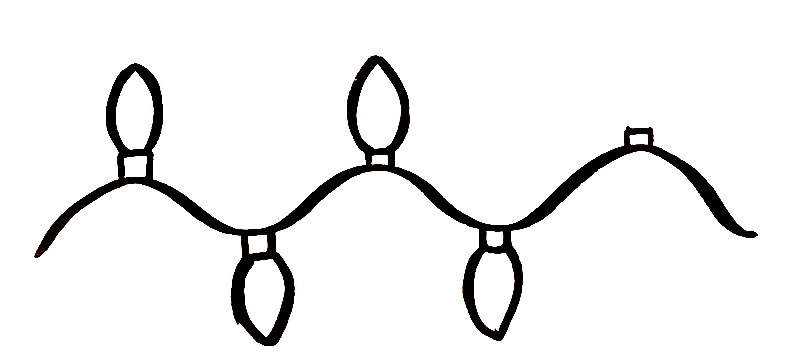 Your task in this step is very simple. And two more bulbs need to be added, so get busy drawing them out. There are five light bulbs in the strings of light, and now, we get 4, and you let one will be drawn in the eighth step to finish off your drawing work.
Step 8 – Draw The Last Light Bulb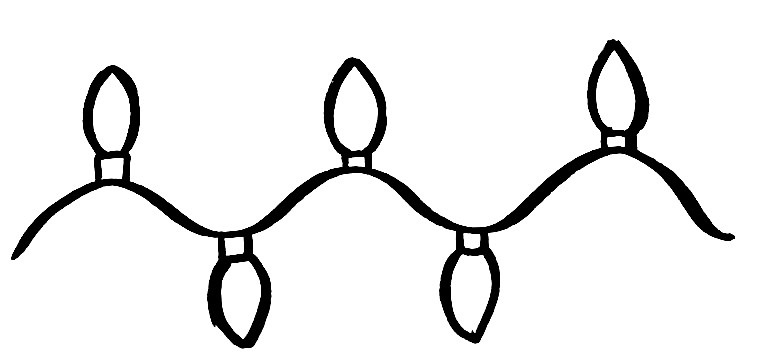 For the last light bulb in the perfect drawing, You will also do the same as in the previous steps. Add the last light bulb on the strings of lights. Now your drawing is quite complete, before going to the next step to color the drawing, you can adjust or add more details for the decoration of your Christmas light bulbs.
Step 9 – Color Your Christmas Light Bulbs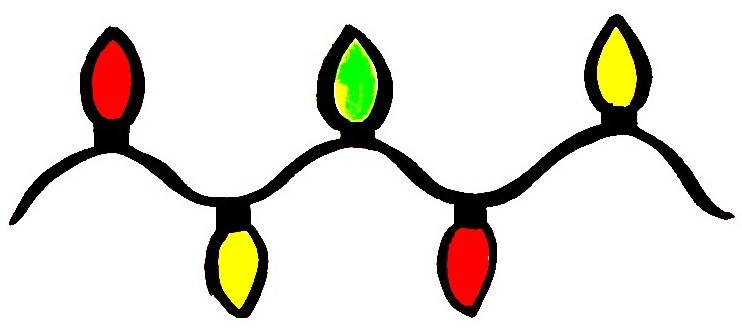 This is the easiest step for you because you can follow your gut feeling, and you can take any color or your favorite colors for your Christmas light bulb drawing. We choose red, green, and yellow for the light bulbs and black for the light strings. So, you finish off your drawing and your coloring task here to create the complete Christmas Lights Bulbs in nine steps.
Your Christmas Light Bulbs Drawing Is Complete!
It's time to take a look at your work which is Christmas Lights Bulbs, complete with great brushstrokes and beautiful colors. With nine simple steps, our illustrations, and about 30 minutes, you get the complete Christmas light bulb. You have completed all of the steps in this guide on how to draw the Christmas Light Bulbs and you can add a Christmas tree if you like to decorate it for your picture. We are sure to make sure that this guide would be as fun and peaceful to work through as it would be to drive along a peaceful open road. Hopefully, we achieved this goal of making the guide both fun and easy for you! Once you get your complete drawing on how to draw the Christmas light bulbs, you can move to the Christmas light bulbs coloring pages to practice your drawing sill with many images. When you're ready to embark on your next drawing journey, be sure to check out our website, we update our products daily and you can come here any time you are free.
Conclusion For Christmas light bulbs drawing
This Christmas light bulbs drawing is good for everyone. And you can refer more some Christmas light bulbs coloring pages: