How To Draw A Giraffe – The Details Instructions
Giraffes are the tallest animals in the world. They have long necks that used to take the tasty leaves high in the trees. They are beautiful animals with yellow spots, so every kid loves them much. In addition, they are friendly animals that do not cause harm and are kept in many zoos or parks for children to visit. Although Giraffes have long necks but they have only a big neck bone. They have some special things such as four stomachs a long tongue with fifteen inches. They have long tongues to roll food like grass in the distance, four stomachs to store and digest food even if the foods are hard and chewy. Besides, giraffes can eat the regular grass, they can eat thorny trees. Today, you and your kids get an opportunity to know more about this animal with this article on how to draw a Giraffe. Here, we explain in six steps how to draw a lovely giraffe. With this simple and fun method of learning to draw, you and your children will become real artists! Once you finish your drawing task, you can choose the suitable colors and make coloring for your product, and you can refer to Giraffe coloring pages on our site, we update them daily and for free. If your kids love Giraffes, why don't give Giraffe to your kids? They can enjoy them in their free time.
How To Draw A Giraffe – Let's Get Started!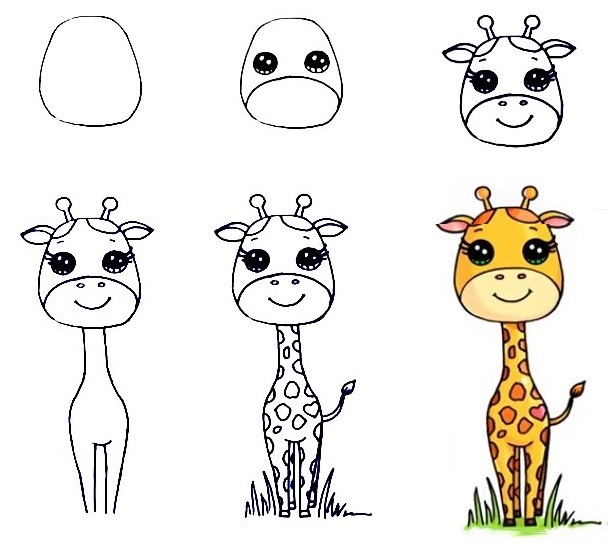 Everyone loves Giraffes, but not everyone has the opportunity to see Giraffe in person, and we are here. We provide
Giraffe coloring pages
for you. You can enjoy them for free anywhere and anytime with your device connecting to the internet. And now, you will learn to draw a Giraffe with us. You will follow us in the instructions and our illustrating image. This is not a simple task but not too difficult for you even as a beginner. So please keep patient and follow our instructions. Drawing or coloring are interesting activities and suitable for everyone. From children to adults can enjoy it because it can help us to relieve stress and worries from life to make our life better. You can recommend your kids and your friends come here to get the playmate. Now, let's get started to draw a giraffe with us!
Step 1 – Draw Giraffe's Face Outline.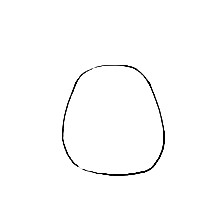 To start drawing a giraffe, you will draw an oval for face outline. This oval will form the giraffe's face. Very simple in this step, you will finish the task here and move to step 2.
Step 2 – Draw Giraffe's Eyes.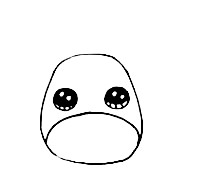 Now, you will draw the giraffe's eyes, you will draw two big dots, then you use black to color for pupils of the giraffe. You will make some small spaces in white to create the natural giraffe eyes. Bellow eyes, you will draw a curve, then you will add noses and mouth for the giraffe. Once you have these elements looking as they do in the reference image, you're ready for step 3!
Step 3 – Draw Giraffe's Face Details.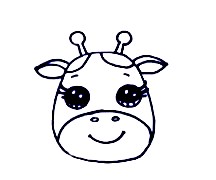 Above the giraffe's head, you will add two ears and two horns to the giraffe. You will draw the slight curves and short lines for the ears and horns. From the giraffe's eyes, you will add the eyelashes with the fast turns. Here, you try to create curled eyelashes to make the giraffe's eyes more beautiful. Bellow eyes, you draw two curves for eyebrows for the giraffe. Then, you will draw giraffe's noses with two small black dots and bellow noses, you add a curve for the giraffe's mouth as well. You can add some small lines for the decorations for the giraffe's face as well. That's all there is to it for this step, so when you're happy with the look of it we shall continue adding to this giraffe in the fourth step.
Step 4 – Draw Body And Two Front Legs For Giraffe.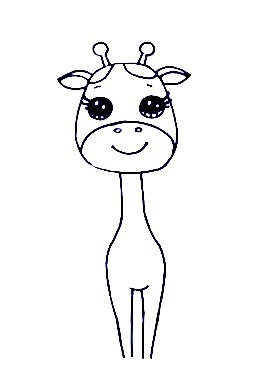 You will start to draw the body and two front legs for the giraffe in this step. From the giraffe's face, you will draw two parallel lines down to form a long neck for the deer. Then you will draw parallel lines to form 2 front legs for your giraffe. With body parts, you must draw the curve to create a little fat in the body for giraffes. This step is not simple, so you need to concentrate your mind's passion on finishing your task as soon as possible.
Step 5 – Finish Your Drawing Mission.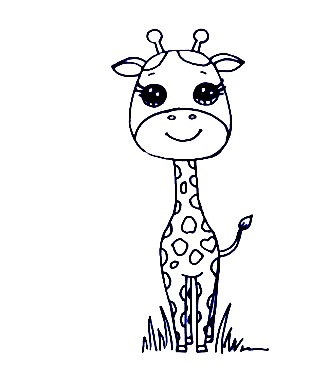 Now, you must finish all your drawing mission here. You will draw two hind legs for the giraffe now because the giraffe's hind legs will be covered by its front legs, so you only need to draw the part that we can see. You will draw parallel lines for two hind legs. From the giraffe's body, you will draw the long tail for the giraffe. At the end of the tail, you will draw a triangle to make a real giraffe tail. You will add some decoration from on giraffe as well. To finish this step, you add some grasses below the giraffe foot. They are the decoration for your product nicer. Now, you will go to the last step for coloring.
Step 6 – Coloring Giraffe.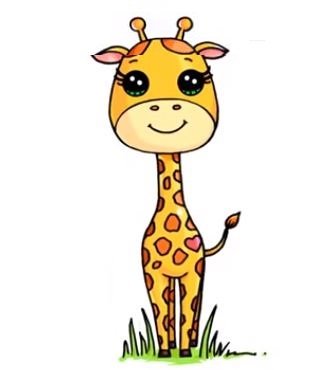 This is the most straightforward task for you. You choose colors you like and make coloring for your giraffe. You know that giraffes will have yellow spots, so you can use yellow to color it. Here we take light yellow for our griffe. You can take your favorite colors for your product because there's no such thing as a mandatory rule in choosing colors. You can refer to other
Giraffe coloring pages
in our coloring pages section. So, it takes about 15 to 30 minutes to make a complete giraffe. It is not too difficult, but it is not simple for everyone. You can enjoy other instructions on our sites as well. We update them daily, and be sure to keep checking our site to make sure you never miss out! I hope you can get a great time!
DON'T MISS