Princess Drawing Is Gotten In 9 Easy Steps
Complete A Beautiful Princess drawing in just 9 easy steps
Today, you get an opportunity to learn how to draw a Princess or Princess drawing with us. We will give the details of the instruction in nine steps for you. You will follow us and our illustration and make a complete Princess. It would help if you prepared some things such as paper, pencil, and colors before drawing. If your girls love Princess, please don't hesitate to give them these instructions and learn drawing a process with them. You should encourage your child to actively participate in many extracurricular activities such as painting and coloring. They are suitable activities for kids and everyone. Along with the tutorial, we have also included a couple of free Princess coloring pages that you can print off and give to your kids to color! You will use a pencil to draw on paper. You can erase if you make mistakes. With excellent easy steps, I believe you can finish your mission here with your happiness. You can enjoy this activity after the hard-working hours. It will help you reduce stress and worries to make your life better.
How To Draw A Princess – Let's Get Started!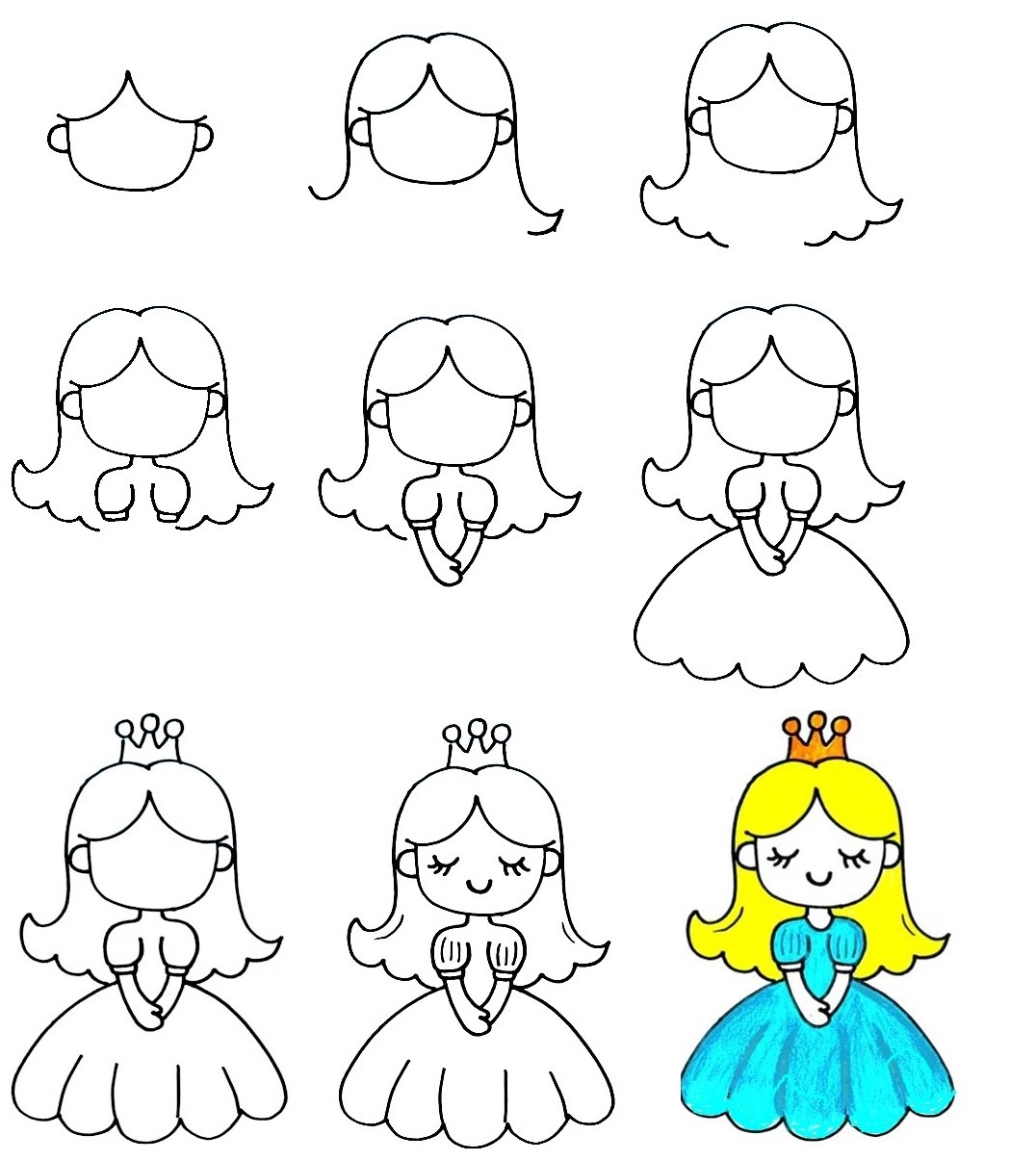 It's so much fun with the Princess drawing activity. Every girl loves Princesses very much. They always see Princesses as idols, so, you can give a Princess to your girls on special occasions like birthdays, Christmas, and New Year. They will surely be happy about your gifts. Back to drawing Princess, this mission is not simple, but it is not too complex. You must concentrate on the course of drawing. In each step, you can give poses or add a few details to create your drawing. The following directions will help you feel more confident when making your first drawings. From easy to difficult, you will create a complete Princess for yourself. Here, we make an excellent Princess with long yellow hair, a crown, a pair of closed eyes, wearing a lovely green dress. But you can draw a Princess who is different from our Princess. Now, let's get started drawing a Princess with us!
Step 1 – Draw Princess's Face Outline

To start your one-minute Princess, draw a U shape. Then, you will use two curves, turning to two sides, and make a face and a part of the hair for Princess. From her face routine, you draw two small curves at two sides and make a pair of ears for your Princess.
Step 2 – Draw A Part Of the Hair For Princess

The hair is vital for Princess. In this case, our Princess has long, straight hair. To create her hair, you will use lines and some curves to create beauty for her hair. You can draw three to four flowing lines sprouting from her head and fringe. Every little girl wants a princess with different hair so you can create hair for Princess like your favorite hairstyle. You can draw short curly hair, pigtails, ponytails, buns, or various other styles in this mission. You can learn more about the Princess's hair in the 3rd step.
Step 3 – Finish Princess's Hair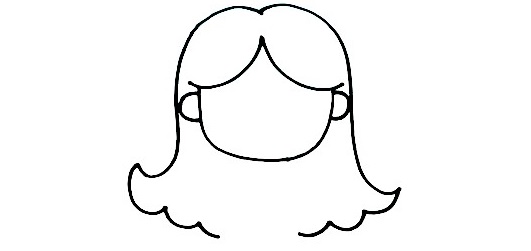 Your task in this step is to continue for step 2. You lengthen the princess' hair, then perfect her hair as soon as possible. Very simple for you in this step, and now you can move to step 4 and continue your drawing of Princess.
Step 4 – Draw the Neck, Shoulders, And Upper Arms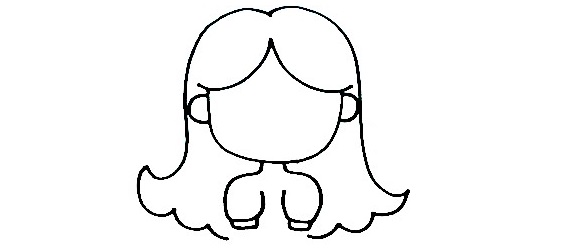 The neck is easy, as all you need to do is draw two straight lines downwards. Those two consecutive lines come from her face. From her neck, you will use the bar to make the shoulders and upper arms for Princess. In this part, you will use small lines to make the sleeves of her dress. That's all there is to it for this step, so when you're happy with the look of it, we shall continue adding to this Princess in the fifth step.
Step 5 – Finish Arms And Draw Hands For Princess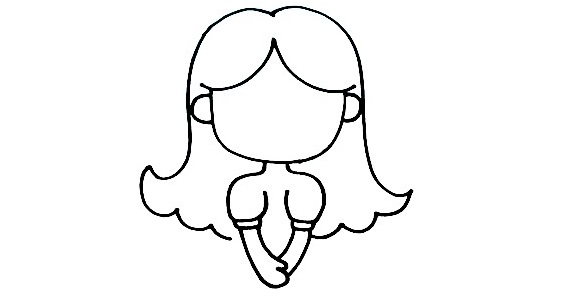 From the details of step 4, you continue to draw the rest of her arms. Then you will draw the fingers and create her hand. If drawing fingers makes you nervous, you can always draw "mitten hands," as I have done with this Princess. It is very simple because it takes some bit of lines. You can look at our image and follow it.
Step 6 – Finish Princess Dress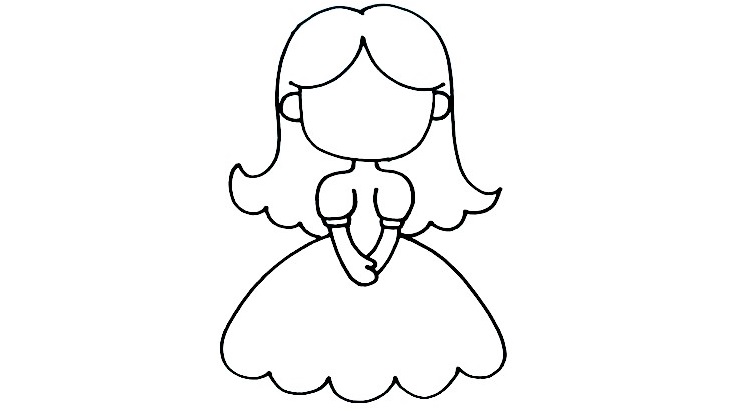 This is the step that your girls are sure to love. They often create dress for dolls with scarves or anything they get. So, they want to draw a lovely dress for the Princess. You can use your fashion skill to realize tasks in this step. From her arms, you will use the line downwards, and you will use the curves to make the dress wavy and more beautiful. That's all you need to do at this step, and move to step 7 now.
Step 7 – Draw a Crown For Princess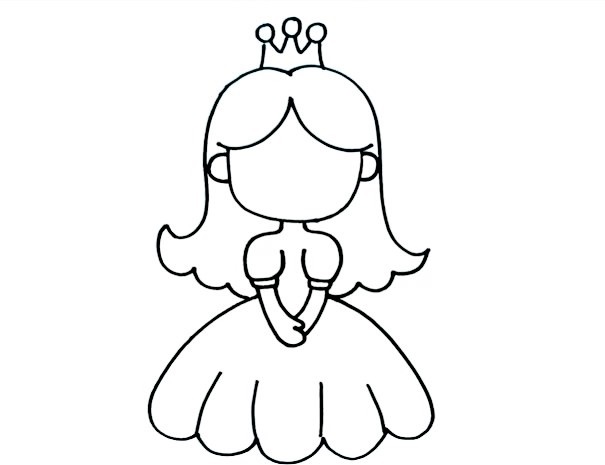 Princesses can't be without a crown. That's their unique trait. At the top of the Princess's head, you will draw a lovely crown for Princess. You will draw the short lines and make the zigzag and create a lovely crown for your character. You will add three dots on the top of crown like our image.
Step 8 – Finish Your Drawing Mission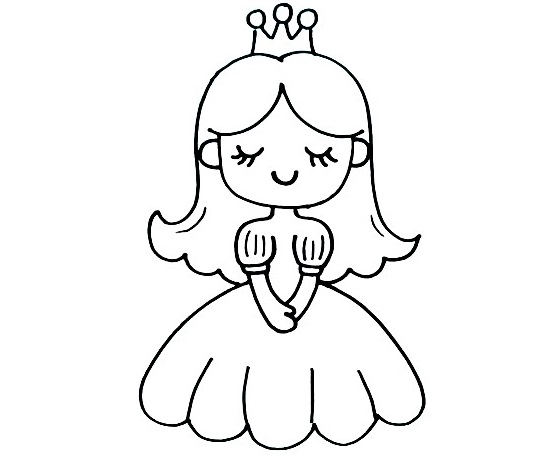 In this step, you must finish all your drawing mission. You will add some detail for your Princess, such as eyes, nose, and mouth for Princess. At the face, you will draw two eyes with two lines. We make them close their eyes for Princess. Then, you will use the lines to make the eyelashes for her. Under the eyes, you use small curves to make her once and mouth. So, you create a complete Princess, and you have more of the last coloring step now.
Step 9 – Color Princess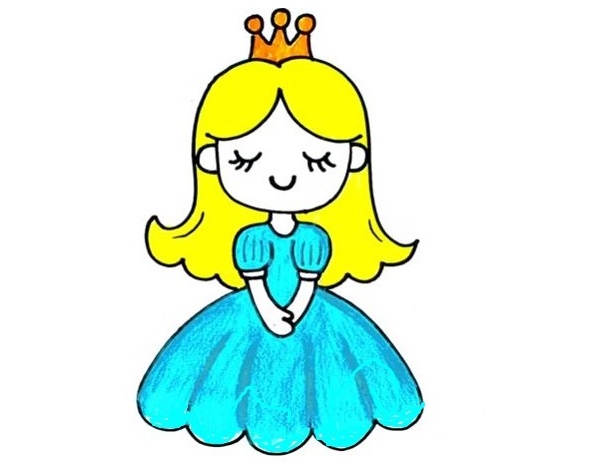 This step is crucial for you. You will choose colors for your Princess. You can take any color you like for your products. Princess is always excellent, so you can select unique colors for her as red, pink, green, and yellow. Here, we take green for the dress, yellow for her hair, and brown for her crown. And you can make any color for your Princess to make her more excellent because there is no rule in choosing the color for drawing. Once you finish your mission here, you can enjoy Princess coloring pages on our site. We update many instructions and coloring pages as well as. We update them daily, be sure to keep checking our site to make sure you never miss out!