Cloud Drawing Is Made In 6 Easy Steps
Creating a cloud drawing in just 6 easy steps
In real life, no two are alike, so why always draw them the same old way? And now, you learn to create a cloud drawing in your own way. We give six sep for our instruction, and you will follow it and make a complete cloud. Please don't worry because this task is not too difficult and you can finish it whether you are a beginner or an expert in drawing. We often see clouds in the sky but can't touch them, so what is a cloud? Through learning to draw clouds, you will have the opportunity to understand more about this natural phenomenon. We give the guide details, and you will go to step by step with our tutorial; you will think this is an interesting mission, and everyone loves it. With our instructions, you will realize your task with your fun. Along with the tutorial, we have also included a couple of free cloud coloring pages that you can print off and give to your kids to color! You also can practice your drawing here to develop your talent for painting.
How To Draw A Cloud – Let's Get Started!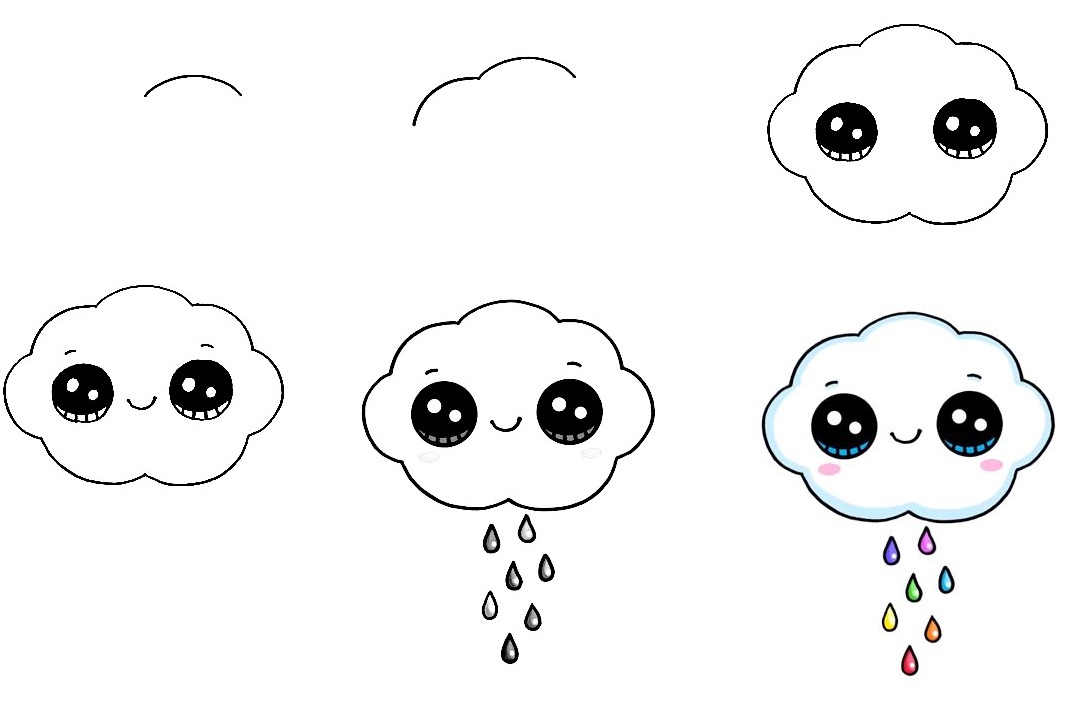 As you know, clouds are visible masses of water that look like a collection of white smoke floating in the sky. This is a tutorial on how to draw a cartoon cloud and a realistic cloud. This is a beautiful and popular weather phenomenon. However, not everyone has the ability to show this in a drawing, so with our simple tutorials, you will have the opportunity to explore drawing clouds. Before drawing, you will prepare some things such as a pencil, pen, color, and paper. You use your pencil to draw on paper, and you can erase your mistakes easily, so please don't be afraid to draw. You can draw in your most comfortable mood. If you are a parent, you can learn this drawing with your kids; they surely like it. They also need to get the time to relax, through which they will learn more effectively. Now, let's get started drawing a cloud with us!
Step 1 – Draw A Curved Line

In this first step of our guide on how to draw a cloud, we will start simply. You draw a simple curved line for the cloud outline. It's simple, isn't it? You'll do it quickly and move on to the next step.
Step 2 – Draw The Second Curved Line

Same as step 1, you will draw the second simple curved line for your cloud. You will carefully draw a very curved horizontal line as you can see in the reference image. And this task will be continued in the next step, so follow our tutorial and follow along.
Step 3 – Finish Body And Eyes For Cloud

Because we are drawing a cute cloud so it will have full details for the face like nose, eyes, and eyebrows, so, now, you use the curved line to finish the cloud's body and then draw two dots for the eyes. You use black to color eyes and let some white space to make the eyes look more real and alive. You draw some short straight lines for eyelashes of clouds.
Step 4 – Draw Eyebrows, Nose, And Mouth

On the eyes, you draw two small curved lines for eyebrows; then you draw another curved line to make the mouth and also the nose for the cloud. Now, you have finished all details for the face of the cloud. Your cloud looks so cute with the eyes, nose, and mouth you just drew.
Step 5 – Finish Your Drawing Mission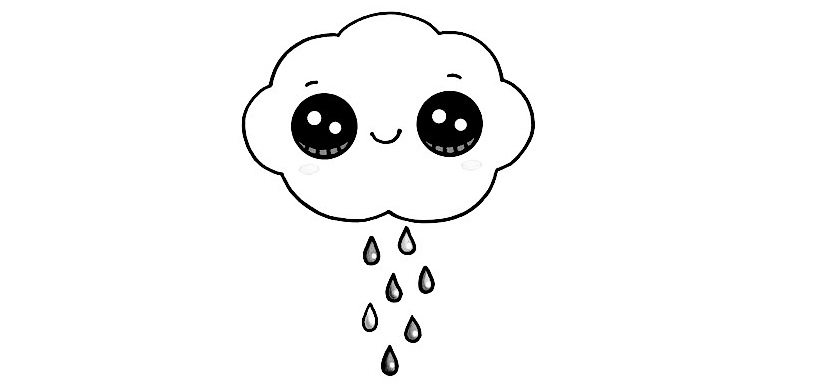 You finish your drawing task in this step with some dots. They play the role of raindrop. Because we are learning to draw the cloud rain. So, you get a complete cloud with your drawing skill. You spend about 25 to 30 minutes finishing this learning. You have more, the last step for coloring the cloud.
Step 6 – Color Your Cloud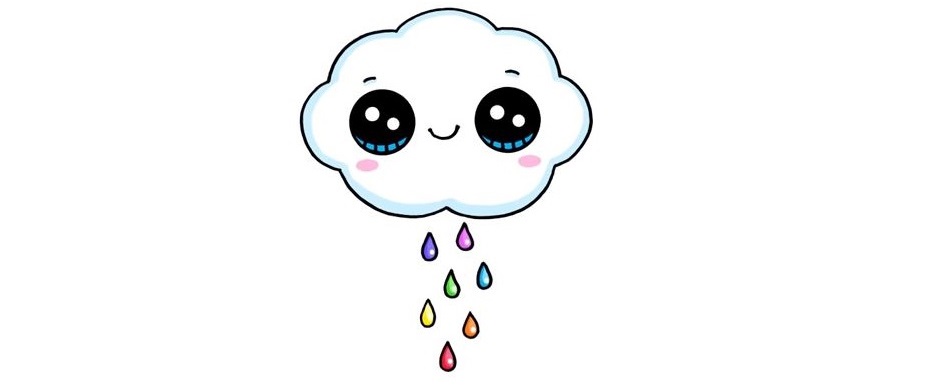 Before leaving this learning, you add color to your product, the cloud. You can also decide what color you want for the background to suggest what kind of day it is in your cloud drawing. You could use a beautiful orange to make it feel like a sunset or sunrise sets. Clouds are usually blue or white. We used blue to make the border around the shadows and inside white. It depends on your hobby. Colors you can add some colors to make decorating.
Cloud Drawing Is Complete!
Why not? All activities on our sites are free, and you can recommend your friends to come here and enjoy them after the hard-working hours. You can move to cloud coloring pages for free, and you choose a color to make coloring images related to the cloud, or you can practice your drawing skill. So, you know how to draw a cloud with us in this learning. I hope you like it and come back here in your free time. Have a great time!