Chococat Drawing Is Complete In 8 Easy Steps
Creating cute Chococat drawing in just 8 easy steps 
In this cool tutorial, you will learn Chococat drawing step by step. The detailed instruction will show you how simple this guide is. Any kid from any age will have a blast drawing their favorite cartoon character. This is not a simple task, but it is not too difficult. You will go to step by step in our education and to create the complete Chococat with your skill. You can learn this drawing with your kids and become a real artist. Chococat is one of the many fictional characters produced by the Japanese corporation Sanrio. He is drawn as a sweet black cat with huge black eyes, four whiskers, and like his counterpart Hello Kitty, no mouth. This is a character that many people love and want to draw, but not everyone can do it. Today, you are fortunate to experience drawing Chococat with us. Drawing will help you to get the time to relax and balance and make your life better. Why not? All activities on our site are free, and you can come here to enjoy them anytime and anywhere with your devices connected to the internet. Along with the tutorial, we have also included a couple of free Chococat coloring pages that you can print off and give to your kids to color!
How To Draw Chococat – Let's Get Started!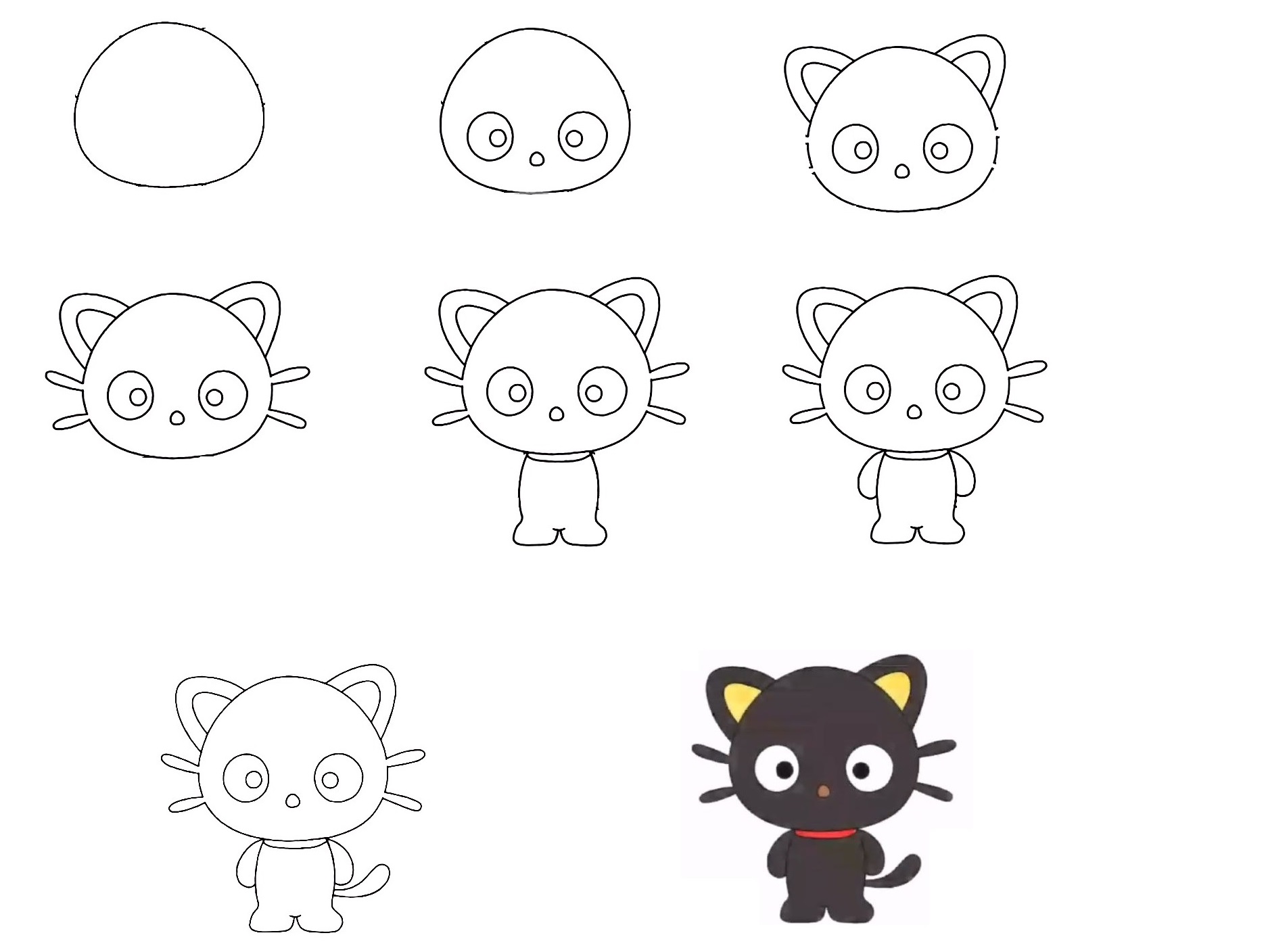 Chococat name comes from his chocolate-colored nose. His whiskers can pick up information like antennae, so he is often the first to know about things. Chococat is a very spunky cat who loves to play around. Chococat is one of the Sanrio characters, popular like Hello Kitty; he loves to fool around with his best pals. You will follow our instructions to make Chococat with your skill. Prepare a few things before drawing, like a pencil, pen, and paper. Then you use your pencil to draw on paper; you can erase your mistake easily. Some steps will require you to erase lines drawn in previous steps. Whether you are a beginner or an expert in drawing, you can finish your task and get a complete Chococat. If you are a parent, please don't forget to give this guide to your kids, they will surely like it. Now, let's get started drawing Chococat with us!
Step 1 – Draw Chococat's Head Outline

You will draw an oval for the head outline for Chococat. Like all the other Hello Kitty characters' head outlines. Very simple for you in this step; you finish it in seconds and move to step 2 to continue your drawing.
Step 2 – Draw Eyes And Nose For Chococat

You will draw two circles and two dots inside each circle to create eyes and pupils. Since Chococa has no mouth, we don't need to show it here. You just need to draw two eyes and a nose for him, and you will complete the task in this step. You can see next to step 3 for your drawing.
Step 3 – Draw Chococat's Ears

You will draw a curved line similar to a backward letter C on the right side of the head as a guide for the Chococat ear. You can also add some detailing inside of the ear. So, your Chococat has eyes, nose, and ears at the head and face, and go to the fourth step.
Step 4 – Draw Chococat's Whiskers

Right now, draw two whiskers on each side of his face by the parallel curved lines. Your task in this step is also simple so finish quickly, move on to step 5 with your Chococat and get a fun time.
Step 5 – Draw Body And Legs For Chococat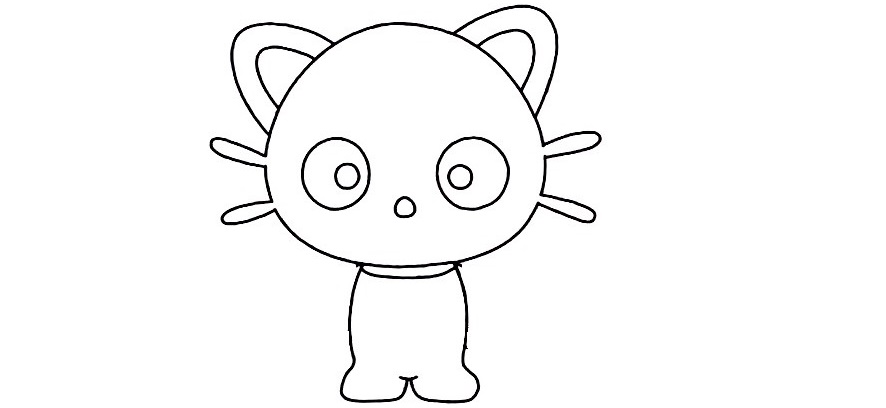 From the face, you draw the collar and the small framed shoulders. Draw two curved lines coming down from his collar, and then connect them at the bottom of the curved lines to make two feet. You will go to step 6 for your Chococat now.
Step 6 – Draw Chococat's Arms

You draw arms and hands for Chococat now. From his shoulder, you use two curved lines and make his arms and hands. This mission is not difficult, and you can look at our illustration and follow it. Now, you can move to the seventh step and continue your work.
Step 7 – Draw Chococat's Tail

You will use two curved lines and meet a point to create a complete tail for Chococat. You just learned how to draw Chococat, step by step, and finish your Chococat with your drawing mission. You have more the last step for coloring of Chococat.
Step 8 – Color Chococat

You have finished drawing chocolate in 7 steps, and now it's time to choose the color for your product. This is the simplest step for you. You will take the suitable colors for your Chococat. In this step, you can choose the color according to your taste because there is no rule in choosing the color for the character. You choose black for most of the body, white for the eyes, yellow for the ears, and red for the necklace. You finish your drawing and coloring task with our instruction for drawing of Chococat. You get complete Chococat with your skill. You can erase all the guidelines and shapes you drew in step one to make perfect Chococat. You can move to Chococat coloring pages to refer to coloring pages and practice your drawing coloring. So, you know how to draw Chococat in our eight simple steps. I hope you get a great time with us and come back here to enjoy our products for free on our site; you can recommend your friends to come here.