7 Easy Steps Making The Titanic Drawing – How To Draw The Titanic
Creating the Amazing Titanic drawing in just 7 easy steps
Our step-by-step guide on how to draw the Titanic will show you how to make the Titanic drawing without leaving you out at sea without a lifeboat! You will follow the instructions and create a Titanic with your drawing skill. This is not a simple task but it is not too difficult you can create some things to decorate and make your own drawing. You will go to step by step and finish your task as soon as possible. Whether you are a novice or an expert in drawing, we're sure you can follow these steps effortlessly. There are 7 easy steps for you to come over. You need to concentrate and be patient in the course of realizing your task. There are many details for the Titanic you must complete. Be patient and do everything well according to the step-by-step instructions you will create a perfect product. Titanic is a famous ship and is known by many people but not everyone has the ability to draw Titanic. Luckily, we have a drawing tutorial for Titanic today and you have the opportunity to learn how to draw Titanic and get more information about this historic ship. Along with the tutorial, we have also included a couple of free Titanic coloring pages that you can print off and give to your kids to color!
How To Draw The Titanic – Let's Get Started!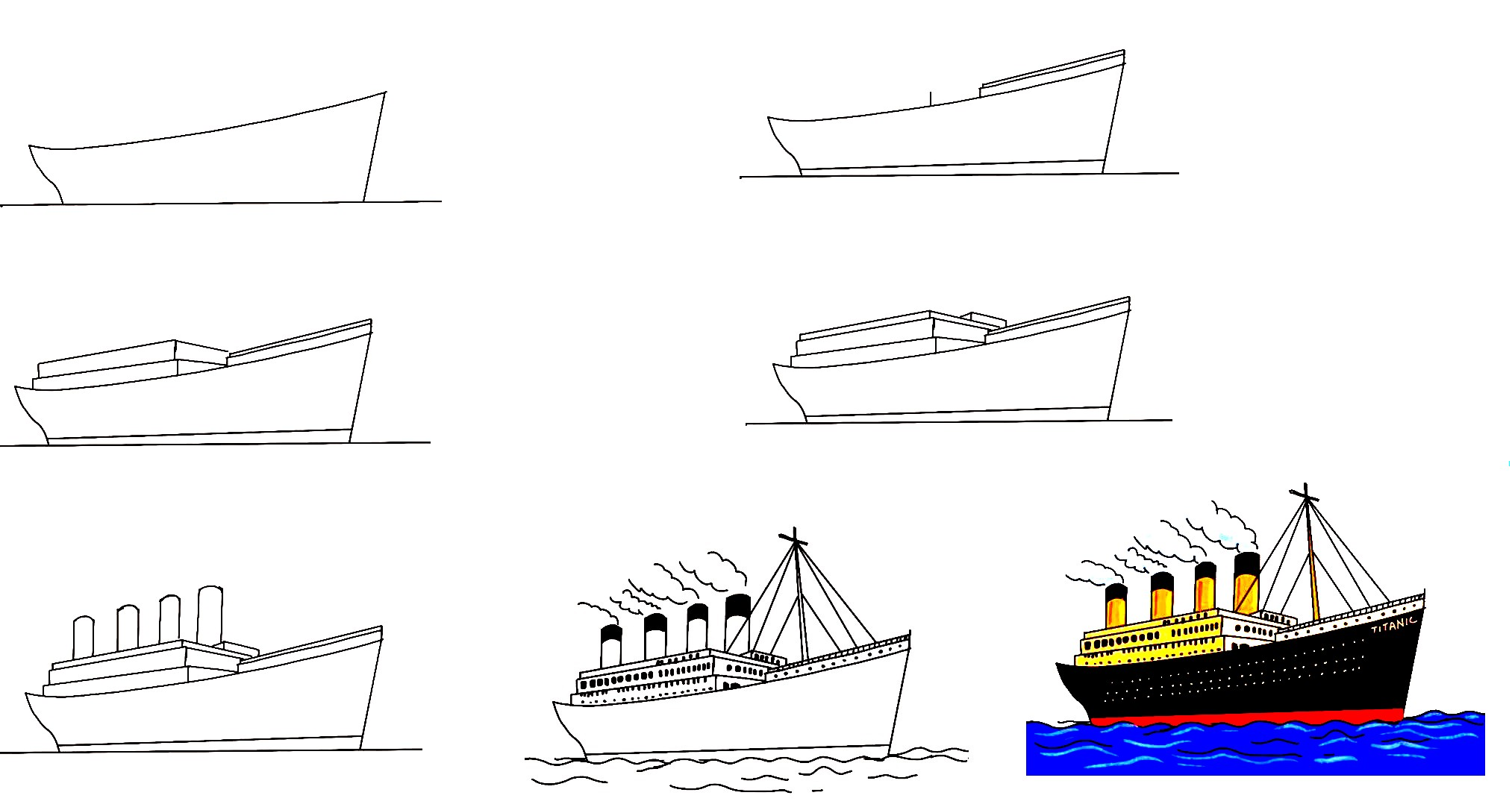 Just like drawing many other things, you need to prepare some tools before drawing as paper, pencil, and colors,..You can take advantage of the available items at no cost. This is a free entertainment channel and suitable for everyone from children to adults. If you are a parent, you can learn this drawing with your kids because this activity is good for them. Children will develop more skills such as hand-holding skills, language development skills, concentration skills, perseverance, etc., thanks to learning to draw. More join in this drawing activity, your children will avoid using some technical devices such as television, smartphones, tablets,…they are not good for their eyes and their evolution. First, you will draw the simple lines of the titanic ship, then you will draw more complex details for the ship when you have finished drawing the ship you can choose the color for it. This is an interesting task and you can enjoy it in your free time after the hard-working hours. Drawing activities will help you to balance your life. Now, let's get started drawing The Titanic with us!
Step 1 – Titanic Drawing, Draw The Titanic's Body Outline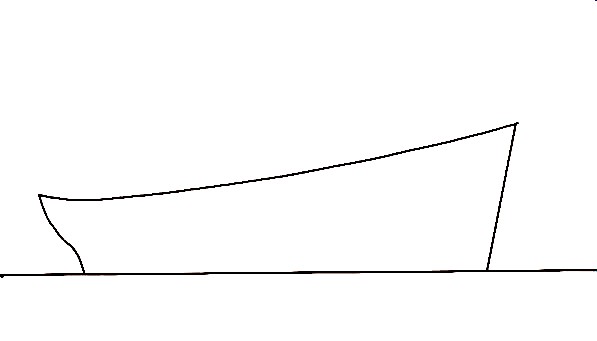 To start on how to draw The Titanic, you draw the body outline for The Titanic. You can use a ruler to draw a straight line. Then use some curved lines to create the front of a ship which is called the bow. It is not difficult in this step and you can see our illustration and follow it.
Step 2 -Titanic Drawing, Start Drawing The Top Of The Ship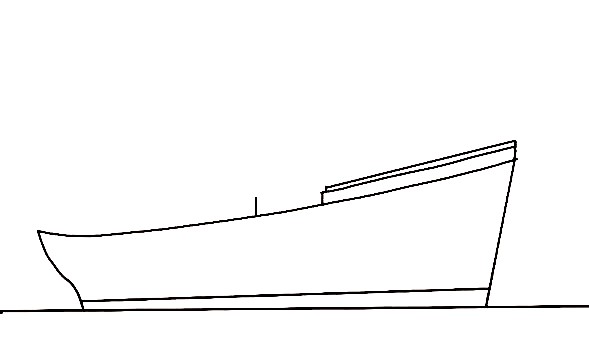 In this second part of your Titanic drawing, we will be creating the side of the ship. To do this, keep the lines at the front of the ship going backward, and then draw some vertical lines to give the bridge of the ship some height. Once, you finish the task in this step, you move to the third step and continue your drawing.
Step 3 -Titanic Drawing, Continue To Add Details For The Titanic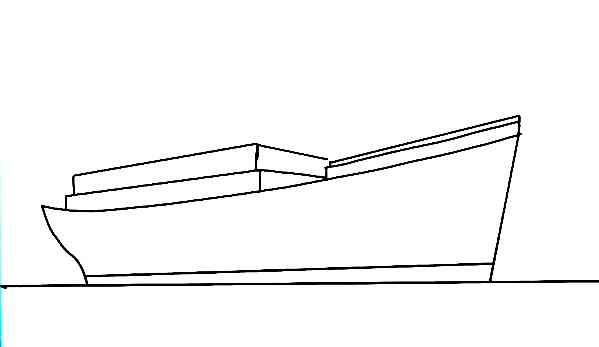 As You see in our reference, you must add some detail to The Titanic. It's also simple for you in this step, you'll be adding some lines on top of The Titanic to add some new details to your creation. Once you have it looking as it does in our reference image, we're ready to keep sailing through this guide!
Step 4 – Titanic Drawing, Finish The Titanic's Body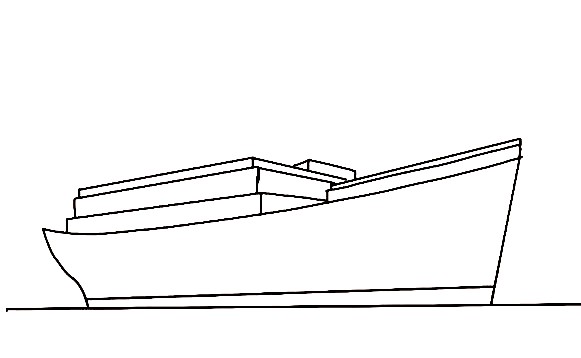 We will be finishing off the outline for the vessel in this fourth step of our guide on how to draw the Titanic. You use straight lines to draw the complete details for the body of The Titanic. It is not complex for you here, you can spend some minutes and continue to draw your product in the fifth step.
Step 5 – Titanic Drawing, Draw The Titanic's Smokestacks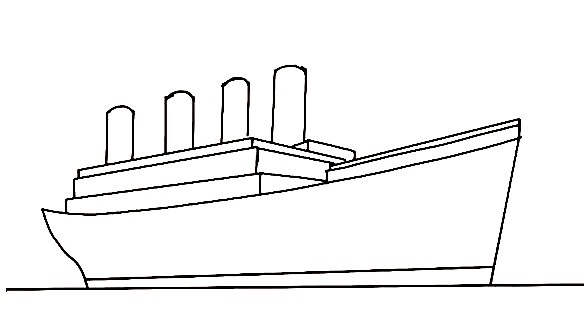 You draw some smokestacks for the Titanic in this fifth step. You use curved lines and straight lines to draw four smokestacks. They will look very similar, but as you can see in the reference image they will get progressively longer as they go. Your Titanic drawing is looking great already, and in the next step we will finish off with some final details!
Step 6 – Titanic Drawing, Finish Your Drawing Mission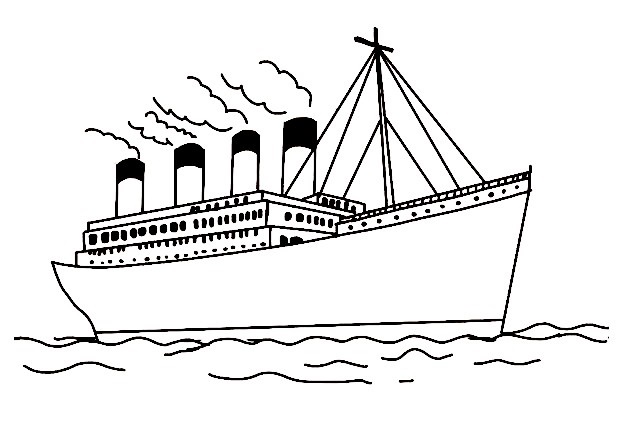 Right now we have some final details to add. One of the main aspects we will be drawing will be cables dropping from the tops of the mast. Then, you use the short lines to make the wave or details for decorations of The Titanic. In this step, you can add more of your details to decorate the ship to make a difference with your sample drawings and reference drawing.
Step 7 – Color Your Titanic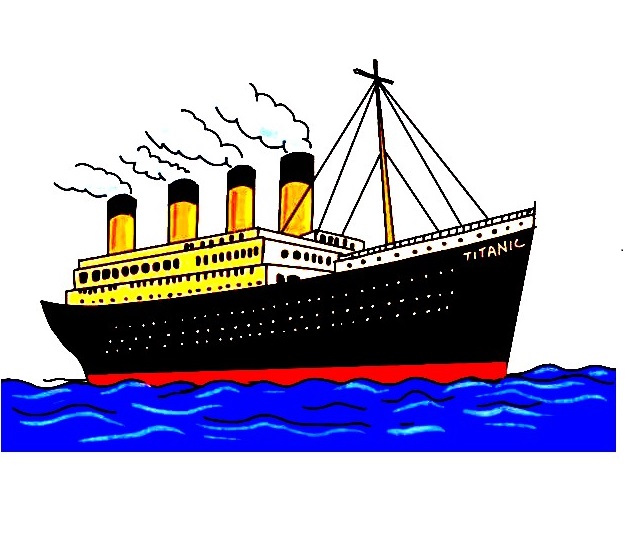 Now, you realize your simplest task in how to draw The Titanic. You will choose the suitable color and make coloring for your products. We take black for Titanic's Body, blue for water and waves, yellow for some smokestacks,… Here, you finish all tasks of the Titanic drawing. You can move to Titanic coloring pages and enjoy images related to motorcycles.
Titanic Drawing Is Complete!
We update many images related to the Titanic. Now, you know how to draw the Titanic on our site for free. We update many guides and many coloring pages that you enjoy and practice your drawing skill here. You can recommend your friends come here to get human counterparts. If you like our product on our site, don't forget to give us a thumb up and recommend them to your friends!