7 Simple Steps To Create A Nice Koi Fish Drawing – How to Draw a Koi Fish
Making A Complete Koi Fish Through Seven Easy Steps
You will have a chance to create a complete koi fish drawing with us in free time to get a fun.
Koi fish originates from Japan, and is a fish with beautiful vibrant colors.
Because of their beautiful colors, koi fish are often kept in tanks or water gardens to decorate the house.
Today, many people love koi fish and keep it as a hobby for entertainment and love of nature.
With an eye-catching appearance, koi fish are many artists who sketch their images through each picture.
Luckily today, we also have a koi fish drawing tutorial for you; you have about 30 minutes to complete the task of drawing it.
You will go to step by step in the koi drawing guide to finish your work. There are seven tasks equivalent to seven steps that you must overpass.
We arrange this koi fish drawing from easy to challenging, suitable for everyone, whether you are a beginner or an expert.
In addition to learning to draw koi fish, you enjoy koi fish coloring pages on our website to practice your drawing and coloring skills. We often upload for free for you. If you regularly practice drawing and coloring, your drawing ability will improve, and you will love this activity too.
Do not forget to prepare necessary supplies such as A4 paper, pencil, pen, and colors and erase before starting to draw koi fish.
We are coming to seven steps on how to draw a koi fish with us!
How To Draw A Koi Fish – Let's Get Started!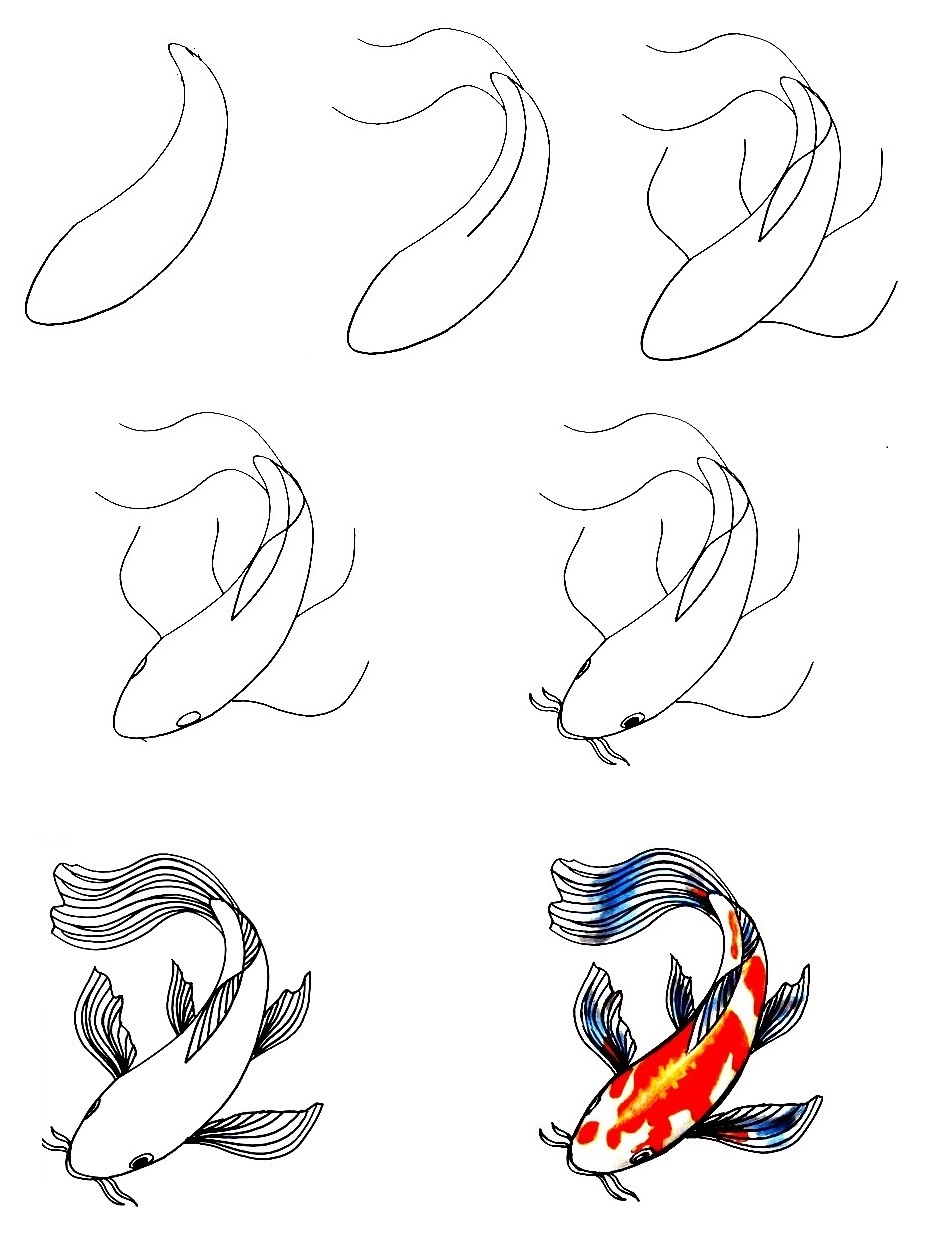 Step 1 – Draw Koi Fish Body Outline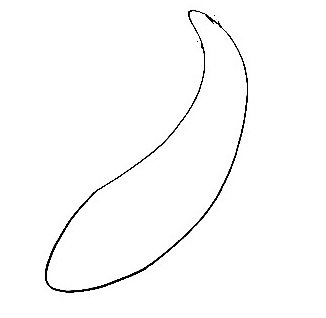 To make sure you draw the koi fish in the center of the paper, start the first stroke in the center to sketch out the shape of the koi fish.
In this first step, you will draw the bottom head and top tail using the curved lines for your task.
Once you are pleased with your image, you can continue your drawing work in the second step.
Step 2 – Draw The First Fin And Tail Outline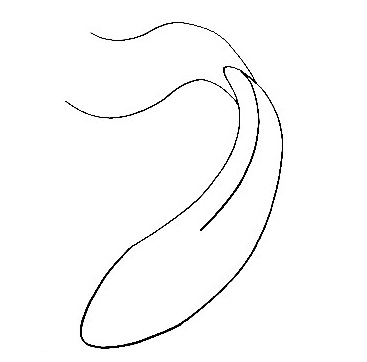 For this second step of our guide on how to draw a koi fish, you must create the first fin and tail outline for your fish.
Use three curved lines for this mission, as seen in our reference image.
That is all you need to do in this step, and now you can move on to the next step.
Step 3 – Add More Fins Outline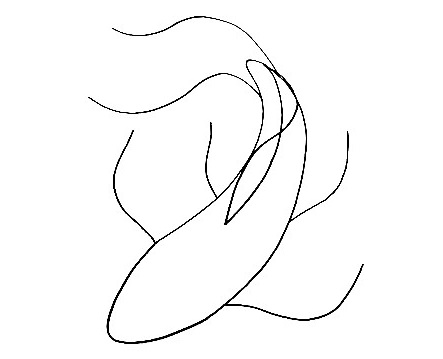 Your task in this step is to draw more fins outlined with curved lines.
It is also simple for you, isn't it? It only takes you a few minutes to complete the task in this step before moving to the fourth step.
Step 4 – Draw Koi Fish Eyes Outline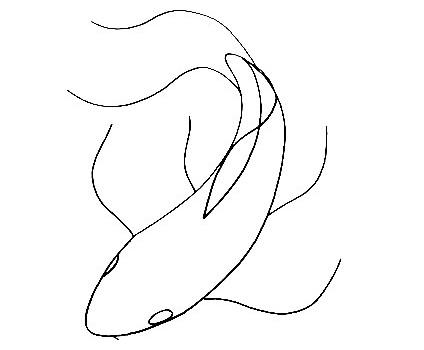 Koi fish's eyes are big and bright, so you need to show this in your drawing, but in this step, you use two ovals creating two eyes outline as you see in our illustration.
Your task in this step of your koi fish drawing is simple. Do you have difficulty? Please observe our drawing and follow if you find it challenging to do.
Step 5 – Draw Koi Fish Face Details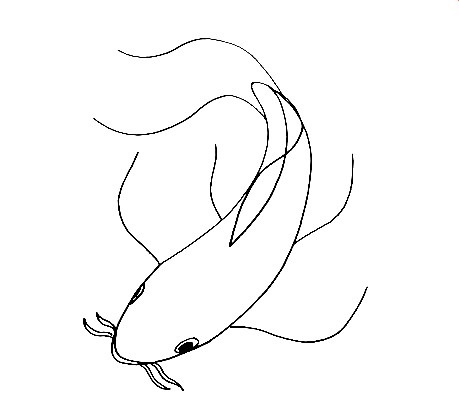 As you know, the koi fishes have whiskers at two sides of their snout. Moreover, here, you will draw two whiskers for each side with some curved lines.
Then, you draw its snout with a curved line to show a koi fish happy.
To finish your tasks, please add black for the eyes to make the koi fish eyes more realistic.
Since we are drawing a koi looking to the side, you can only see one eye and part of the other eye. So, we only draw the part that we can see.
Step 6 – Finish Off Your Drawing Mission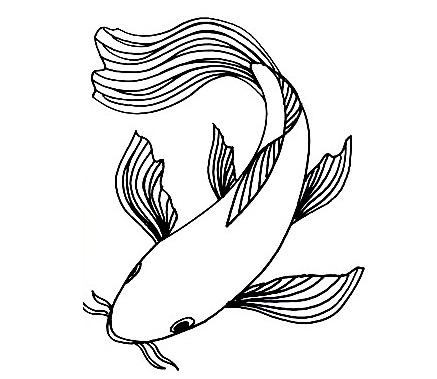 In this game, you must add all details to get a complete koi fish. You will draw the details for the all fins and tail of your fish. Right now, your koi fish has a full part with a head, face, fins, and tails as you see in our reference image.
Before the final step of coloring the koi fish, you can look at your image and add some details to your koi fish drawing.
Step 7 – Color Your Koi Fish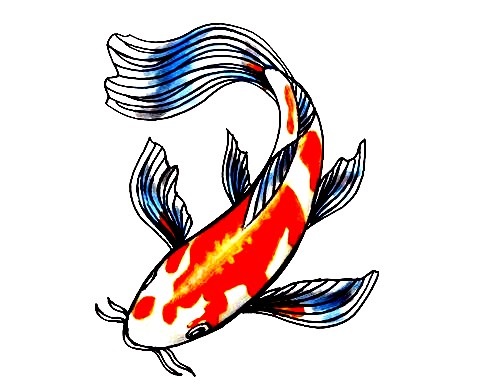 It is time to choose suitable colors for your drawing.
You are free to choose the color of the koi fish, but by nature, the fish is orange and white. Here we have chosen white and orange for our koi fish and yellow, green, and black for its fins.
I would love to know what color you choose for your fish; please show your pictures so we can admire them.
Your Koi Fish Drawing Is Complete
You have done seven tasks to get a complete koi fish drawing; it is fantastic. Do you have a good time? I hope drawing koi fish does not make it difficult for you.
On our website Coloringcool.com, we provide education products for drawing guides, blogs and coloring pages. You can regularly visit our site to enjoy them for free. We update daily, and you can come here each day to be sure never to miss out.
You can find more similar to koi fish drawing such as sunfish drawing, cute fish drawing, fish drawing, or clownfish drawing. Drawing and coloring are suitable for everyone, from children to adults. You can enjoy these activities in your free time after the hard-working hours to blance your life.