Sunfish Drawing Is Made In 8 Easy Steps
Creating A Sunfish Drawing In just 8 Easy Steps
There are eight steps equivalent to 8 missions that you must create a sunfish drawing. Right now, in a simple tutorial, you'll learn how to draw a sunfish in 8 easy steps; this is great for you and your kids; you can become a real artist.  And in each step, we also provide an illustration to help you realize your task easily. Our guide is very specific, from easy to difficult; you can see every detail in our reference images. It takes about 25 minutes for your sunfish drawing. This is an interesting mission and suitable for everyone, from children to adults. After the hard-working hours, you will come here and enjoy our products to forget some worries and stress. You will be more productive if you have the right leisure time. You will follow our guide steps one by one and make a complete sunfish. Along with this tutorial, you also enjoy sunfish coloring pages for free on our website to practice your drawing and your coloring skill.
How To Draw A Sunfish – Let's Get Started!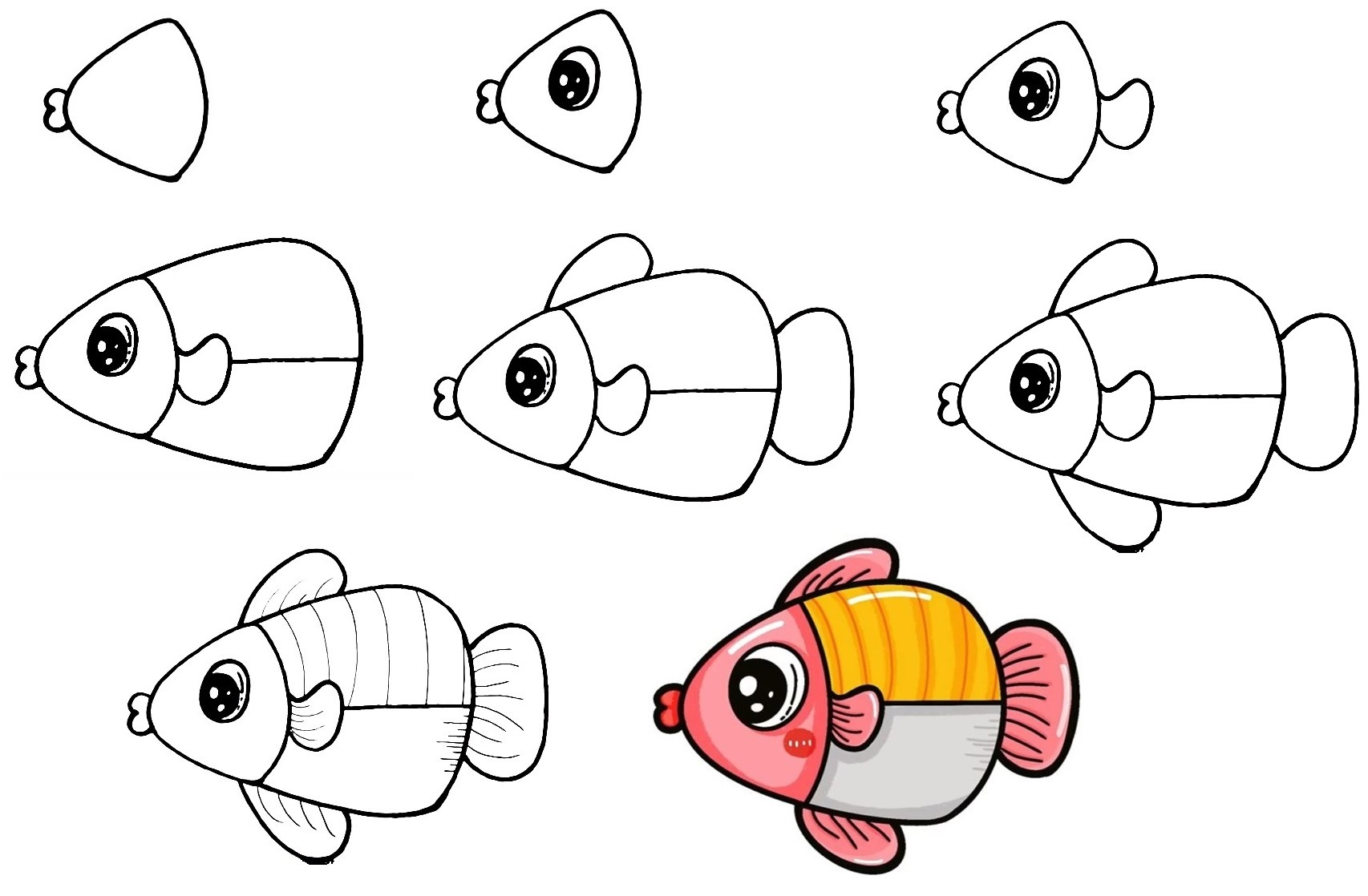 Sunfish are known to be the heaviest fish, they can weigh up to nearly 2000 kg, are spawning fish, and their food is fish, smaller squid, and crustaceans. Today, you get an opportunity to learn how to draw a sunfish and get more information about this fish type. Your task here is not simple but not too difficult, and you must concentrate on the course of the sunfish drawing. Before drawing, It would help if you prepared a pencil, eraser, colored pencils, and drawing paper. Then you use your pencil to draw on paper, and you can erase your mistakes easily. So, please don't be afraid to draw; you can draw in your comfortable mood. You finish your drawing, and you continue to choose
the suitable colors for your product. During the drawing process, you will follow our instructions, but sometimes, you can add a few details to show your creativity to make your drawings more amazing. You will learn more about how to draw a fish through the following eight steps.
Step 1 – Draw Sunfish's Head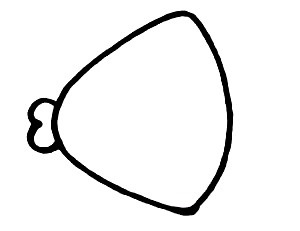 To start realizing your task on how to draw a head for sunfish is very simple to realize your task. You use some curved lines to create the sunfish's head, as you see in our reference image. Once you finish the head outline, you can add a snout for your sunfish drawing before moving to the second step. You can refer to your Sunfish coloring pages for the first task.
Step 2 –  Draw Sunfish's Eye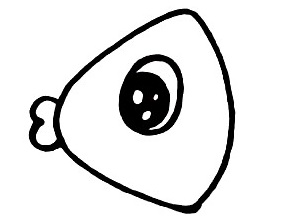 In this second step on how to draw a sunfish, you add an eye for your character. You draw a small oval and use black for the eye in this step. It's so simple; look at our reference image and follow along; remember to color it black and leave some white space so the sunfish's eyes will look more realistic. You can finish your task here and continue your task for sunfish drawing in the third step.
Step 3 –  Draw The Fist Fin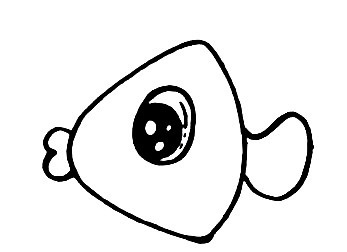 From the top of the sunfish, you can draw a fin for it; also easy for you in this work, just a few curves for the detailed sunfish s fin. You finish this task and move to the fourth step and continue your work on the sunfish drawing.
Step 4 – Draw the Body Of the Sunfish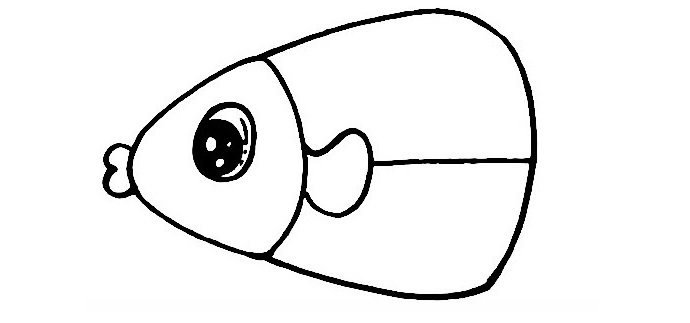 You start to draw a body for sunfish in this step on how to draw a sunfish. Sunfish is a bit like goldfish, so it has a slightly chubby body; as you see in our reference image, move to step 5 to continue your drawing now.
Step 5 –  Add Fin And Tail For Sunfish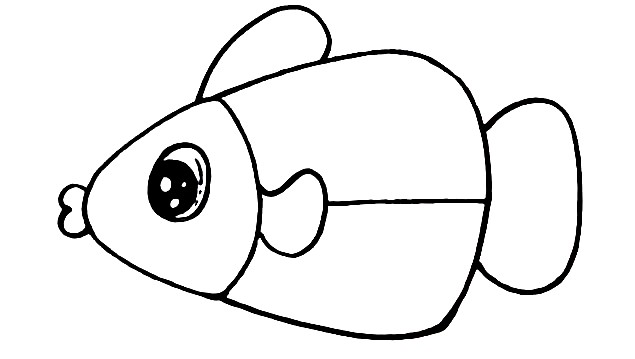 You will need to add the upper fin for your task in this step. As you see in our reference image, you just use a curved line on the back and make a nice fin here. At the end of the body, you start drawing a tail for your sunfish drawing. You will also use a curved line to create a tail for your character. It's also simple for you; watch our illustration and follow it; your work here will be much simpler
Step 6 –  Draw The Lower Fin
Similar to step 5, you start to draw the lower fin for your sunfish now. You will draw the same shape as the upper fin coming out of the bottom of the sunfish. It's not too complicated, try to do it quickly to complete the task here before you move on to the final details for sunfish.
Step 7 – Finish Off your Drawing Task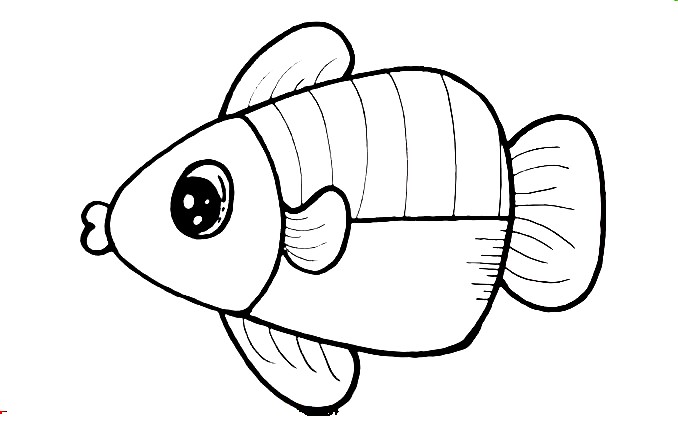 At this step, you must finish all the drawing work here. You use some lines to decorate your character, sunfish. Let's make the sunfish look more real through the small details; please look at our reference image and follow. You can stop the task and move to the last step, coloring your sunfish.
Step 8 – Coloring Your Sunfish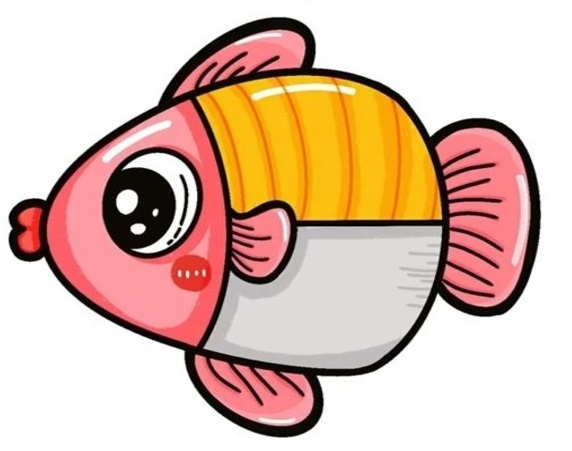 This step is the step of creative freedom, so you can show your creation by choosing the colors for your product. You can take any color for your sunfish. We choose pink, yellow, and white for the drawing. You can use mixed colors for your product, too.
Your Sunfish Drawing Is Complete
You finish all missions in the eighth step for your drawing. How do you feel, and do you understand all the steps we have given? Drawing and coloring activities are good for you and your kids. You can join in this activity with them, and they will feel comfortable and learn better if you give a suitable entertainment channel for them. With our easy tutorial, you can create a complete sunfish drawing on how to draw a sunfish. It is great, and if you like, you can refer to more drawing instructions about fish, such as a Cuttlefish Drawing or coloring pages related to fish, like Rainbow Fish