9 Easy Steps Creating A Nice Bicycle Drawing – How To Draw A Bicycle
Create a nice bicycle in 9 simple steps
Right now, you get an opportunity to create a complete bicycle drawing with us in the nine easy steps. You will go to step by step with our drawing guide to get your result. Bicycle drawing tutorials will be arranged from easy to challenging, suitable for everyone, even beginner ones. You will also have the opportunity to be creative your way through our tutorials, so in the process of learning to draw, you can add a few details to show your styled image.
This is an exciting quest that allows you to have fun with the right amount of time, it takes about 20 minutes for this task, and maybe later, you will draw the bike faster when you have mastered drawing.
How To Draw A Bicycle – Let's Get Started!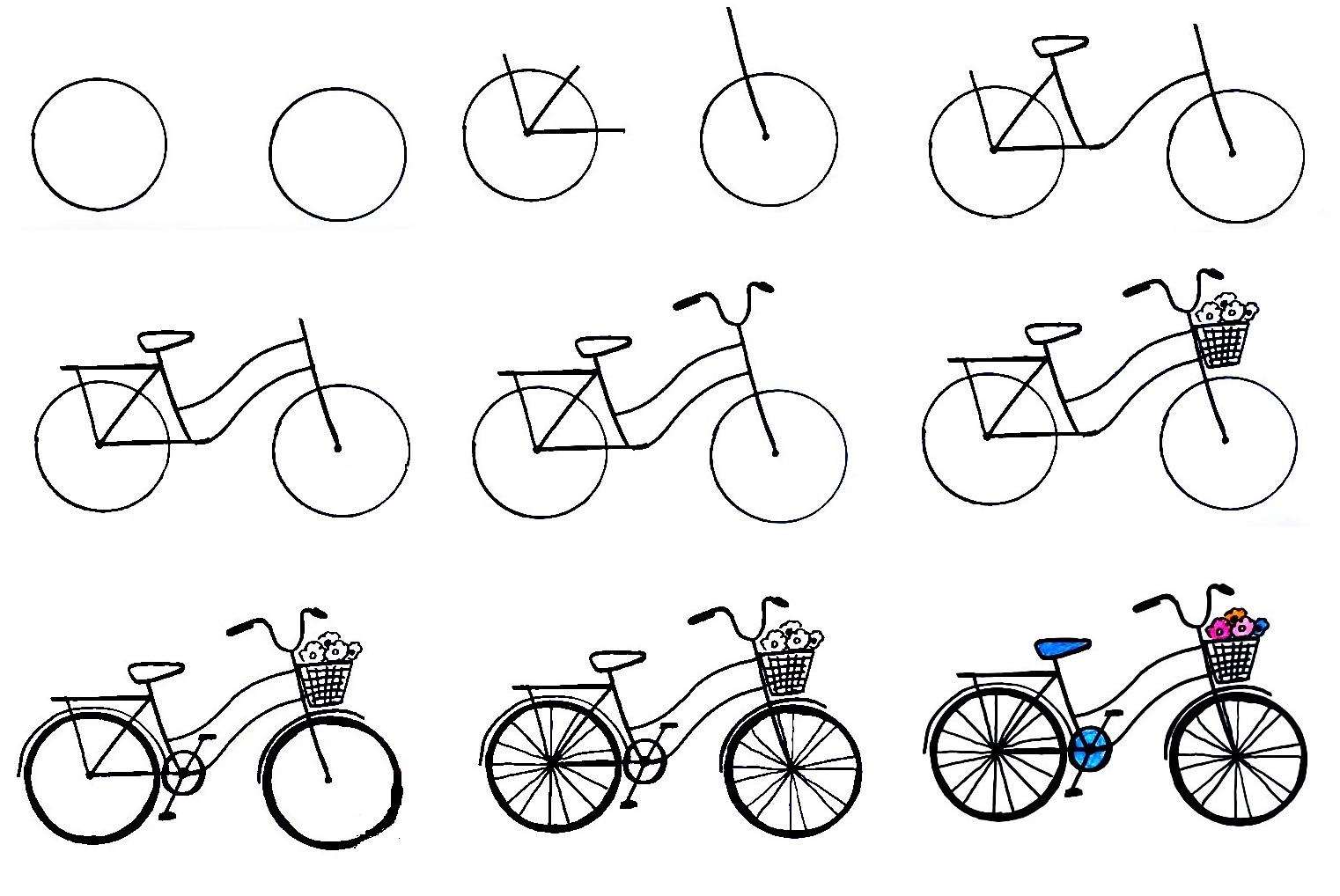 Bicycles seem to be the cheapest and most environmentally friendly means of transportation, helping you exercise. You won't have to pay for gas or fuel to get the bike moving, so it's also trendy; you can see it anytime, anywhere. This is a means of transport that will probably never disappear. Moreover, it is a cheap and easy-to-buy vehicle that is suitable for everyone. And now we will draw the bicycle in nine easy steps.
Before starting to draw, It would help if you prepared a pencil, eraser, colored pencils, and drawing paper,…then you will proceed to draw the blurred lines with a pencil. Next, you will erase the wrong lines and darken the correct lines, and finally, you have to choose the suitable colors to color your bicycle.
Your task of the bicycle drawing is not simple but not too difficult, and you will concentrate your mind, passion, and time on the drawing course. Along with this tutorial, you can enjoy bicycle coloring pages to practice your drawing and coloring skills, and now we will go step by step on how to draw a bicycle.
Step 1 – Draw Two Wheels Outline For Your Bicycle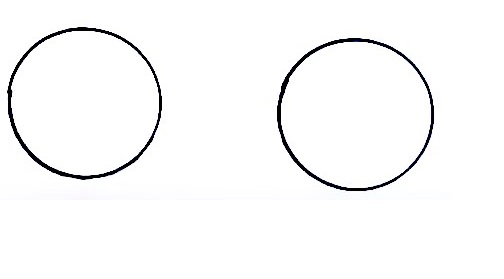 Start your task on how to draw a bicycle; you will draw two wheels outline for it.
You draw two perfect circles to create the tires. You can draw by hand, or you can use a compass to help draw a more beautiful and perfect circle.
Your work in this step is very simple, and you spend some minutes finishing it before moving to the second step.
Step 2 – Draw The Wheels Hubs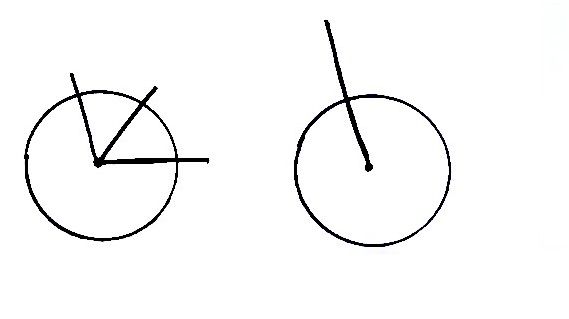 You will add some straight lines for your guide on bicycle drawing. Three lines for the rear hub and one line for the front hub.
Very simple for you, you can use a ruler to realize your task, and you also quickly finish the mission here and move on to the next step.
Step 3 – Draw Tubes And Saddle For Your Bicycle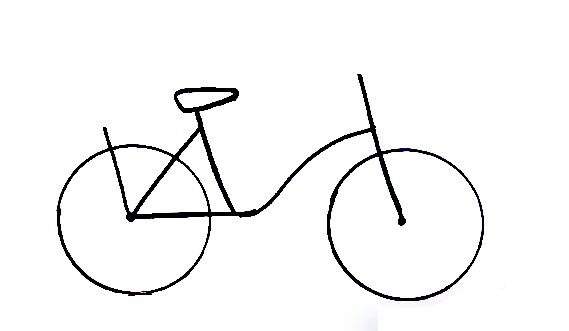 You use curved lines and straight lines to draw the tubes for your bicycle. You will look at our reference picture and follow it. Make sure you are drawing the tubes correctly for your bicycle drawing
Now, it is time to build the saddle of the bicycle. Your bike saddle will be constructed roughly like a triangle so you will also draw a triangle for the saddle. Your work in this step may end here and move to the fourth step.
Step 4 – Continue To Draw The Tubes For Your Bicycle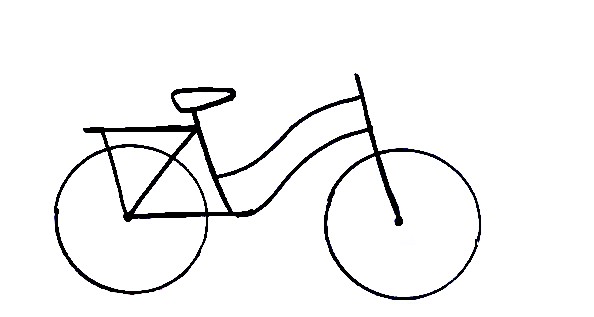 Your task in this fourth step of the bicycle is to continue to draw the tubes for your bicycle drawing. Look at our reference image; your task in this step is very simple; you need to draw a parallel curve line to the existing tube. You can stop your work here and continue to draw your bicycle in the next step.
Step 5 – Draw The Bicycle Handlebars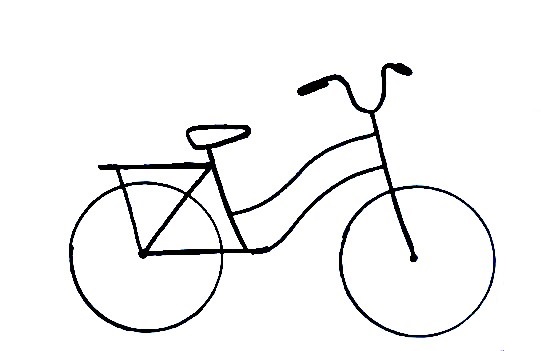 In this step, you will draw the handlebars for your bicycle drawing. Use some curved lines to show it This step requires some dexterity, so if you have trouble drawing the bicycle handlebars, you can stop and look at our image and then continue drawing.
Step 6 – Draw The Bicycle Basket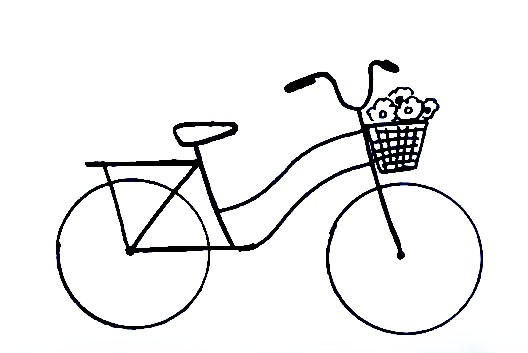 Right now, you draw a basket for your bicycle. This task is not too difficult for you. Use straight lines to form a basket on the front of the bike, and then you will use more lines to decorate it. In the end, you can add some flowers to make it even more beautiful.
Step 7 – Finish Drawing The Bicycle Wheels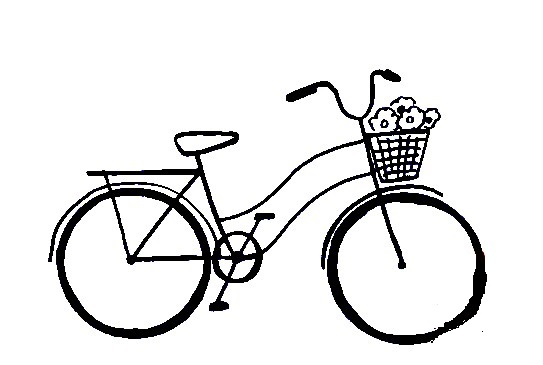 Your task in this step is to finish drawing two wheels for the bicycle.
You will highlight the wheel to make it look more extensive and more realistic, making your image more vivid and beautiful. Please add a pedal to your bicycle with some details like our image.
That's your task in step 7, and you can move on to the details for your bicycle in the eighth step.
Step 8 – Finish Your Drawing Mission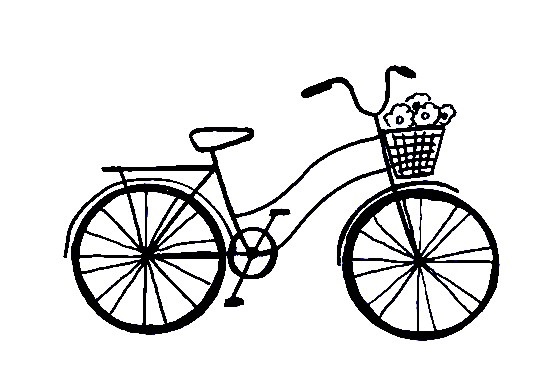 You will complete the final details for your bike. Use straight lines to draw bicycle toothpicks; please draw a lot of toothpicks as you see in our reference image.
Now you can review your image, and if you are not satisfied, you can add or remove some details to match your drawing before moving to the last step of coloring.
Step 9 – Color Your Bicycle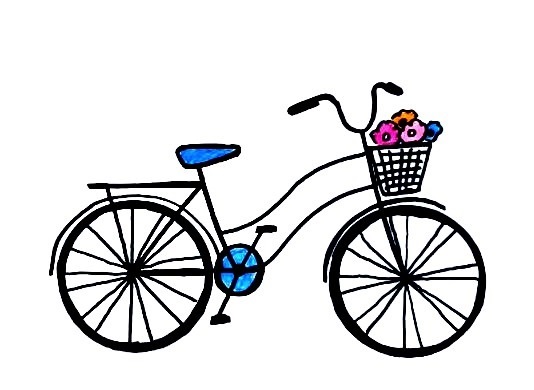 It is time to choose a color for your bicycle drawing. You can take any color you like and make coloring for the bicycle. The colors of bicycles are usually simple. It only revolves around traditional colors such as blue, red, purple, yellow, black, and white. Here, we use black for the bicycle and green for some details in the flowers of the basket; we use some mixed colors to increase the beauty of the flowers.
Your Bicycle Drawing Is Complete
So, you finish your drawing and coloring mission in creating the complete bicycle drawing. It is fun, learning to draw will help you get many benefits like train your memory, improve your observation ability, improve your imagination, make you feel elated, love life, drawing helps your brain work, Painting process helps you think in multiple dimensions, the main picture is an expression of emotion,… So, if you are a parent, you can join in this activity drawing with your kids; they will surely like it. On our website Coloringcool.com, you can find many drawing guides, and I hope you like them. More, you can refer to Motorcycle Drawing and you can come here each day to enjoy them for free. Have fun with your bicycle drawing!