Sun Drawing Is Made In 7 Easy Steps
Creating the cute sun drawing in just 7 easy steps
You will draw the great-looking sun with easy, step-by-step making the sun drawing instructions and illustrations. Great time for you and your kids; you will become a real artist.
Imagine what life would be like without sunlight. The sun has brought us beautiful life and helped us warm the earth. All the life we have is thanks to the healthy light of the sun.
The sun is the beauty of nature, it shows us the beauty of dawn every morning and the gentleness of dawn when the sun is out.
Thanks to its beauty, many adults and children would like to know how to draw a sun.
With our seven simple steps, you will follow to get an easy sun with your great time here.
Detailed instructions through 7 steps equivalent to 7 tasks you have to complete you will know how to do it
How To Draw The Sun – Let's Get Started!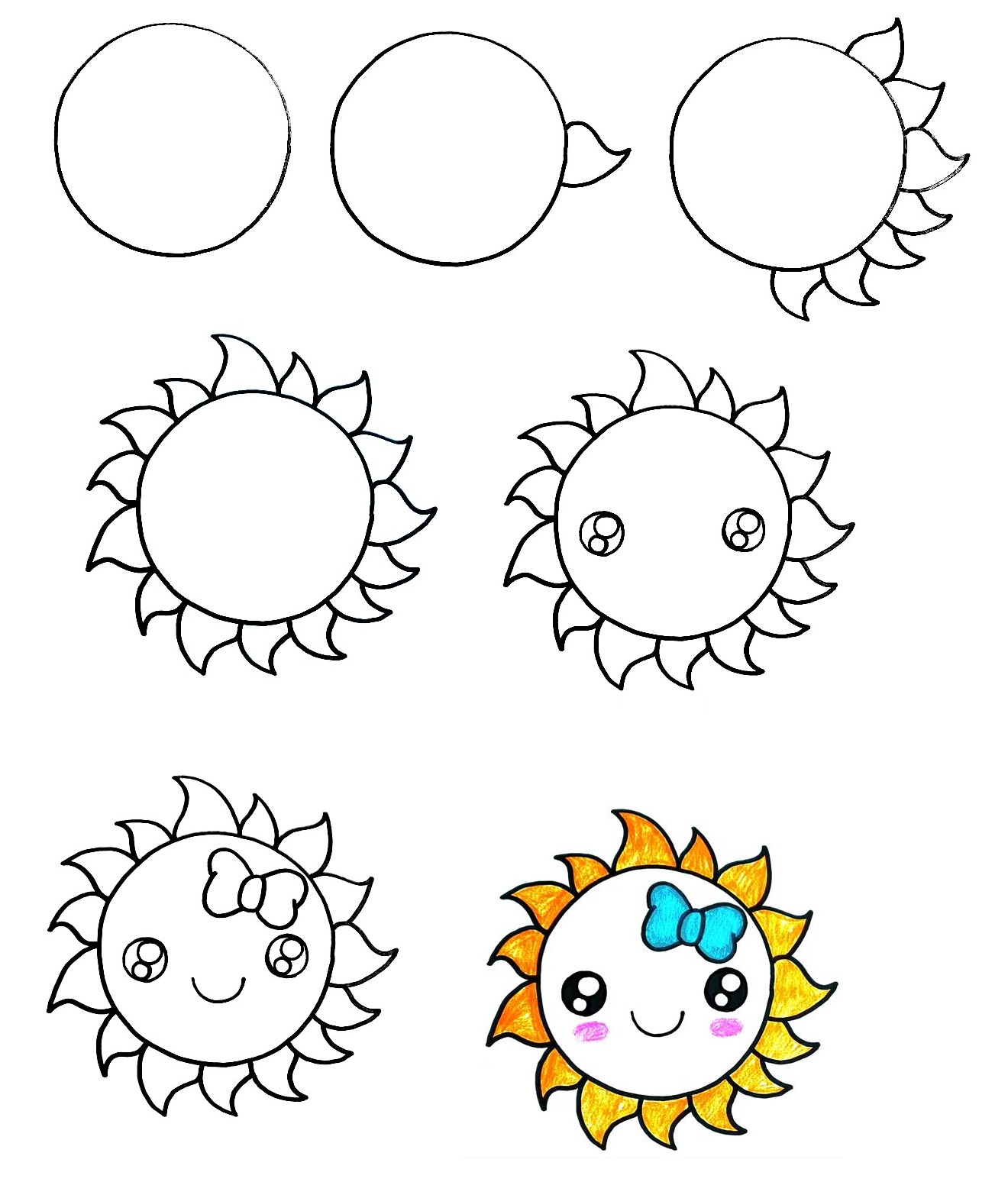 This drawing is suitable for everyone, from children to adults. So, everyone can participate in this leisure activity
First of all, you need to prepare some tools to perform the task of learning to draw, such as paper, colors, pens, and pencils; you can also take advantage of the available items in the house for no fee.
You'll start with the faint pencil lines, then erase the wrong lines and highlight the correct ones, and when you're done, you'll color your drawing.
It's not too difficult; you need to focus while learning to draw; our advice to you is to stay calm and carry out each task until the end. Along with this tutorial, you can move to sun coloring pages for free on our site to enjoy and practice your drawing skill
Our guide on how to draw the sun range from easy to easy and is very convenient for your learning to draw.
Now going, draw a sun in 7 steps below and enjoy it; draw in a relaxed mood, and don't be afraid to make mistakes because if you draw wrong, you will.
Step 1- Draw The Sun Shape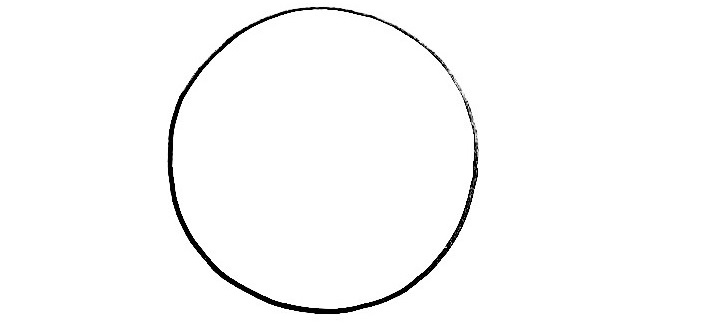 Create a perfect circle to start your task on drawing the sun. Very simple for you with this task of your drawing. Draw a circle forming the center of the sun in the center of your paper.
Make sure you have drawn a perfect circle; your sun will be beautiful.
The hint for you in this task is to use a compass to draw a circle; your work will be much easier.
Draw a circle by hand and come to see the difference. Once you are happy with this task, you move to the second step of your drawing.
Step 2 – Draw A Ray For Sun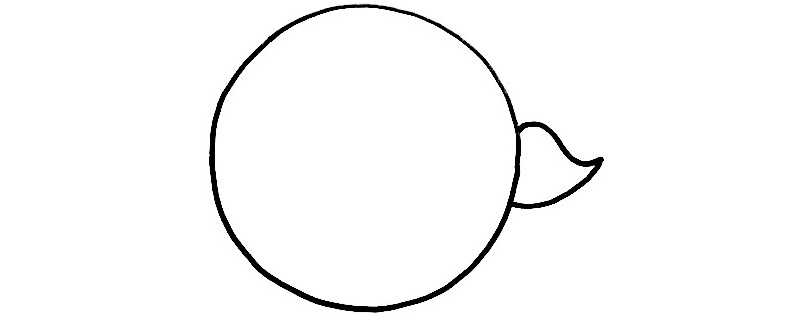 In this second step for your sun drawing, you start to draw a ray from the center of the sun.
Are you ready to draw rays? Also simple for you, rays are made up of curves and meet at a point; look at our reference image and follow it
In this step, you only need to draw a ray so it's quite simple for you; try to draw the ray your way and perfect it.
Review your work once more if you are satisfied with your pictures, continue to add more rays to your drawing in the third step.
Step 3 – Add More The Rays For Sun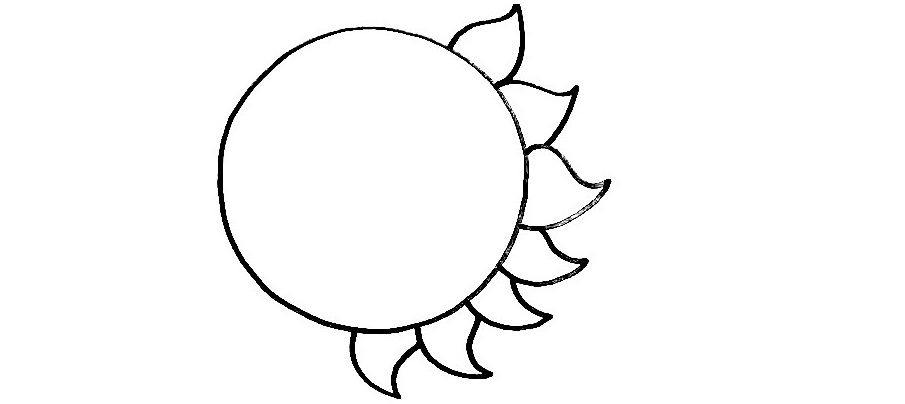 If step 2, you only draw a ray; this step, you have to add some rays for your sun drawing.
Similar to the ray drawing in the previous step, you will not have any difficulty with your task in this step with the sun's ray.
For this step, you draw rays to the right of the sun center, you are almost done with the task of drawing rays for the sun.
Step 4 – Continue Adding The Rays To Your Sun Drawing
Your task in this step on how to draw the sun is to continue adding the rays.
Similar to the two steps above, you will draw the final lines for the sun center.
In this step, we will draw the sun's rays on the left side to make a perfect Sun.
If you have difficulty completing your task at this step, you can refer to our reference image.
Once you are pleased, you can go to next the fifth step.
Step 5 – Draw Sun Eyes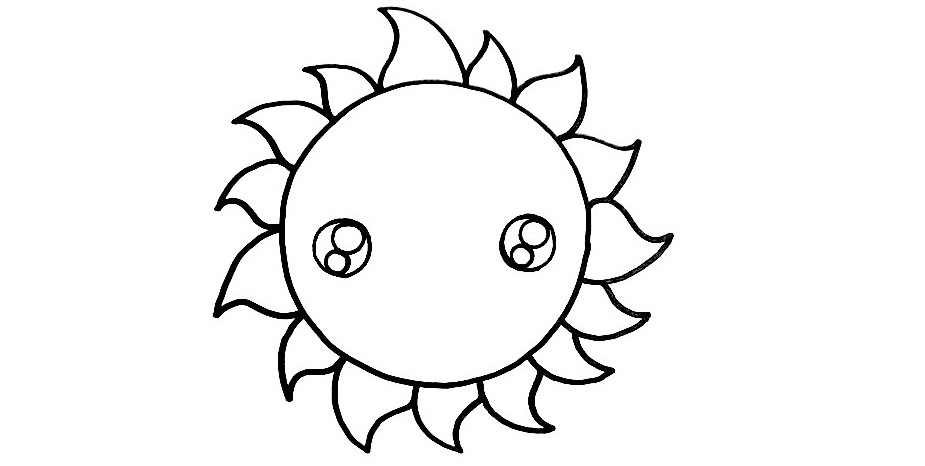 Because we are drawing a cartoon sun, we can add eyes, nose, and mouth to the sun to make it cuter.
You draw two circles and some dots inside for the sun's eyes. So, your sun drawing gets a nice pair of eyes.
Draw these two eyes with two small circles, then draw them completely by hand in a few minutes.
That's all there is to it for this step, so when you're happy with the look of it, we shall continue adding to this Sun in the sixth step.
Step 6 – Draw Bow And Mouth For Your Sun Drawing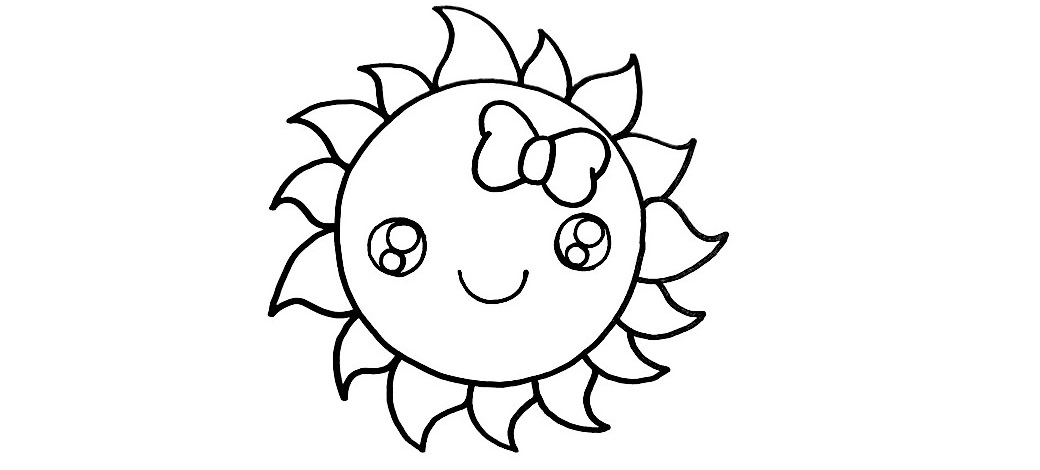 Similar to drawing a bow to decorate any object, you also draw a bow with curves and create a lovely bow.
A bow is drawn above the two eyes; looking through; we see your sun is wearing your hair with a nice bow.
You continue the task of your sun drawing is use a curved line for the mouth.
Step 7 – Color Your Sun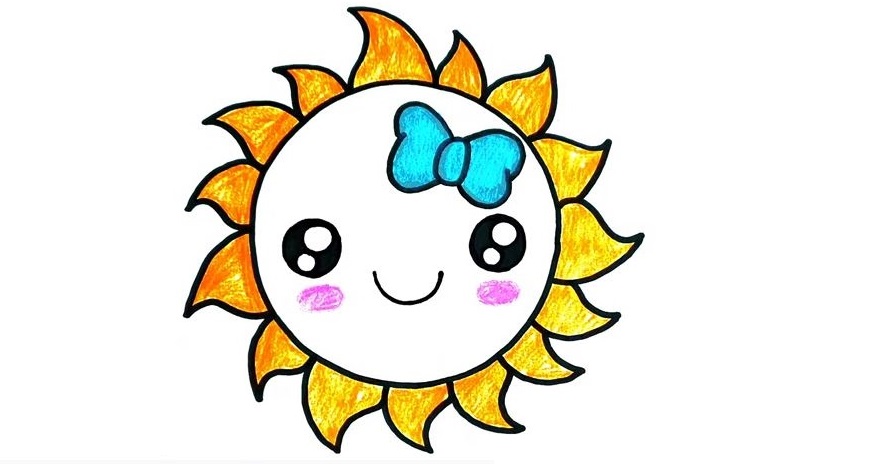 You will choose suitable colors for your product. This step is effortless for you; you just need to choose the right color to color your result, which is the sun. The sun always shines yellow, so it's yellow; in addition, we also chose black for the eyes, blue for the bow, etc.
Your Sun Drawing Is Complete
You went through 7 steps to draw the sun; it's amazing. Now you can show your work and enjoy it.
We hope this tutorial will help you draw the perfect sun, fulfilling your dream.
You have now completed the painting of the sun, but in the process, you can add a few creative details to make a lot of difference to your image.
You've probably tested a great method by taking a drawing lesson with us. Besides the sun, you can practice your drawing talent with similar images for How To Draw A Sunflower or with the moon on How To Draw A Moon on our site and get a great time. I hope you like this tutorial for your drawing.