How To Draw A Moon – 6 Simple Steps Creating A Nice Moon Drawing
Creating A Nice Moon Drawing in the six Simple Steps
In the evening, when we look up to the sky see the moon and its light. The Moon is Earth's only natural satellite. So, today you get an opportunity to create a complete moon drawing at about one-quarter the diameter of Earth, it is the largest natural satellite in the Solar System relative to the size of a significant planet. It is the 5th largest satellite in the solar system. The Moon is a planetary-mass object that formed a differentiated rocky body, making it a satellite planet under the geophysical definitions of the term. To help you know more about the moon, we create this article for instructions on how to draw a moon with you. You will follow us to draw a moon or other because we update the instructions on everything daily. In modern society, many people tend not to care too much about their families and they lead a lonely life. If you want your kids to get a new channel, please don't hesitate to give them Moon coloring pages on our coloring pages parts. Your kids will surely love them. This is the best way for your kids to develop the necessary skills such as reflex skills, pen skills, and painting skills,,, They are good for your children.
How To Draw A Moon – Let's Get Started!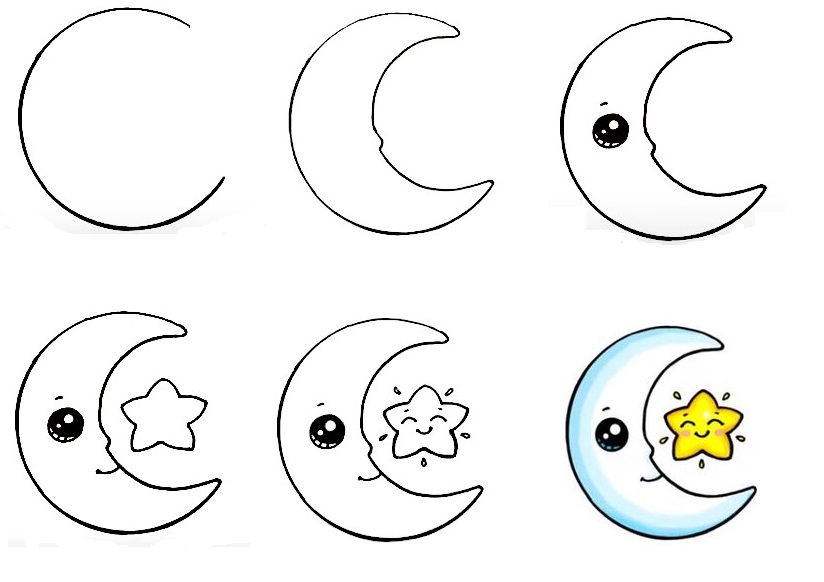 The moon is an ever-present and powerful force in the night sky. It has been a source of inspiration and fear since ancient times and continues to be an important symbol for many cultures worldwide. It can come in different shapes, like round or crescent, and many colors such as blue, yellow, orange, or red. It's not that hard to draw a moon, but it does take patience and some time. We are going to show you how to draw a moon. You must prepare paper, pencil, and colors before drawing. You will go to step by step of six-step. We will show you how to draw a moon in easy steps with drawing a crescent moon. We give a simple way to draw, you will follow these simple steps and you will get a perfect moon as your way. After that, you can give Moon coloring pages for your kids to choose the suitable colors and make coloring for coloring pages on our site. We collect hundreds of moon pictures here and you enjoy them for free.
Step 1 – Draw Non-closed Circle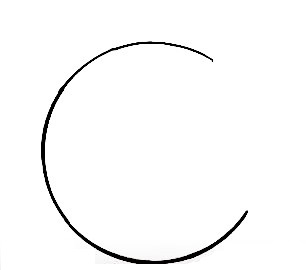 You will start your task of the moon drawing by the non-closed circle. You can use a compass to use easier. You will draw a perfect circle, then you will remove a little, you get a non-closed circle. Very simple in this game, you finish the task in some minutes and move to step 2.
Step 2 – Draw Crescent Moon Outline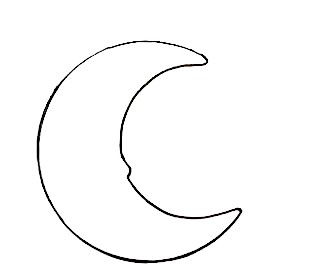 You will draw a curve parallel to the curve in step 1 to create a crescent moon drawing. In the middle of this curve, you will press a little bit to form the nose for the moon. So, it is charming with this detail.
Step 3 – Draw Eyes And Eyebrow For Moon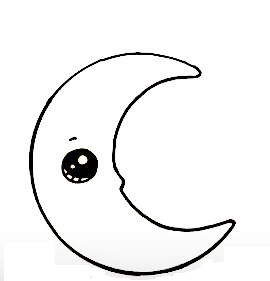 You will draw a dot In the middle of the moon of this guide for your moon drawing. Then, you will use black to color for pupil. But you let some white space for the moon's eye as well. You draw an eyebrow with the short curve. Once you have these elements looking as they do in the reference image, you're ready for step 3!
Step 4 – Draw Mouth And Star For Moon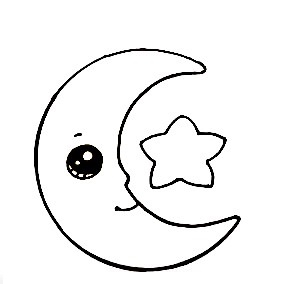 In this fourth step of your moon drawing, you will draw a mouth and star for this moon in this step. You can follow our image, and let's smile at the moon. So, draw a curve up ahead and end it there. It is simple for beginners or experts in the drawing. That's all there is to it for this step, so when you're happy with the look of it, we shall continue adding to this moon in the firth step.
Step 5 – Finish Your Moon Drawing Mission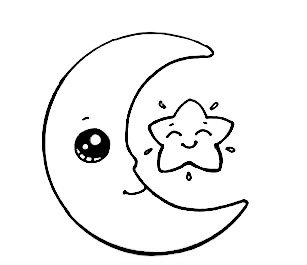 At right now, you must finish your moon drawing mission. You will add all the rest of the details for the moon. You will add some shine all around it to compliment the gleaming star. So, now there's a moon and a cute little star. In general, you get a complete moon until this step. You have a final step in coloring now.
Step 6 – Color Moon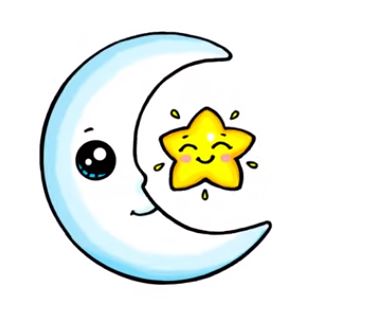 You will choose colors for your moon now in this task of the moon drawing. You can take your favorite colors for your product. We choose light blue for the moon and yellow for the star, but you can take other colors. So, you finish all tasks for drawing the moon.
Your Moon Drawing Is Complete
Besides the moon, we have many instructions for everything on our site. Be sure to keep checking our site to make sure you never miss out! Once you get a complete moon, you can refer to other pictures on Moon coloring pages on our coloring pages part. We hope you and your kids get a great time here because this is an internment channel for everyone. More, we provide articles, blogs, coloring pages for free.