8 Simple Steps Creating An Strong Astronaut Drawing – How To Draw An Astronaut
Create a Strong Astronaut Drawing in Eight Simple Steps
Science is developing day by day, and space exploration is not too far away for us, so astronauts have always been idols to many people. And today, you have a chance to create a complete astronaut drawing with us in eight simple steps. You will follow our instructions and make an astronaut. Drawing an astronaut might seem intimidating, but it's a fairly straightforward process as long as you take your time and don't rush through it. In each step, we also provide illustrations to help you realize your task for an astronaut drawing easier.
How To Draw An Astronaut – Let's Get Started!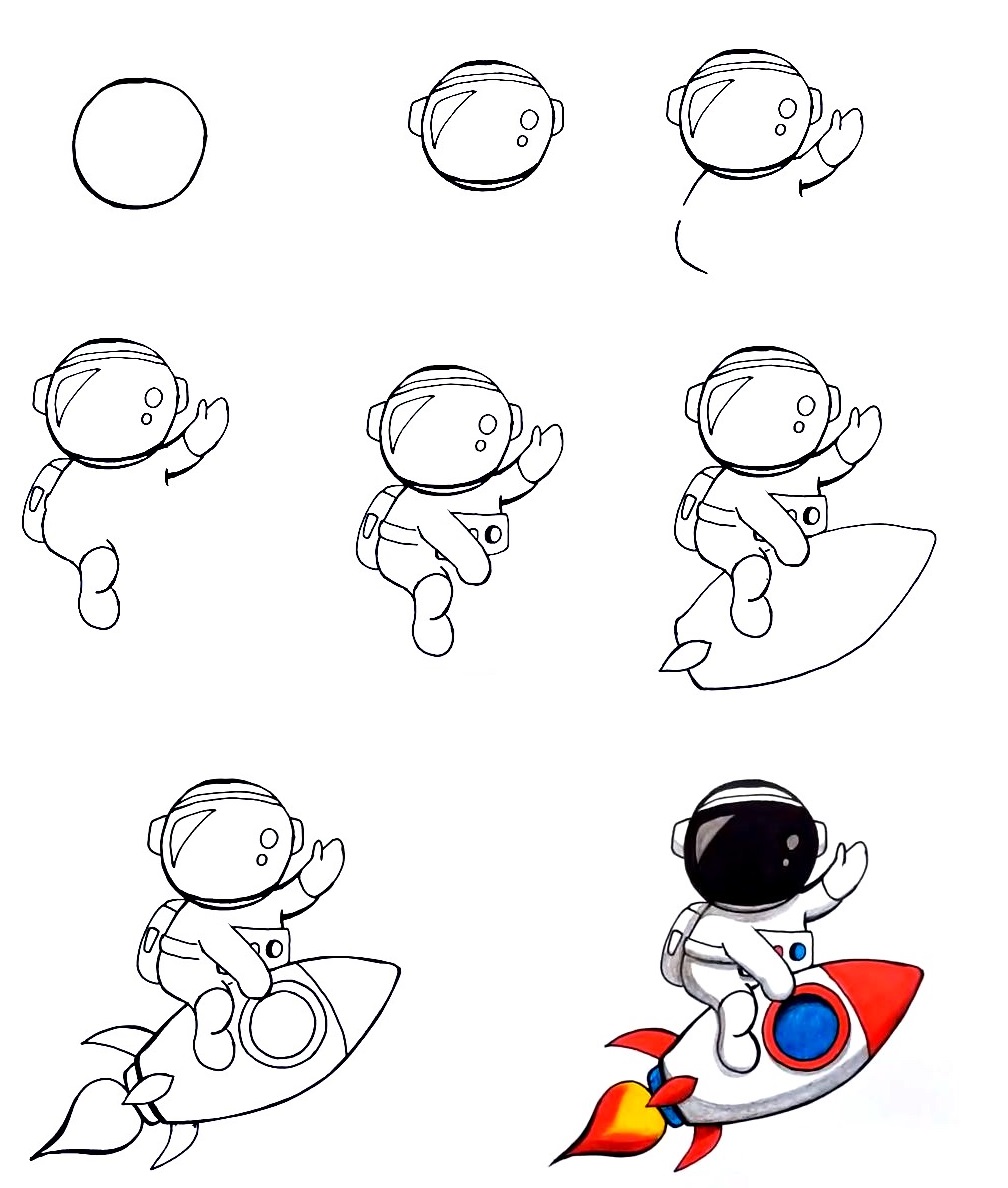 You will learn to draw An Astronaut riding A Rocket. So please try to draw every detail we instruct. You know that astronaut spacesuits have a lot of intricate details like helmets, gloves, and belts. Drawing an astronaut in a spacesuit riding a rocket seems complicated but if you follow our tutorial, it can be done in just eight easy steps. Why not? You will get a perfect time here to relax. Drawing will help you to balance your life. You can enjoy it after the hard-working hours and get a fun time.
Before starting to draw, you must prepare some things such as paper, colors, a pen, an eraser, and a ruler. You will sketch with a pencil, then you will erase the wrong lines, highlight the correct lines, and finally, when your astronaut drawing is complete, choose the colors for it.
This is not a simple task, but it is not too difficult; you will concentrate your mind, passion, and time here to finish the task as soon as possible. It will take about 30 minutes for you to complete drawing the astronaut, but maybe later, when you get used to drawing, you can draw this character faster. Along with this guide, you can enjoy astronaut coloring pages for free to practice your drawing and coloring skills. And now, we'll go into the specifics of how to draw an astronaut.
Step 1 – Draw Astronaut's Helmet Outline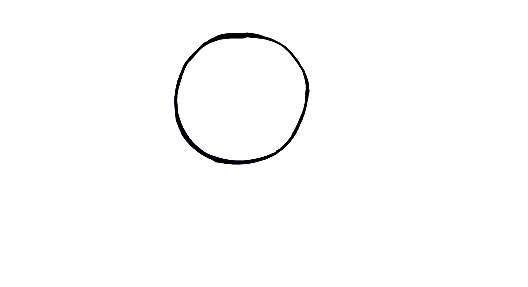 You draw a large circle near the top of your paper. Keep the circle as evenly round as possible. You can use a compass to create a perfect circle, and this first circle will eventually become the outer perimeter of the astronaut's helmet.
Your task in the first step of the guide on how to draw an astronaut is as simple as that, and now we will move on to step 2.
Step 2 – Draw Details For Astronaut's Helmet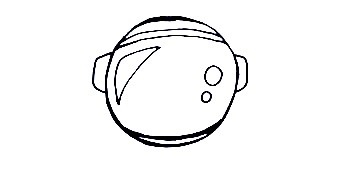 You will continue to realize your task of the astronaut drawing with the detail for the astronaut's helmet.
Add detail for two sides in front of the helmet,…This is not too difficult, and you can observe our reference image to refer to and finish it before moving to the third step.
Step 3 – Draw The First Arm And A Part Of the Body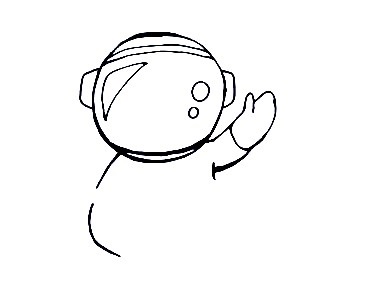 From the astronaut's helmet, you use curved lines to draw a part of the astronaut's body; then, you draw the first arm for this character. This arm of the astronaut will be raised, and the thumb is clearly visible, so don't forget to draw thumbs and hands for the astronaut even though this is a gloved hand. You can continue your astronaut drawing on step 4.
Step 4 – Draw The First Leg And Back For Astronaut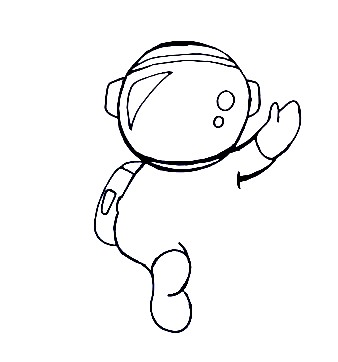 It is time to build the first leg and back for your astronaut. Because the astronaut wears protective gear, he is also protected with a device on his back, as you see in our reference image. A rectangle draws it with dashed lines on the back, next you will draw the legs for the astronaut. You use some curved lines to show this first leg for your idol. Once you are happy with your image, you can go to the next step.
Step 5 – Add Details For Body And Draw The Second Arm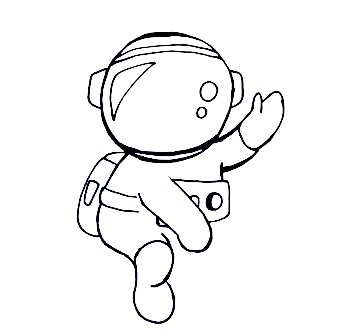 In this fifth step of this guide for your astronaut drawing, you will continue to draw his body with his belly.
You continue to use the curved lines to show his belly, as you see in our reference image. Then, you draw the rest of the arm.
This second arm of the astronaut will be shrunk, and no fingers will be visible, so your job will also be simple with a closed curve for this arm. You stop your task in this step and continue your drawing in the sixth step.
Step 6 – Draw A Rocket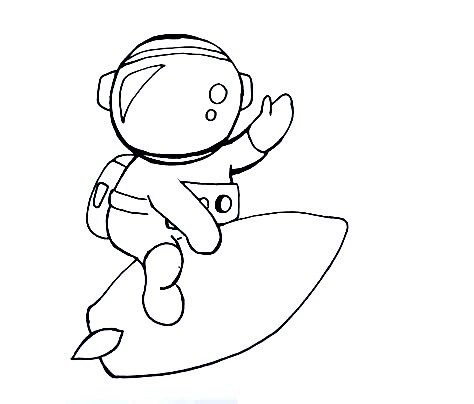 We are drawing an astronaut riding a Rocket, so we need details of the rocket in this drawing. This is the means of astronauts when flying into space. It is made up of a long oval and has a tail with pointed triangles like a rocket. But in this part, we will draw the first part of the rocket, as you see in our illustration. And you will continue drawing this rocket in the next step.
Step 7 – Finish Your Drawing Mission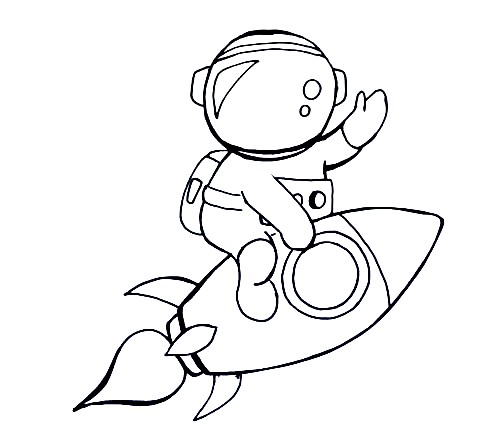 You finish your task mission with some final detail for the rocket.
You add in the necessary details like the equipment that makes up the rocket to complete it. You draw two circles at the rocket and the rocket back part, and you add some triangles, as you see in our reference image. This is a simple task, and you spend some minutes to finish your job, and you have the last step for coloring your astronaut drawing.
Step 8 – Color Your Astronaut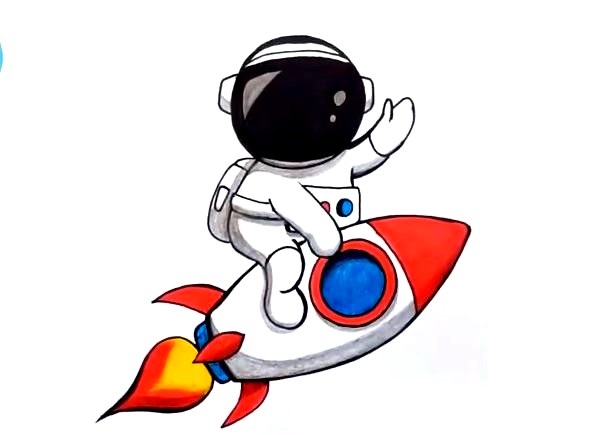 In this last guide on how to draw an astronaut, you will choose the suitable colors for your character. You can use any color you like to make coloring for your astronaut. It can be said that this is the simplest job for you in the task of creating the astronaut drawing. Astronauts can't wear colorful clothes, so choose black, white, or gray for spacesuits. As for rockets, you can choose more colorful colors like green or red for them. I hope you will choose your favorite color and finish coloring as soon as possible.
Your Astronaut Drawing Is Complete
Now is the time to admire your work. Process the drawing and determine if there are any more changes you'd like to make or details you'd like to add. The drawing is now finished if everything looks the way you'd like it to look. With our eight simple instructions, you have completed the complete an astronaut. It is an exciting mission and suitable for everyone. If you are a parent, you can participate in this activity with your kids; they will surely like it. Learning to draw helps your children have a relaxing time after stressful hours at school, helping them develop many skills such as color recognition, creative thinking, pen skills, and concentration skills,…On our website Coloringcool.com, you can enjoy many drawing tutorials related to space such as moon drawing, star drawing,…We update daily, and you can come here each day to enjoy it for free. Have fun with astronaut drawing!