Camel Drawing Is Complete In 6 Simple Steps
Creating a cute camel drawing in just 6 easy steps
We rarely see a camel in real life because they live in hot and dry places; thus, we decided to create a camel drawing tutorial so we can all appreciate its beauty up close and personal. You get an opportunity to learn drawing with us for free on our site. We give a six-step equivalent to six tasks that you must finish. You will follow our instructions and create a complete camel here. If you are a parent, you can join this activity with us. This activity also is suitable for your kids and helps you to get to know your child better, so you will educate them better. Please go step by step in this guide, and we give the tutorial from easy to difficult; whether you are a beginner or an expert in drawing, you can finish this mission efficiently. Along with the tutorial, we have also included a couple of free camel coloring pages that you can print off and give to your kids to color!
How To Draw A Camel – Let's Get Started!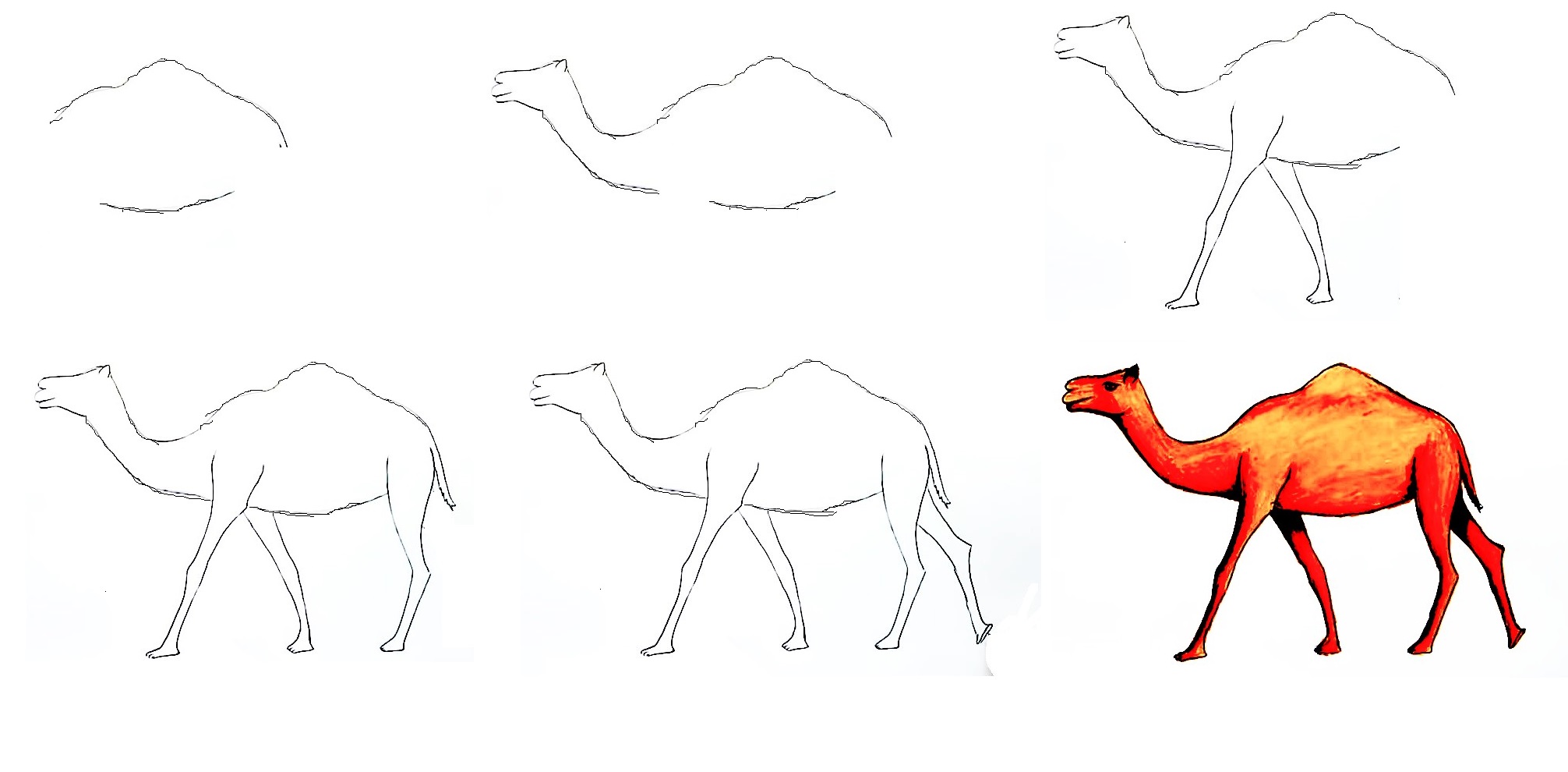 Camel is a desert animal, and the camel's hump does not hold water, but it stores fat. So they can last for a long time. It is not easy to come across camels, and today you can learn more about this animal. Your kids will like this activity because they love exploring everything around them. You can give them this learning and consider it a lesson for them in their spare time. Children also need appropriate entertainment channels after stressful hours in class. Let the children's minds rest, and they will absorb the lesson better. More, you get time for kids, and they can avoid using technical equipment like television, smartphones, and tablets. They are not suitable for their eyes and evolution. Now, let's get started drawing a camel with us!
Step 1 – Draw Body And Torso Outline

Start by drawing a camel, and you will draw a body and torso outline for it. You will use a curved line for the belly and another curved line for the back and torso. Not too difficult in this step for you. Please look at our image and follow it.
Step 2 – Draw Camel's Head Outline
You draw the head outline in the next part of drawing the camel. You will use curved lines to illustrate the camel's mouth, eyes, and ears. Although the contours of the face are not precise, you must also show the opacity of those details… As you see in our illustration. And now, you can go to the third step.
Step 3 – Draw The Front Legs Of A Camel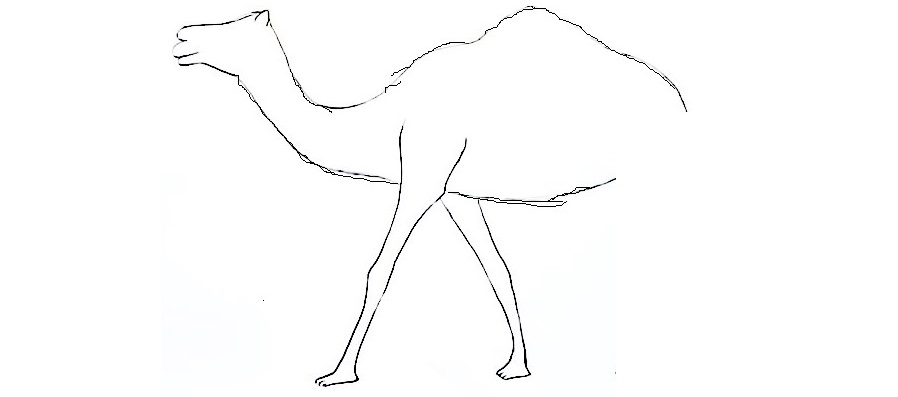 Draw two legs with hooves of the camel's body. This forms both the front leg of the camel. From the body, you draw two lines downwards for each leg. You will draw the legs smaller from the thigh down. The front legs of the camel are drawn quite similarly, but one leg is partially covered by the thigh, so you only need to draw the visible part. You will finish this task and move to the fourth step.
Step 4 – Draw A Hind Leg And Tail For Camel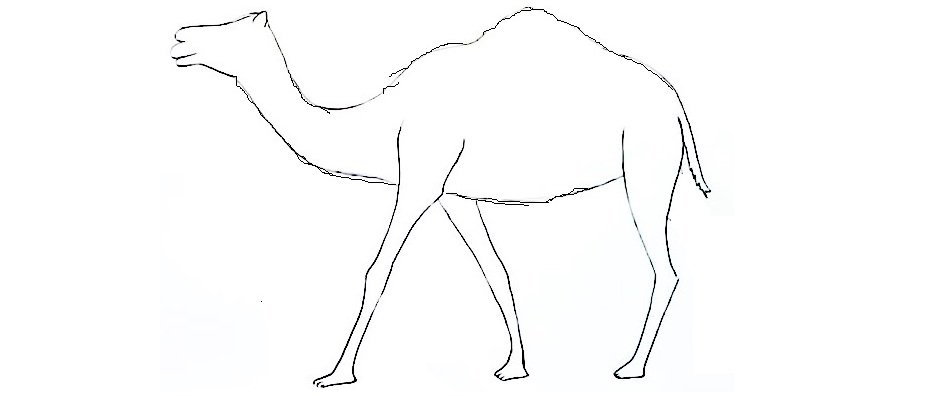 In this fourth step, you will continue your work by drawing a hind leg and tail for the camel. Similar to the front leg, this leg is also drawn with two slightly straight lines down; the back leg will be slightly larger than the front leg. After that, you will use two short parallel lines for the camel's tail. You can stop work here and next to the fifth step.
Step 5 – Finish Your Drawing Task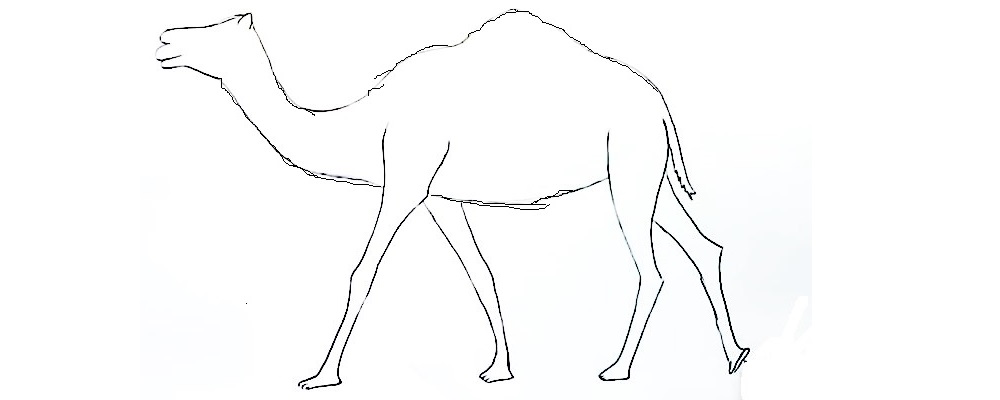 You will finish drawing the camel with a hind leg left. Repeat the previous step on the opposite side of the camel's body. This creates the left front and hind legs of the camel, thus completing its four legs! So, you have a complete camel without color. You will choose colors for your product in the sixth step.
Step 6 – Color Camel

Finally, here is the most exciting part—filling in the colors for your awesome drawing! This is where you can show off your artistic skills and your ability to mix and match various colors. By nature, camels have a cow yellow color, so here we also choose its inherent color. In this step, we create eyes, mouth, and nose for a camel. You finish the necessary work for a camel.
Your Camel Drawing ISs Complete!
You can refer to camel coloring pages on our site with many images related to camels. We update hundreds of pictures with each category for free, and you can come here to enjoy them anytime and anywhere. You come here with your devices connecting to the internet as computers, smartphones, tablets,…You know how to draw a camel with us. We update coloring pages and drawing daily. Be sure to keep checking our site to make sure you never miss out! Have fun!