How To Draw Charmmy Kitty – 7 Simple Steps For Creating Cute Charmmy Kitty Drawing
Create Charmmy Kitty Drawing in Seven Simple Steps
Follow along to learn how to make Charmmy Kitty drawing easy, step by step. You will follow our instructions and create a complete Charmmy Kitty with your funny. It's great that you have fun while learning and having the opportunity to show your drawing and coloring skills here. This task is not easy, but it is not too difficult. Whether you are a beginner or an expert in the field of drawing, you can easily perform this task. There are seven steps equivalent to seven tasks that you must come over. You will be patient in the process of learning to draw; this is work that requires hard work and patience, so by participating in this drawing activity, you will also practice the skills of meticulousness and perseverance. You will also find many interesting things with this activity, through which your mind and spirit will feel more comfortable, and you will be more productive.
How To Draw Charmmy Kitty ​– Let's Get Started!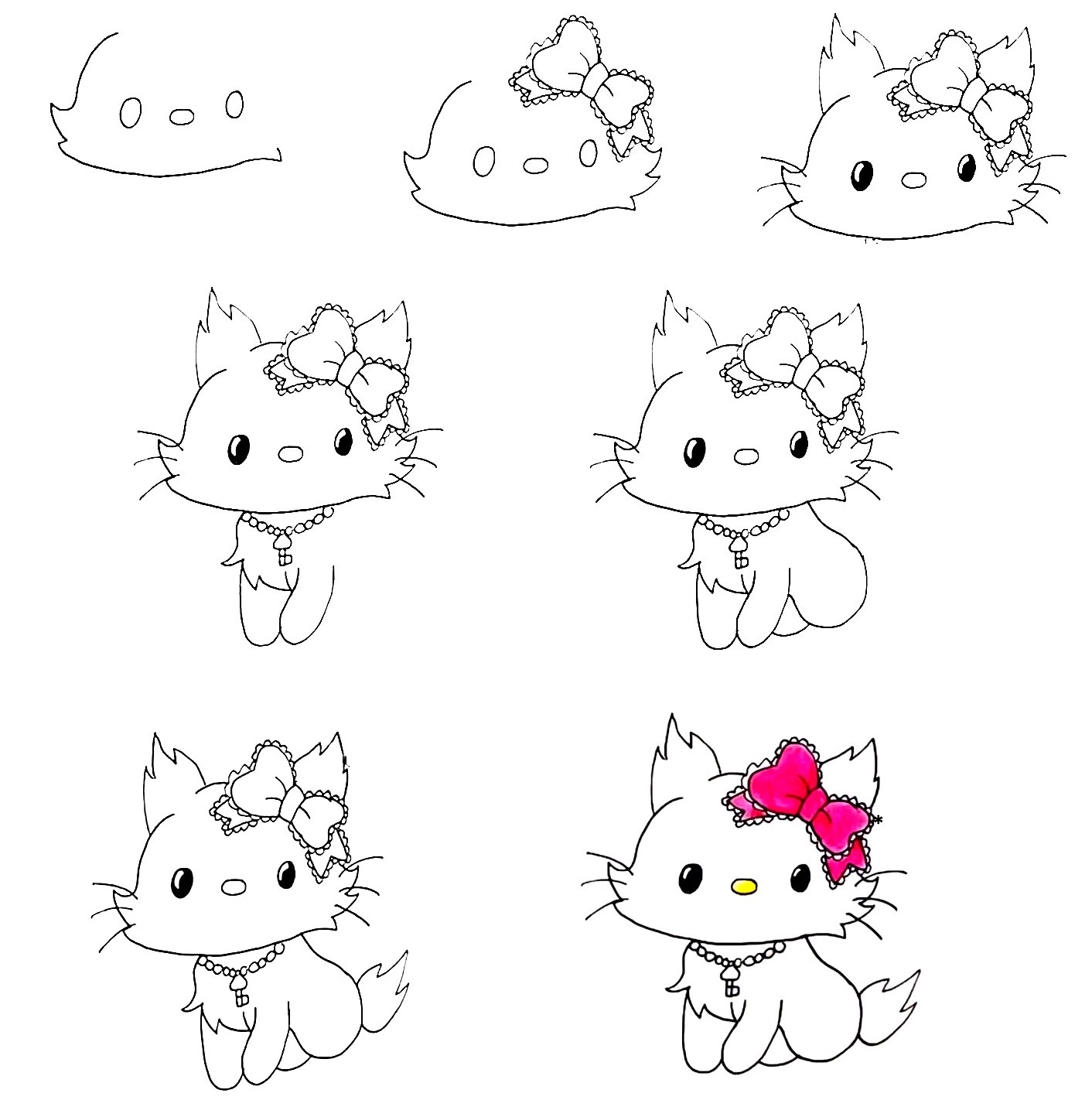 Just like learning to draw anything, you also need to prepare some necessary tools before you start learning to draw, such as pen, ink, pencil, eraser, and colors,…then you will follow our instructions. and follow the steps of the instructions. You will first draw with a pencil with blurred and erasable strokes because you will have to erase the wrong lines. Then you will look at your drawings and make sure all the strokes are correct. You will highlight them. When you finish your drawing, you will choose the right color for your Charmmy Kitty drawing. With seven easy steps, you will draw the perfect Charmmy Kitty in your own style. Included with Charmmy Kitty drawing instructions are Charmmy Kitty coloring pages for free to help you practice your drawing and coloring skill. You can refer to images related to this character, and your drawing lessons will be easier, practice regularly so your drawing skills will be on hand, and you will have fun learning to draw. Now let's go into seven specific steps to create a complete Charmmy Kitty.
Step 1 – Draw Charmmy Kitty's Face Outline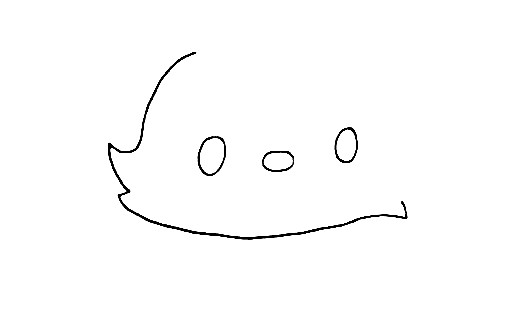 You will start drawing Charmmy Kitty with her face outline. Like drawing a cat, you will draw an imperfect circle to show her face outline, two small ovals for the two eyes, then you draw an oval in between the two eyes to make her nose, and this is also her mouth for Charmmy Kitty drawing. You can finish the task in this step and move to the second step now.
Step 2 – Draw Charmmy Kitty's Bow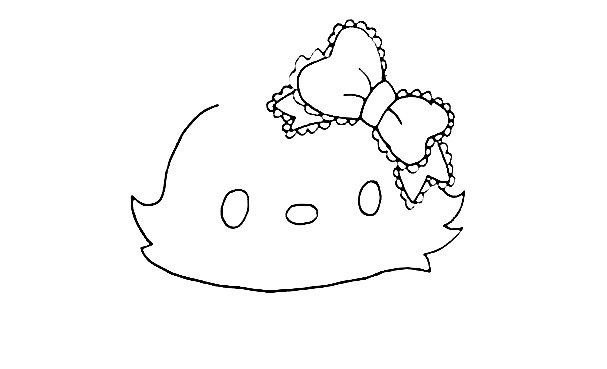 Just like the character Hello Kitty, Charmmy Kitty has a pretty pink bow on her head, so you need to draw this bow for her. You can observe our pattern and follow it is not too difficult for you, be patient and complete this task before moving on to the next step.
Step 3 – Finish Off Charmmy Kitty's Face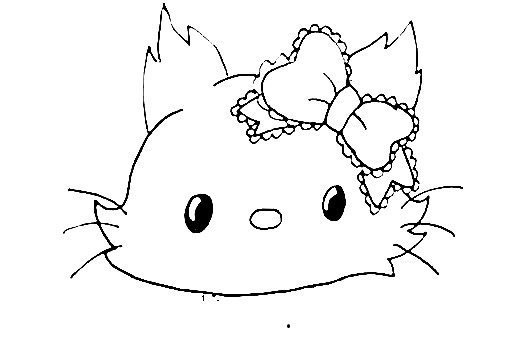 Your task in this third step on how to draw Charmmy Kitty is to draw all the details for her face. Firstly, you draw the ears for Charmmy Kitty on her head. After that, you use black to color her eyes, and you will end up adding some mustaches on the sides for your character, Kitty Charmmy. And you can finish off the task in this step and move to the fourth step.
Step 4 – Draw The Front Legs For Charmmy Kitty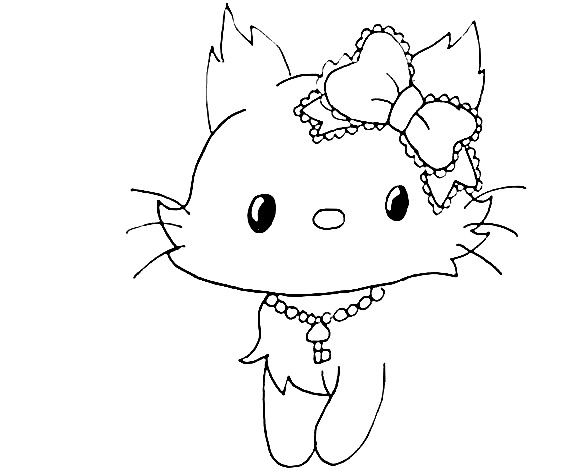 It is time to create the front legs for Charmmy Kitty. Your task in this part is to draw two front legs for the character. This is quite a complicated task, and you can refer to our pictures and follow it. You can continue your task of Charmmy Kitty drawing in the fifth step.
Step 5 – Draw Charmmy Kitty's Hind Legs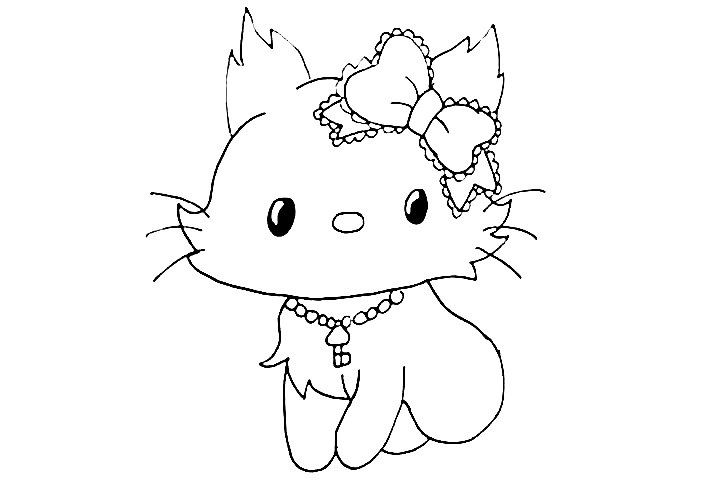 Now you will draw Charmmy Kitty's hind legs, as we are drawing the character in a sitting position, so we can't see all of her legs but only part of her thighs. You will draw fat thighs for your Charmmy Kitty.
Step 6 – Draw Charmmy Kitty's Tail
You will finish your drawing mission on how to draw Charmmy Kitty with her tail. You use the curved lines for this mission; now that your character is quite full of parts such as a face, a four-legged head, a tail, and a lovely bow on the head, you can check and add some decorations to it before moving on to the final step for coloring.
Step 7 – Color Charmmy Kitty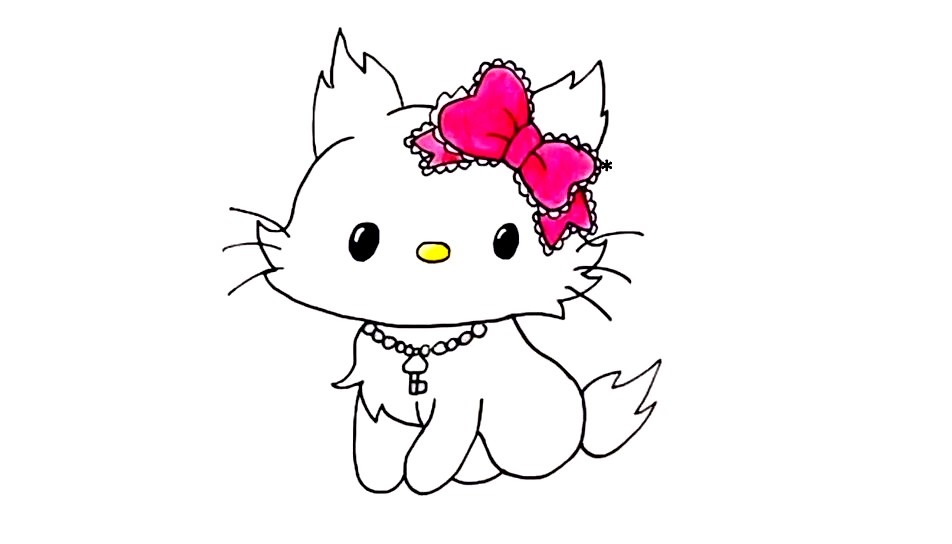 This is the last step to completing the task for you of choosing the right color for your Charmmy Kitty drawing. You can use any color you like for your Charmmy Kitty drawing. Normally, Charmmy Kitty is white, and her bow is pink, and we use those colors for our character, Charmmy Kitty.
Your Charmmy Kitty Drawing Is Complete
Right now, you finish your drawing and coloring on how to draw Charmmy Kitty. Through seven simple steps, you can complete a perfect Charmmy Kitty. This work is very interesting, and you need to focus your mind from start to finish to make your drawing as perfect as possible. On Coloringcool.com, you can find many drawing guides related to Kitty such as Hello Kitty drawing, or Marie drawing, you can enjoy them in your free time to get the fun. I hope you have understood everything now. Have a great time with Charmmy Kitty drawing!