How To Draw A Kite – The Details Instructions
Talking about Kite, everyone loves it, and it is a popular toy around the world. In summer, in the sun, everyone can play Kite and enjoy it. What is a kite? A kite is a tethered heavier-than-air or lighter-than-air craft with wing surfaces that react against the air to create lift and drag forces. There are many kite types, but a kite generally composes wings, ropes, and anchors. Some kites don't need a harness; box kites can have a single attachment point. A kite may have fixed or moving anchors that can balance the Kite. The general purpose of the Kite is to be repaired or moved but we will have to keep the balance when we let the wind fly high, and when we can't enjoy it anymore, we will pull the Kite down. Very interesting with a kite, you can research and know more details about Kite in this article "how to draw a kite," you will go step by step in our writing and create a complete kite with your skill. You will follow the instructions in each step to finish your task. Once you finish your drawing mission, you can choose colors and enjoy Kite Coloring Pages on our site. We collect hundreds of kites for you for free. You can come here anywhere, anytime, with your device connecting to the internet.
How To Draw A Kite – Let's Get Started!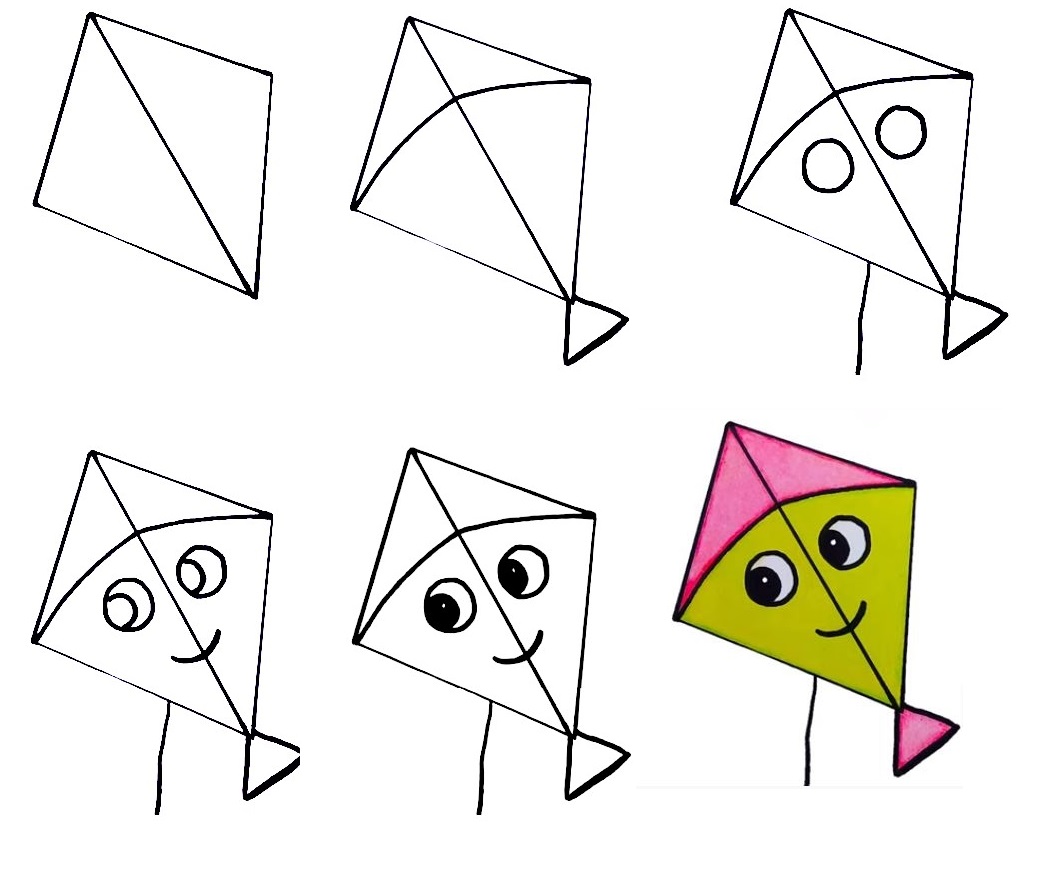 You will follow the instruction in the articles; you must prepare some necessary things such as paper, pencil, colors,..before drawing Kite. You will concentrate your skill, your passion, your time here. Create an excellent Kite drawing with easy, step-by-step instructions and images tutorial. Great for kids and beginner artists! Your kids love kites, so please don't hesitate to give this article to them. They will read and follow the instructions of this article to finish your product with a kite. Creating a perfect kite means that you are also an artist in creating art. In the course of drawing kites, you get some difficulties, but you can show your skill to make a nice kite with your products. You can refer to our images related to kites in our
Kite Coloring Pages
. There are many coloring pages, and you can enjoy them for free with your device in your free time. Everyone has their preferences and many different entertainment channels to choose from, drawing and coloring are good entertainment channels for everyone, and it is free. Now, let's get started to draw a kite with us.
Step 1- Draw Kite Outline.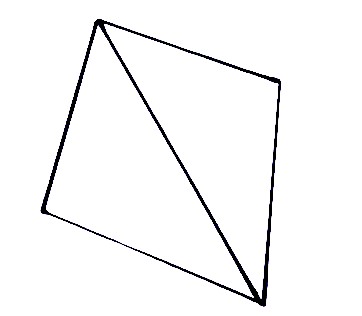 You will start to draw a kite withdrawing a rhombus then divide that rhombus into two equal triangles with 1 line in the middle. This is a kite outline. It is simple for you in this step. You finish your task in some minutes and move to step 2.
Step 2 – Draw Kite's Tail.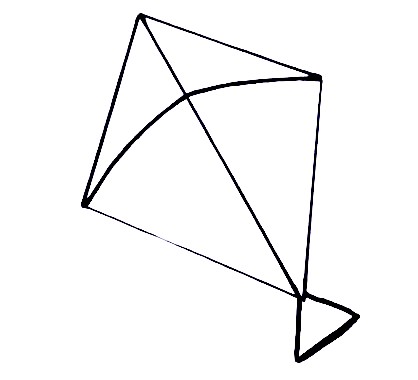 Drawing a tail for a kite is your task in this step. You draw a triangle behind the Kite's body like a tail for it. Very simple to realize this task. From Kite's body, you draw three lines to make a triangle.
Step 3 – Draw Wire And Eyes' Kite Outline.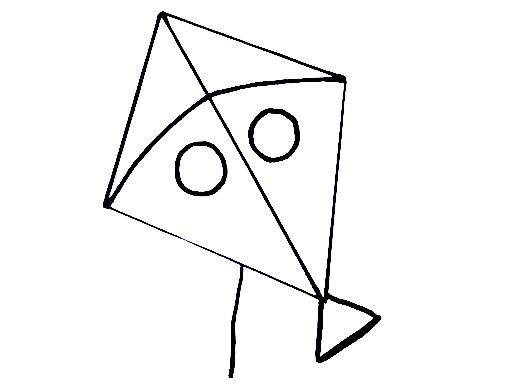 In this step, you will draw the eyes' kite outline. You will draw two round dots for its eyes. Two eyes will be on two triangles on the body. You also add a cross-section of the Kite. Lastly, you will draw a curve on the back of the Kite representing the string to fly the Kite. Once you have these elements looking as they do in the reference image, you're ready for step 4!
Step 4 – Draw Mouth And Pupil For Kite.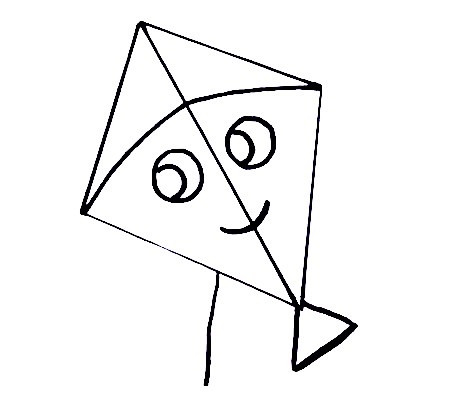 Below his eyes draw a short curve representing his mouth. you will draw a smiley mouth for your Kite. From eyes, you draw circles in eyes for pupils. It is simple on this step and you will finish them in a short time. That's all there is to it for this step, so when you're happy with the look of it we shall continue adding to this Kite in the fifth step.
Step 5 – Finish Your Drawing Mission.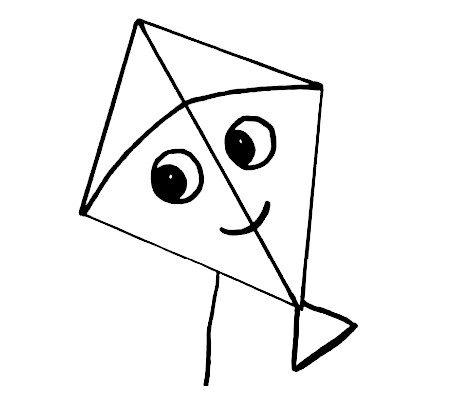 Right now, you must finish all your drawing mission here. You will use black to make colors for the Kite's pupils. You will add all the rest of the Kite until the Kite is completed. It is not complex in this step. It takes some minutes to finish and move the last step for coloring.
Step 6 – Color Kite.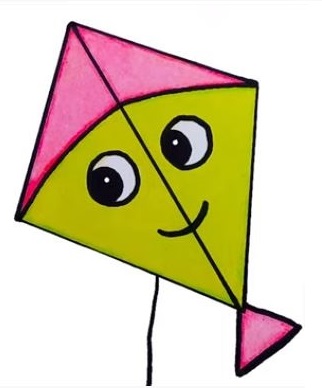 It is the most straightforward step for you. You will choose the suitable colors to make coloring for your Kite. You can take any colors you like. You can also refer to our colors of Kite here. We take some colors like pink, green, black for our Kite. We update many articles for instruction for drawing, be sure to keep checking our site to make sure you never miss out! Besides articles for drawing, we also get coloring pages, blogs,..all are free and suitable for all people. You can enjoy
Kite Coloring Pages
on our site and choose some kite sheets to practice. Please come here with your relatives, friends, or children to get a playmate. I hope you get a great time here!