Bull Drawing Is Created In 8 Easy Steps
Creating a cute bull drawing in just 8 easy steps
You will create a wonderful Bull drawing with easy, step-by-step instructions and an image tutorial. Great entertainment channel for kids and beginners. You will follow our instructions and our illustration to create a complete bull. When we think of bull, we immediately think of bravery and stubbornness. They are also popular animals worldwide, and their striking appearance can make it fun to learn how to draw a bull. If you love bull and want to draw it, this is definitely the guide for you! This step-by-step guide on how to draw a bull in just 9 easy steps will see you recreating one of these powerful beasts in no time! We give instructions to draw a bull from easy to difficult, you can realize your task easily. Along with the tutorial, we have also included a couple of free bull coloring pages that you can print off and give to your kids to color!
How To Draw A Bull – Let's Get Started!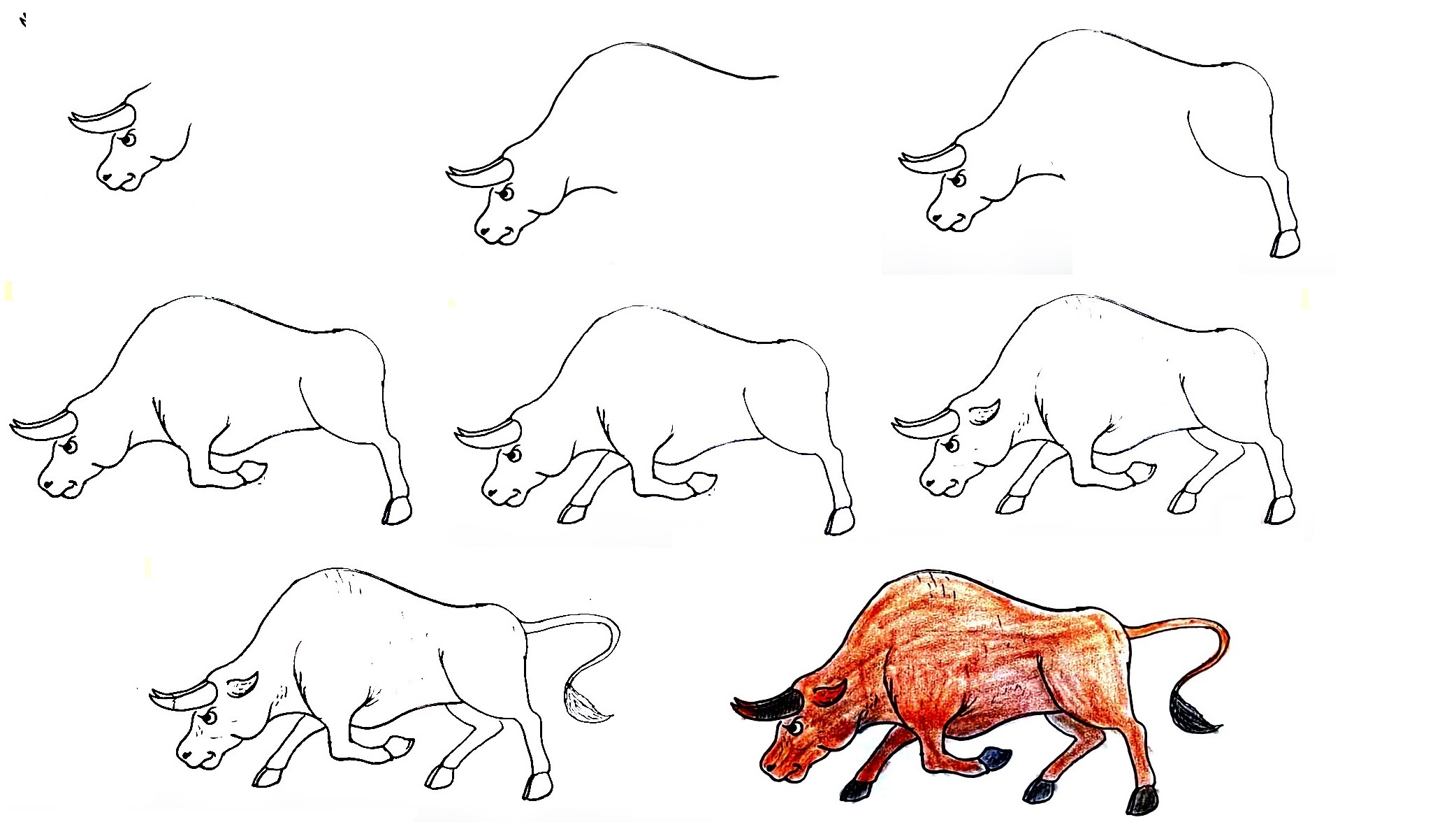 It would help if you prepared a pencil, eraser, colored pencils, and drawing paper before drawing. you will use a pencil to draw on paper, and you can erase the mistake easily so that you can draw in your comfortable way. You will follow eight steps and create a complete snail. If you are a parent, please don't hesitate to give this instruction to teach your kids to draw a bull to know more about this animal; they can also avoid using technical devices such as smartphones, television, and tablet. They are not good for eyes and their evolution. Bulls or oxen have been depicted in art since time immemorial. This is likely due to both their impressive strength and their proximity to humans. Many people want to draw a bull, but not everyone can draw it. Today, you get an opportunity to draw a bull and teach your kids participating in this activity. in this cool tutorial, you will learn how to draw a bull step by step. The detailed instruction will show you how simple this tutorial really is. Any kid from any age will have a blast drawing their favorite cartoon character. Let's get started drawing a bull with us!
Step 1 – Draw Bull's Head

We will be drawing the first bull's head in this first step of our guide on how to draw a bull. For this first step, you may want to use a pencil at first, as it can be tricky to get it looking right at first! You must draw the head and horns of the bull. After that, you must draw the eye, nose, and mouth of the bull. Since we are drawing a bull at a side, we can see only an eye, so we need to draw an eye, so you can observe our image and follow it. Once you're happy with how it looks then you're ready for step 2!
Step 2 – Draw Bull's Back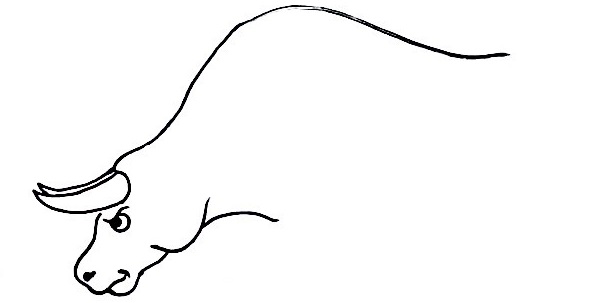 You continue drawing the bull with a back for it. You use a long curved line for the back. Your task in this step is very simple, a curvy curve forms the bull's back, and you're done for this step. You can look at our illustration and follow then move on to the next step.
Step 3 – Draw Bull's Backleg
This is the back half of the bull; you know that it will see the back and belly sloping inward a bit, as the chest of the bull should be much thicker than the back half. Then, you draw the thighs that will be quite thick and then end in the thin legs extending backward, as shown in the reference image. please don't forget to add hooves at the foot for a bull.
Step 4 – Draw Bull's Front Legs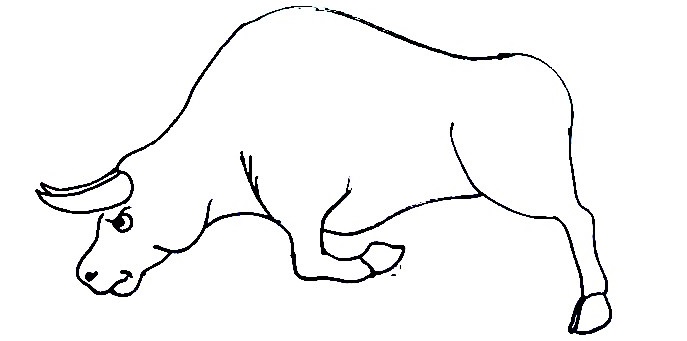 Similar to drawing the hind legs for the bull, the thighs are also quite thick, and then combined with the thin legs, this leg is a bit bent, and you also end up at the hoof for the cow. You can finish the task here and move to step 5 now.
Step 5 – Add More Bull's Front Legs
You continue your task to draw a bull here with the rest of the Bull's front legs. It's also quite simple; in this step, you will use curves to draw its belly and add a thin leg. This leg will be hidden from the thigh, so you just need to draw its thin leg. So, you finish your task here and move to the sixth step.
Step 6 – Draw The Last Leg For Bull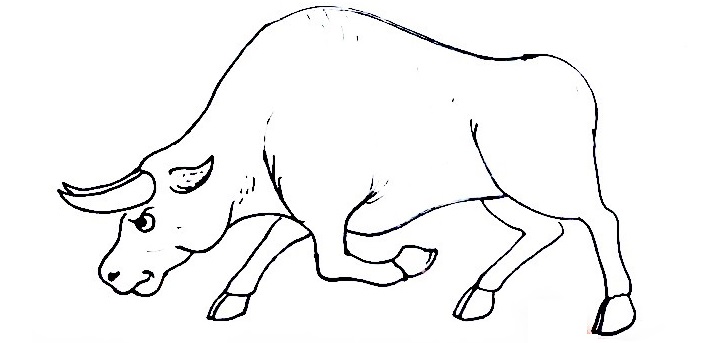 You can also add the final leg beneath the bull, and this one is slightly bent to walk. It's as easy as that for this part. At the end of the tail, you will draw some more feathers to make the tail look more realistic and attractive, and once you're happy with it, you can move on to the next step!
Step 7 – Finish Your Drawing Mission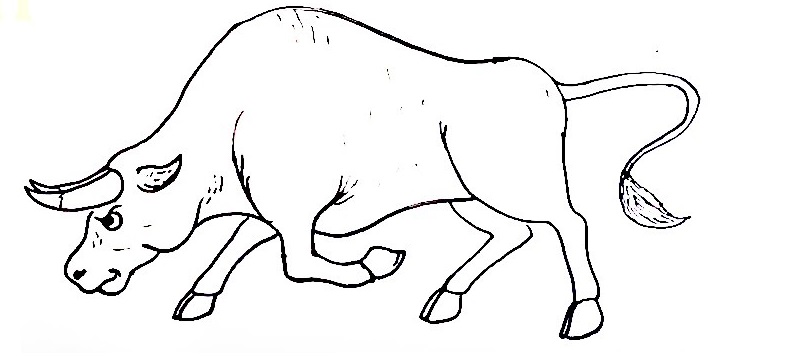 This step of our guide on how to draw a bull should be quite simple! All you need to do for this step is draw a curved tail at the back of the bull. You have the majority of the outline drawn now, so we will focus on adding some inner details in this step of your bull drawing.
Step 8 – Color Bull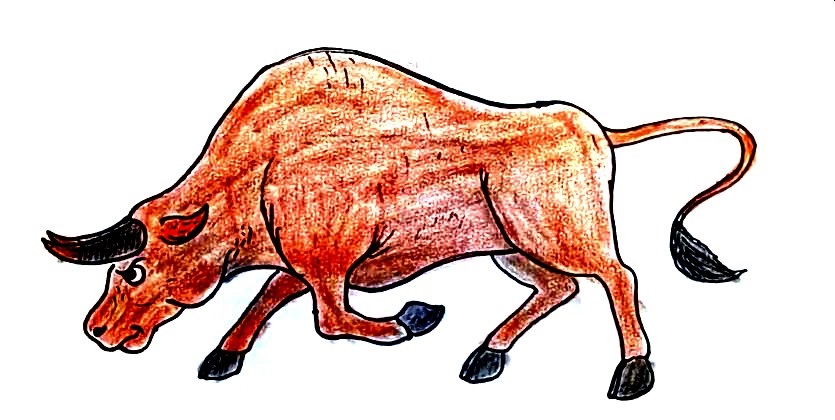 Here comes the most exciting and also easiest part of the bull drawing and coloring task. You will choose colors for your product, bull. You can take any color you like or the colors that are similar to our colors. We select light brown for the bull, black for horns, tail, hooves,..for the bull. So, you get a complete bull with our tutorial. You can move to bull coloring pages and enjoy images related to bulls. You can enjoy all activities as drawing or coloring for free here. We update them daily. Be sure to keep checking our site to make sure you never miss out! If you like our games, don't forget to give us a thumb up and recommend them to your friends! Have fun!