How To Draw The Apricots – 6 Easy Steps Creating Apricots Drawing
Creating The Fresh Apricots Drawing In 6 Easy Steps
We have instructed you to make the complete apricots drawing for you and your kids. You can become a real artist with us because by following our guide on how to draw Apricots, you can make the Apricot with your skill.
It is excellent with this drawing activity, and you will go to the instructions step by step and realize six missions in six steps.
Apricot is a familiar fruit to us, it has a sour taste, and when ripe it will be yellow, you can eat it directly or soak it with sugar to drink water, it is great and everyone like it. And today, you get an opportunity to draw the Apricot and get more information about this fruit. I hope our six easy steps will help you have a fun time relaxing and learn more details on how to draw the apricots.
How To Draw The Apricots – Let's Get Started!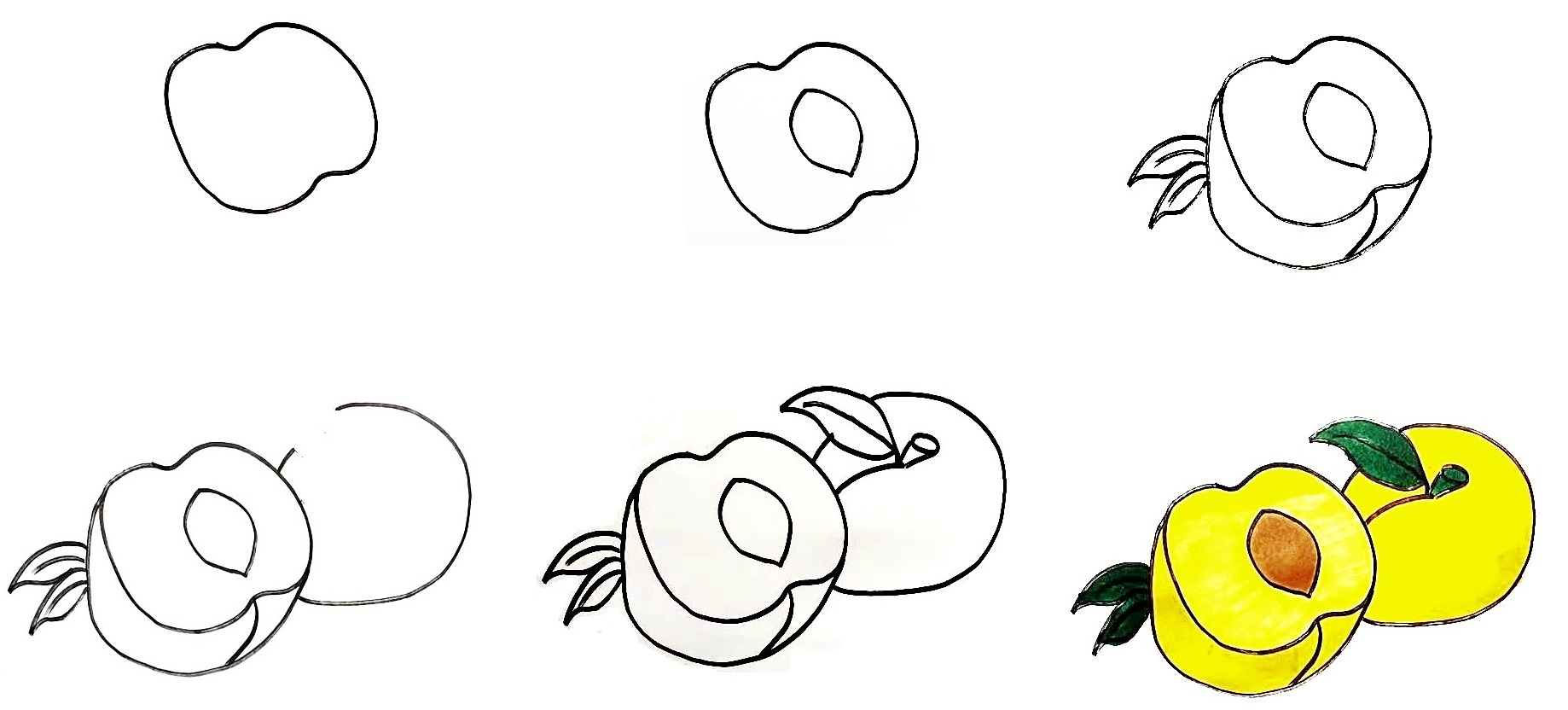 Just like drawing anything, you will also draw from easy to difficult details. To draw apricots, you will also draw outlines of apricots, then you will draw details for apricots but before drawing, you need to prepare a few things such as paper, pencil, pen, and color.  You can also take advantage of the available supplies, so you don't have to pay costs.
You use a pencil to draw on paper, you can erase your mistakes easily, so don't be afraid to draw; you can draw in your comfortable mood.
First, you will draw the blurred lines with a pencil then you will erase the wrong lines and highlight the correct lines finally you will choose the color and color your apricot drawing. It is very interesting and suitable for everyone, from children to adults.
You are completely free to learn to draw because you draw with a pencil, so it is easy to erase, draw for fun and find the Interestingly, while learning to draw the apricots
Through the 7 specific steps below, you will know well how to draw the apricots, and along with the tutorial, we have also included a couple of free apricot coloring pages that you can print off and give to your kids to color!
Step 1 – Draw A Half Of the Apricot Outline

To start your work in the guide on how to draw the apricots, you will draw half of an apricot. You will use 2 curves that meet at a point in the middle to draw half apricots, as you see in our reference image.
Now your apricot half looks a bit like half an apple; that's interesting.
Your task in this step is simple, but it is the first step, so you have to be careful to draw a nice half apricot. Now you are ready to go to step 2.
Step 2 – Draw The Apricot Seed

In this second step of your apricot drawing, you draw the apricot seed that looks like an egg but is smaller than an egg. You draw a small oval for this seed.
With the but smaller than an egg seed added to the but smaller than an egg, it looks a bit finished. At this step, it is also difficult for the beginner and simple for anyone can do it. Please look at our illustration and follow us!
You finish off the seed of your apricot drawing in some minutes and continue your work in the third step.
Step 3 – Add A Part Of the Apricot

You will add an apricot part behind the drawing you drew, it's not too difficult for you, as you see in our reference, you just need to add a curved line for this part of the apricot
Before the end of this task and the next step for your apricots drawing, you will draw stems and leaves for this apricot.
Step 4 – Draw The Second Apricot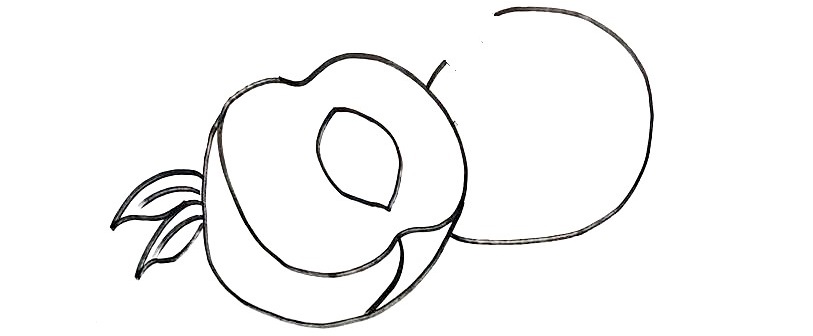 In the previous steps, you have drawn an incomplete apricot with a seed and a stalk. In this step, you will draw a second apricot, but here we only stop at sketching this apricot.
We will draw an imperfect circle representing the second apricot and leave a small space to draw leaves in the next step. If you find it difficult, use a compass to draw and then adjust it a bit to get the image you want.
Right now, you get an incomplete apricot and the second apricot without the stem. Once you are happy with your image, you can go to the fifth step to continue your work on the apricot drawing.
Step 5 – Draw Stalk And Leaves For The Second Apricot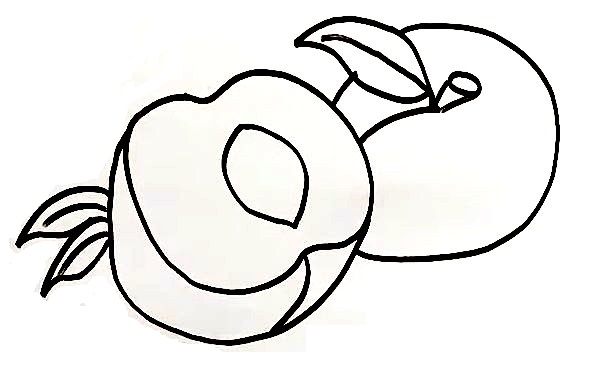 You will draw the stalk and leaves for the second apricot and those are the final details for your apricot drawing.
In the middle of the second apricot, you will draw the stem and leaves for it. Please look at our drawing example and follow it along, hope the mission in this step won't be difficult for you.
Use some curved lines and some minutes to finish off your task here.
It is great now you have completed your apricot drawing and have the last step for coloring of the apricots.
Step 6 – Color Your Apricots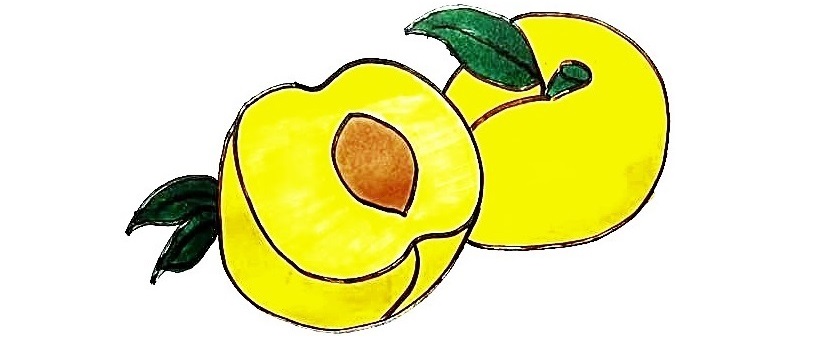 Your task in this step for your apricots drawing is simple; you just choose the color for your product.
By nature, apricots are green, and when they are young, they will be yellow when they are ripe, so you can choose green and yellow for your apricots. Here, we take yellow for apricots, brown for seeds,s and green for stalks and leaves.
You can mix different colors or choose different ways to colors for the product creating uniqueness and making the product more beautiful.
Your Apricots Drawing Are Complete
So you have completed the task of drawing and coloring apricots in 6 steps. Do you feel it is simple and interesting? If you had fun with this drawing tutorial, then you'll surely enjoy our guides on drawing other fruit like How To Draw An Easy Avocado. You can Check out our "How to Draw" catalog to explore more free drawing tutorials like this one. Which fruits would you like to learn how to draw next? Please don't forget to show your product and apricot drawing to your friends or on the media sites. You also can enjoy this activity after the hard-working hours. If you are a parent, you can join in the apricot drawing with your kids; they will surely like it. Drawing and coloring will help your kids to develop some skills such as pen skills, concentration skills, and painting skills,…More your children can avoid using technical devices such as television, smartphones, tablets,..they are not good for their eyes and their evolution. As you can know, the benefits of learning to draw and color are many, so you can join this leisure activity with your loved ones to increase the fun. I hope you can understand everything now and come often to our site Coloringcool.com and make sure you don't miss drawing and coloring pages. Have fun with our apricot drawing instructions!