Pete The Cat Drawing Is Created In 7 Steps
Creating Cute Pete The Cat drawing in just 7 easy steps
We have created a step-by-step tutorial on how to draw Pete the Cat, summed up in 7 quick and easy steps. You will create Pete the Cat drawing with our detail guide. It is not simple, but it is not too difficult. Whether you are a beginner or an expert in drawing, you can finish your work easily. We give the instruction details, and you will go to step by step to create a complete Pete the Cat. You will concentrate your mind, passion, and time here. This activity is very interesting and suitable for everything from children to adults. You can enjoy it in your free time after the hard-working hours. No matter who you are, whatever you do, you need to have a reasonable rest time so work will be better. So your life will be better. With this guide, we also have Pete The Cat coloring pages that you can refer to and practice your drawing skill.
How To Draw Pete The Cat – Let's Get Started!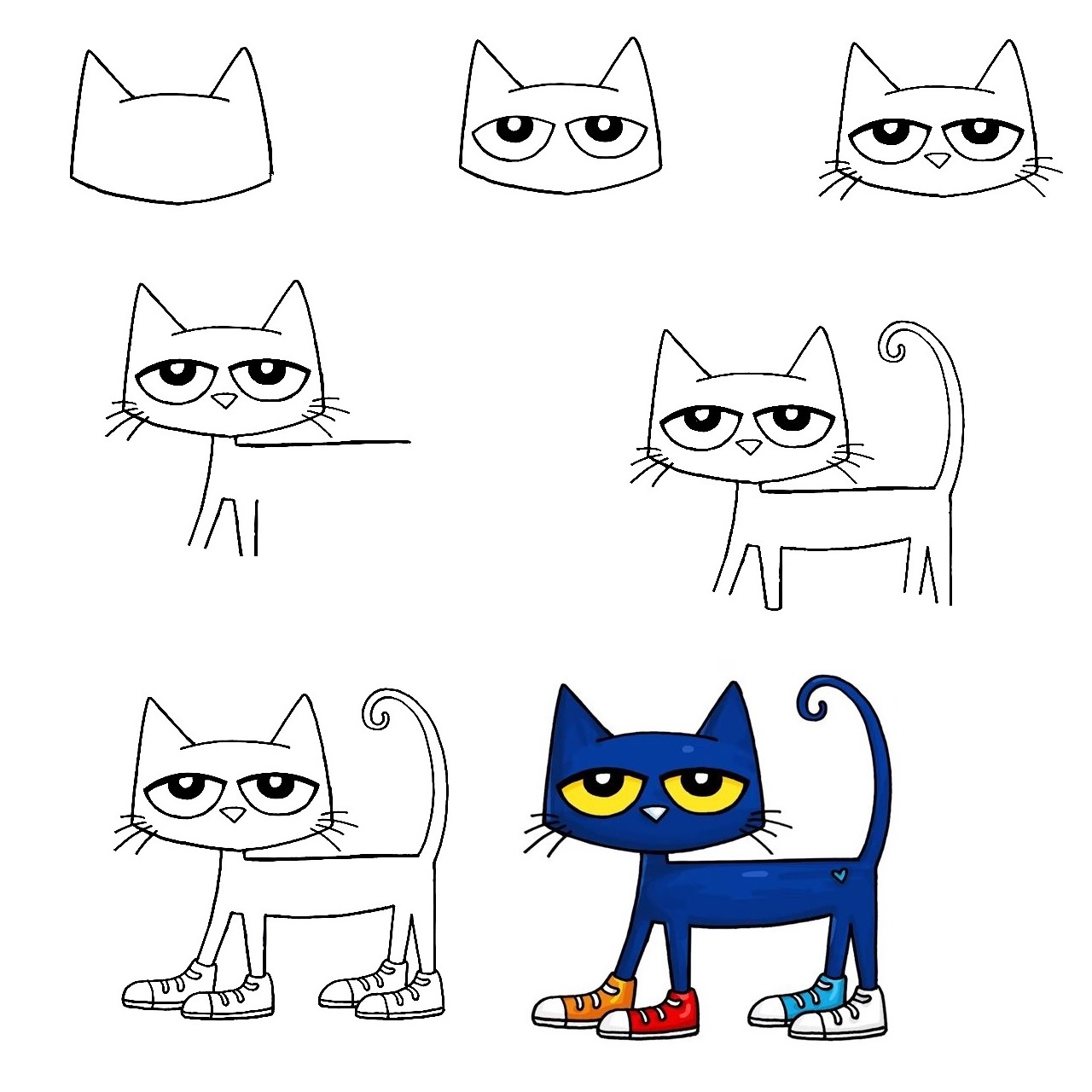 As you know, Pete the Cat is a fictional cartoon cat created by American artist James Dean. The series started with four books illustrated by Dean and with text by Eric Litwin. Since then, James Dean and his wife, Kimberly Dean have written and illustrated a series of books. Pete the Cat is a character that has four legs, two front legs and two back legs. He is a lovable character that is known and loved by many viewers. A lot of people want to portray this character, but not everyone has the ability to do it. Fortunately, today we will give specific instructions to draw Pete the Cat for you. If you are a parent, you can learn to draw with your kids, they will surely like it, and they can avoid using technical devices like television, smartphones, and tablets. They are not good for their eyes and evolution. Now, let's get started drawing Pete the Cat with us!
Step 1 – Draw Pete The Cat's Head Outline

You will use straight lines and curved lines to draw Pete The Cat's Head Outline. On the head, you draw two triangles for two ears of Pete The Cat. The task in this step is simple, and it takes some minutes to finish and move to step 2.
Step 2 – Draw Pete The Cat's Eyes

You draw two ovals or circles for two eyes; you can add two dots inside them and make pupils; you use black to make them create more vivid, real, and beautiful eyes. You can finish the task in this step and next to the third step.
Step 3 – Draw Nose And Whiskers For Pete The Cat

Under the eyes, you draw a small triangle for the nose of Pete The Cat. You use four curved lines at each side to make Pete The Cat's Whiskers. The task in this step can't be difficult for you; you can look at our illustration and follow it. Once you finish the task here, you can go to the fourth step.
Step 4 – Draw Body Outline And Two Front Legs For Pete The Cat

You use two parallel straight lines coming down from her head to make the neck and continue to create the back and then draw two front legs with the parallel straight lines as well. You finish your task in this step and move to the fifth step to draw your Pete The Cat.
Step 5 – Draw Two Back Legs And a Tail For For Pete The Cat

From two front Legs, you use a straight line to make his belly and then you use two parallel curved lines to make his simple tail. Your work in this step is simple, and you can finish it in minutes before moving to step 6.
Step 6 – Finish Your Drawing Mission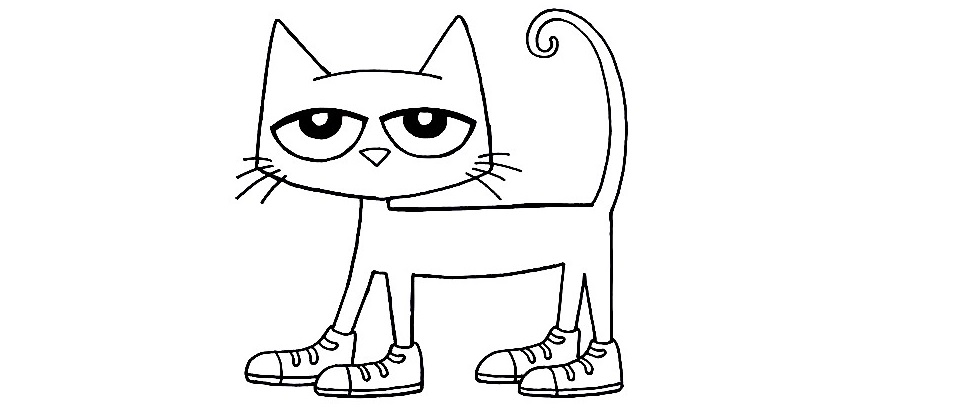 You must finish your drawing mission by adding four shoes for Pete The Cat. From legs, you draw shoes; it depends on your drawing skill. You can show simple or complete shoes for Pete The Cat. You must draw enough four shoes for the four legs of Pete The Cat with the shoelace or less shoelace. You have more than the last step for coloring Pete The Cat.
Step 7- Color Pete The Cat

In this final step of your Pete The Cat drawing, we will finish it with some amazing colors. In our reference image, we showed you just one way that you could go about coloring your picture. We used a gradient of shades of blue to create a cute Pete The Cat. Then, we used shades of light and dark greens for each shoe on the leg, along with yellow and black for his eyes. Finally, we finished off with white for his nose. these are the colors we chose, but there are loads of options available for coloring this in. You finish your drawing and coloring task to create Pete The Cat. You can move Pete The Cat coloring pages to refer to images related to Pete The Cat. We update many pictures, and you come here with any device connecting to the internet. So, you know how to draw Pete The Cat with our guide. We update daily drawing tutorials for you to practice your drawing skill. Have a great time!