How To Draw A Pansy – 7 Simple Steps To Create A Nice Pansy Drawing
Create a Nice Pansy Drawing In seven Easy Steps
Right now, you will have a chance to know how to make a complete pansy drawing in seven steps. You will follow our instructions and illustrations and then follow along. There will be seven steps equivalent to seven missions that you must pass. This is not a simple task, but it is not too difficult. It is important that you focus on the process of learning to draw. It takes about 30 minutes to complete this job; later, if you get used to this task, you can finish drawing a pansy faster. This is a flower that comes in many colors, from gold and orange to purple, violet, and a blue that almost looks black. In this tutorial, we will draw purple pansy and yellow pistil tutorial.
How To Draw A Pansy – Let's Get Started!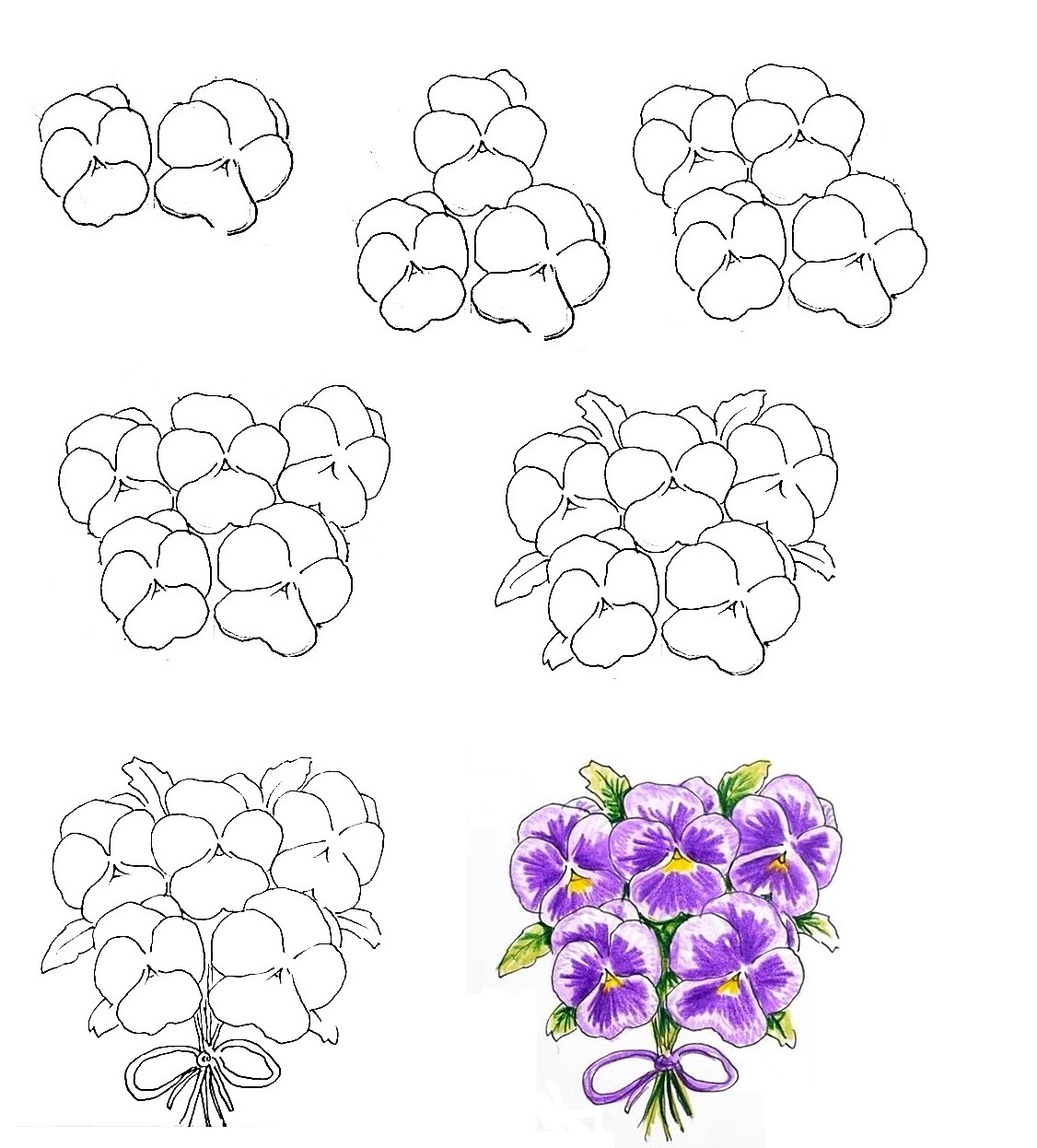 A pansy is a beau­tiful garden flower that has a face. No one can resist its beauty, and if you also love pansies and want to draw this flower, then this is the right choice; you will have the chance to show your passion with our tutorial; this is also an interesting task for everyone from children to adults. You can participate in drawing activities in your free time after the hard-working hours. With drawing pansy you will have the opportunity to get more information about this flower. . It would help if you prepared a pencil, eraser, colored pencils, and drawing paper before drawing; you will do your pansy drawing using a pencil drawing on paper; then if your strokes are correct, you can highlight them and if you draw wrong erase and redraw until you draw right get drawings. Finally, you will color your picture. This is a task that is not too easy but not too complex, requiring you to focus on the process of learning to draw. Along with Badtz Maru, you can enjoy Pansy coloring pages to practice your drawing and coloring skill. You will get a fun time with us, and I hope you have a comfortable mood here. Now let's dive into seven concrete steps to learn to draw pansy with us.
Step 1 – Draw The First Two Pansy Flowers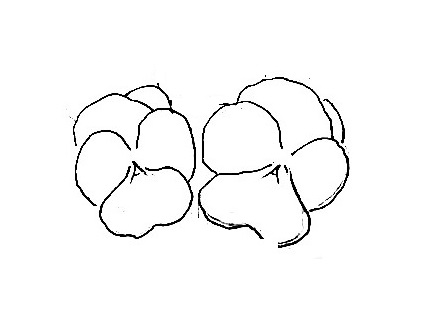 Please align the A4 paper to draw the pansy flower accordingly. You will use curved lines to sketch the first two flowers. Each flower has four petals, as you see in our illustration. Not too difficult with the first task for pansy drawing, you quickly finish and move on to the next step.
Step 2 – Draw The Third Pansy Flower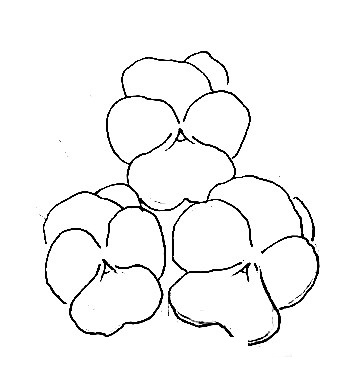 Your task in this step is to draw the third pansy flower; you will continue to use the curved lines to realize your mission. Similar to the first step in this flower, you will also draw four petals for it before moving on to the third step to continue your pansy drawing.
Step 3 – Add More A Pansy Flower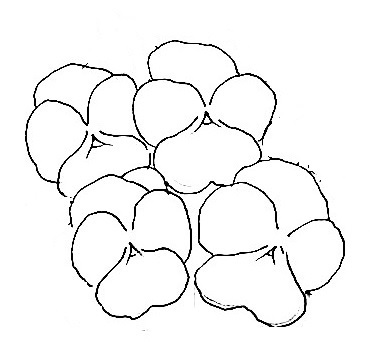 In this third step on how to draw a pansy, you will add more pansy flowers. You draw a more flowers on the left side to make a pansy with four flowers now. It's also simple, isn't it, it will take you a few minutes to complete the task here and move to the next step to continue the mission of your pansy drawing.
Step 4 – Draw The Fifth Pansy Flower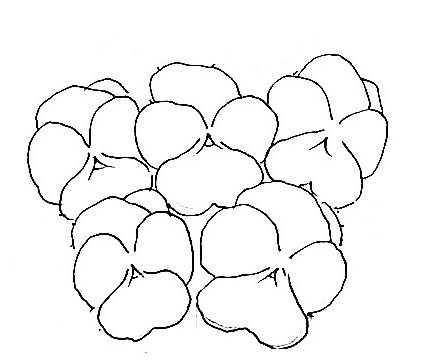 Now you will add a flower to the right side; you will use the curve to draw this flower. Follow our guide for the best results. When you are satisfied with your drawing in this step, you can move on to the next step to continue your work.
Step 5 – Draw Leaves For Pansy Flower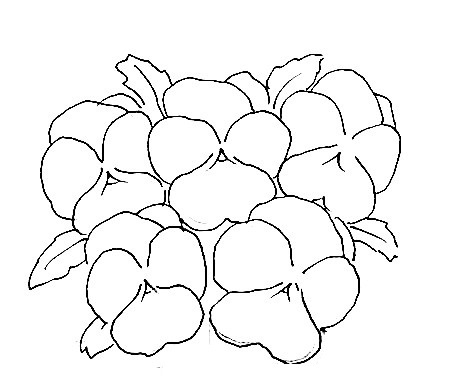 Right now, you must draw the leaves for the pansy flower. Just like how you draw other leaves, the vain flower is made up of two curves and veins in the middle; this is a simple task, you will draw some leaves in some places of pansy, you can finish it quickly and go to the next step.
Step 6 – Finish Off Your Drawing Mission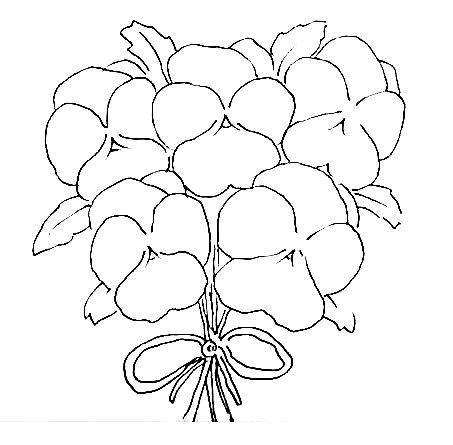 Now you will draw the bottom part of the pansy bouquet. You will draw the stems and string them together; you can make a pretty bow for the bouquet to make the bouquet more beautiful with your decorative art. You look again and can add a few more details to your drawing if you want before going to the final step for coloring your pansy drawing.
Step 7 – Color Your Pansy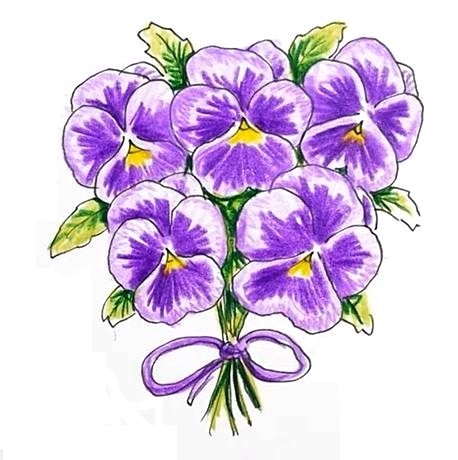 You will choose the suitable colors for your drawing. You can use any color that pansy has to color for your pansy drawing. We chose purple for the pansy and, yellow for the pistil, green for the leaves and stem as you see in our illustration.
Your Pansy Drawing Is Complete
You finish your drawing and mission on how to draw a pansy with your fun time. This mission is fascinating, and you can recommend it to your kids. They will avoid the use of phones, tablets, or televisions, which are not good for the child's development and eyes. Hope you understood everything in this tutorial and come back to enjoy more drawing guides on our website Coloringcool.com. You can refer to some flower drawings, such as Flower Drawing or Magnolia Drawing, they are very interesting and I hope you like them. Have a great time with the Pansy Drawing!