7 Simple Steps For Creating Nice Magnolia Drawing – How To Draw A Magnolia
Create A Nice Magnolia Drawing in seven Easy Steps
Today, you get an opportunity to learn how to make a nice magnolia drawing in seven steps. You will follow our tutorial to draw a very beautiful magnolia. Each of our step-by-step tutorials has illustrations that will make the task of learning to draw easier. Why not? You will have the opportunity to show off your drawing and coloring skills. Moreover, you will also feel comfortable because when participating in the task of learning to draw, you will temporarily forget the fatigue and worries in life. All our educational products, including the magnolia drawing guide, are completely free. You can visit our website anytime, anywhere, with a device connected to the internet.
How To Draw A Magnolia – Let's Get Started!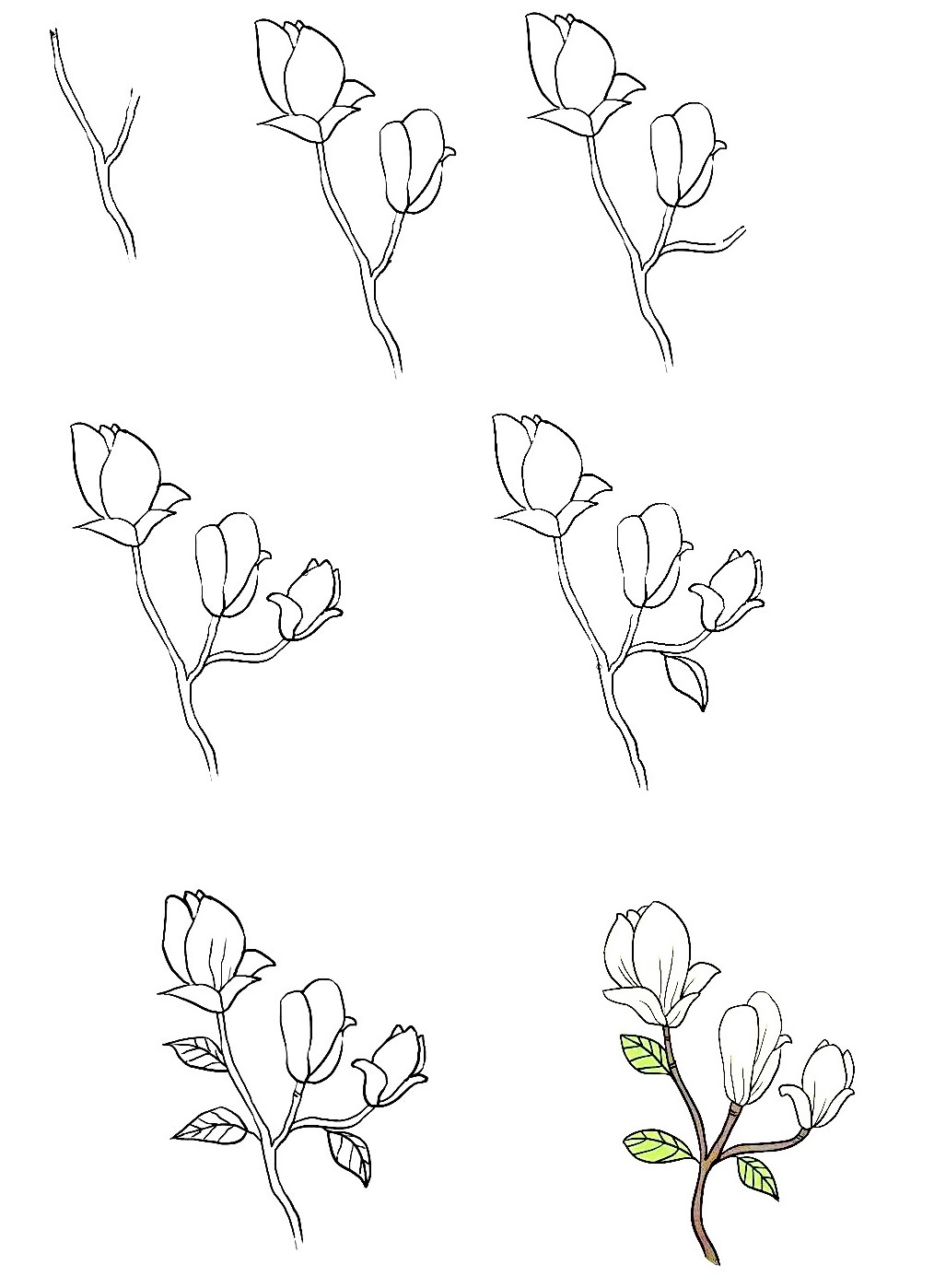 Magnolia flowers are named after a French botanist, Pierre Magnol. This flower has many outstanding colors, most notably pink, purple, cream, and yellow. Today with our tutorial, you will have a chance to draw a magnolia drawing in cream color, with green leaves that look very soft but full of charm. First of all, you need to prepare some necessary tools such as paper, pencil, ink, and eraser before starting to draw a magnolia. You will proceed to draw the magnolia using a pencil and draw on paper with sketches; then, you will check your strokes. If you draw them right, you can bold them and see them as final strokes, and if you make a mistake, erase and redraw until you feel satisfied with your drawing. In the end, you will choose the color that best matches the magnolia drawing. Along with this drawing instruction, you can refer Magnolia coloring pages practice your drawing and coloring skills. Now let's go into specific seven steps to show off our drawings.
Step 1 – Draw The Magnolia Stem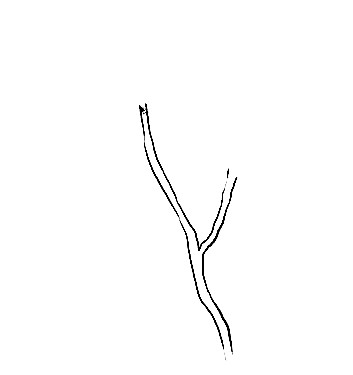 To start drawing a magnolia with the stem for magnolia. You will use curved lines to show your task. Not easy to realize the mission here, and you can observe our image and follow it. You will complete this task in a few minutes and quickly skip to the next step to continue with your magnolia drawing.
Step 2 – Draw Two Magnolia Flower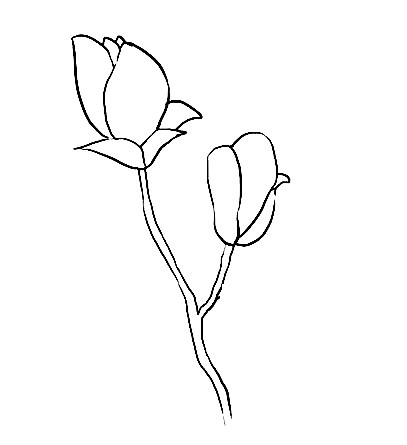 At two tips of one stem, you draw two magnolia flowers. These are the first magnolia flowers for the tree branch, so you have to paint a little more carefully to make your drawing better. Similar to how to draw other flowers, we will use curved lines drawn from the inside out to show the beautiful magnolia flowers. You can stop your work here and move to the third step and continue your magnolia drawing.
Step 3 – Add More A Branch For Magnolia Stem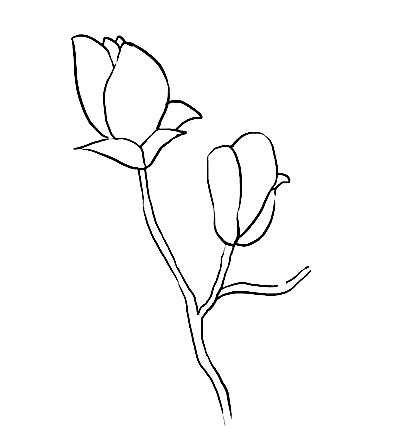 Your task in this step is very simple; you just draw a branch for the Magnolia stem. From its stem, you will use two short parallel curves to form a branch for the Magnolia drawing. You use some minutes to finish your mission at this step.
Step 4 – Add More A Flower For Magnolia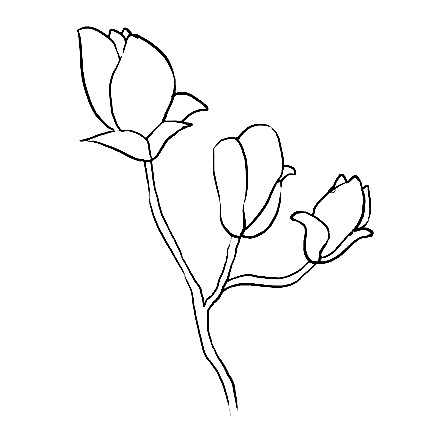 You continue your task for your magnolia drawing to show the third magnolia flower. Similar to step 2, you will use some curved lines for this flower. It's not too difficult for you because this is not the first time to drawn Magnolia flowers. It is a little timple, and you quickly finish it and go to the next step.
Step 5 – Draw A Leaf For Magnolia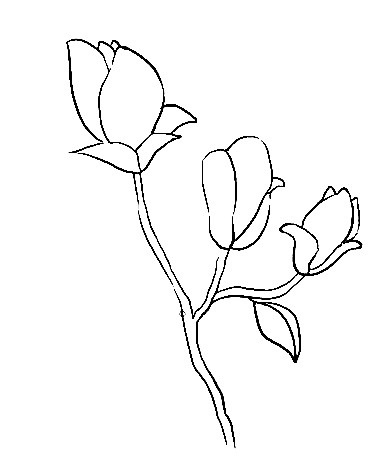 Now is the time to draw the first leaf for your magnolia drawing. Under the third flower, you will draw a pretty leaf for Magnolia. It's great because you will also use simple curves to draw it as you see in our illustration. You can stop work here, and let's decorate this leaf in the next step.
Step 6 – Finish Your Drawing Work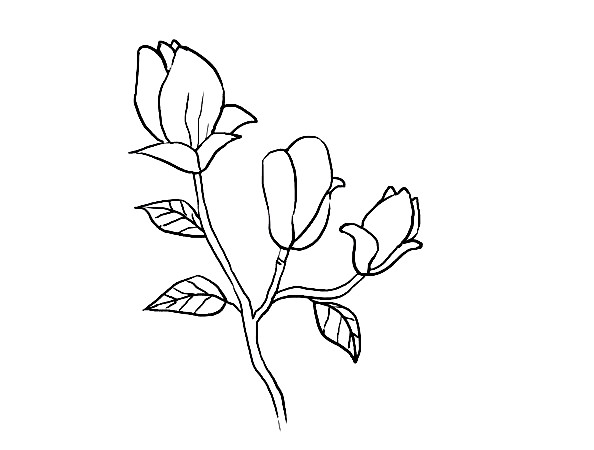 You will have to complete your drawing task with the final details; specifically, here are the leaves of the magnolia; you draw two more leaves for the magnolia, then draw the veins to complete them. In this seventh step on how to draw a magnolia, you can also draw three or more three cards depending on your preference and how to allocate the details to make the picture more complete; use your talent and your aesthetic to get a perfect magnolia drawing.
Step 7 – Color Magnolia Drawing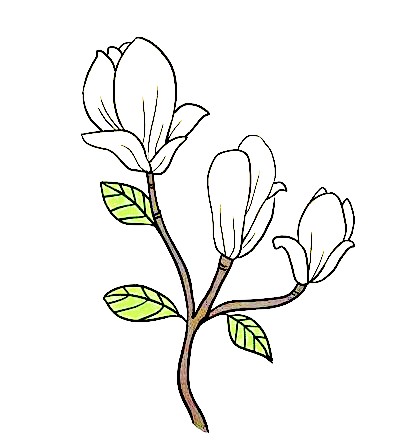 Right now, your task is much simpler. You just need to choose the natural color for the magnolia flower. Here we are drawing magnolia flowers in cream color, so you can use cream or white to color the flowers, green for the stem and leaves. So, you have completed this task for your drawing.
Your Magnolia Drawing Is Complete
You have finished drawing and coloring magnolia flowers in seven simple steps with our instructions and illustrations. You have a chance to get a fun time here with us. It is great, and you can come here each day. In addition to drawing magnolia, on our website Coloringcool.com there are a lot of drawing tutorials about other flowers like Sunflower drawing, Dahlia drawing, you can come here and enjoy them for free. We update our education products daily. I hope you like this magnolia drawing guide and recommend your friends. Thank you!