How To Draw A Dahlia – 7 Easy Steps Creating A Dahlia Drawing
Create a lovely Dahlia in seven simple steps
If you have long dreamed of learning how to draw a dahlia, then this lesson is for you. You get an opportunity to create a complete dahlia drawing with us. Our guide contains only seven simple steps. We will show you how to draw a dahlia. These are lovely flowers, and I think everyone loves this flower; you will be happy with your dahlia drawing.
This is not a simple task, but it is not too difficult. You have to draw many petals. Dahlia is made up of many different petals and has vibrant colors. They can be pink, yellow, red, or purple,… in general; this flower is both easy to care for and beautiful, suitable for all types of climates. If you love this flower, you can also draw, plant, and take care of dahlia in your free time.
How To Draw A Dahlia – Let's Get Started!
To draw a dahlia, you must concentrate on the drawing course. You draw the pistil and then each petal and then increase the number of petals and make the bud more lush and voluminous finally, the branches and leaves are created. During the drawing process, you will adjust to draw strictly for each petal. It will take quite a while, but the results will satisfy you if you are meticulous with each stage.
Before starting this task off your dahlia drawing, you must prepare some things such as a pencil, paper, eraser, and coloring supplies. You will sketch the dahlia with a pencil blur, and then you will erase the wrong lines and bold the correct ones. Finally, you will choose the color for your dahlia drawing. We make this tutorial easy to complex and suitable for everyone; whether you are a beginner or an expert in drawing, you can complete this task most efficiently. Along with this tutorial, we also provide dahlia coloring pages for free to help you practice your drawing and coloring skill.
Drawing is an entertainment activity suitable for everyone, from adults to children. No matter who you are, you also need to schedule time for a particular entertainment channel, and drawing is a good choice. You can enjoy it in your free time after the hard-working hours; it can help you balance your life. And now, we will go into the specifics for each step.
Step 1 – Draw The First Dahlia Petals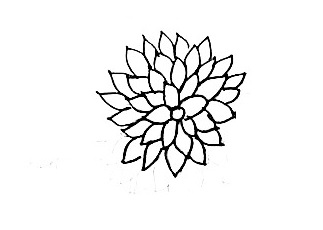 Starting to realize your task of guide on how to draw a dahlia, you will draw the first petals for it. Petals are composed of 2 curves and meet at a vertex.
You keep repeating the work of drawing the petals and overlapping each other until your task is completed as our reference image.
You can stop the work of your dahlia drawing here and move to the second step now.
Step 2 – Continue To Draw The Petals For Dahlia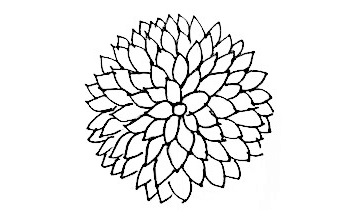 You continue to draw the petals for dahlia in this step of the dahlia drawing mission.
Similar to the first step, you will add more petals for dahlia using two curved lines that meet at the top of the petals.
That's all there is to do in this step, and now you move to the third step of this task on how to draw a dahlia.
Step 3 – Finish Off The Dahlia Petals Drawing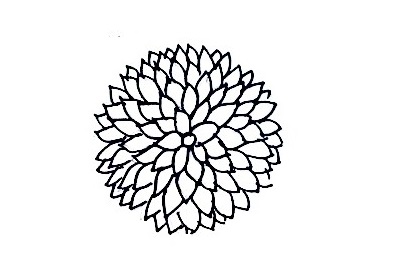 Similar to the first and the second step, in this step, you will continue to draw the remaining petals of the dahlia.
You continue to use the curved lines and realize your mission here until you are happy with your image.
You can observe and follow our image drawing, and you will find it much easier to draw petals for dahlia. And now, you continue your task in step 4.
Step 4 – Depict The Dahlia Stem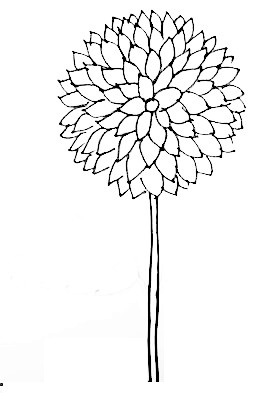 In this fourth step, you draw a smooth line down from the inflorescence
The straightforward task here; you will use two parallel lines to show the stem for dahlia. You can stop your work and move to the next step right now.
Step 5 – Draw A Leaf For A Side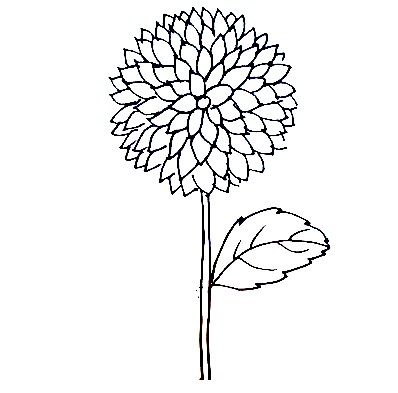 The stem is indispensable, and now it is time to add the leaf on a side for dahlia.
You will use curved lines that follow each other and make the first leaf on a side; then, you will use small stripes to show veins. Once you finish the task here, you can compare your drawing image and our reference image. If you are not satisfied, you can draw it again.
Step 6 – Add One More Leaf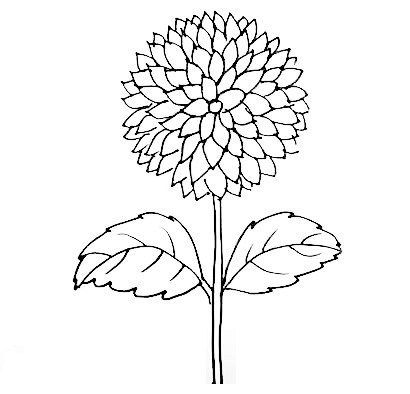 Similar to the 5th step, you will add one more leaf on a side to the stem in this step.
You will also use two curves that meet at one point to form the leaf, and then you draw the leaves' veins with some small lines.
The task in this step is also very simple, and you only need to take a few minutes to complete it before moving to the next step for coloring.
Step 7 – Color Your Dahlia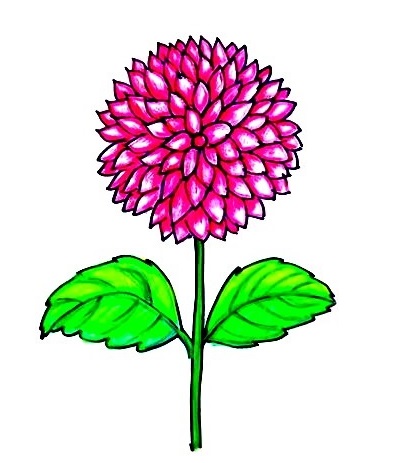 Now is the easiest step for you. You will choose the suitable colors. It depends on your hobby about colors. You can take any color you like, but the dahlia is often yellow, red, pink, or violet,…we choose red for dahlia and green for leaves and stem.
You also use mixed colors to create a nice dahlia drawing; bring your style.
Your Dahlia Drawing Is Complete
You create a complete dahlia drawing in the seven easy steps. It takes about 20 minutes to finish this drawing mission. This is interesting work, and if you are a parent, you can this activity for your kids and enjoy it together. On our website Coloringcool.com, you can find many drawing instructions related to flower such as sunflower drawing, flower drawing or daisy drawing. We update them daily, so you can come here each day to enjoy and relax. Drawing and coloring activities are suitable for everyone. If you like our instructions drawing, don't forget to give us a thumb up and recommend them to your friends! I hope you understand everything now and have fun with dahlia drawing!