6 Easy Steps To Create A Sombrero Drawing – How To Draw A Sombrero
Sombrero Drawing Is Create In 6 Simple Steps
So, you get a chance to make a complete sombrero drawing in only six steps with us.
This drawing tutorial will take about 20 minutes, but you can finish it in less time if you are gifted. We will give instructions, and you will follow them most efficiently.
Today, there are many different hats, and depending on your preferences and finances, you can choose a suitable hat for yourself.
However, there are a few hats associated with a culture and a symbol of a country; the sombrero is a good example; this is a hat associated with Mexico because of its excellent sun protection.
If you want to know how to draw a sombrero, join us in learning how to draw a sombrero in 6 easy steps.
This is a not-too-difficult task for you, and you also have fun while participating in this activity.
It would help if you also prepared all the supplies like paper, pen, pencil, colors, and eraser before learning to draw a sombrero. You will then learn to draw with a pencil and paper; drawing with a pencil will make it easy to erase mistakes and draw again until you are satisfied with the result.
Once you get a sombrero drawing; you can choose the suitable colors for your products.
With this drawing guide, you can enjoy sombrero coloring pages for free to practice your drawing and coloring skills.
Practicing drawing and coloring regularly will help you improve your painting ability. Why not? All activities on our website are completely free. Moreover, you will also be free of mind when participating in these activities; your life will also improve.
Right now, go to six steps of our guide on how to draw a sombrero with us!
How To Draw A Sombrero – Let's Get Started!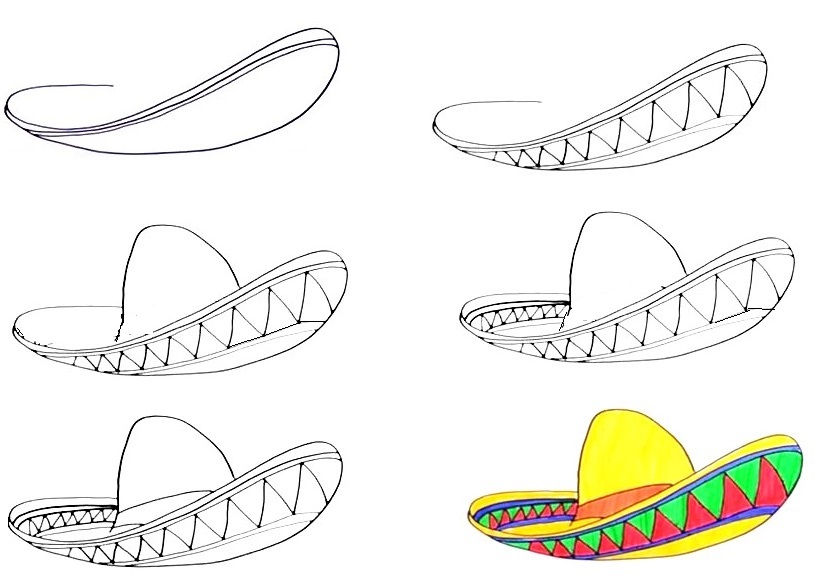 Step 1 – Draw The Sombrero's Brim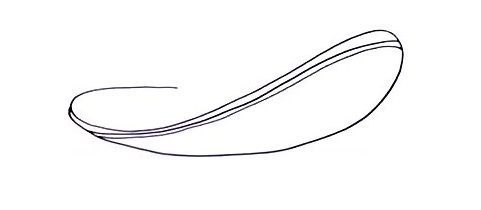 Starting work on the sombrero, you will draw its wide brim. As seen in our reference image, this rim has a rather specific shape so use a wavy curve to draw it.
You can use the parallel curved lines to show its brim before moving to the second step.
Step 2 – Add Details Of The Sombrero's Brim

Your task in this step of our guide on how to draw a sombrero is to draw the details for your sombrero drawing.
Use successive lines to draw details below the brim of the hat. Once you have our reference image, you can move on to the next step.
Step 3 – Draw The Top Of The Sombrero

If in steps 1 and step 2 you draw a brim for the hat, then in this third step of our guide on how to draw a sombrero, you will draw a top for it.
You will use a curve to perform the task of this part; notice the top of the hat will be a bit flatter, as you see in our reference image. You can move to the fourth step to continue your drawing mission.
Step 4 – Draw More Elements Of The Sombrero

You must add details for your hat for this step of your sombrero drawing. You use curved and straight lines for your task, as seen in our reference image.
Once everything is done, you can go to the next step and add some decoration details for this Mexico hat.
Step 5 – Draw The Final Details

This is the final step for drawing the remaining details of the sombrero.
You will use your teeth to decorate the brim and top of the hat to make you more excellent and realistic.
Simple, isn't it? Before moving on to the last step for coloring your sombrero drawing, you can add details beyond the ones we drew as long as you feel comfortable.
Step 6 – Color Your Sombrero

It's time to choose a nice color for your product, a sombrero drawing. You can use any color for your hat.
As you see in our illustration, we mix yellow, red, and green for our sombrero.
What color did you use for your hat? Please share it on your Facebook and Pinterest pages for us to see. We are also curious about your work.
Your Sombrero Drawing Is Complete!
So, your sombrero drawing is done in six steps with us. Pretty simple. I hope you're satisfied with the final result. We have tried to organize this sombrero drawing tutorial from easy to complex; you can let your kids learn to draw. They can join in this activity after the hard-working hours at school. They can avoid using technical devices such as television, smartphones, or tablets. They are not suitable for children's eyes and evolution.
On our website Coloringcool.com, you can find many drawing guides or coloring pages for free to enjoy. We update them daily; you can visit our site regularly to make sure you don't miss any educational products.
You can also enjoy drawing guides such as Hat drawing or Christmas Pikachu drawing. These are similar to sombrero drawing guides you can add to your hat drawing collection. I also hope you enjoyed this drawing tutorial and come back here to enjoy more products. Have fun!