Table Drawing Is Complete In 6 Easy Steps
Creating a simple table drawing in just 6 easy steps
You will learn how to draw a table with our super easy-to-follow step-by-step table drawing tutorial. You get an opportunity to create a complete table with your skill. Joining the drawing activity will help you to relax and have a great time. Tables are familiar objects to everyone; at home, in the office, and the office; the table can be used to eat, work, and study. decorate. We have created a step-by-step tutorial on how to draw a table, summed up in 6 quick and easy steps. You will follow our instructions to realize your task from easy to difficult until you finish the task. You can enjoy this activity with your friends and your children if you are a parent. You can forget stress and worries and make your life better. It is good for your kids because they can avoid using technical devices such as smartphones, tablets, and television, they are not good for their eyes and evolution. You can come here anytime and anywhere with your devices connected to the internet. Along with the tutorial, we have also included a couple of free table coloring pages that you can print off and give to your kids to color! All products are free on our site.
How To Draw A Table – Let's Get Started!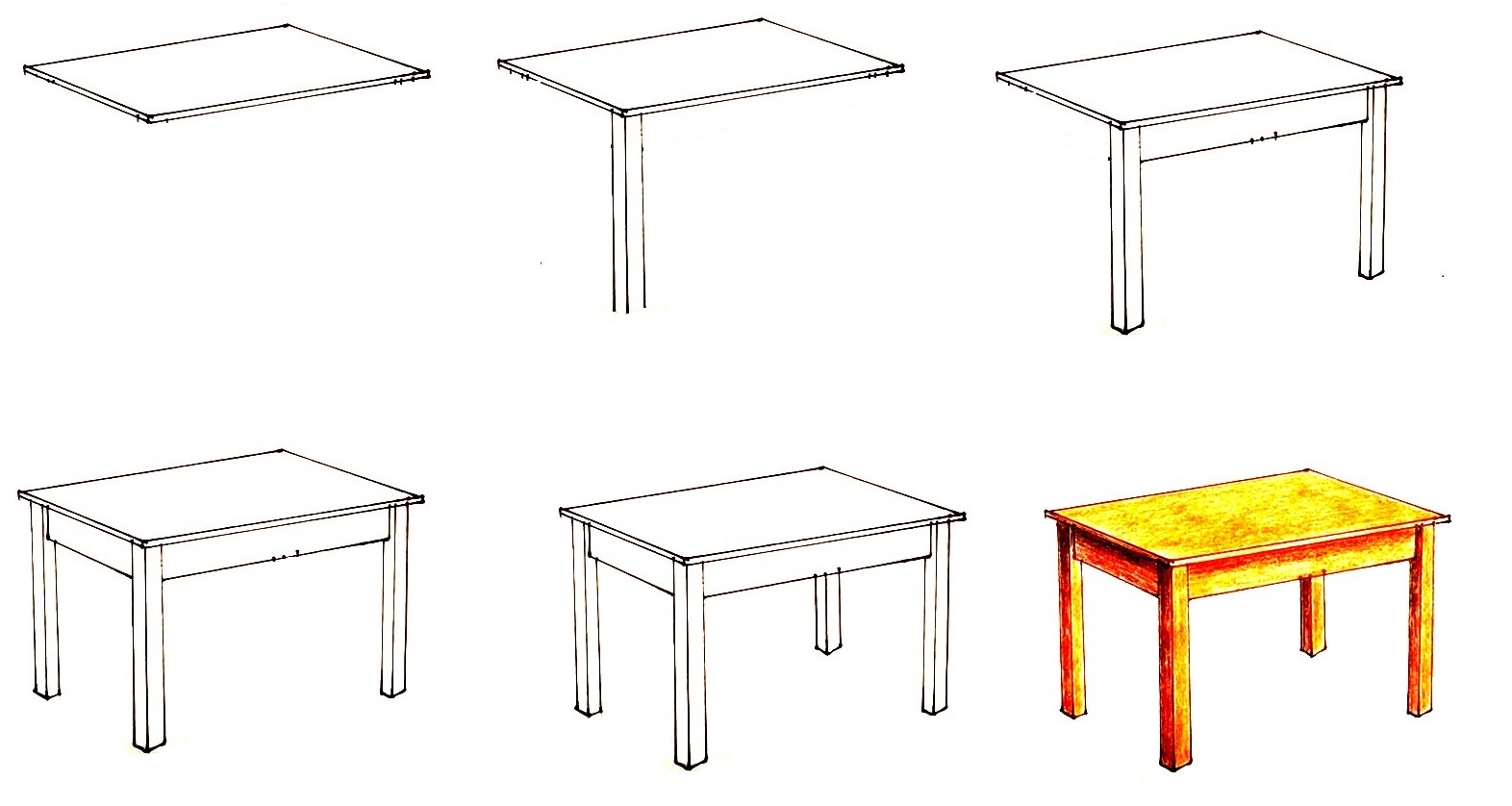 You know that the table is a piece of furniture with a flat top and one or more legs. It provides a flat surface where you can place a variety of objects. Today we will show you how to draw a rectangular table with four legs. Drawing a table is a simple task; whether you are a beginner, you can finish this task easily. After drawing this simple table, you can practice drawing other tables, such as round, patterned tables. It would help if you prepared a pencil, eraser, colored pencils, and drawing paper before drawing. You will use a pencil to draw on paper; you can erase your mistake, so don't be afraid to draw; you draw in the most relaxed mood. Some steps will require you to erase lines drawn in previous steps. Our guide will help you create a complete table from easy to difficult, and you can enjoy them and recommend your friends to come here. Now, let's get started drawing a table with us!
Step 1 – Draw The Topmost Part Of The Table

To start the mission of table drawing a table, draw a tilted parallelogram shape to create an outline of the top of the table. You will draw a wide V-shaped line with a short vertical line on both sides right underneath the outline. When you complete the task of this step, you will look back and see that you just finished drawing a parallelogram.
Step 2 – Draw The Right Front Leg Of The Table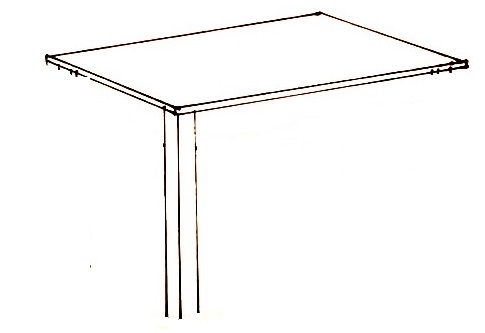 You will use three parallel straight lines right underneath the table's front left corner. This forms the left front leg of the table. You finish your task, and next to the third step.
Step 3 – Draw The Right Back Leg Of The Table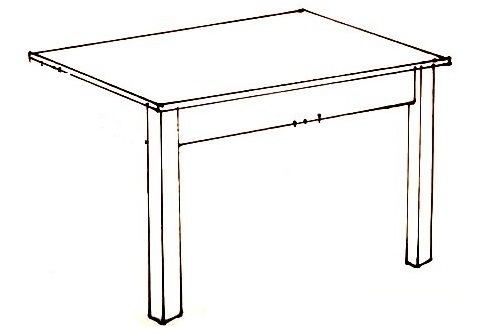 Similar to step 2, you draw another elongated, narrow figure with an angled bottom underneath the rear right corner of the table. This forms the right back leg of the table. Very simple task in this step.
Step 4 – Draw The Left Front Leg Of The Table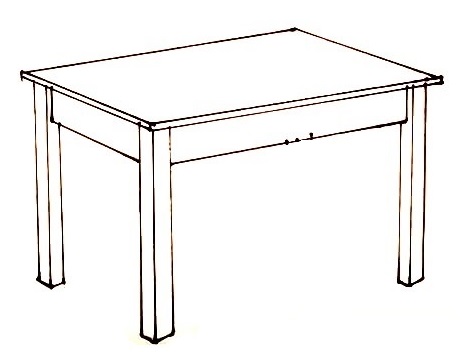 Repeat the task like steps two and step 3; continue to draw another elongated, narrow figure with an angled bottom underneath the rear left corner of the table. This forms the left back leg of the table. Remember that the legs of the table have the same length; because we are drawing the table inclined, we have to align the legs to best fit.
Step 5 – Finish Your drawing Mission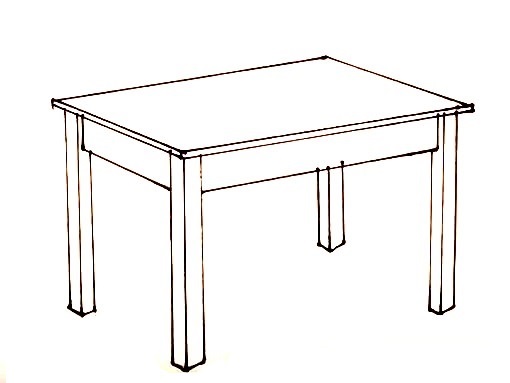 As you can see in the illustration above, the left-back leg is visible only halfway through because the top of the table covers its upper part. So, you draw half of the left-back leg with straight lines to create this leg. Now, you have completed all four legs of balancing the table, and you have more of the last step for coloring.
Step 6 – Color Your Table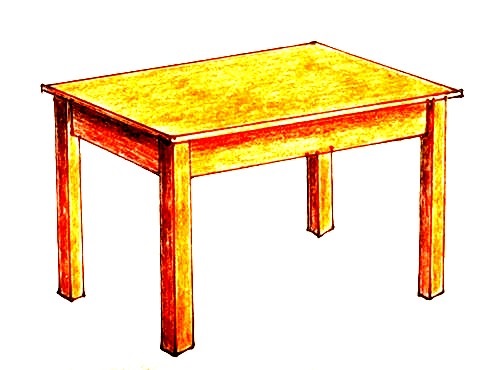 Your task in this step is to make the table vibrant and colorful! You must choose suitable colors for your table. You can take any color you like and make coloring for your products. Tables come in a wide range of colors because manufacturers can paint them with nearly every color. You can freely choose the color for your table to feel most satisfied. Your drawing and coloring mission for the table are finished; you can move to table coloring pages for free on our site. We update many on how to draw, and you can learn how to draw a table or everything in your free time to relax. If you like our products, don't forget to give us a thumb up and recommend them to your friends! This entertainment channel is good and suitable for everyone, from children to adults. I hope you get a great time here.