How To Draw A Hippo – 7 Simple Steps To Create A Cute Hippo Drawing
Create a Cute hippo drawing in the seven simple step
You will have an opportunity to know how to create a complete hippo drawing with us in seven steps, a giant animal. There are seven steps equivalent to seven missions that you must pass. The Hippo drawing task will be very interesting because, in every step-by-step tutorial, we always have a reference image that you can refer to, you will go step by step specific, and we have arranged the instructions from easy to difficult to make you can do it easily even if you are new to drawing. This is a fun task for everyone from adults to children; after stressful working hours, you can enjoy this drawing activity; it will help you to have peace of mind when you go back to work and will be more productive.
How To Draw A Hippo – Let's Get Started!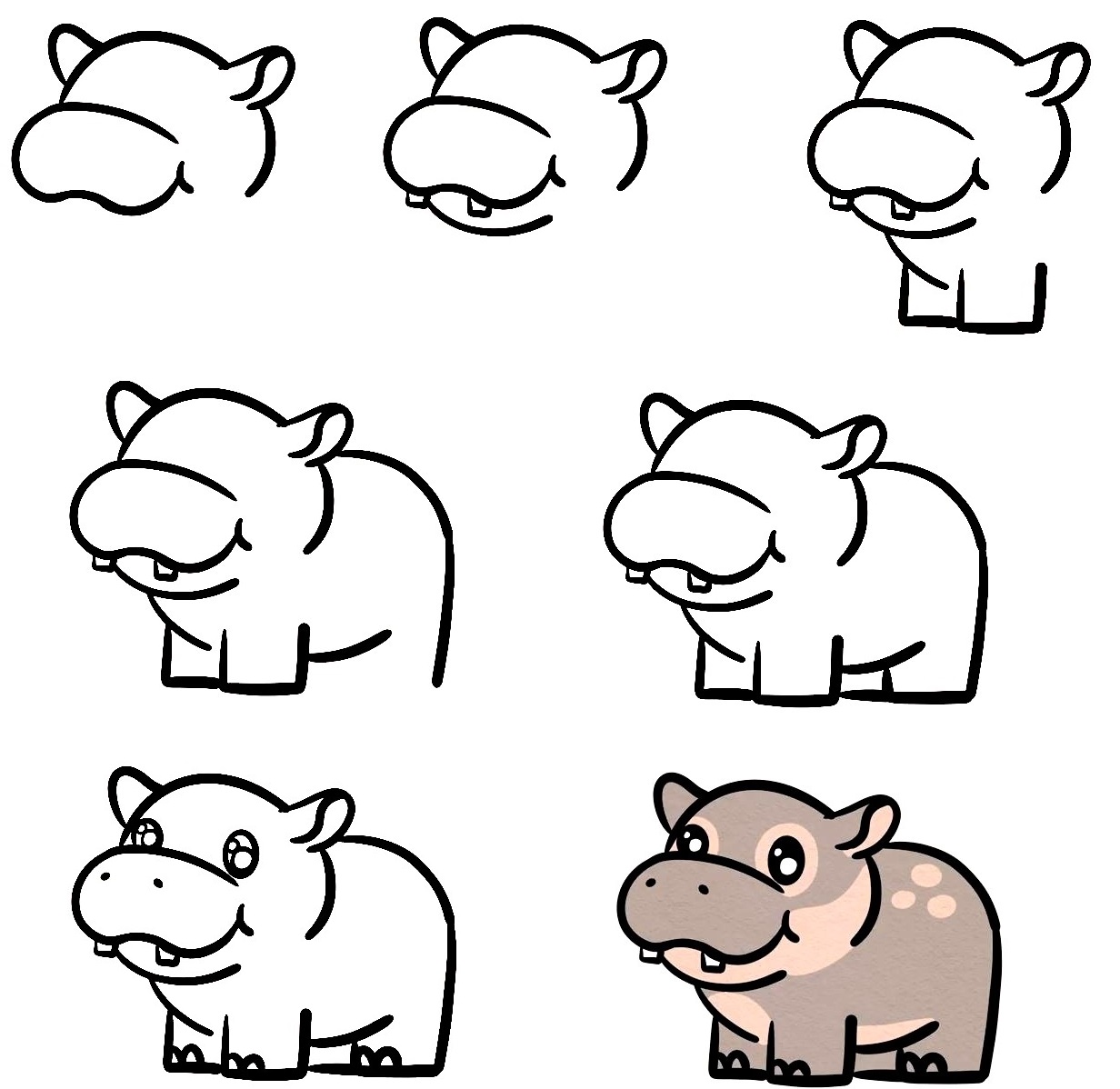 Hippo is a large animal that seems to be second only to elephants. They look very docile at rest but can also appear ferocious at times, the kind of animal you don't want to mess with! Hippo has a lot of fans and loves you; if you love hippo and want to draw them, this tutorial will help you get a complete hippo picture. Why not? You'll have a great time participating in this drawing activity. First of all, you need to prepare a few tools and tools such as A4 paper, pencils, pens, erasers, … then you will proceed to draw with a pencil on a4 paper. You will erase the wrong strokes, highlight the correct ones, and finally color your picture to make it more beautiful. This task is not simple but not too difficult and needs to concentrate. Along with this hippo drawing guide, you can enjoy hippo coloring pages to practice your drawing and coloring skill. You can come to our website for free and enjoy them; get a fun time. Now let's go into specific seven steps on how to draw a hippo to feel the fun in our step-by-step guide.
Step 1 – Draw Hippo Head Outline
To begin a task on how to draw a hippo, you draw a head outline. But before drawing the snout of the hippo, to do this, use some curved lines. You will draw two ears for your animal on the top of the head, as you see in our reference image. Once you are happy with your image, you can move to the second step.
Step 2 – Finish Off The Hippo Snout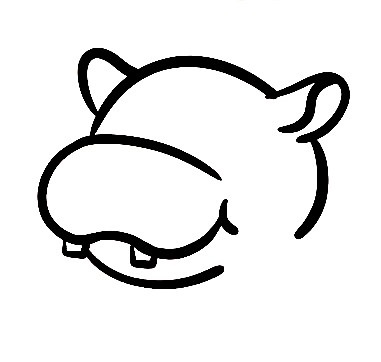 In this step of your hippo drawing, you must complete its snout. Add a curved line and two teeth for it. It's not too difficult for you; our reference image will show you what to do. It takes some minutes to finish your work here and go to the next step right now.
Step 3 – Draw Two Front Leg For Hippo
It's time to add legs for your animal. You will use two straight lines for a leg and connect these two lines together with a straight line at the bottom, creating a foot. The front legs are drawn exactly the same and also not too complicated, so you quickly finish and move on to the next step to continue your hippo drawing task.
Step 4 – Draw Hippo's Back And Butt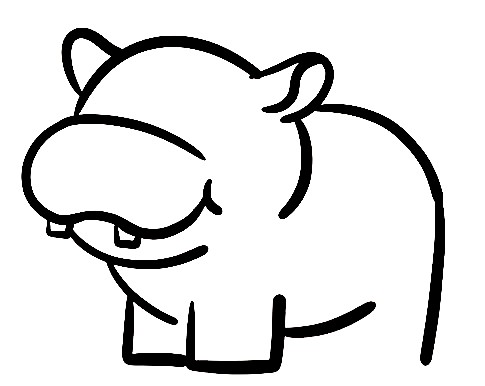 You continue your work of the hippo drawing with its back and butt. You use a curved line from head until hind leg. You will get the back and butt for your hippo. You spend some minutes finishing your task here and go to the next step.
Step 5 – Draw Two Hind Legs For Hippo
if in step 3 of your hippo drawing, you draw two front legs for the hippo, in this step, you draw two hind legs for your animal. Like the front legs, the hind legs are composed of two parallel lines and are connected by a straight line at the bottom. If you are pleased with your task here, you can move to the sixth step right now.
Step 6 – Finish Off Your Drawing Mission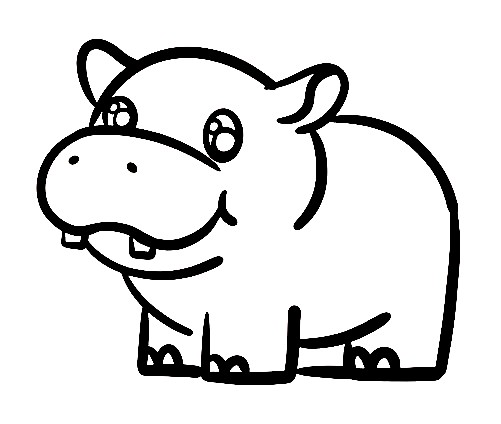 That brings you to the final step of this guide on how to draw a hippo. You will complete all detail for your image right now. Draw eyes for your hippo. Draw two ovals and circle inside, creating the pupils for the hippo. You will continue to show its nostrils with two dots. Please don't forget to draw the toes for your animal. You will finish your drawing task here and have the last step for coloring.
Step 7 – Color Your Hippo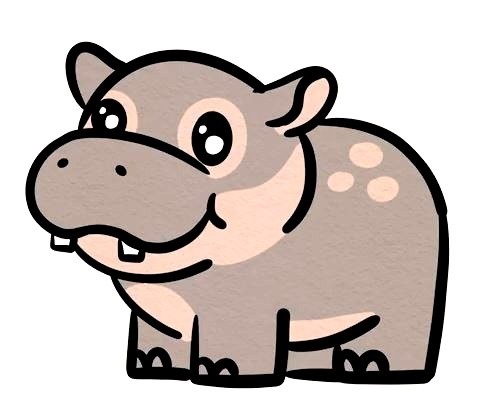 It's time to choose the colors for your image, and you can give your painting skill and hobby in this step. Very simple to realize your work here, you can use any color you like, and we take grey and some light pink for our image. And would you like this color with our image here? You can use the same colors as us.
Your Hippo Drawing Is Complete
You finish off your drawing and coloring mission on how to draw a hippo. Right now, you can admire your work again. As you learn to draw, don't be afraid to add a few details to show off your personality. If you have completed your image, you can share it on Facebook and on Pinterest to let your friends know. On our website Coloringcool.com, you can refer to many drawing instructions related to animals, such as elephant drawing, antelope drawing, you can come here each day if you have free time. I hope you can enjoy them to get a great time. Have fun!