6 Simple Steps To Create Cute Gir Drawing – How To Draw Gir
Create A Villain Gir Drawing With Six Easy step
Here, you get an opportunity to learn how to create a complete gir drawing with us through six simple steps.
You have six missions, and you will go Step by Step. Not easy but not too difficult, you need to concentrate on the course of drawing.
You have about 20 minutes to finish your task, and it is a fun job and suitable for everyone from children to adults.
You can enjoy this drawing activity after the hard-working hours to great a comfortable time, and it can help you to balance your life.
This gir drawing guide is arranged from easy to difficult; you can realize your task easily whether you are a beginner or an expert in drawing.
How To Draw Gir – Let's Get Started!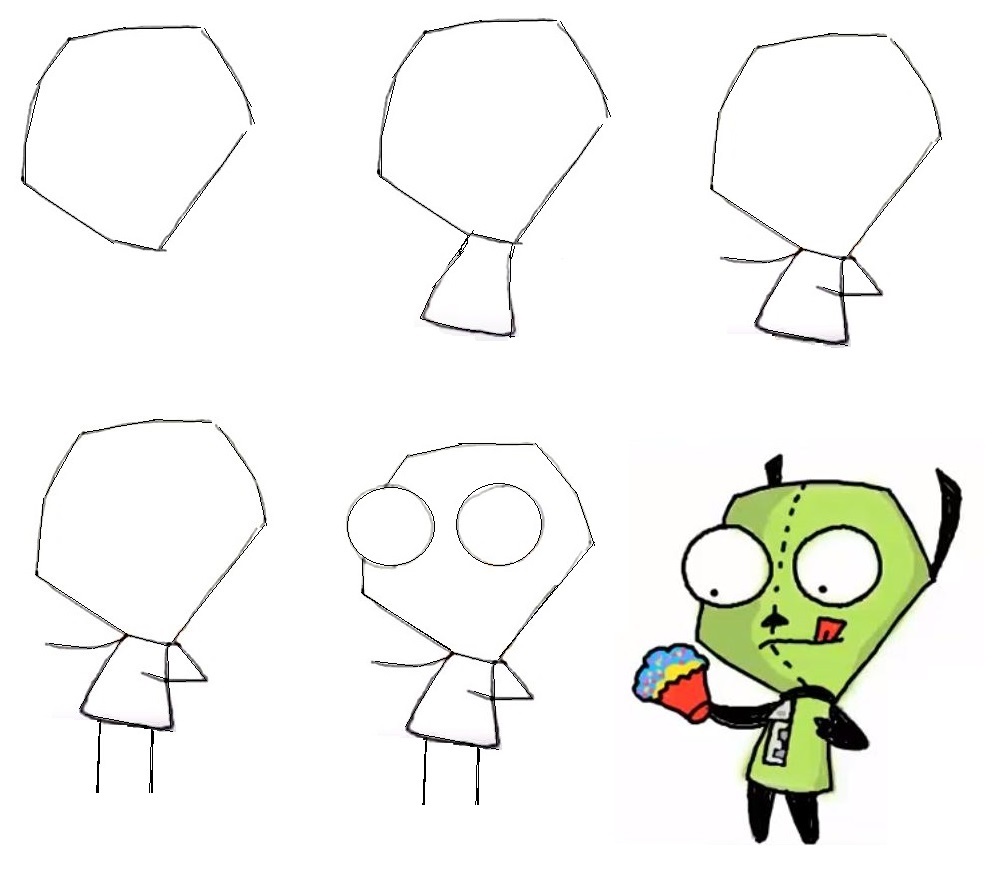 Gir is the villain in the Netflix movie Invader Zim: Enter the Florpus.
He is very hyperactive and the main character in 3 episodes "Walk of Doom", "Invasion of the Idiot Dog Brain" and "GIR Goes Crazy and Stuff". And in other episodes, he's either a supporting character or just a guest.
Despite being a villain, to hone your drawing skills, drawing Gir is a very interesting drawing practice.
It would help if you prepared a pencil, eraser, colored pencils, and drawing paper before starting to draw.
You will proceed to draw the gir with a pencil and A4 paper. You will easily erase the wrong lines and redraw until you are satisfied.
Once you finish your drawing mission, you will choose the suitable colors and color your drawing.
With this learning to draw gir, you will practice many skills such as concentration, eye acuity, … you will temporarily forget the fatigue and stress of life.
Along with this drawing guide, you can enjoy gir coloring pages for free to practice your drawing and coloring skill.
Right now, let's get started to draw gir with us!
Step 1 – Draw Gir's Head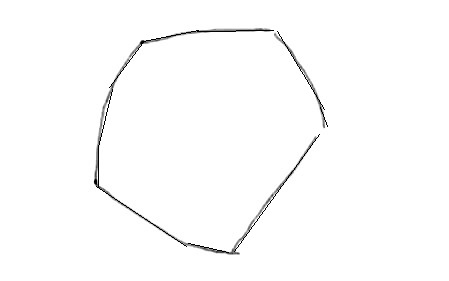 You begin to draw gir with an incomplete circle, which is the character's head, gir.
Very simple task in this step of our guide on how to draw gir; you use some straight lines to connect them and finish the task here.
Once you have the elements drawn, you can move to the second step.
Step 2 – Draw Gir's Body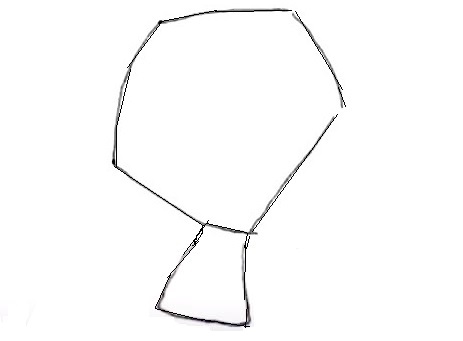 In this second step on how to draw gir, you start to create his body. You continue to use some straight lines to show his body.
It's easy for you and every learner to draw with this mission. You can observe our image and follow it.
Once you are happy with your picture, you are ready to go to step 3.
Step 3 – Draw Gir's Arms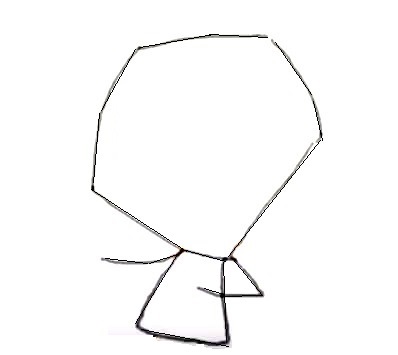 It's time to draw his arms with two straight lines from his body, as seen in our reference image.
Your work in this step of our guide on how to draw gir just may be so easy to do; you need about one to two minutes to complete it and move on to the next step.
Step 4 – Draw Gir's Legs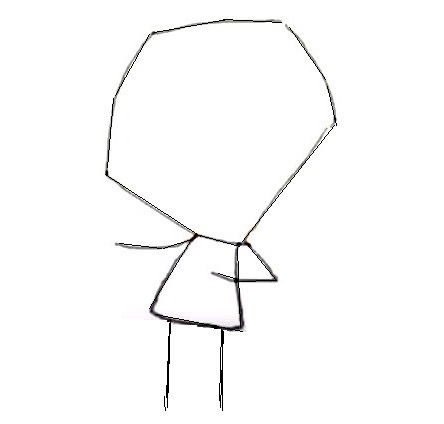 If, in step 3, you must draw two arms for your character, your task in this step is to draw his legs.
The gir's legs are created by two straight lines as you see in our image; you just spend some minutes to finish this simple task.
Your gir gets two arms and legs, he needs a complete face, and you will draw two eyes outline in the fifth step.
Step 5 – Draw Gir's Eyes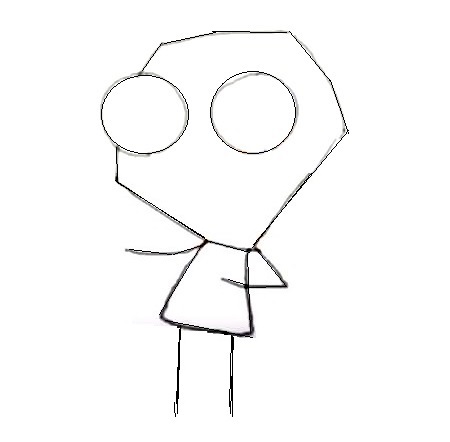 Your task is now to create the eyes for the gir. You need to draw two circles for two eyes, as you see in our illustration.
You can realize this task by hand or use a compass to finish it easily.
Now that your character is quite complete, there are a few more small details you will complete in step 6.
Step 6 – Finish Off Your Gir Drawing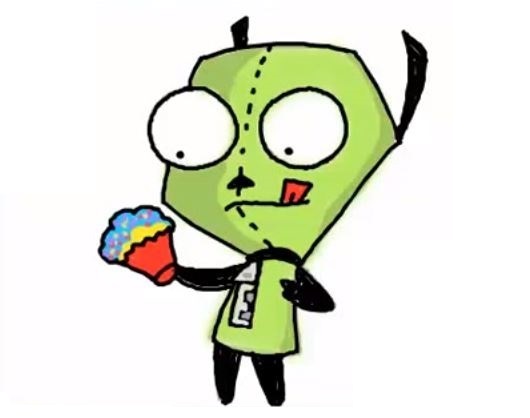 You will add some decoration details for your character, gir in this step.
If you like, you can draw more details. In addition to the details of the character, we have to make your character more vivid.
If you're satisfied with your image, you will choose suitable colors and make coloring for your character, the gir.
Your Gir Drawing Is Complete!
It's great; you finish your gir drawing with drawing and coloring.
After the six-step mission, you've got the perfect gir; you can also enjoy your time with us on this activity.
Do you find it easy to do? If you feel difficult or need help, please visit our Cool Coloring Facebook with happiness. We will explain it more clearly to you.
On our website Coloringcool.com, you can find drawing guides, blogs, or coloring pages daily. We update them regularly every day; you can come here and don't miss out on them.
You can refer to other character drawing guides such as sonic drawing, badtz maru drawing or keroppi drawing.
I hope you understand everything now and love our drawing guide. We are here and ready to answer all your questions about our education product. Have a great time with gir drawing!