8 Simple Steps To Create A Cute Coyote Drawing – How To Draw A Coyote
Creating A Cute Coyote Drawing In Eight Easy Steps
Why not learn to draw a ferocious Coyote drawing? You get a complete coyote drawing with us in eight easy steps.
You also have eight missions to finish in this drawing work. It's interesting for your learning.
Drawing is a good activity for everyone, from children to adults. You can enjoy this activity after the hard-working hours; it makes you feel more comfortable and balance your life.
Draw a coyote spends about 25 minutes, and you need to concentrate here.
In each step, we provide the illustration to help you realize your coyote drawing more easily.
How To Draw A Coyote – Let's Get Started!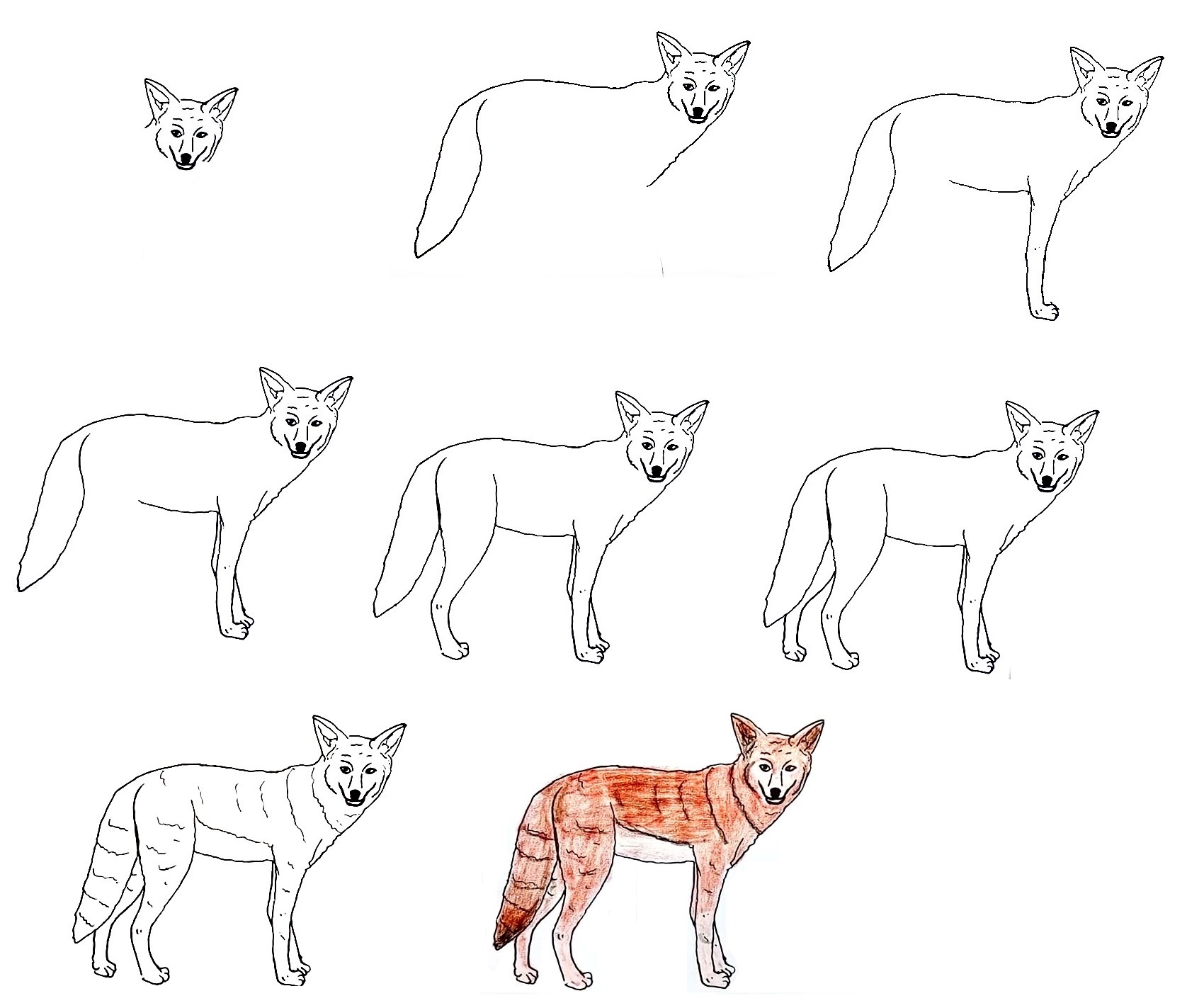 Coyote is a wild animal that occurs in North America. They live scattered in this place and are very famous.
Coyote is also a fascinating animal with strange howls, so it is also of interest to many people to draw pictures.
Today you will have the opportunity to show off your painting skills by drawing a coyote.
By drawing the coyote, you will get more information about this type of dog. Great, isn't it? You will get a proper entertainment channel when you have free time.
You will go to step by step in our drawing instructions until you finish the task here.
You need to get some supplies such as A4 paper, pencil, pen, and colors before starting to draw.
Initially, you will sketch the basic lines of the coyote, and then you can review your painting. If you are not satisfied, you can erase it and redraw it.
Our advice is to always start with a pencil because it's easier to erase mistakes than using a pen.
Once you have a complete drawing, you can choose nice colors for your animal, the coyote.
Along with this drawing guide, you can enjoy coyote coloring pages to practice your drawing and coloring for free on our website.
Right now, we are going to draw a coyote with us through eight details steps.
Step 1 – Draw Face And Head For Coyote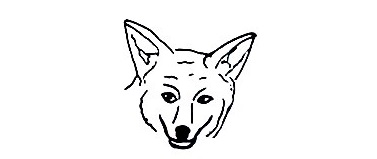 You begin your mission with our guide on how to draw a coyote with its face and head.
You draw an oval for the face outline. Then you will draw the details for the coyote's face with two eyes, a nose, and a snout.
You add two small curved lines for the two eyebrows of your animal.
For its head, you must draw two ears with two pointed triangles to get two upright ears.
That's all you need to do at this first step, and you are ready to move to step 2.
Step 2 – Start To Draw the Body And Tail Of the Coyote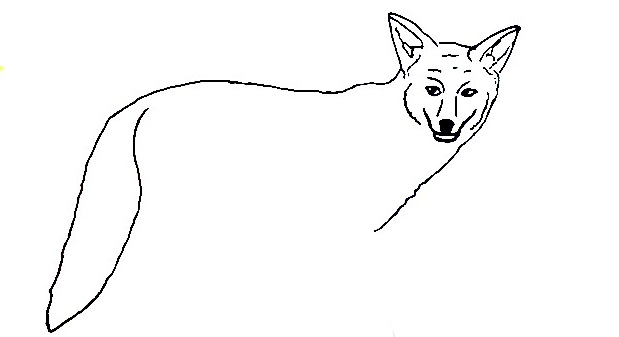 Your task in this second step is to draw a part of the body and tail of your animal.
You use a curved line to show its back, and then you use another curved line from the head to continue your mission, as you see in our reference image.
Finally, you will draw the tail for your coyote with two curves that are almost parallel and form a pointed tail.
Once you're happy with your image, you can move to the third step to continue your drawing mission.
Step 3 – Draw A Front Leg For Coyote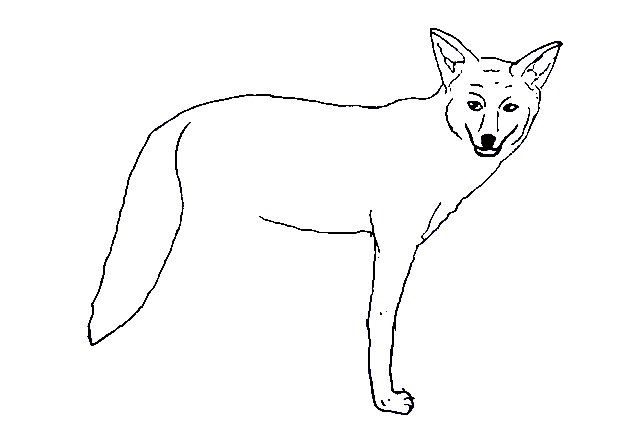 You can use two parallel lines from its neck for the first front leg.
Finished the task of drawing the coyote's feet with feet and toes; you can refer to our illustration.
Step 4 – Add More A Front Leg For Coyote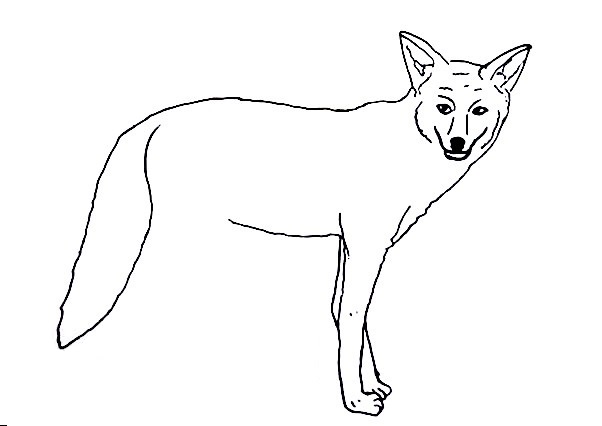 Right now, you must draw the second leg for your animal, the coyote.
Similar to step 3, you draw this 2nd front leg for the coyote with some lines. But for this leg, you only have to draw the visible part because there is a part of this leg that is covered by the pin you drew in the previous step.
When everything is done, you can move to the fifth step.
Step 5 – Draw A Hint Leg For Coyote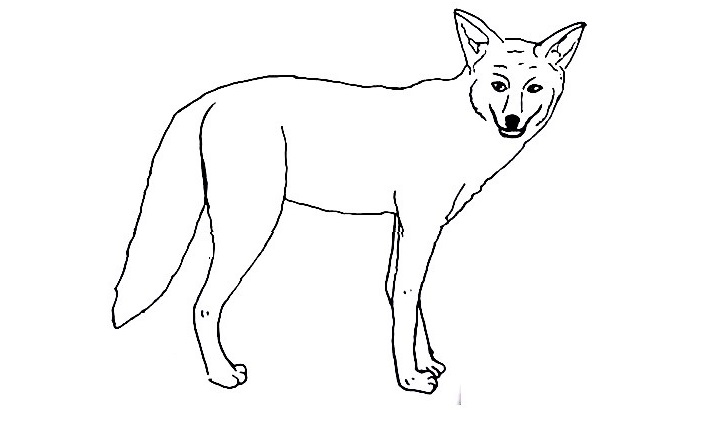 Like other animals, the coyote has larger hind legs than the front legs, so when you draw the hind legs, you will draw it bigger than the front legs you drew, as you see in our reference picture.
From its body, you will draw the thighs, then draw the legs is also simple; you just need to use some curves in this case, and you also finish it with the toes and claws.
Step 6 – Add More A Hint Leg For Coyote
Similar to step 4, you draw part of the hind leg, which we can see in this step of our guide on how to draw a coyote.
Your animal gets all parts in right now. You have to decorate your coyote drawing in the last step.
Step 7 – Finish Off Your Drawing Mission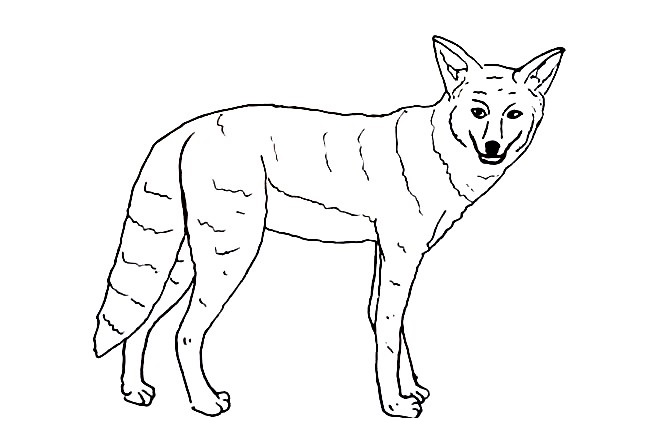 To finish off your drawing mission, you will add some decoration details to your coyote. You will add some small lines as you see on our reference image.
In addition to the details that we have, if you want, you can add some other details to make your wolf more beautiful and realistic.
Step 8 – Color Your Coyote Drawing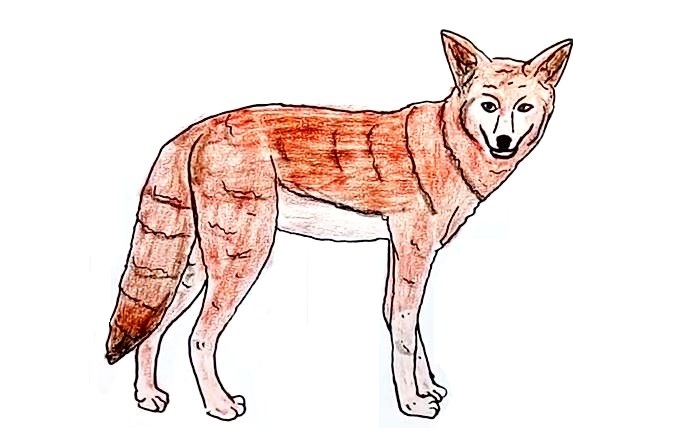 This is the easiest step for you. With the freedom to choose the color, you have completed the mission on how to draw a coyote.
In our illustration, we show your brown for our animal, the coyote. If you like this color, you can use it or you can make coloring for your product with other colors.
Your Coyote Drawing Is Complete!
So you have completed all tasks to get a complete coyote drawing. Very interesting, isn't it? I hope you have a good time with your drawing guide.
You can refer to some similar dog drawing on our website Coloringcool.com such as dachshund drawing, dog drawing, dog pug drawing, wolf drawing, ….
Drawing and coloring activities will help reduce stress in work, in life,…More, they are good for your kids because they can avoid technical devices such as television, smartphones, television,…they are not good for their eyes and their evolution.
We regularly update our educational products, such as blogs, drawing guides, and coloring, so you can come here every day and don't miss out. Have fun with the coyote drawing!