6 Simple Steps To Create A Scary Vulture Drawing – How To Draw A Vulture
Creating An Unique Vulture Drawing In Six Easy Steps
In this quick tutorial, you'll learn how to make a vulture drawing for kids in 6 easy steps; this leisure activity is great for your kids and you. In addition to the tutorial, we also provide illustrations to show how your finished drawing is going to look and the steps involved. There are six steps equivalent to 6 tasks that you have to overcome; this is not an easy job but not too difficult; as long as you focus, you can complete the task. I also hope you enjoyed our vulture drawing tutorial.
How To Draw A Vulture – Let's Get Started!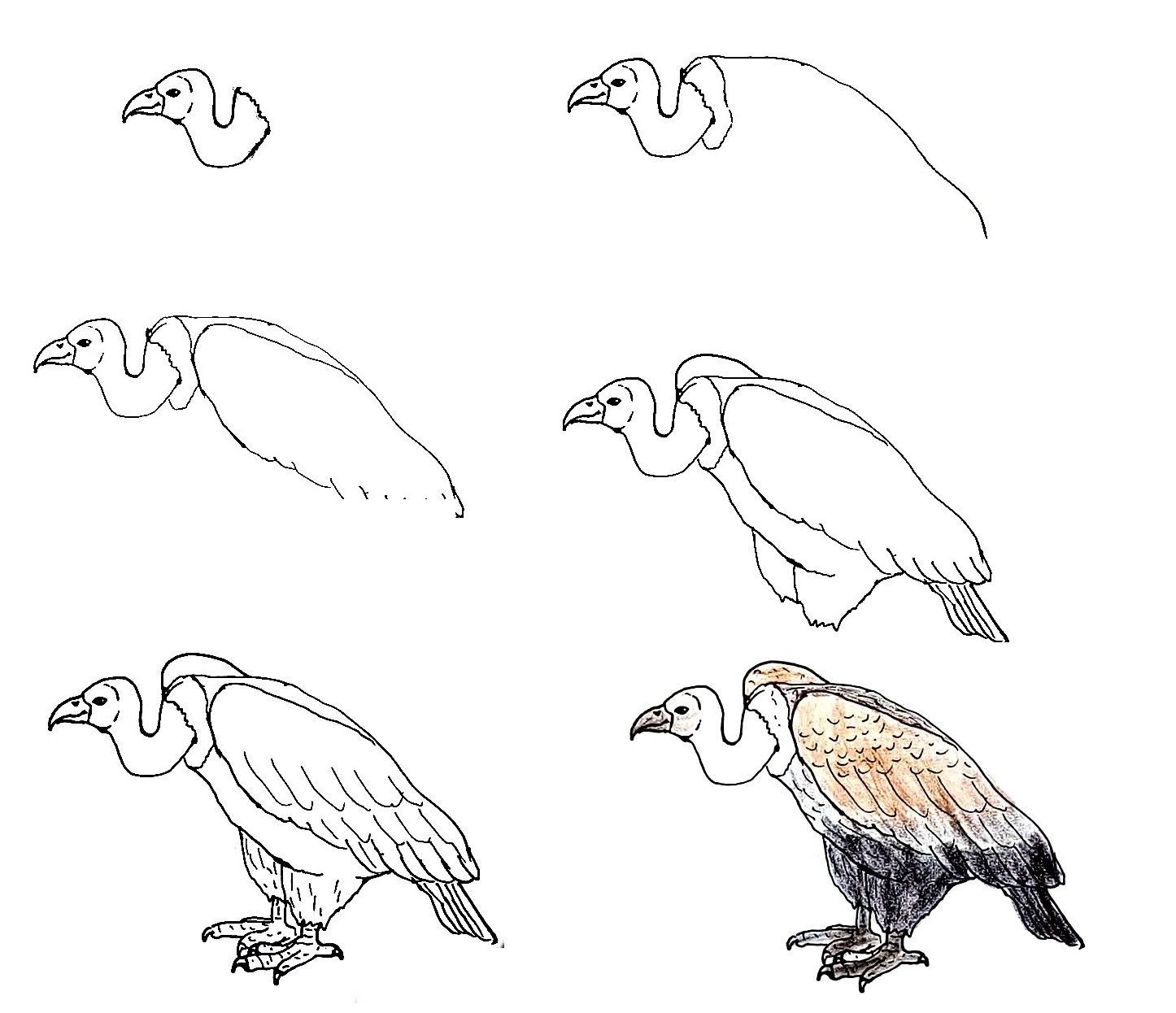 Vultures are birds that also have the most important ecological role. In today's tutorial, we will show you how to draw a perched vulture. You follow our instructions and illustrations to complete the quest to get a complete vulture. All you will need is a pen, pencil, marker, or crayon and a sheet of paper. You will then proceed to draw the vulture with a pencil and paper. You will sketch the vulture in detail, from easy to difficult. It's also easy to erase the wrong strokes and redraw them right, and you finally color your drawing. Interesting, isn't it? Vulture drawing and coloring activities are suitable for everyone, especially children. They will have the opportunity to learn more about this bird. Along with this vulture drawing guide, you can enjoy vulture coloring pages for free on our website. You can use our images to practice your drawing and coloring skill. Everyone has a hobby of entertainment in their free time, and choosing drawing and coloring is also a good solution to help you relieve stress after hard working hours. Moreover, drawing and coloring also make your life better by giving great entertainment. Right now, let's go into six steps to draw a vulture!
Step 1 – Draw Head, Face, And Neck For Vulture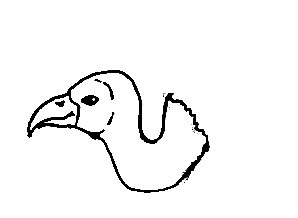 You begin to draw your bird with a circle for the vulture's head. After that, you use some curved lines to draw the beak. It has a sharp point that slopes down on end. Then, you add two lines for its neck below the circle. You draw a little dot on its beak for a nostril and a circle for an eye. The reference picture will show you what it should look like, and once you're happy with it we can move on to step 2!
Step 2 – Draw Vulture's Back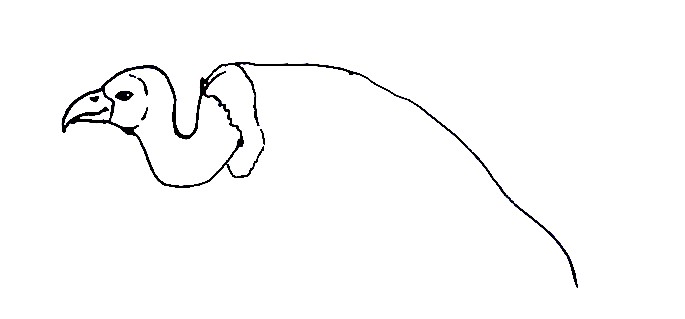 It's time to draw a back for your bird. You use a long curved line from its neck, as you see in our reference image. You also use another curve to draw a necklace showing the feathers on the vulture's neck. That's all tasks you need to finish and move to the third step right now.
Step 3 – Start Drawing The Vulture's Wing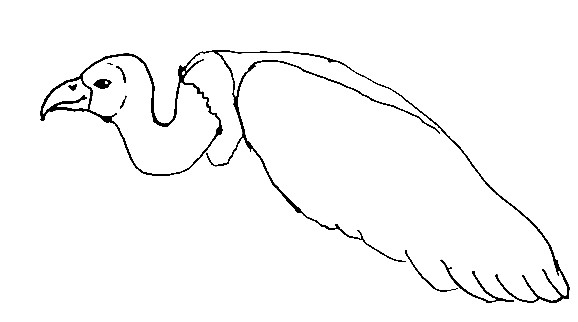 You will proceed to draw the vulture's wings with two almost parallel and broken curves to connect the vulture's feathers, as you see in our illustration. Your task of the vulture drawing is that's it for now; you'll draw more details for the wings in the next step.
Step 4 – Add Detail For Wings And Draw Legs For the Vulture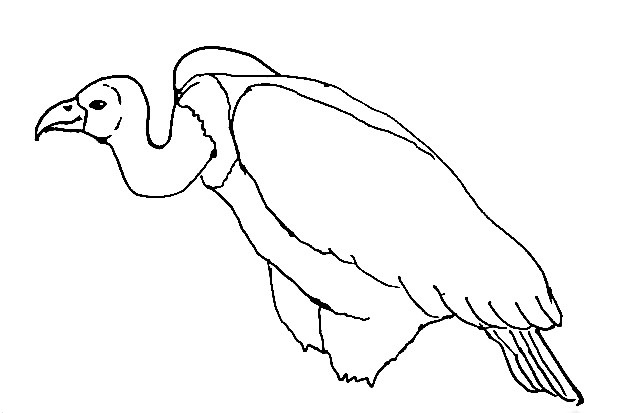 Your mission in this fourth step of our guide on how to draw a vulture is to add more detail for two wings. You must show two wings now, and then you also draw a tail for this bird. You continue to draw legs for the vulture. As you know, vultures have big strong legs, and you have to draw strong legs for this bird; the feet will be drawn in the next step.
Step 5 – Finish Your Drawing Mission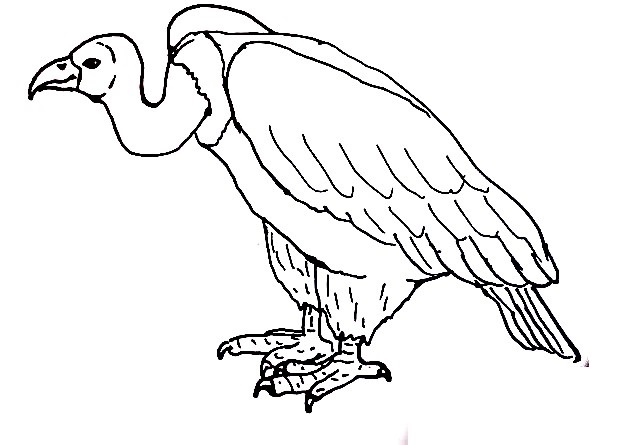 You must complete your drawing work right now. You use the small curved lines on the wings to show its feather; then, you will draw the foot of a vulture with some toes. You can add a curved and sharp claw to each toe. Please remember that these feathers should follow the shape and curve of the construction lines. Within the body, create a subtly feathered outline around the bottom of the main body oval. Once you are happy with your image, you can go to the final step of coloring.
Step 6 – Color Your Vulture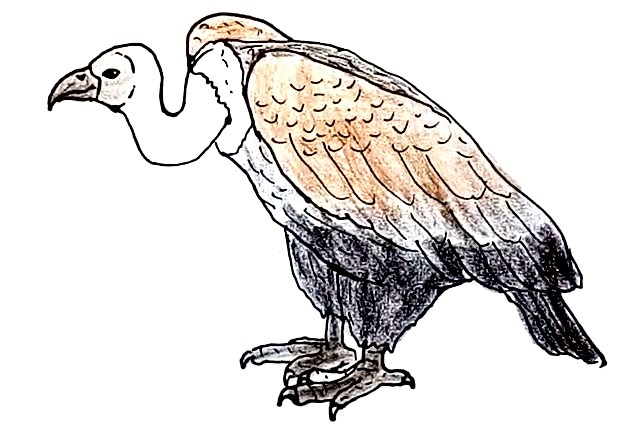 Choosing colors for the vulture, you are free to choose your favorite color to sharpen for your picture. The best base shade is a light brown. You can also build up the color of the vulture in a few layers or you can refer to our illustration and then choose the suitable for your drawing.
Your Vulture Drawing Is Complete!
You have finished drawing and coloring a vulture through six simple steps. It is great for relaxing; you get a complete vulture with us and get a fun time. On our website Coloringcool.com, you can enjoy some drawing guide birds such as parrot drawing, blue jay drawing, hoopoe drawing, crane bird drawing,…you can use them to practice your drawing and coloring skill. I hope you like this drawing tutorial and recommend your friends or your relatives to come here. If you are a parent, this is a great entertainment channel for your kids. You can visit our website each day to enjoy all educational products for free. We update them daily, and have a great time with vulture drawing!