7 Simple Steps To Create A Cute Shark Drawing – How To Draw A Shark
Creating A Lovely Shark Drawing In Seven Easy Steps
In our simple tutorial, you'll learn how to create a shark drawing in seven easy steps. It is suitable and great for you and your kids. You can enjoy this drawing activity in seven steps. We provide illustrations in each step to help you draw more easily, whether you are a beginner or an expert. This is an exciting task that takes about 30 minutes to complete. If you are persistent and follow our instructions, you will surely be satisfied with the result. It's not simple but not too complicated. Don't worry; you will have a good and comfortable time with us on your drawing.
How To Draw A Shark – Let's Get Started!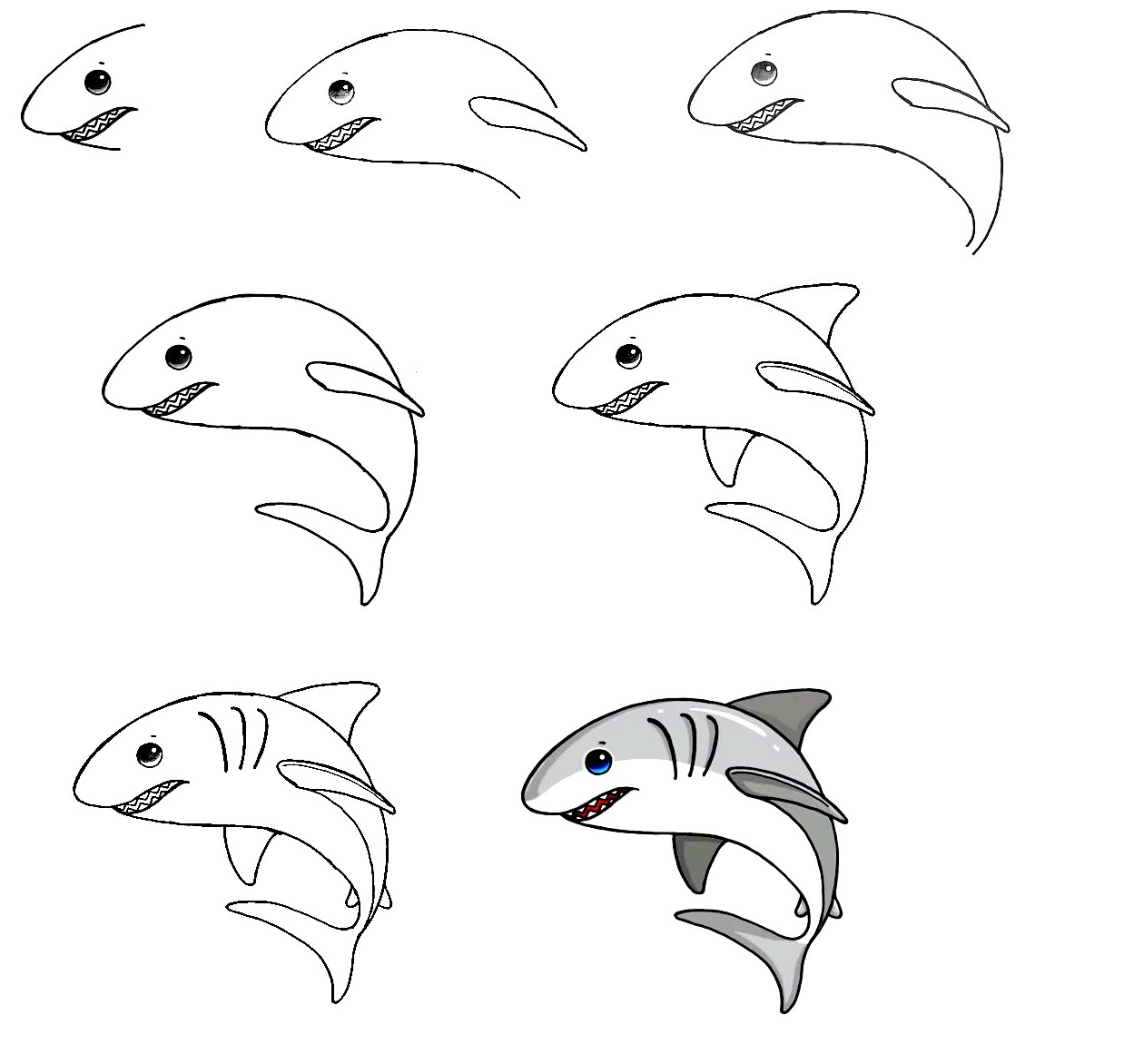 The shark is classified as an echinoderm, with a large body and cartilaginous bones. They mainly live in the sea, except for a few species that can live in freshwater.
The shark's food is mainly smaller fish and invertebrates; however, some large shark species can prey on larger animals such as seals and sea lions, …
This can be considered a dangerous fish because they can also attack people, but they are very valuable in terms of art, so be drawn by artists to draw pictures of sharks and today you also have the opportunity. Assembly to learn drawing shark with us.
To draw a shark, you need to focus during the time you learn to draw. You will sketch the shark with a pencil, and when finished, you will also color the fish to make the picture more realistic and beautiful.
But before starting to draw a shark, you'll need some basic art supplies such as a pencil, eraser, pen, paper, and some reference photos of a shark to help you capture its likeness. You can also take advantage of the tools available at home, so you don't have to pay for this drawing lesson.
Along with this shark drawing guide, you can enjoy shark coloring pages to practice your drawing and coloring skill; your drawing skills will improve. Now, let's go into seven steps on how to draw a shark.
Step 1 – Draw The Shark's Face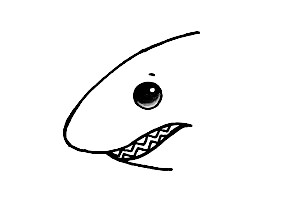 Start drawing a shark with a diagonal irregular oval shape with a pointed right edge. It would be best if you left a pointed tip at the top showing pointed teeth and mouth for your shark.
Simply draw parallel horizontal zigzag lines inside the outline of the mouth that we drew in the previous step. This creates the appearance of the shark's distinct teeth.
On the mouth, you must also draw a circle for the shark's eye with the pupils.
Once you're happy with your image of the shark's face and head, you can move to the second step on how to draw a shark.
Step 2 – Draw A Part Of the Shark's Body And The First Fin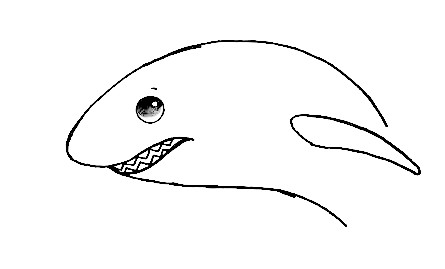 In this second step of your drawing, you must draw using curved lines to show a part of the body, and then draw the first fin at the center of the body.
This task in this step is simple, and you will draw the curved lines for your mission here. You can observe our reference image that will show you what it should look like, and once you're pleased with it we can move on to step 3!
Step 3 – Continue To Draw Shark's Body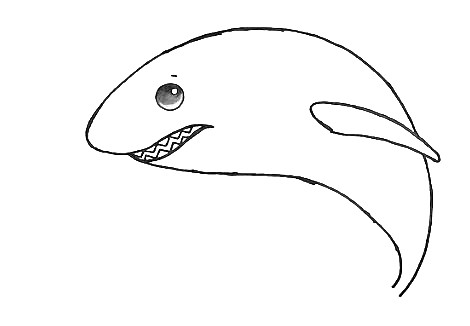 You continue to draw the body of your shark right now. You draw the next two curves that you drew part of the shark's body in step 2.
Not too difficult is it; you only need a few minutes to complete the task in this step and move on to the fourth step immediately.
Step 4 – Draw Shark's Tail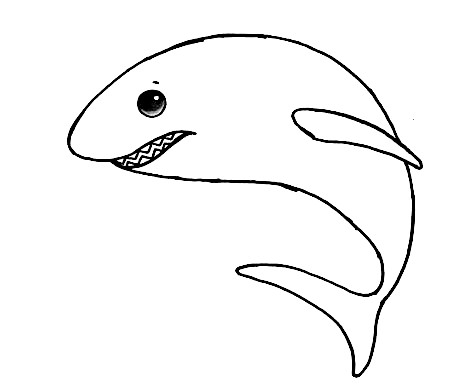 The shark's tail is similar in structure to two connected leaf-shaped figures. You will use curved lines to show the mission of this step, as you see in our illustration.
You finish your task in this step of your shark drawing and are ready to move to the fifth step.
Step 5 – Add More Two Fins For Your Shark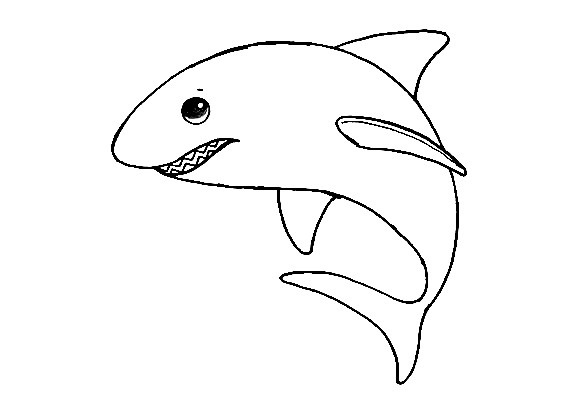 Your task in this step on how to draw a shark is to draw two find at the back and at the belly of the shark.
You will draw a triangle for each fin. This task is simple, and you complete it fast, go to the sixth step, and continue your mission right now.
Step 6 – Finish Off Your Drawing Mission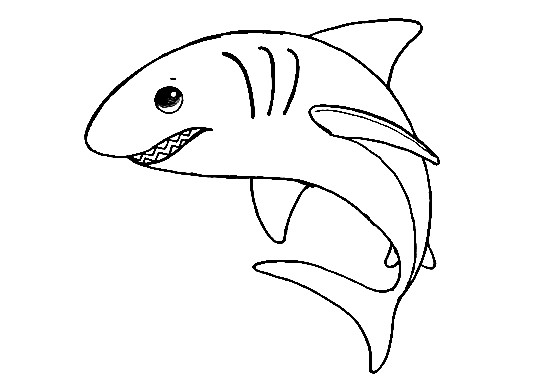 Your shark is almost complete, and your task is now to add a few decorative details to the shark to make your picture more beautiful and realistic.
On the shark's body, you can add some curves to show the decoration details for your shark.
Step 7 – Color Your Shark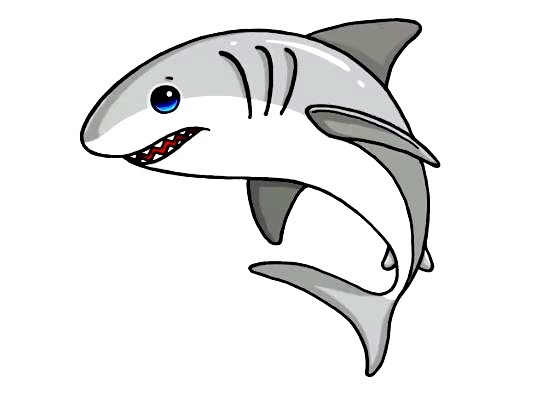 It's finally time for the part we've all been waiting for, which is choosing the color and coloring the shark!
This part is completely free; you are the one to decide the color of your shark.
You can choose the traditional color of the shark, which is grey, but you can also be creative with many different colors such as cream, yellow, and blue; depending on your preferences, you choose the color accordingly to your image.
We use grey for our shark and you; what color do you like, and how is your shark picture? You can show your product on Facebook or Pinterest for everyone to see.
Your Shark Drawing Is Complete!
You finish off your drawing and coloring mission on how to draw a shark with us. It's great for you; you have experienced whale drawing with us in the most comfortable time.
On our website Coloringcool.com, you can enjoy some drawing guides about fish such as squid drawing, sunfish drawing, fish drawing or clownfish drawing, you can use these fish drawing tutorials to enrich your drawing learning collection. Besides drawing instruction, we also provide coloring pages or blogs, those are our educational products, and we update them daily; you can come here each day and make sure you don't miss a single product. Have fun with our shark drawing!