Nose Drawing Is Made In 8 Easy Steps
A Nose Drawing Is Complete In 8 Simple Steps
One of the entertainment channels suitable for everyone is learning to draw, and nose drawing is the challenge for you today.
Whether a beginner or an expert in drawing, you will want to experience the familiar subject of portrait painting. And drawing faces seems to be a big challenge for all of us with many intricate details, one of the parts you need to complete is the nose.
With our eight simple steps, you will have a chance to show your abilities, and we will show you how to draw a nose in detail.
Drawing the nose will take about 25 minutes; if you are talented and proficient in drawing, you can complete this task earlier.
To start, you must prepare supplies like a pen, pencil, colors, eraser, and paper. You will then proceed to draw with a pencil and paper. We advise avoiding using too dark a pencil to draw because drawing with light strokes will easily erase the lines you don't need or simply your mistakes.
Going to step by step will make completing the nose drawing task easier. More, you will also practice perseverance.
Besides drawing guides, you can enjoy nose coloring pages free on our website to practice your drawing and coloring skills. I hope you enjoy these activities with us.
Now, you will go to eight steps of our guide on how to draw a nose!
How To Draw A Nose – Let's Get Started!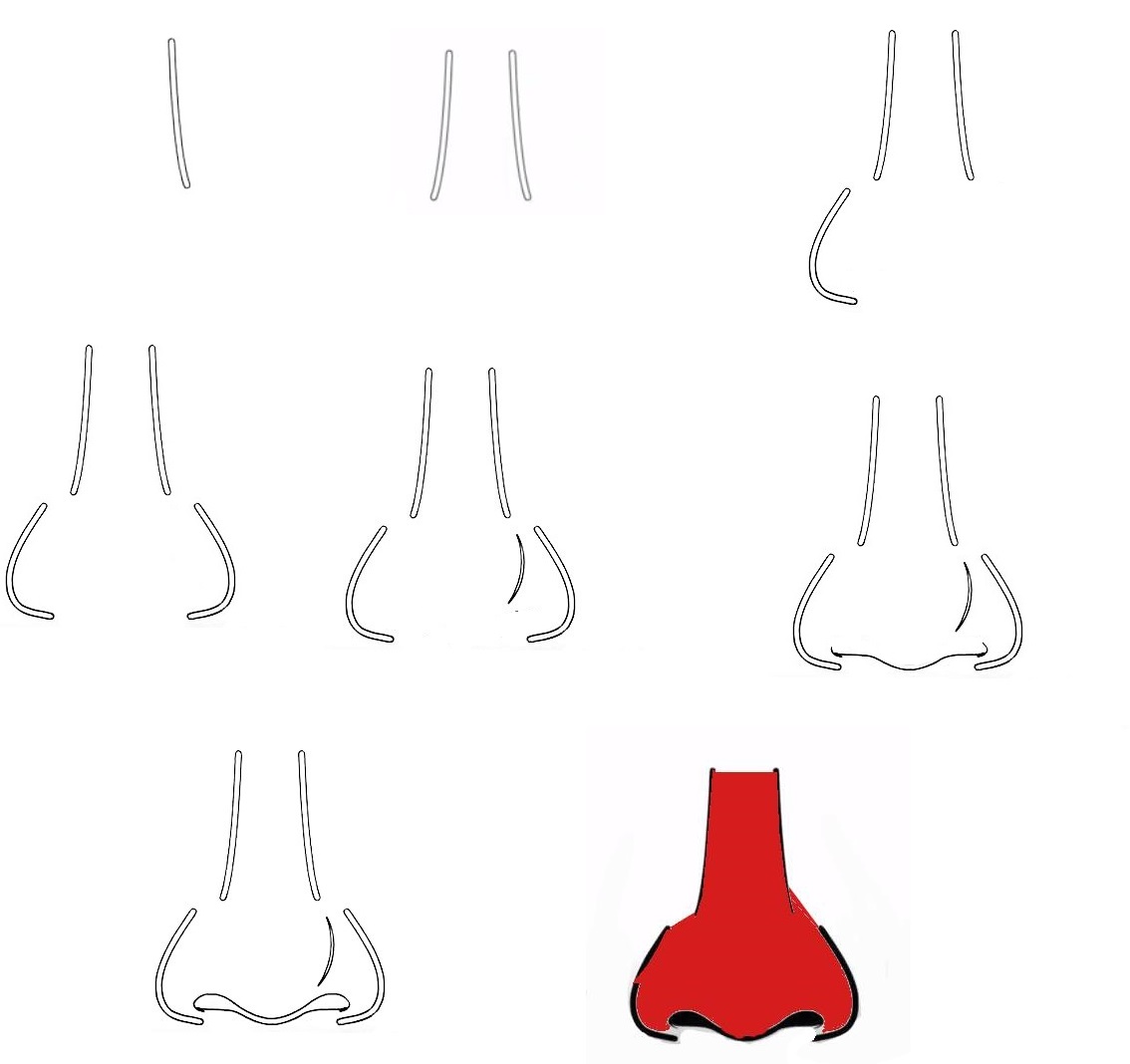 Step 1 – Draw The Bridge And The Tip Of The Nose

Begin to draw a nose with two parallel lines from top to bottom; below is the bridge and the tip of the nose, as you see in our reference picture.
It's straightforward to use a two-line marker, and when your drawing is similar to ours, you have completed the task in this step and are ready to move on to the second step.
Step 2 – Add Detail To The Bridge And The Tip Of The Nose

Similar to step 1, you will draw two more parallel lines to form 2 sides for your nose drawing. It's as simple as the first step and takes a few minutes to complete before moving on to the third step.
Step 3 – Draw The Left Wing For Nose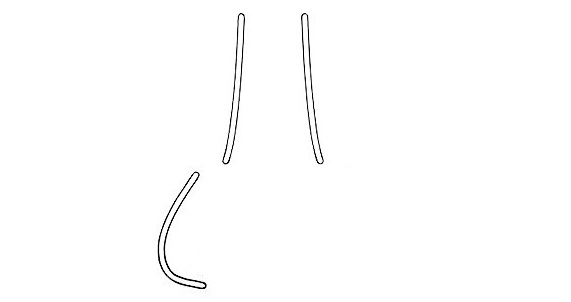 The nose always has two wings on either side, left and right. In this step, you use a short curved line to draw the left wing for the nose. It's very simple; look at our drawing and follow along.
If you are satisfied with your image, continue drawing on the fourth step.
Step 4 – Draw The Right Wing For Nose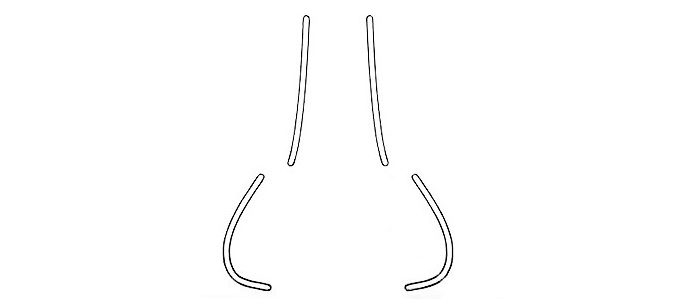 If in step 3 you draw the left side of the nose, in this step of our guide on how to draw a nose, you will draw the right side of the nose.
Similar to step 3, you also use a curve to complete this task.
Step 5 – Add Details To The Nose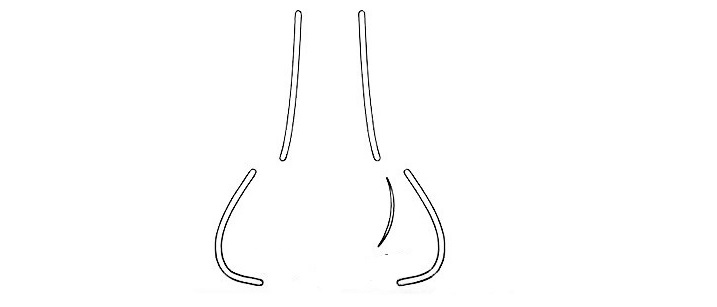 Your task in this step of your guide on how to draw a nose, you will draw a single curve to decorate for your nose drawing. This curve is drawn parallel to the right side of the nose; you can look at our drawing to ensure you don't get it wrong.
Step 6 – Begin Drawing The Nostrils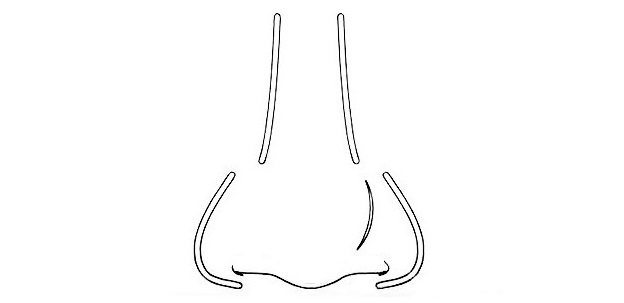 Noses always have two nostrils; to draw them, you will use a zigzag curve like our reference image.
The task of this step shouldn't be too difficult for you; let's finish it quickly and continue drawing nostrils on the seventh step.
Step 7 – Complete The Nostrils
Draw another zigzag line parallel to the details you drew in step 6. Your nose is almost done. You need to add colors for your product in the last step.
Step 8 – Color Your Nose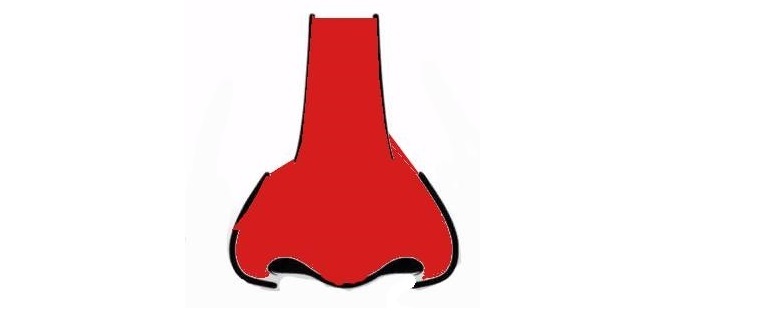 You use your favorite colors to color your nose. In this section, you can choose colors according to your preferences and create your coloring. There is no limit to creativity; you are free to use the coloring methods. As you can see in our drawing, we used dark red to color our noses. Which color will you choose? We are also curious about your nose drawing. Once you get a complete nose, please shear it on your Facebook and Pinterest pages for us to see.
Your Nose Drawing Is Complete!
So, you've completed all the quests to get a nose with us. With our detailed instructions, we hope you get a perfect result. We update new drawing tutorials on how to draw part of our site for you. Our education products are free, and you can enjoy them anytime, anywhere. You can also download and print them on paper to draw and color. Drawing and coloring are something for everyone. I hope you enjoy our educational products and tell your friends about them.
On Coloringcool.com you can show your drawing and coloring skills with your favorite products. More, you can enjoy some drawing guides similar to nose drawings, such as Clown face drawing, Rudolph drawing, or Person drawing. These tutorials, all nose related, you can add to your drawing collection and get fun!