How To Draw Nemo – 6 Simple Steps To Create Adorable Nemo Drawing
Complete Nemo Drawing Through Six Steps
In our simple drawing tutorial, you will have a chance to learn to create Nemo drawing through six steps.
There are so many exciting things for you; you will have the opportunity to experience free drawing and coloring activities with us.
You have six tasks to complete in 6 steps, follow our guide and go to step by step until you get the final result.
The animated movie Finding Nemo has appeared for more than 20 years, and it is extremely loved by the audience to this day and shows no sign of stopping.
Thanks to the beautiful, attractive setting of the ocean and many exciting characters, Finding Nemo has inspired many producers, such as comics and music, to release many products related to the Nemo character.
The main character of this movie is Nemo, he is a lovely fish, and today we will guide you in detail for your Nemo drawing very interesting.
Why not? It's free here and suitable for everyone because this Nemo drawing guide is arranged from simple to complex.
Along with this drawing instruction, you can enjoy Nemo coloring pages for free on our website to practice your drawing and coloring. I also believe that if you regularly practice learning to draw, your ability to draw and color will improve a lot.
Let's go to six steps on how to draw Nemo with us.
How To Draw Nemo – Let's Get Started!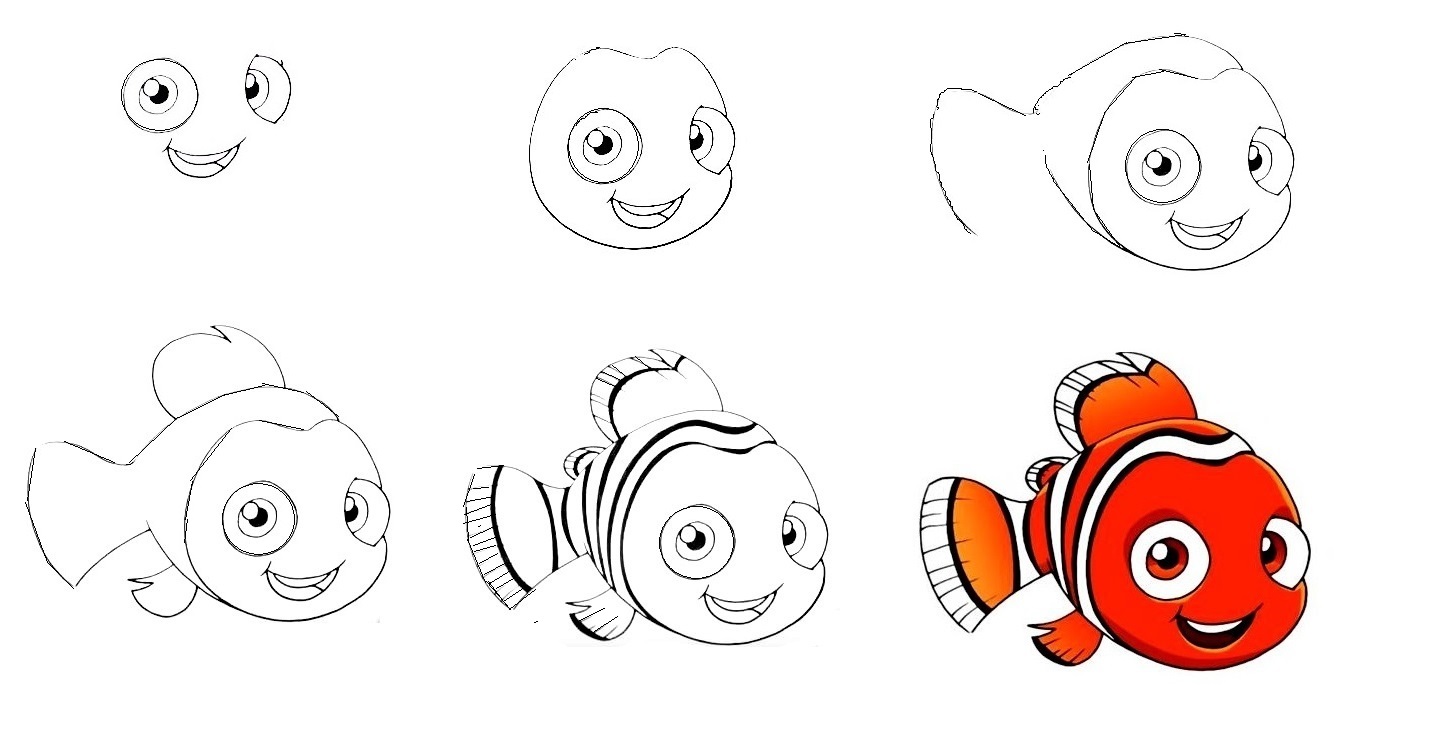 Step 1 – Draw Eyes And Mouth For Nemo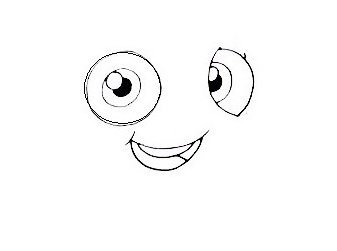 With the preparation of paper, pencils, pens, erasers, and colors, you are ready to draw Nemo.
You will start to draw Nemo with two eyes and a cute mouth for fish, Nemo.
As we know, Nemo has big round eyes, but here our drawing shows one round eye, and the other eye will be oval, looking in the direction Nemo is swimming.
You will use the circle to draw the pupil and the right eye for Nemo, and for the left eye, you will use an oval, as seen in our reference image.
Use black and white for Nemo's eyes, and then you move to draw his mouth.
Use small curves to draw the top and bottom lips for Nemo's mouth.
So, you finish off your mission for this step on how to draw Nemo and are ready to move to the second step.
Step 2 – Draw Nemo Head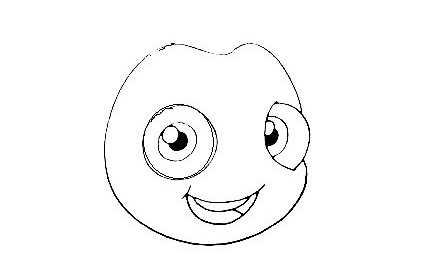 You will use an imperfect circle to show the Nemo head outline. Simple, isn't it? You can see our illustration that will show you what it should look like.
Once you're happy with your task here, you can move to the third step.
Step 3 – Draw Body And Tail For Your Nemo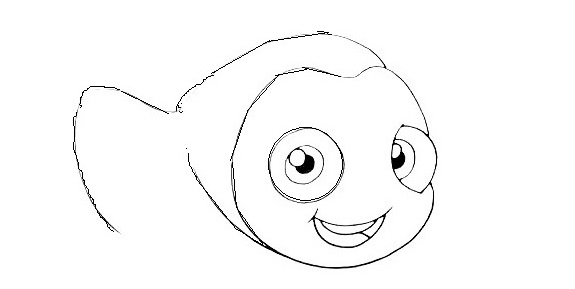 Your task in this step for your Nemo drawing is to draw its body and tail.
You continue to use the curved lines for this mission. From Nemo's head, you extend the curve towards the tail and circle down to form the belly and body for Nemo.
That's all tasks of your mission in this step on how to draw Nemo, and you continue your drawing task in the fourth step.
Step 4 – Draw Your Nemo's Fins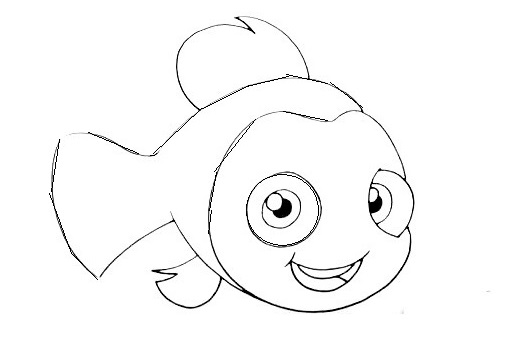 It's time to start drawing the fins for your fish. One of Nemo's fins has a unique characteristic to it, but we will be drawing that one in a future step. For now, we will be adding the first fin to your Nemo drawing. Use curved lines to show the first fin on his back. And then, you add another fin to his belly.
Your work of our guide on how to draw Nemo is done; you can move to the fifth step.
Step 5 – Decorate Your Nemo Drawing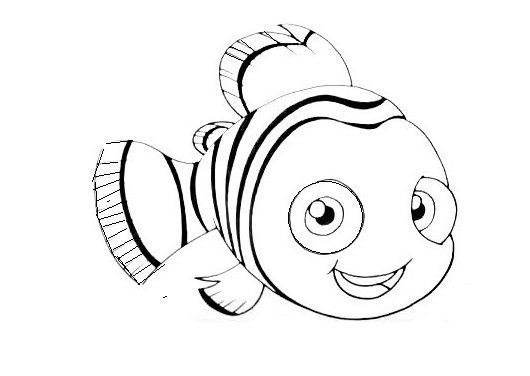 You must add some details for the decoration of your fish in this step before going to the last step.
Add some details on the fins and body of Nemo as you observe our reference picture.
You use curved lines and straight lines to perform this task; you can add more details if you like, in addition to the details we drew.
Step 6 – Color Your Nemo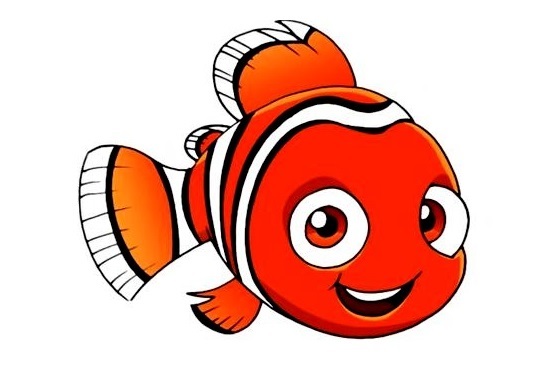 You will choose the suitable colors for your product in this step.
Now, you are entirely free with your choice; you can take any color you like. However, we see Nemo having a beautiful red and white border with black eyes in the Finding Nemo movie. You can choose the same color as our Nemo drawing, but you can also customize your picture to make it your own.
Your Nemo Drawing Is Complete
You finish off all tasks of our guide on how to draw Nemo with us. It's a fun time to enjoy and relax after the hard-working hours. Drawing and coloring are valuable activities for everyone, not only children but also adults. Modern life makes us have so many stressful problems that you can relieve stress with drawing and coloring.
On our website Coloringcool.com, you can find more drawing instructions similar to this Nemo drawing, we update new ones regularly such as bass drawing, orca drawing, shark drawing and etc, you can come here every day to miss out any our products. I hope you can understand everything now and like this drawing guide. Once your Nemo is done, you can shear it on Facebook or Pinterest for us to admire.