6 Simple Steps To Create A Nice Diamond Drawing – How To Draw A Diamond
Create a Nice Diamond Drawing in Six Simple Steps
Diamond is a precious gift of nature to us, and today, you have the opportunity to recreate its image with a diamond drawing.
We have created many beautiful jewelry sets from this gift of nature, which every woman loves.
Diamonds are so valuable that you can only see them when adding a necklace, bracelet, or ring.
A refined diamond has a rather complicated geometry, so drawing it is not easy. Fortunately, today we have created a simple six-step diamond drawing tutorial that will give you a great experience with this precious jewelry.
There are six steps equivalent to six missions that you must perform to create a complete diamond drawing.
Although drawing diamonds is a difficult job, if you go to our drawing guide's steps and stay focused during the learning process, you will surely be satisfied with the final result.
More, this diamond drawing tutorial we arranged from easy to rugged makes it easy for you to accomplish the task whether you are a beginner or an expert in drawing.
You learn more information about the diamond when learning to draw a diamond.
Don't forget to take all necessary supplies such as paper, ruler, eraser, pen, pencil, and colors before starting to draw.
Along with this drawing guide, you can enjoy diamond coloring pages free to practice your drawing and coloring skills.
If you regularly practice drawing and coloring, your drawing skills will improve, and you can draw all you want.
Let's go to six steps on drawing a diamond with us!
How To Draw A Diamond – Let's Get Started!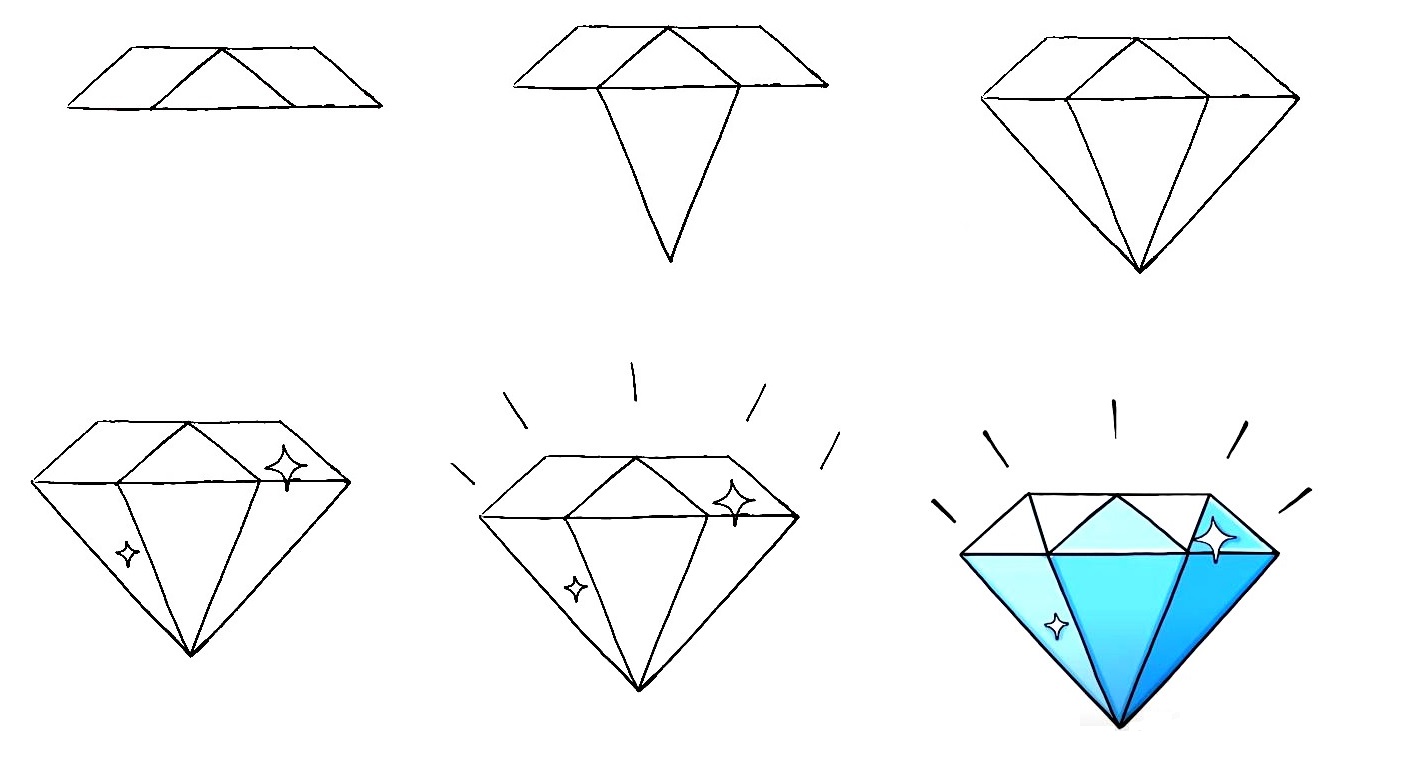 Step 1 – Draw Diamond Bottom

As you see in our reference, we use many lines to draw diamonds, so please use a ruler.
You draw two parallel lines then you use other parallel lines to divide the drawn rectangle into many different shapes.
Once you're happy with your image, you can move to the second step.
Step 2 – Start To Draw In The Top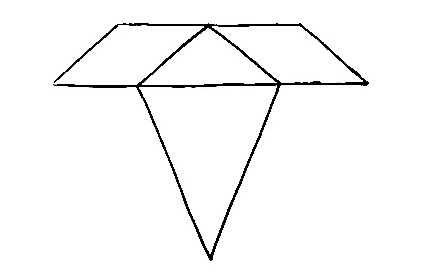 As seen in our illustration, you will continue using the line to perform the task.
You will draw a pointed triangle for your diamond to create a part of the top for your drawing. So, finish your task here and continue your work in the fourth step.
Step 3 – Complete Diamond Body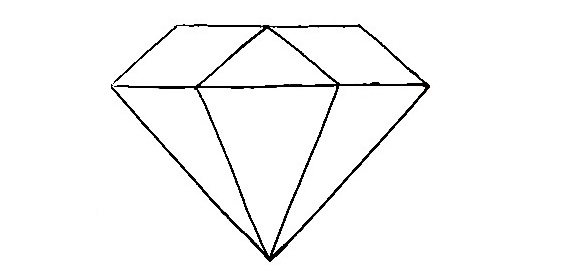 You will also draw two lines on either side and meet at the top of the diamond.
So, your diamond is fully compatible and will be decorated in the following steps.
Step 4 – Decorate Your Diamond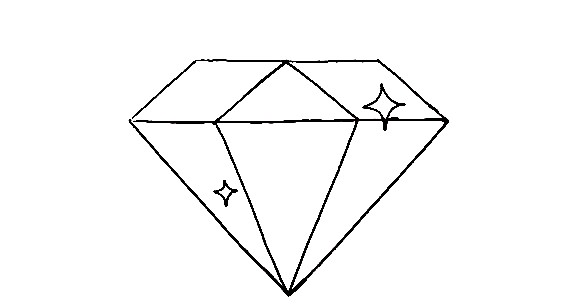 Diamonds always sparkle, especially in the dark, and in this step, you will also draw two decoration details for the light of the diamond.
As you see in our reference, you draw two decorations for your diamond drawing and complete your task in this step of our guide on how to draw a diamond.
Step 5 – Keep Adding More Decorations To Your Diamond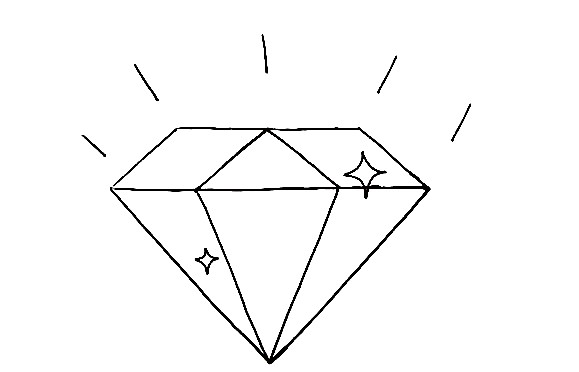 You will add the decoration for your diamond drawing in this step.
Your task in this step is effortless; you need to use short lines to draw the light emitted by the diamond. Before moving on to the final part of coloring, you can add a few details to make your diamond more beautiful.
Step 6 – Color Your Diamond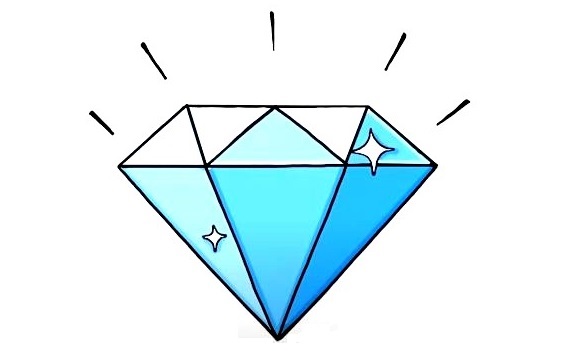 You will choose the suitable colors for your diamond drawing. You can use any color you like in your products.
You have many choices of colors for this diamond drawing. There is also no limit to creativity, so you can use many different colors as long as your diamond is beautiful and you are satisfied with it.
We use light blue for our diamond, and what color do you use for your product, one your diamond drawing is done, you can shear it on Facebook or Pinterest for us to see.
Your Diamond Drawing Is Complete
So, you finish all missions on how to draw a diamond and get a fun time. In the last 30 minutes, I hope to have given you a wonderful experience of learning to draw a diamond. Not too difficult, did you succeed?
It's great because on our website Coloringcool.com you can find lots of other drawing tutorials to enjoy with many different subjects like People, Disney, Animals, Fishes, Cartons, etc.
You can visit our website regularly to enjoy them and do not have to pay any fee for this entertainment channel.
You can now download or print coloring pages, review our information in blogs or learn drawing in the drawing guides on our website. You can recommend your friends or your kids to come here. Drawing and coloring are good activities and are suitable for everyone. After the hard-working hours, you need to relax and make your mood comfortable. Enjoy drawing; the coloring is not a bad choice.
You also can find similar to diamond drawing guides such as creeper drawing, castle drawing, or robot drawing, because you all use a lot of lines to draw them. Hopefully, you like this drawing guide and come back daily to enjoy our education products because we update them daily. These are drawings we all have to use a ruler to draw, and I think it will help you in drawing diamonds.