Rapunzel Drawing Is Made In 7 Easy Steps
Create  Princess Rapunzel Drawing in 7 Easy steps
You will create the complete Princess Rapunzel drawing at a great time. Learn how to draw Princess Rapunzel from Walt Disney's Tangled, use the illustration and step-by-step drawing instructions below toled.
She is a beautiful princess with long and nice hair, who Mother Gothel murdered in the Tangled film.
This is the most famous character and loved character by everyone, especially girls. And everyone would like to show the Rapunzel drawing. Right now, you get an opportunity to draw Rapunzel and get more information about her.
It takes about 30 minutes for your drawing on how to draw Rapunzel. You can profit from the free time after the hard-working hours.
How To Draw Rapunzel – Let's Get Started!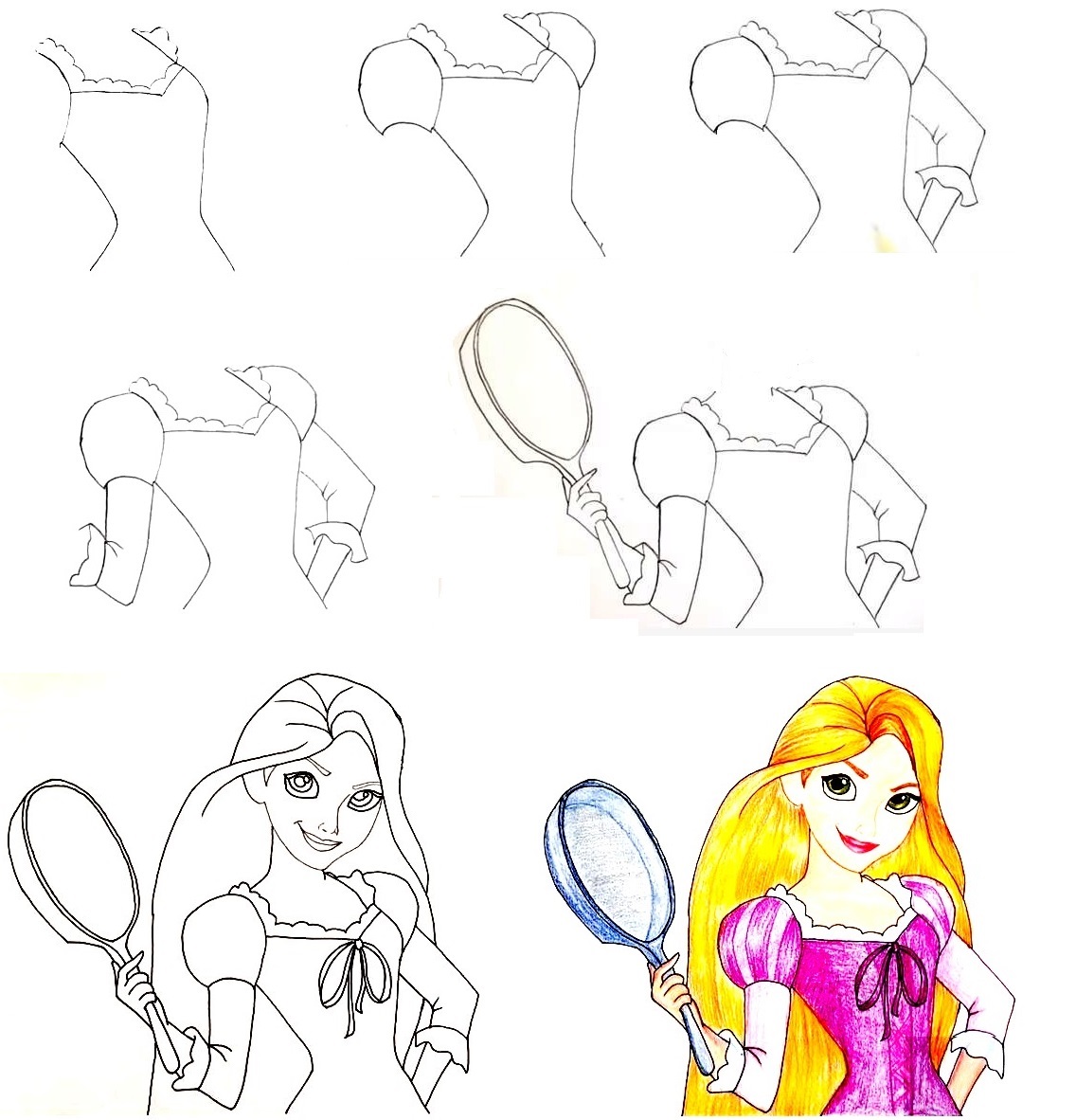 Drawing Rapunzel is not simple but not too difficult whether you are a novice or an expert in drawing, we're sure you can follow these steps effortlessly.
There are seven steps equivalent to seven missions that you finish, so please complete them one by one.
Our guide for the Rapunzel drawing is introduced from easy to difficult to help you easily do it; please stay calm and follow us; if you are a beginner at drawing, do it slowly
Before starting to draw, you must prepare some things such as paper, pencil, pen, eraser, and colors. you'll begin with a pencil blur, then you'll erase the wrong lines and draw them right, and then you'll make them bold. Finally, you will choose the color for your Rapunzel drawing.
Please don't be afraid to draw because you can easily erase your mistakes. You can draw in your comfortable mood and practice your drawing skill on Rapunzel coloring pages.
Drawing and coloring are good activities for everyone, from adults to children; if you are a parent, you can join in this activity with your kids.
And now, let's go into the details of the seven steps on how to draw Rapunzel.
Step 1- Draw Rapunzel's Shirt Outline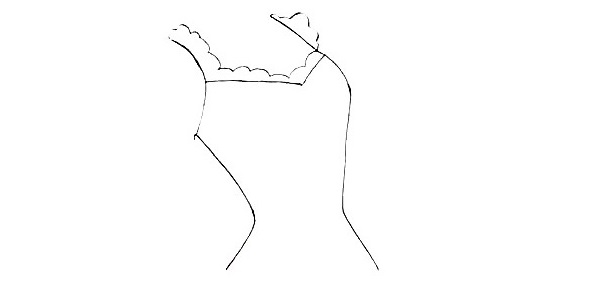 Unlike drawing other characters, we usually start with a face, but to draw Rapunzel, we will start with her shirt. Very simple for you; you will draw from the bottom up. First, you draw two curves on both sides to form the main part of the shirt, and then you will draw the small curves forming the border for the collar; remember to leave some space for us to draw sleeves for the next step. That's all you need to realize in the first step and be ready to move on to step 2 for your Rapunzel drawing.
Step 2 – Draw Two Sleeves For Rapunzel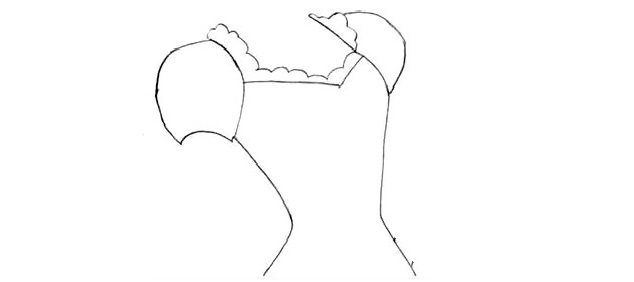 You will continue realizing your task of drawing Rapunzel with 2 puffy sleeves, as you see in our reference image.
It's quite easy for you in this step; you use a curved line drawn from the bodice so that the sleeves are puffy, as in our illustration.
Our advice for you is to look closely at the example image and follow it to make your work easier and finish this task for your Rapunzel drawing.
Step 3 – Draw The First Arm For Rapunzel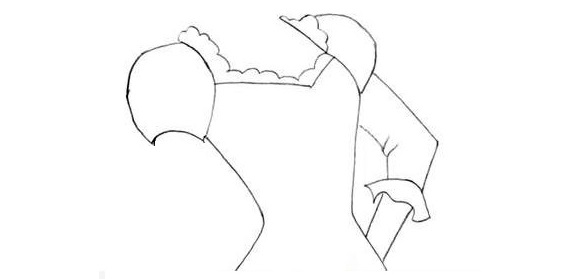 Your task in this step for the Rapunzel drawing is to draw the first arm for her. Her first arm is on her hips, and her body covers her fingers. So you would draw the sleeves almost to the arm, as seen in our illustration. So, you finish your task with the first arm and continue to draw the second arm in the fourth step.
Step 4 – DrawThe Second Arm For Rapunzel

Similar to step 3, drawing the first arm for Rapunzel, in this step, you will draw the second arm for her, and you will also draw out the sleeves to form her second arm. It's not too complex; just look at our reference image and follow if you find it difficult to do the task in this step.
You will leave the part of her hand holding the racket that will be drawn in the fifth step of the Rapunzel drawing.
Step 5 – Draw The Hand Holding The Racket Of Rapunzel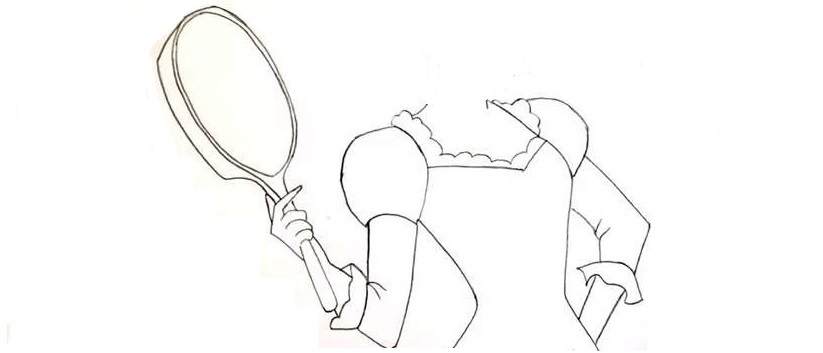 In this guide step on how to draw Rapunzel, you will draw her hand holding the racket.
From the arm, you will draw a hand with five elongated fingers, then you will draw a racket in hand. There is a complication here, and you need to stay calm and draw strokes one by one until the hand and racket are complete. You are ready to go the sixth step and continue your Rapunzel drawing.
Step 6 – Finish The Drawing Task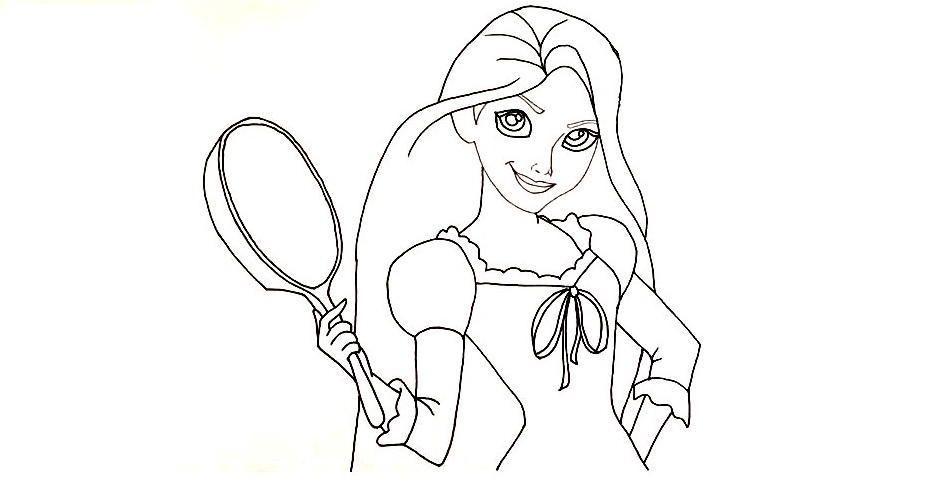 You draw the face and hair of Rapunzel in this step. These are the final details in drawing Rapunzel. It requires the utmost care.
From the shirt, you use two straight lines to create Rapunzel's neck; then you draw her face with nice eyes, eyebrows, mouth, and nose.
Because Rapunzel is a beautiful princess so everything on her face must be perfect; please look at our reference image and follow it along.
You finish off your drawing mission on how to draw Rapunzel, and you have the last step for coloring Rapunzel right now.
Step 7- Color Princess Rapunzel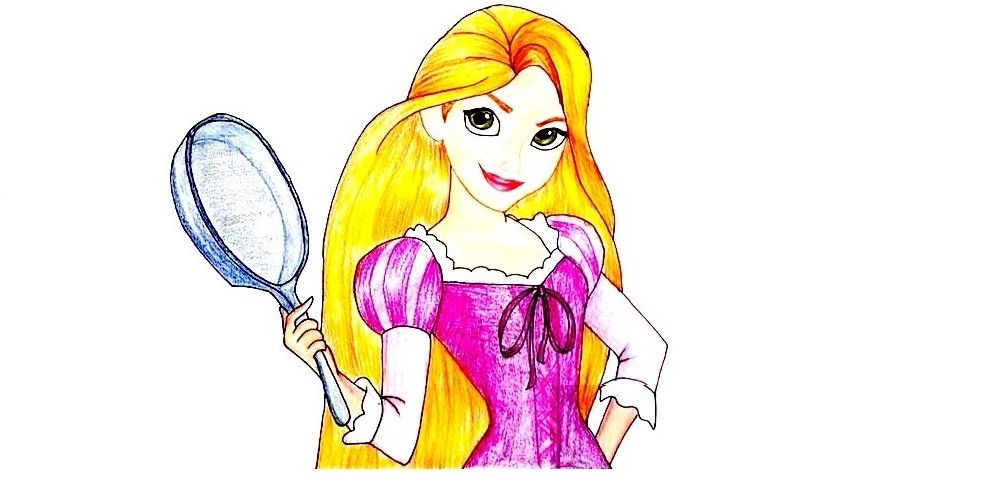 Your task in this last step for the Rapunzel drawing is to choose the colors for your picture. The very simple task here is you can make any color you like for your product, Princess Rapunzel. Rapunzel has always had blonde hair, and today we have pink for her outfit; the laced bow is pink along with the stripes on her shoulders, peach for her skin, green for her eyes, and blue for her racket. You also can use some mixed colors for your creation.,
Your Rapunzel Drawing Is Complete
That's it! You now have a completed drawing of Princess Rapunzel from Walt Disney's Tangled. With our seven easy steps, you get the complete Rapunzel with your fun. How do you feel? Is it too hard for you? If you like, you can recommend your friends and your relatives to come here and get a human counterpart. We update the drawing guide daily; visit our website often and ensure you don't miss it. Participating in drawing and coloring activities is very good for everyone, especially children, as they will develop more skills such as pen skills, painting skills, and concentration skills. More children will avoid using technical devices like television, smartphones, and tablets,…they are not good for their eyes and their evolution. Besides Rapunzel drawing, on our site Coloringcool.com, you can learn how to draw Mother Gothel, a villain character, and harm Rapunzel in the Tangled film will help you to get more information about this film, have a great time with our Rapunzel Drawing guide.