Mother Gothel Drawing Is Made In 8 Easy Steps Creating
Creating Mother Gothel Drawing In 8 Easy Steps
Mother Gothel is known as the main antagonist of Disney's 2010 animated feature film, Tangled and now you get an opportunity to make Mother Gothel drawing with us to relax. She is a very evil and magical witch, a golden flower. In the Tangled film, we see the appearance of Rapunzel, a beautiful princess with long blonde hair. Unfortunately because Mother Gothel kidnapped Princess Rapunzel, impersonating Rapunzel's mother and controlling our princess. In addition to drawing the beautiful princess Rapunzel, today you have the opportunity to draw a villain with her, Mother Gothel. By joining this drawing activity, you get more information about this evil witch. With our simple 8 steps, you will follow us and our illustration to make the complete Mother Gothel a fun time.
How To Draw Mother Gothel – Let's Get Started!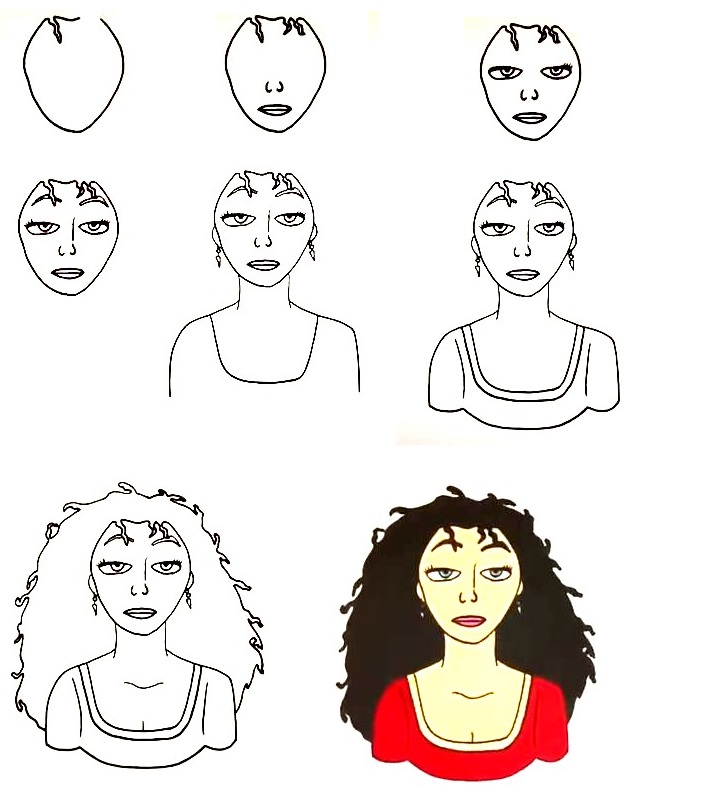 To start drawing Mother Gothel is not too difficult, but it is not a simple task; you must concentrate on the course of drawing. First, you need to prepare the necessary tools such as paper, pencil, pen, color, and eraser; you can also take advantage of the available tools to not have to pay to learn to draw. Then you use your pencil to draw on paper; you can erase your mistakes easily, so please don't be afraid to draw. You can draw in your most comfortable mood. if you are a beginner, draw with faint pencil lines, then you will erase the wrong lines and highlight the correct ones. Finally, you will color your drawing. We give instructions from easy to difficult, you can realize your task in the easiest way. And you know how to draw Mother Gothel clearly through our 8 steps below and along with this guide, we provide the Mother Gothel coloring pages for free to help you practice your drawing and coloring skills.
Step 1 – Draw Mother Gothel's Face Outline

In the first step on how to draw Mother Gothel, you must draw her face outline. Very simple for you here; you just draw an oval for the face and then add some lines to make her hair at the forehead.
Make sure the oval face has a space for you to add hair to the character in the next step.
In general, at this starting step, the task is simple, and the advice we give you is to stay calm and draw slowly. You can see it in our reference image and follow it.
Step 2 – Draw Mouth And Nose For Mother Gothel

At Mother Gothel's face, you will draw the mouth and nose for your Mother Gothel now. Her mouth is made up of curves; you add a line in the middle of the mouth to make two lips. So, you create a complete mouth for your character.
You continue your task in this step to draw the nose for Mother Gothel. You use straight lines and some curved lines to make her nose. It's great because you finish off her mouth and nose right now. You are ready to move to step 3.
Step 3 – Draw Mother Gothel's Eyes

In this third step on how to draw Mother Gothel, you will draw her eyes. On the nose, you use curved lines to show her eyes.
It's not too difficult for you; take a look at our reference image and follow it to make your drawing easier. Once you get the complete eyes, you use black to color some details of the eyes to create a more real Mother Gothel. That's all you have to realize in this step, and move on to the next step.
Step 4 – Draw Mother Gothel's Eyebrows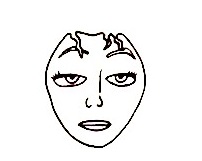 You must draw Mother Gothel's eyebrows in this step. Very simple because they are created by some curved lines as you see in our illustration.
The eyebrows will be covered by a few hairs on the forehead so you just need to draw the part of the eyebrow that you see.
Step 5 – Draw Ears And A Part Of The Body For Mother Gothel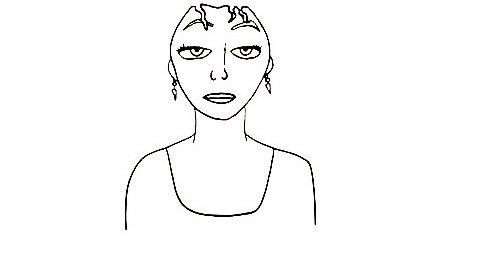 On this guide of your character, make a curved line similar to a backward letter C on the right side of the head as a guide for Mother Gothel's ear.
It is not complex because we show examples for you. Please don't forget to add the earrings on two sides for Mother Gothel.
Continue to realize your task with the neck and the upper part of the body. You use some curved lines to draw a part of the body with some details for her shirt.
Here your character, Mother Gothel, has got the head, face, shoulders, chest, etc. And you will add details for her in the fifth step.
Step 6 – Add Detail For Mother Gothel's Shirt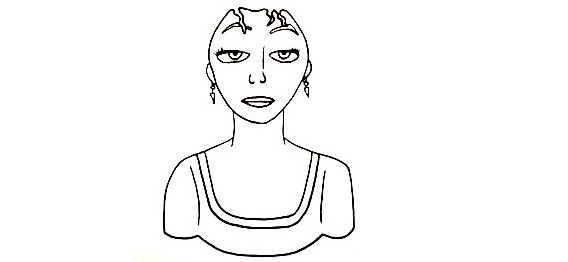 You will add some detail to the shirt of your character. It's also very simple for you, and you just need to add some lines at the neck and bodice to make the top she wears look more stylish and real.
Step 7 – Create Hair For Your Mother Gothel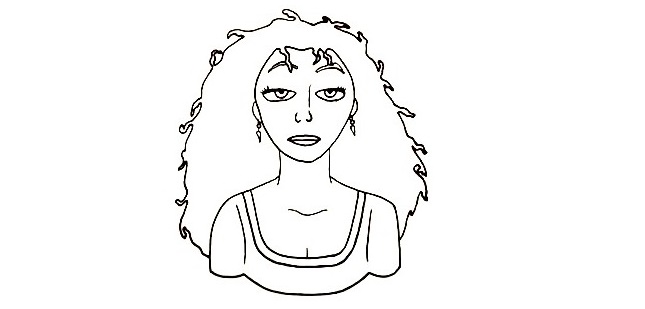 As you know, Mother Gothel has a bit of long and messy hair so you need to show her messy hair here.
You draw some zigzags for her hair here. Let's draw her hair wide. At the end of your work in this section, you have completed the task for your Mother Gothel, and you have the last step for coloring.
Step 8 – Color Mother Gothel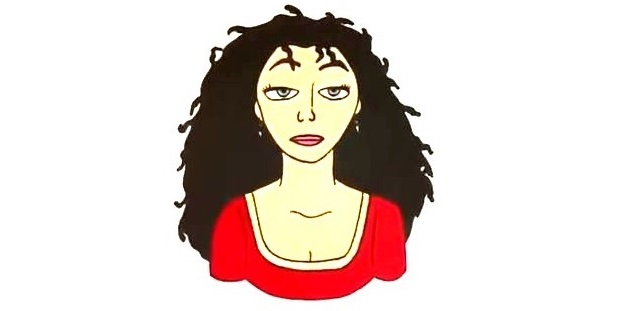 Coloring is the easiest step for you; you take the suitable color for your character, Mother Gothel, and then make coloring for her; you can use any color you like for your drawing. Try many ways to color to make your work perfect.
Your Mother Gothel Drawing Is Complete
You finish your drawing and coloring on how to draw Mother Gothel. This mission is interesting, isn't it? It is suitable for everyone, from children to adults. You can join in this activity with your kids. They will surely like it and can avoid using technical devices such as television, tablets, smartphones, etc. They are not good for their eyes and evolution. Our website Coloringcool.com provides many products to create free entertainment channels as drawing guides, coloring pages, and blogs. ColoringCool updates them daily, and you can come here if you are free. If you like this drawing guide, you can shear it with your friends, and I hope you have understood everything about Mother Gothel right now.