A Fawn Drawing Is Made In 8 Easy Steps
Create A Cute Fawn In 8 Easy Steps
Fawns are known for their peaceful natures and graceful gaits and they are chosen by many artists to create many beautiful pictures of fawn drawing. Fawn is always at the top of favorite animals to draw. However, to draw a complete and amazing fawn is not easy so today we give a tutorial to create a complete fawn drawing for you. Just as it is with any new subject, learning to draw will go in sequence from easy to difficult, simple to complicated, you will surely know how to draw a fawn.
We have built a tutorial to draw a fawn in 8 steps equivalent to 8 tasks you need to overcome. You will go step by step and complete the tasks to make a fawn. It's not too difficult, but it's not easy, you need to have a positive attitude and focus in the course of drawing.
How To Draw A Fawn – Let's Get Started!
A Fawn is a baby of deer; they roam lands over most of the world. They are mammals and belong to the Cervidae. Deer are objects of art, religion, and movies. In addition, they also provide meat for people to eat, clothing, and shelter. Indian tribes often used deer hides to make their teepees. Before you start drawing, you must prepare a few necessary tools such as paper, pencil, pen, ruler, and eraser. You can also take advantage of the materials you have available so that you don't have to pay for this learning. Then you proceed to draw. Start drawing with faint pencil strokes; after that, erase the wrong lines and darken the correct ones. Once you get a complete fawn drawing, you choose the suitable color and make coloring for your product. There will be complicated tasks in some steps but don't worry because, at each step, we also add an illustration to help you see the example and follow. Along with this guide, you can find fawn coloring pages to practice your drawing and coloring skill. And now, we will go step by step on how to draw a fawn.
Step 1 – Draw Fawn Head Outline For Your Fawn Drawing

Right now that you've drawn the basic shapes of the fawn, you will begin to refine it slowly. Starting with the head, carve out a slightly narrower snout from the initial shape we've drawn. Please don't forget to add a dot to create a nose as you see in our reference image.
You use curved lines to draw around the head, then use the ears to draw the fawn. In the right ear, you draw a part because there is a part covered and in the left ear you will draw half of the ear, and the other half of the ear will be continued to draw in the next part.
Also simple for you, you will use curved lines for the task in this step
Step 2 – Finish Fawn Head Outline

You will use a curved line to draw a big bum and then underneath you will use a curved line to create a complete ear for your fawn drawing.
It is not complex in this task, and you can finish it in minutes before moving to step 3.
Step 3 – Start Drawing Body And Tail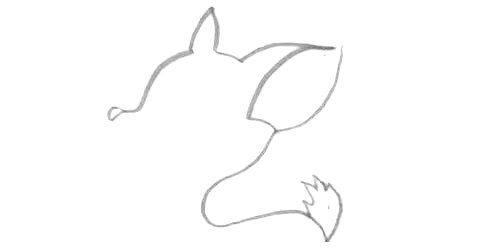 Now, it is time to build the body of the fawn for this guide for your fawn drawing.
You will use a curved line from the ears to the back of the tail to form the back of the fawn.
At the tail, you will use short straight lines to draw in a zig-zag to form a spreading tail, as in our illustration. You are ready to move to the fourth step and continue your task.
Step 4 – Draw A Hind Leg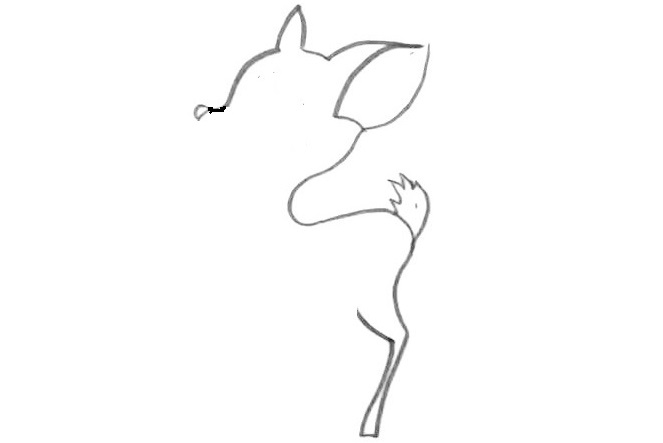 Your task in this guide is to draw a hind leg for your fawn drawing. From the tail, you continue to draw the curved line and make a hind leg.
Fawn's legs are composed of big thighs and small shins, so here you need to show that too; look at our drawing image and then draw it like your line will be perfect.
Step 5 – Draw Body And A Front Leg
In this fifth step, you will draw from back to front so in this step you will draw the body of the fawn, then you will draw its front legs. Just like the hind legs, the fawn's front legs will be drawn big at the top and skinny at the bottom, as you see in our reference image.
You can spend some minutes finishing off your drawing with the body and a front leg in this step and move to step 6 now.
Step 6 – Add More A Front Leg For Your Fawn Drawing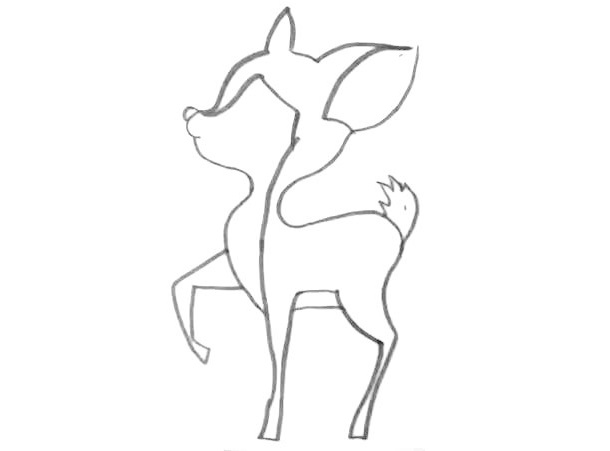 Like step 5, in this step 6, we will draw more of a front leg for the fawn; you will draw this front leg to shrink and ask differently than the leg in step 5.
From the head you will use the curve going down the body to create the face for the fawn, then you will draw the chest and neck for the fawn as well.
Isn't it awesome your fawn is now pretty complete with a head, body, two front legs, and a hind leg? We will draw the final details in the seventh step.
Step 7 – Draw Eyes And Mouth For Your Fawn Drawing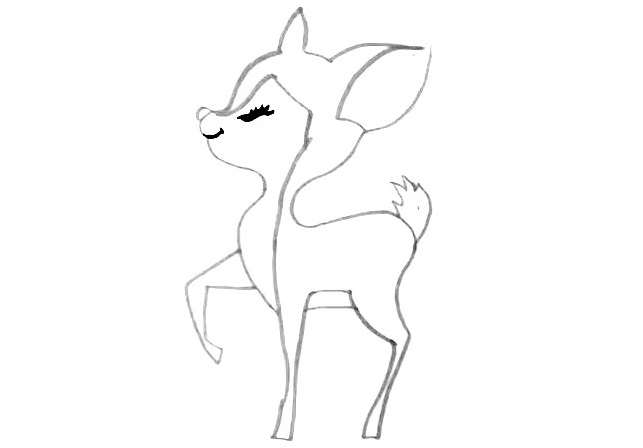 Since we are drawing the fawn tilted to the side, we can only see an eye, so you only need to draw an eye enough. You just need to use a pencil to draw a short curved line to represent its eyes; then you draw a curved line for the fawn's mouth.
So, you finish off the eyes and mouth for your fawn drawing; you have the last step for coloring and the last leg to complete your drawing now.
Step 8 – Color Your Fawn And Draw The Last Leg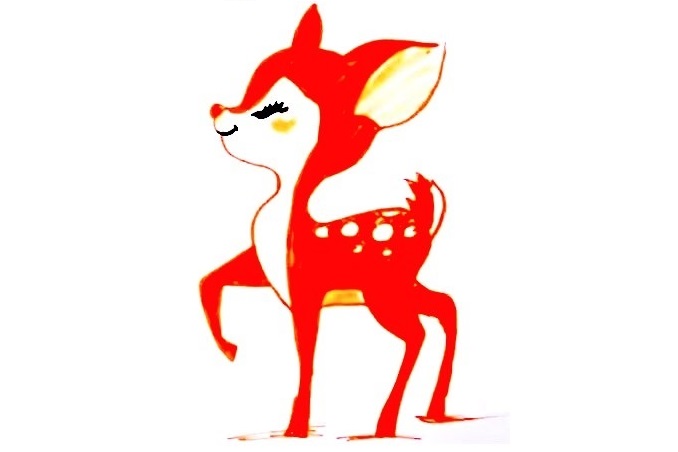 Your last step for this tutorial on how to draw a fawn is to choose suitable colors for your products and draw a hind leg.
You can take any color you like to make coloring for your fawn drawing. We use light red for the fawn and white for its belly, inside of ears, and some dots on the back.
And now, you can add a hind leg and then make coloring for it.
Your Fawn Drawing Is Complete
You finish your drawing and coloring mission to create a complete fawn drawing. This is interesting work and suitable for everyone, from children to adults. You can enjoy it after the hard-working hours with your kids. Drawing and coloring activities will help your kids to avoid the technical television, smartphones, and tablets,…they are not good for their eyes and their evolution. Why not, all are free on Coloringcool.com, and you can come here anytime and anywhere with any device connecting to the internet. Besides drawing instruction, you can enjoy coloring pages, blogs,..You also can refer to How To Draw A Deer, How To Drawing A Monkey, and How To Drawing A Hen, etc. and learn more details about drawing animals. I hope you can understand everything now and line our fawn drawing guide!