How To Draw A Pirate – 7 Simple Steps To Create An Intimidating Pirate Drawing
Making A Dangerous Pirate In Seven Easy Steps
In this drawing guide, you'll learn how to make a pirate drawing in just seven simple and understandable steps.
You will follow us and our illustration to create a complete pirate with the perfect result.
In each step, we provide reference images to help you realize your task quickly.
There are seven steps equivalent to seven steps that you will complete.
I hope you read this pirate drawing guide and have a great time here with us to make your life better.
If your life is only about work and relationships, then it is boring, and our drawing tutorials help you discover a perfect entertainment channel that is drawing. Why not? It's free on our site, and we're happy with your visit.
How To Draw A Pirate – Let's Get Started!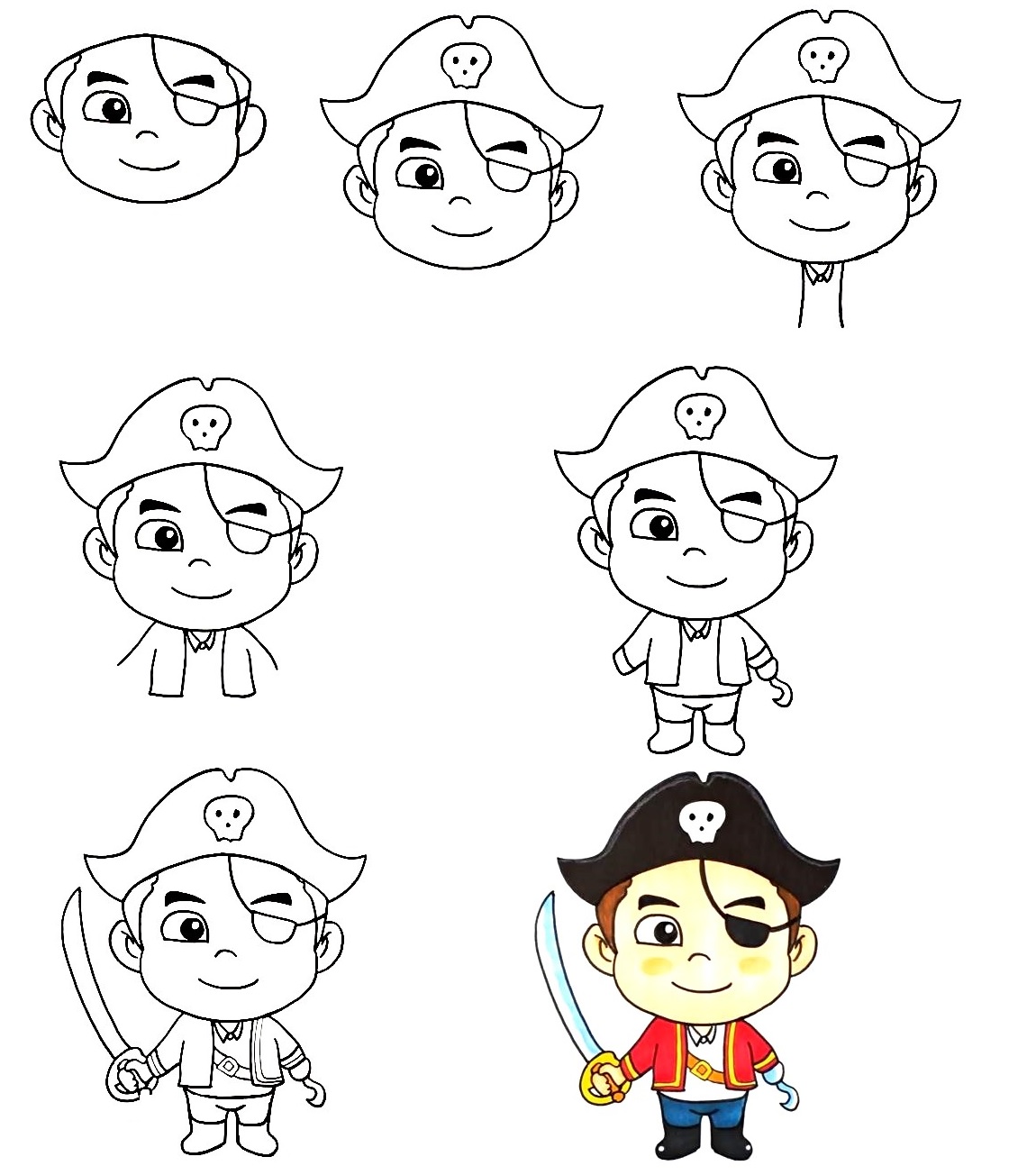 One thing is for sure, you've seen pirates in movies, in newspapers, or somewhere on television.
Pirates are terrifying people. They are robbers of everything in the sea. There are also a lot of movies about pirate action like "The Pirates"! "In an Adventure with Scientists" and "The Pirates! Band of Misfits".
In the past, there was a time when pirates ruled the seas, it's hard to believe, but unfortunately, it's true.
In this simple tutorial, you will have the opportunity to recreate the scary appearance of the pirate, and through that, you also get more information about the pirates.
It would be best if you got some supplies such as a pen, pencil, colors, and marker…before starting to draw. Then you will draw a pirate with a pencil on paper. You can erase your mistakes quickly, so please don't be afraid to draw; you can draw everything in your comfortable mood.
With this pirate drawing guide, you can enjoy pirate coloring pages for free on our website to practice your drawing and coloring skills.
Let's started to draw a pirate with us!
Step 1 – Draw Face And Head For Pirate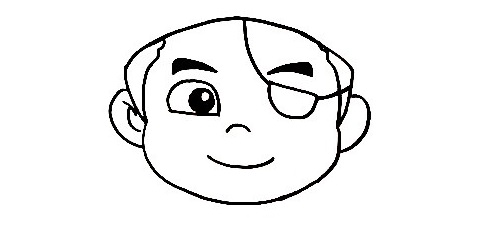 Begin your drawing of a pirate; you start to create his face and head with some lines.
Draw an incomplete circle to show his face and his head. The two sides of that circle are the pirate's ears.
You will draw details for the face with two eyes. We are drawing a pirate with one eye, so you draw one eye and draw the other with an eyepatch.
On the eyes, you use two curved lines for eyebrows; you continue your work in this step of our guide on how to draw a pirate with his mouth and nose.
Use a curved line for the mouth and a shorter curved line for his nose before moving to the second step.
Step 2 – Draw The Pirate's Hat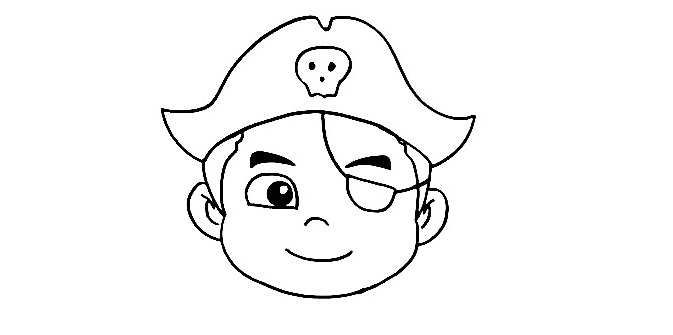 Hats are indispensable for every pirate, so you must draw a hat that suits your character…
His hat is intricately drawn; you can observe our reference to follow it.
Continue to use the curved lines for his hat, and you can go to the next step for your drawing work.
Step 3 – Draw The Pirate's Neck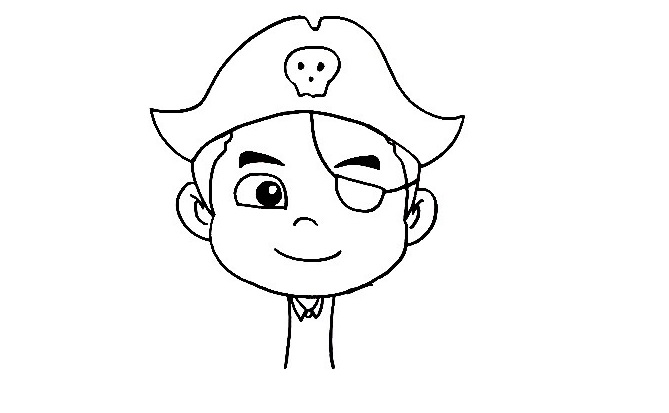 It's time to draw his neck. You use two parallel straight lines from his face to create his neck.
In this step of our pirate drawing, you can also draw some details for the collar and a part of his shirt.
Once you're happy with your image, you can come to the fourth step.
Step 4 – Continue To Draw His Shirt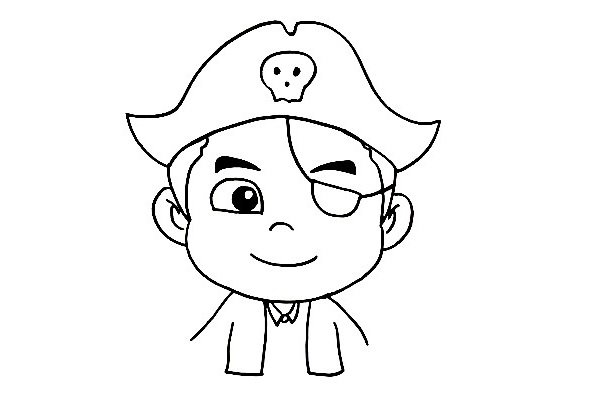 You continue your drawing with his shirt. You use some straight lines and curved lines for this work.
It looks pretty simple for you in this step; you need a few minutes to complete this task and move on to the next step.
Step 5 – Draw Two Arms And Legs For Your Pirate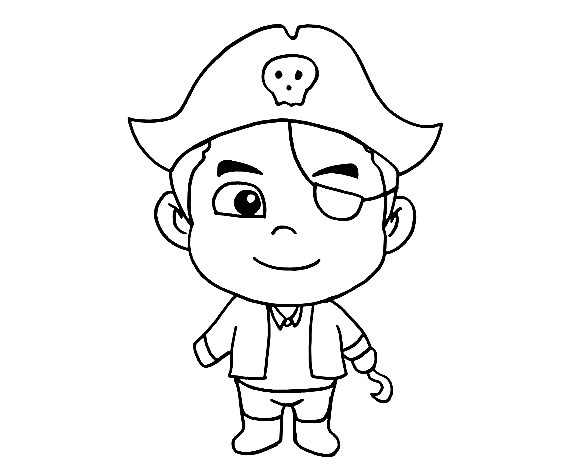 In this step of our guide on how to draw a pirate, you draw two arms for him.
You use two curved lines for each arm with the sleeves, and then you finish off his left arm with a tool in hand.
You will draw two legs for your pirate with two pairs of trousers and a pair of shoes.
Step 6 – Finish Off Your Drawing Mission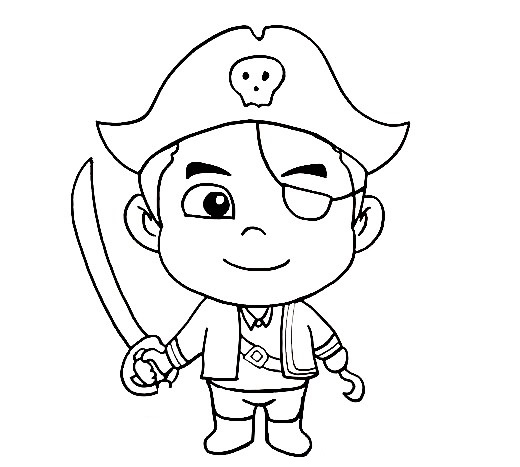 You complete your drawing task in this step of your pirate drawing.
You will draw the sword on the right-hand side for your character and some decoration details to make your drawing more vivid and realistic.
You finish all your task in drawing and get the last step for coloring.
Step 7 – Color Your Pirate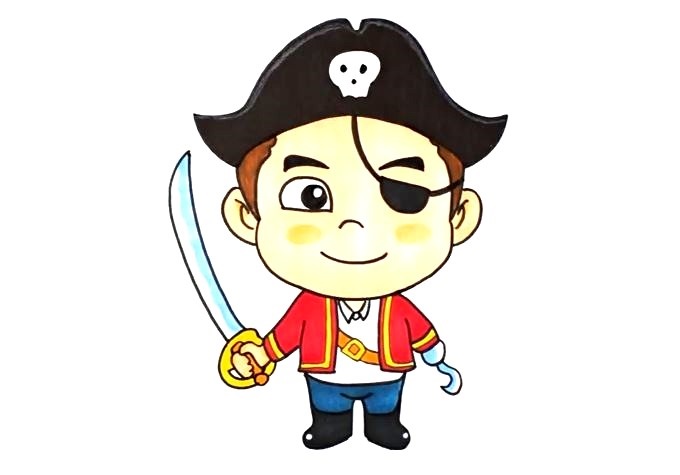 You will choose nice colors for your drawing. It's easy for you in this step.
With your pirate drawing, you can use any color to make coloring. But we use some different colors for our characters, such as black for the hat, eyes, and shoes, red for the shirt, blue for pants, green for the sword, and some places yellow.
Your Pirate Drawing Is Complete!
It's excellent you finish your drawing and coloring mission on how to draw a pirate with us, and I hope you can understand everything now.
This is a bit complicated drawing, but I always hope with simple instructions, and if you follow it slowly, you will surely be satisfied with the result.
Once you have mastered this drawing, you can modify it with many other details on the pirate's hat and shirt to create your picture.
You can also draw some sea scenes around this character such as boat, beach, cloud,…
Similar to pirate drawing, on our website Coloringcool.com, there are many drawing guides related to a person such as anime girl drawing, rapunzel drawing. You can refer to them and enrich your drawing learning collection.
Hopefully, you like our simple drawings and come back to enjoy more our educational products. We update drawing guides, blogs, and coloring pages daily.