How To Draw An Anime Girl – 8 Simple Steps For Creating Nice Anime Girl Drawing
Create A Cute Anime Girl Drawing in Eight Simple Steps
Here is a quick way to create a complete anime girl drawing with us. We give detailed instructions, and you will follow our step-by-step guide. You have eight grades equivalent to 8 missions you have to pass to get a complete drawing. Why not? Learning to draw will help you reduce the stress in work and life and make you more comfortable, through which you work more effectively. Each of us has tired worries that life brings, so find yourself a suitable entertainment channel then you will find your life much more comfortable. So, learning to draw anime girls drawing is one of the best mental solutions; completely free, and you can learn directly online or draw on paper, depending on your conditions.
How To Draw An Anime Girl ​– Let's Get Started!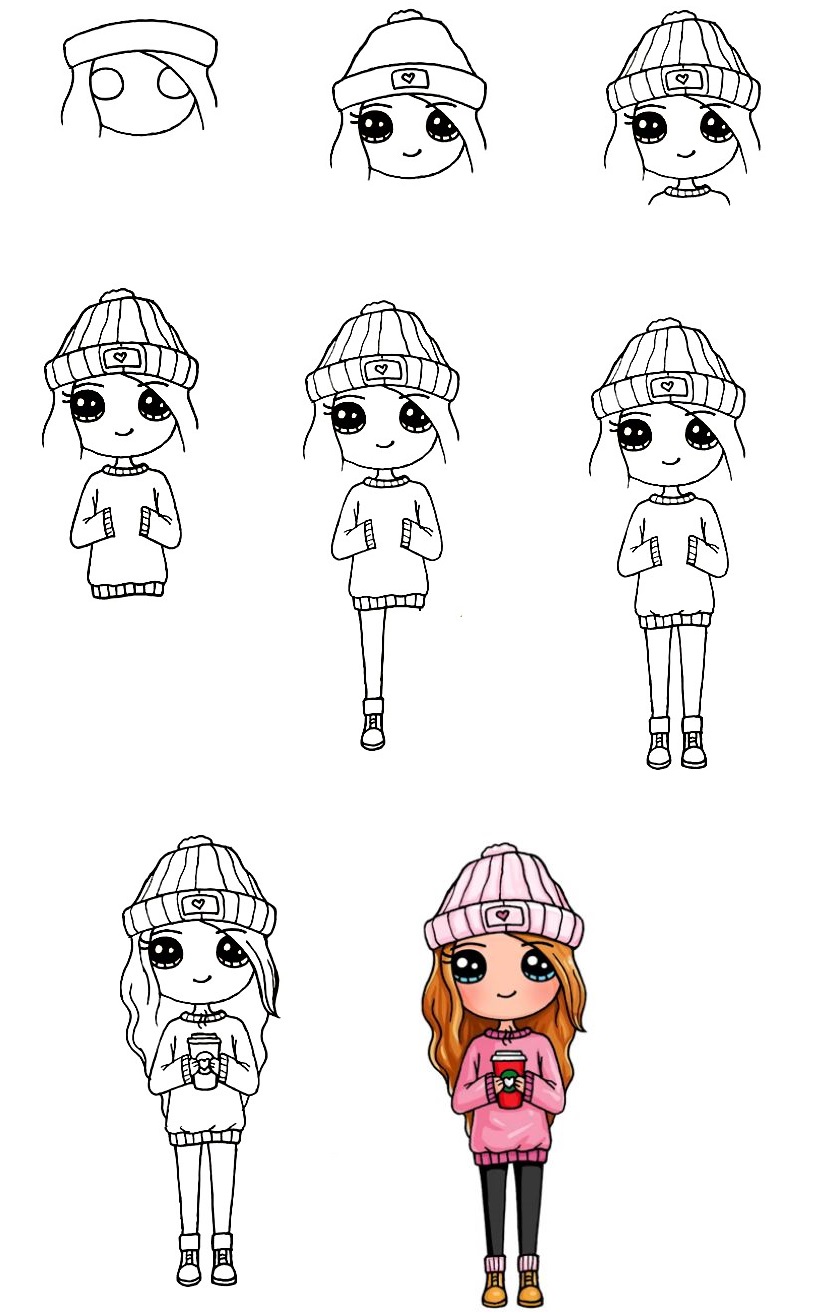 Learning how to draw an anime girl in the simplest way with us is that you will have to prepare the necessary tools such as paper, pencil, pen, and eraser,…before you start learning to draw, then you will proceed to draw by sketching the basic lines, then you will erase the wrong lines and bolden the correct lines, you will have a complete drawing with your talent. During the drawing process, you can also create more decorative details to make your drawing look different and bring your stamp.
Because you draw with a pencil, you can easily erase it if you make a mistake, so you can freely draw without fear of making mistakes and draw in the most comfortable mood to maximize your creativity. To get a nice anime girl drawing takes about 30 minutes, and you will concentrate in the course of the drawing time. Included with the anime girl drawing tutorial are anime girl coloring pages that give you the opportunity to show off your drawing and coloring skills more often. Now, let's go into specific eight steps to learn how to draw a complete anime girl.
Step 1 – Draw The Anime Girl' s Face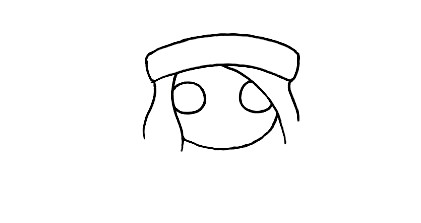 You will start drawing an anime girl with her face. You will draw a half oval to show the outline of her face; then you will use a hat on her head to cover part of her face. You will also draw two circles on her face to outline her eyes which will be detailed in the following sections. You can move to the second step now.
Step 2 – Finish Off The Anime Girl's Face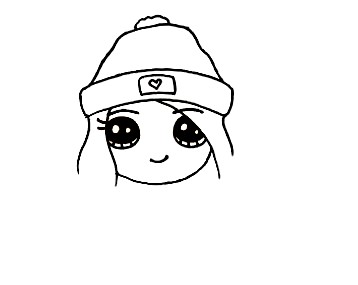 You proceed to complete the face for the anime girl with big round eyes; you also use black to fill the character's pupils. A pretty hat on her head makes her even cuter, as you see in our reference image. Once you are happy with your image now, you come to the third step to continue your anime girl drawing.
Step 3 – Draw Neck And shoulders For Anime Girl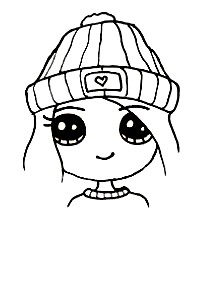 Your task in this step of the anime girl drawing is to draw the neck and shoulders for her. From the beginning, you will draw two short parallel lines to represent her neck. Next, you will draw the shoulders with short curved lines representing the shoulders. So, you complete your task here and move to the fourth step.
Step 4 – Draw Anime Girl Upper Body And Arms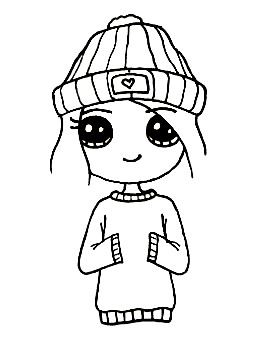 She is wearing a sweater in winter, so your task in this step of anime girl drawing is to draw a long-sleeve sweater which is also her hand part. It's amazing that your character is 50% done; you will continue to draw her in the next steps.
Step 5 – Draw A Left Leg For Anime Girl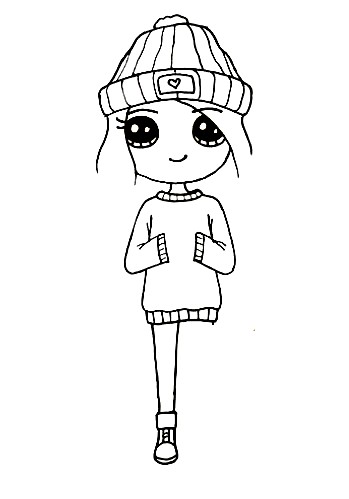 Now is the time for your left leg for the anime girl drawing; her leg is made up of two parallel lines and ends with a pretty shoe with laces. It's also simple, isn't it? It only takes a few minutes for you to complete the task here and move on to the next section to continue your task on how to draw an anime girl.
Step 6 – Draw A Right Leg For Anime Girl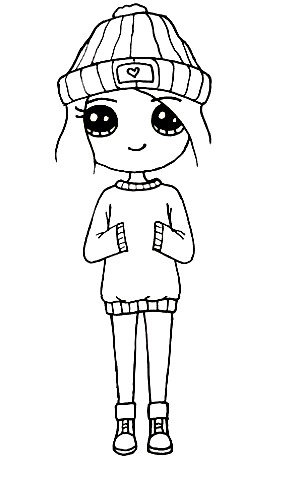 Similar to step 5, this step 6, you will add a right foot for your character, as well as the left foot. This leg is also composed of 2 parallel lines from top to bottom and ends with a pair of shoes. You can completely perform this task easily, and you can also observe and follow our illustrations.
Step 7 – Finish Off Your Drawing Mission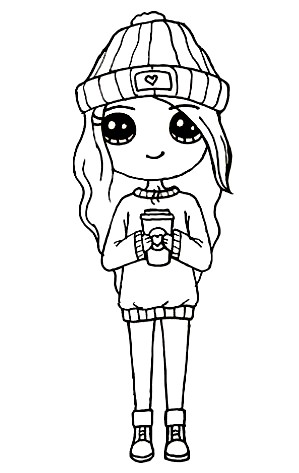 You must complete your drawing task in this step. You must add some decoration details for your anime girl drawing. Please don't forget to add her long hair to make her more charming and beautiful before moving on to the final step of coloring for anime girl drawing.
Step 8 – Color Your Anime Girl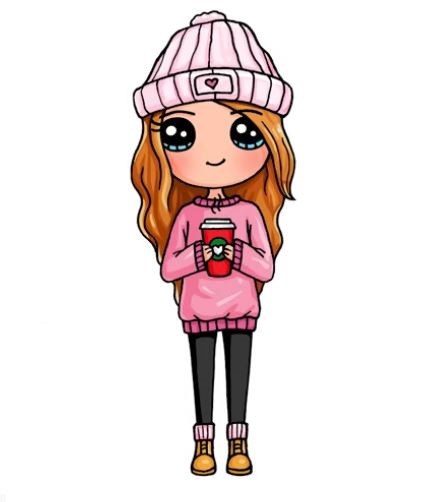 You must choose the suitable colors for your drawing here. You can use any color for your product. As long as you feel your figure looks good, you can choose colorful colors for your character's clothes like red, blue, and yellow, plus mix colors for her hat and hair to make her look good. So you have completed the task in this step.
Your Anime Girl Drawing Is Complete
So, you finish your drawing and coloring mission in creating the complete anime girl drawing. You get a complete character after realizing eight missions in eight steps. Isn't it amazing, that you will have the opportunity to learn to draw many things on Coloringcool.com, you can enjoy more characters related to anime such as Mother Gothel drawing, Violet girl drawing. You can use them to collect your pictures tolearn to draw for you. Right now, you know how to draw an anime girl and I hopee you like it and recommend your realives come here, thanh you!