7 Simple Steps For Creating Cute Baby Drawing – How To Draw A Baby
Create A Cute Baby Drawing in Seven Simple Steps
Right now, you get an opportunity to know how to make a baby drawing with us. We will give detailed instructions, and you will follow step by step with us to create a complete baby. If you are looking to learn to draw and find inspiration to draw, a cute baby is a wise choice because a baby is always an inspiration for many people. You will create many ideas with a cute baby. This drawing activity is suitable for everyone from children to adults, and you can enjoy it in your free time after the hard-working hours. It will make you balance your life, your life is better, and you will be more productive.
How to Draw A Baby ​– Let's Get Started!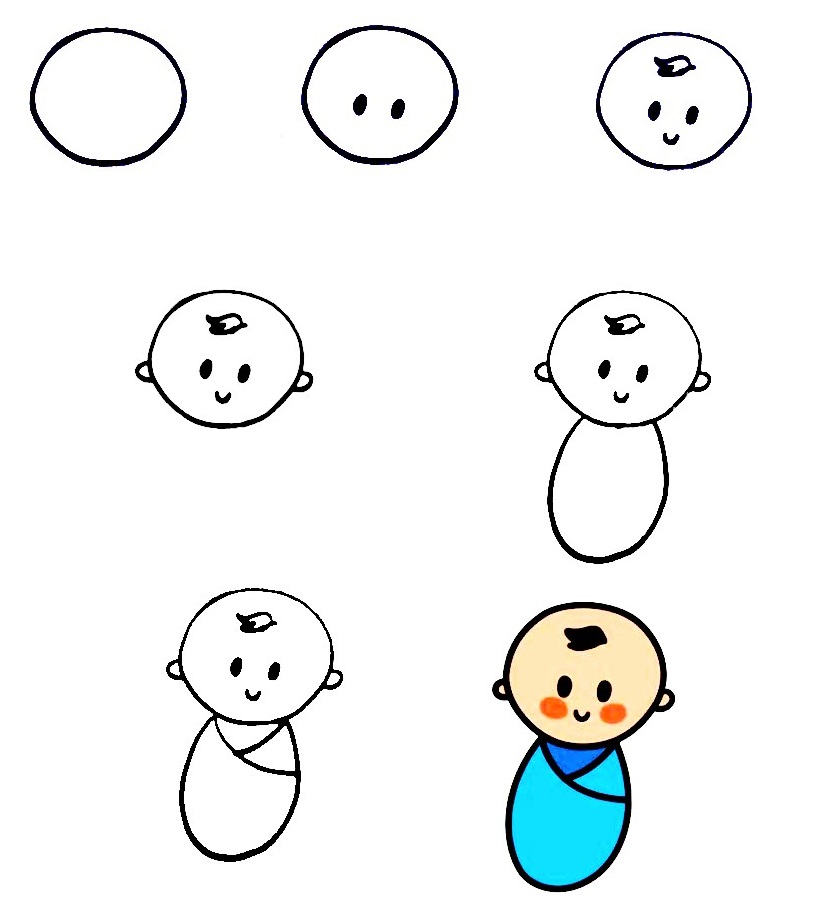 To draw a cute baby, you can look at the actual Baby, the Baby in the picture, or you can imagine the Baby. Here we will show you how to draw a very cute baby with a chubby face, lovely eyes, and a little hair on her forehead,…
Before learning to draw, you must prepare the necessary tools such as paper, pencil, pen, colors, and eraser, .. then you will proceed to draw with simple details first, then the next the details are more complicated, and you will end up choosing the right color for your baby drawing when you are done drawing. You can also easily erase the wrong strokes and redraw until you feel satisfied, so you can learn to draw freely without fear of making mistakes and draw in the most comfortable mood. Whether you are a beginner learning to draw or you are an expert in the field of drawing, you can complete the task of drawing a cute baby perfectly. With seven simple steps, you will realize your task to create a complete baby drawing with your skill. And now, let's go into seven detailed steps to make a cute baby drawing. Along with the tutorial, we have also included a couple of free Baby coloring pages that you can print off and give to your kids to color!
Step 1 – Draw Baby Head Outline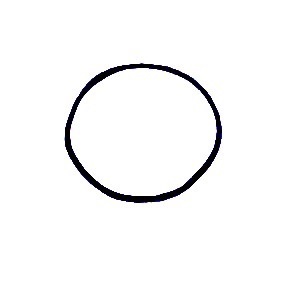 To start your task on how to draw a baby, you will draw a circle to make a baby head outline. You can use a compass to support you in this mission. It's not too difficult for you, and it only takes a few minutes for you to complete this task and move on to the next step.
Step 2 – Draw Baby's Eyes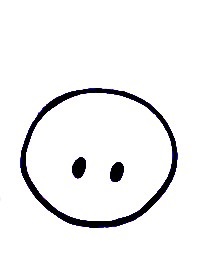 Your mission in this second step of your baby drawing is to show two eyes for the Baby. The Baby's eyes are then made of two small ovals and colored black. Your work in this step is just that, and you're done. Now you will continue through step 3 to continue the task of baby drawing.
Step 3 – Draw Face Details And Hairs For Baby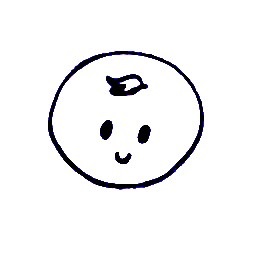 Now, you continue to realize your work to make a cute baby drawing; you will draw a small curved line under two eyes for a baby's mouth. You continue to use some lines for Baby's hairs on the head, as you see in our reference image. You can stop work here and continue your work in the fourth step.
Step 4 – Draw Baby's Ears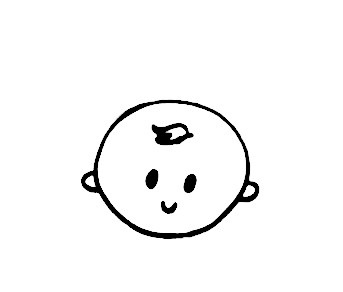 In this step for your baby drawing, you draw two ears on both sides of the head using C shape and inverted C shape, double the line. It is simple for you, and you will finish off it in some minutes before moving to the fifth step.
Step 5 – Draw Baby's Body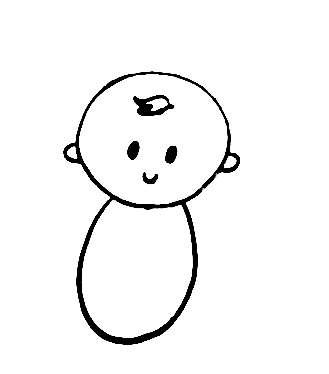 Observe our illustration; on both sides of the body, draw two hands using the curved lines, one outside the body guideline and the inside line. Erase the guideline drawn if you make it wrong, and the image given below will be the result. With an oval to show Baby's body is to finish this task, you continue your work of the cute baby drawing in the sixth step.
Step 6 – Finish Off Your Drawing Mission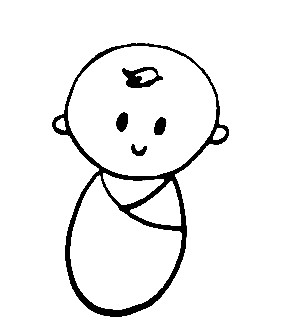 Now, you must finish off your drawing mission, such as adding some lines on the chest of the baby suit, and you have a complete baby without color. You can add some decoration details before moving to the last step for coloring your baby drawing.
Step 7 – Color Your Baby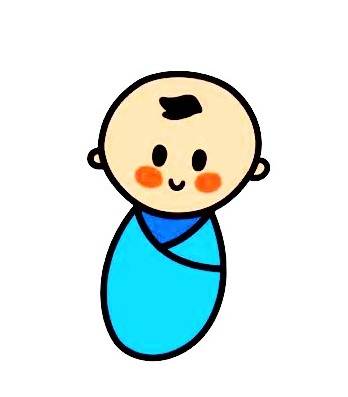 In this last step, you choose the suitable colors for baby boys. This part completely depends on your color perception and preferences. You can use many different colors and ways of coloring to have the complete baby drawing. We take peach for Baby's skin, black for hair, and green for baby's suit,…
Your Baby Drawing Is Complete
You finish your drawing and coloring task for your character, Baby. On our site Coloringcool.com, you can find many drawing instructions related to baby as baby boy drawing, for example. We also update many coloring pages for your drawing and coloring skills. You can use them to practice daily. Over time your drawing skills will develop, and you can draw whatever you like without any instruction. Now, you know how to draw a baby, and I hope you have understood everything now.