Onion Drawing Is Created In 6 Easy Steps
Creating a fresh onion drawing in just 6 easy steps
Right now, we give this simple tutorial showing how to draw an onion with some green leaves in six easy steps. You will create a complete onion drawing with our guide in about 30 minutes. We give the instruction detail, and you will realize the task step by step. This is an interesting activity and suitable for everyone. After the hard-working hours, you need to relax, and drawing is not a bad activity. Because this is a free entertainment channel on our site, you can come to our website anywhere and anytime with your devices connecting to the internet. Learning to draw also is a good activity for your kids. You can join in this learning with them. It can help them to avoid using equipment like television, smartphones, and tablets, they are not suitable for their eyes and their evolution. You can enjoy how to draw on our website in your free time and relax. Along with this guide, we also provide the onion coloring pages for free. You can practice your drawing and your coloring skill here. With this comprehensive tutorial, you might be surprised to discover how easy drawing an onion actually is!
How To Draw An Onion – Let's Get Started!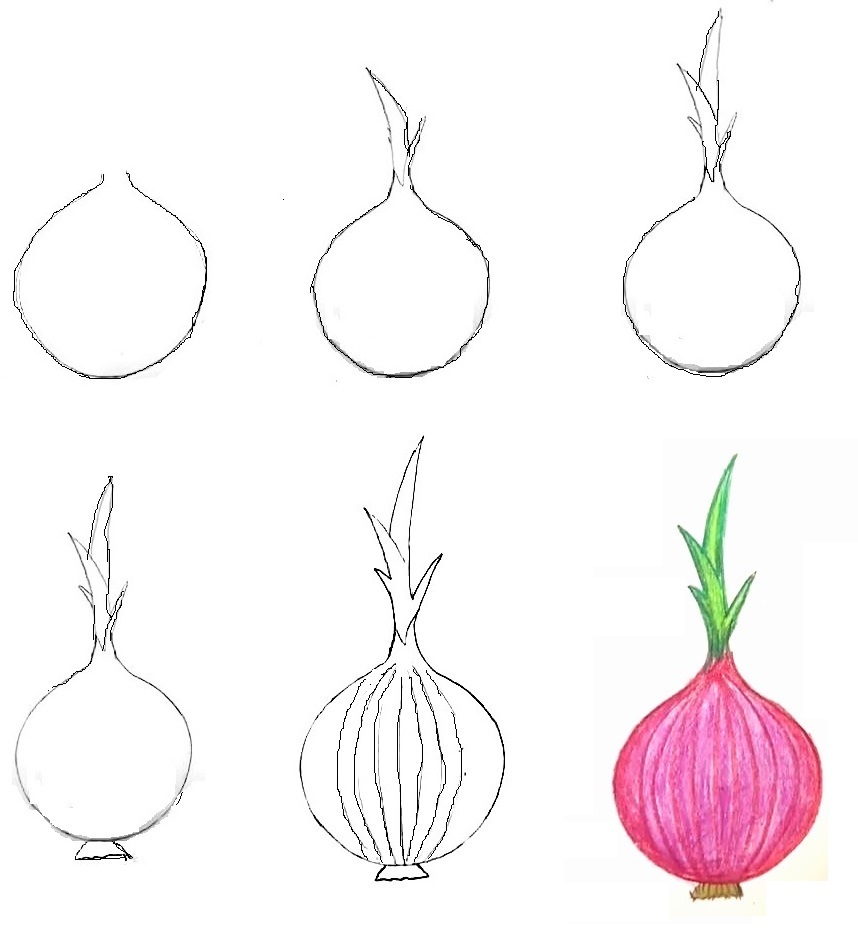 Onion is very familiar to everyone, especially cookers, because it often appears in the kitchen. I am sure you have eaten onions many times but would you like to draw an onion? Fortunately, you get an opportunity to learn to draw an onion with us. You will follow our instructions to create an onion with your skill. This guide consists of detailed yet brief instructions, all of which come with elaborate visual illustrations. Like drawing others, you must take some things such as pencil, colors, and paper before drawing, and then you start to draw the first detail on the paper. Sometimes, you need to erase your mistakes to create a perfect drawing. Finally, you choose colors for your products. On how to draw a cute onion, you have six missions equivalent six-step that you must finish. This task is not simple but not too difficult you must concentrate on the course of drawing. You can enjoy this activity in a comfortable way, and you can work more effectively the next time after this learning because it can create your mood better.
Step 1 –  Draw The Shape Of The Onion
Starting with how to draw an onion, you draw two curved lines to create the shape of the onion. It will look like a circle with the top of the onion drawn in the next step.
Step 2  – Add The Leaves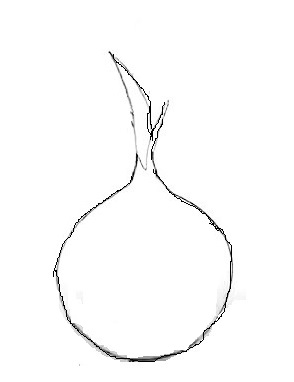 Right now, close the gaps between the lines from step 1. The top part, where the onion transitions into the leaves, is usually fairly uneven. Draw that area as a set of random-sized pointy clumps. Add some leaves to the Top of the onion. You finish this step in some minutes and go to the third step.
Step 3 – Finish Your Drawing Of The Leaves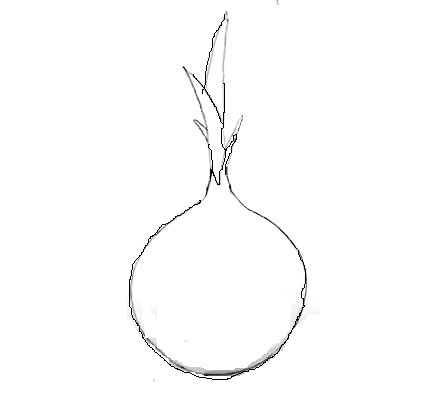 You use the curved lines to make leaves elongate and then you add more leaves to make the real onion. That's all there is to it for this step, so when you're happy with the look of it we shall continue adding to this onion in the fourth step.
Step 4 – Draw The Roots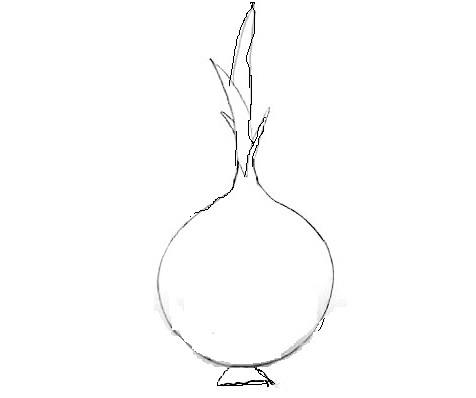 You begin to draw the roots for the onion in a way somewhat similar to the leaves (but much smaller) draw the roots. Make these slightly "wobbly," where a few have wave-like shapes bending in one direction and then another. It is not complex for you in this step; you spend some minutes to finish it and go to the fifth step.
Step 5 – Finish Your Drawing Mission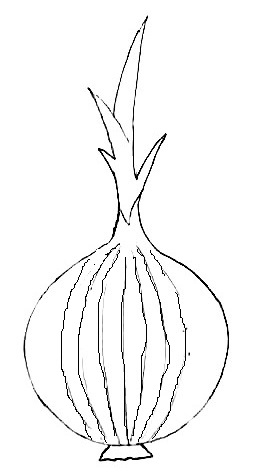 In this step on how to draw an onion, you must finish off work on drawing. Draw long curved lines along the onion to form the segments of the onion. It's simple right? You will draw it in the simplest and easiest way; you can also add any decorative details to your onion. So, you can move to the last step, coloring your onion.
Step 6- Color Your Onion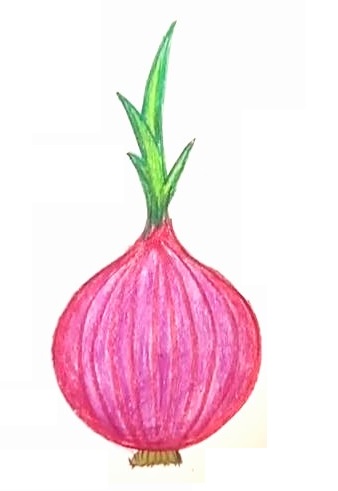 To color the cute onion drawing, you can take light pink for the bulb, green for the leaves, and brown for the roots…You finish your drawing and coloring on how to draw an onion with a fun time. It is very interesting. You can refer to onion coloring pages on our website, we update them daily, and they are played for free here.
Your Onion Drawing Is Complete
You finish your six steps for your Onion Drawing. If you like, You can recommend your friends and relax together. Creating an onion drawing like the one in this tutorial can be fairly quick and easy. You concentrate only and keep calm to realize your mission. When you can draw a perfect onion, you can refer to others drawing, and I hope you are happy with our tutorial. Have fun!