8 Simple Steps To Create Manatee Drawing
Creating a cute Manatee drawing in just 8 easy steps
Learn how to draw a Manatee with our super easy-to-follow step-by-step Manatee drawing tutorial. You will use the instructions and illustrations to create a complete manatee. You will go to step by step in our tutorials and get a fun time. It would help if you prepared a pencil, eraser, colored pencils, and drawing paper before drawing. Drawing and coloring are good activities for everyone, from children to adults; you can enjoy them in your free time, and they can help you to reduce stress and worries. Along with the tutorial, we have also included a couple of free Manatee coloring pages that you can print off and give to your kids to color! If you are a parent, please don't hesitate to give them instructions because in participating in drawing or coloring activities, your children can avoid using technical devices such as television, smartphone, and iPad.  They are not good for their eyes and their evolution! These are also things that help kids relieve stress to help them study better. You also get an opportunity to understand your kids.
How To Draw A Manatee – Let's Get Started!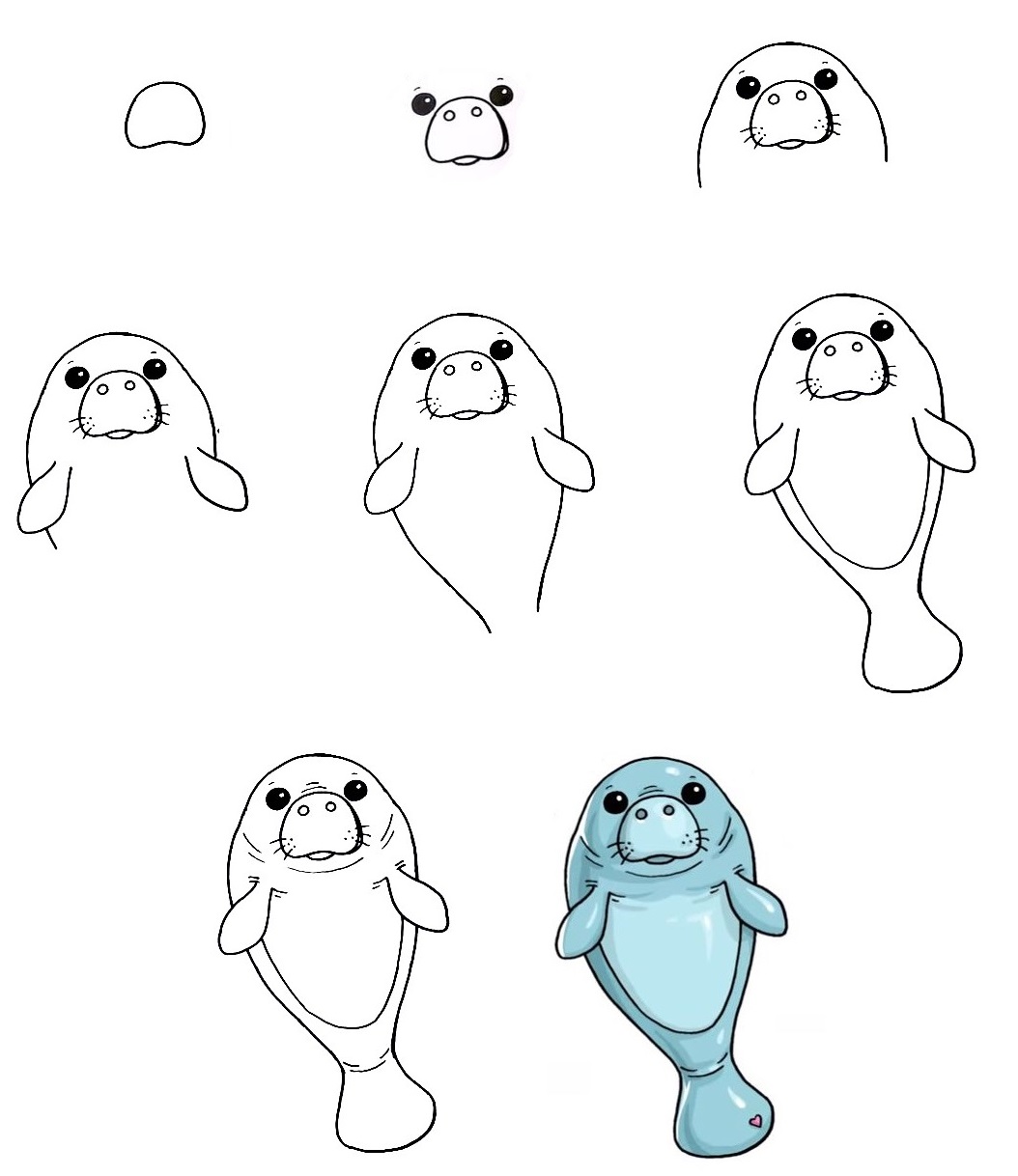 You will use your drawing and coloring skills to create a Manatee with our tutorials and illustration. With drawing of Manatee, you have the opportunity to learn more about this creature. Manatees, sometimes called sea cows, are pretty amazing aquatic mammals. Despite only living on plants (which makes them herbivores), they can live for up to 60 or 70 years. Or maybe because they only eat plants, they can live that long. Who knows, but that's another conversation.. Meanwhile, these fascinating creatures are not officially endangered, but they are on a watch list, which is just one step away. It seems like they deserve some attention too, so this new tutorial is dedicated to them. It tries to simplify their adorably chubby body so young artists of all ages can learn how to draw a really good likeness of one. You use a pencil to draw on paper. You can erase mistakes easily, so don't be afraid to draw; you can draw in your comfortable way. You will draw Manatee with a pencil. You use light, smooth strokes to begin. Now, let's get started drawing a Manatee!
Step 1 – Draw Manatee's Mouth And Nose Outline

You will draw Manatee's mouth and nose outline for your Manatee. You draw a big square as a guide for the manatee's mouth and nose. The square doesn't have to be perfect. It's just a guide. Leave enough room on the sides for the nose and mouth. You can finish your task here and move to step 2.
Step 2 – Draw Details For Eyes, Mouth, Nose

You will start drawing details for the eyes, mouth, and nose of the Manatee. On the Manatee's mouth and nose outline, you draw two dots for the eyes of the Manatee. After that, you draw some details for the nose and mouth. You draw two small circles for nostrils. You did your task in this step here and move to step 3 now.
Step 3 – Draw Manatee's Face And Head Outline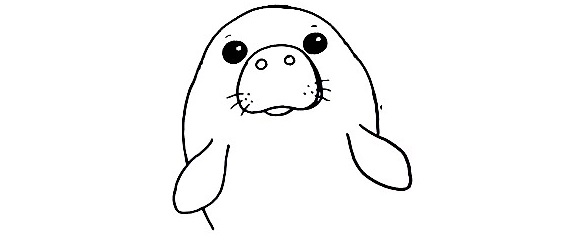 You will draw the Manatee's face and head outline right now. you will use a curved line to draw around the details of the Manatee's face. You use three short straight lines for each of Manatee's mustache. Very simple to realize your task; you will use the long curved line for this step and finish it.
Step 4 – Draw Manatee's Flippers

Manatee can't be without flippers on both sides. You will use the curved lines to draw two flippers. You can look at our image and follow it and move to the fifth step.
Step 5 – Draw Manatee's Body Outline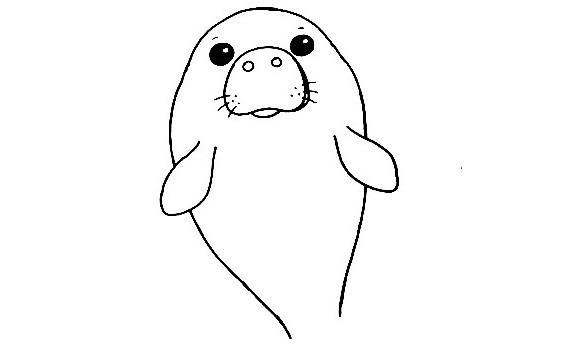 Draw a few more curved lines as a guide for the manatee's body. Add a couple of lines to form the front part of the body. Draw a long, sideways arc on the left side of the circle as a guide for the back part of the body.
Step 6 – Finish Manatee's Body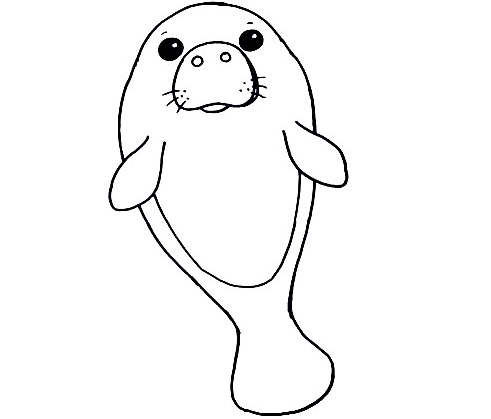 You will draw another arc-like shape on the left side of the body as a guide for the manatee's tail. First, draw a diagonal line, then connect that line to the body using curved lines. You finish the task in this step with this tail and move to the seventh step.
Step 7 – Finish Your Drawing Mission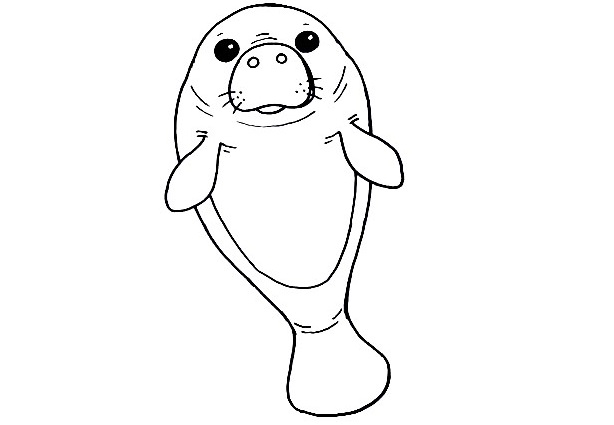 You will finish your task here with some decoration details for Manatee, such as a heart, dots, and some little curved lines. Once you have these elements looking as they do in the reference image, you're ready for step 8!
Step 8 – Color Manatee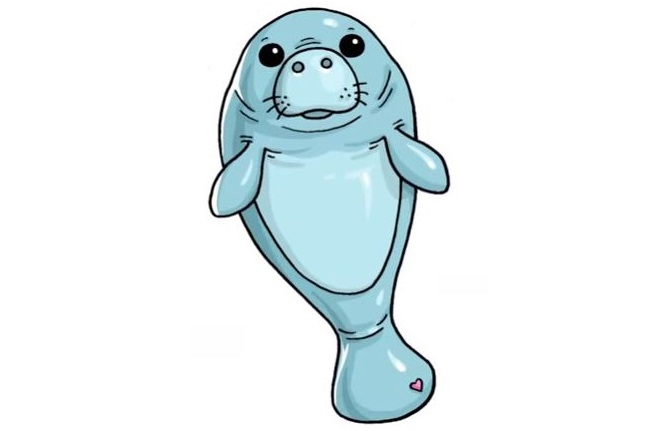 This is the simplest mission for you. You will choose the suitable colors for your product, Manatee. You can take any color you like, or you choose colors that are similar to our colors. We choose green for your body, black for your eyes, and some colors for some small places to make your Manatee more real and interesting. So, you get a complete Manatee with our instructions. It depends on your skill, and you can finish the task in 20 or 30 minutes. If you learn drawing regularly, you can draw faster with each practice. Once you finish the task here, you can move Manatee coloring pages to enjoy images related to Manatee. We update products such as drawing and coloring pages for free every day. If you like our products, don't forget to give us a thumb up and recommend them to your friends! I hope you get a great time!