How To Draw Santa Claus – The Details Instructions
When it comes to Christmas, we will immediately remember familiar images such as Santa Claus or reindeer, pine trees… And when Christmas is coming, why don't we draw our own pictures? Cute Santa Claus to give to relatives, friends, or simply share happy and warm moments with children in the house when they can create unique images together during Christmas? Here, please refer to how to draw Santa Claus with us so that you can create your own drawings!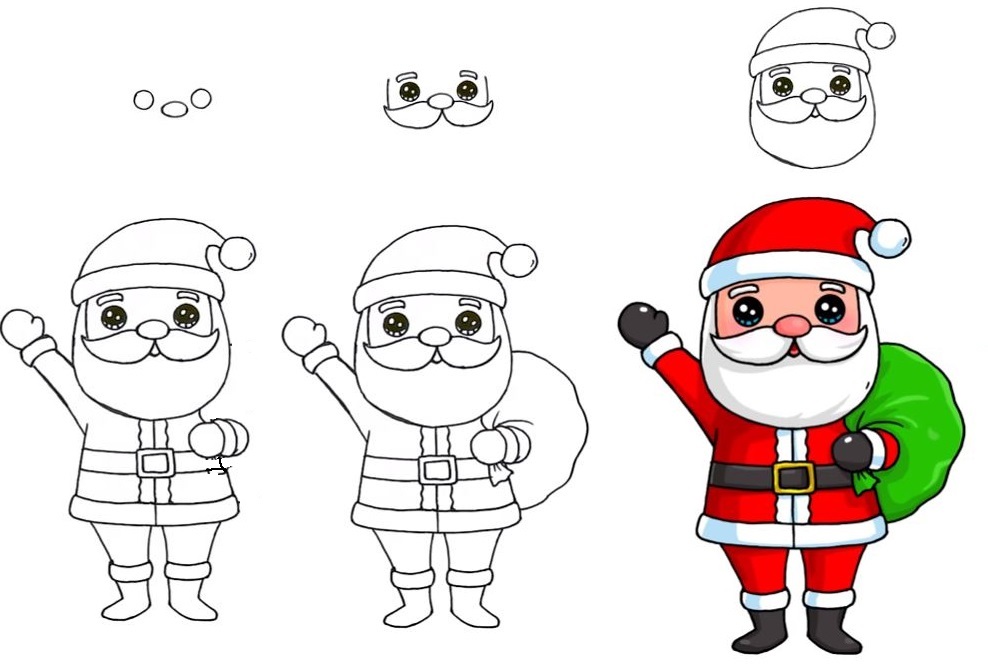 Before learning how to draw Santa Claus with your children, don't forget to prepare basic drawing tools such as drawing paper, pencils, crayons…! With the tools ready, let's get ready to learn how to draw Santa Claus.

Step 1 – Draw Three Small Circles.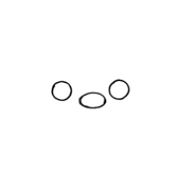 First, we draw 3 small circles to sketch 2 eyes and noses for Santa Claus. In this step, it's not too difficult, you will take a pencil and draw with us to see the cuteness of Santa's eyes and nose. If you can't freehand a perfect circle, there's no need to worry! You can always use a compass, a drawing tool that helps you draw a perfect circle quickly and effortlessly.

Step 2- Draw Eyes, Nose, And Mustache For Santa Claus.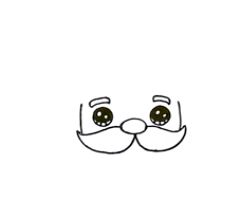 In this step 2, draw a smaller oval in the first round to form Santa's nose! You draw more mustaches for Santa Claus with 4 curved lines as shown above. After drawing, you erase the excess lines and curves below the two sides of the mustache.

Step 3 – Draw Beard And Hat For Santa Claus.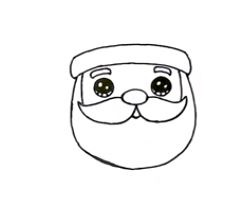 In this step, you will draw a scalloped wavy line around the head to form Santa's beard. After that, we will proceed to draw Santa's hat. First, you draw the cotton part on the hat using a scalloped line around the head of Santa Claus and then draw a curved triangle to create the familiar Christmas hat shape. Next, you draw a circle to form the ball at the end of the hat.

Step 4 – Draw Body For Santa Claus.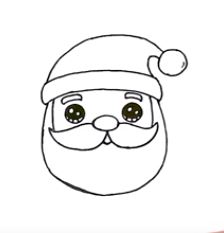 Draw two vertical curved lines extending from the beard to the bottom to form the outline of the body, then you connect these two vertical curves with a horizontal curve. Around the bottom of the image, you draw a long line in the shape of a shell, so we have finished sketching the body of the snowman. Next, we'll outline the snowman's arms in a long, curved line, circling from the shoulders and into the torso. Then you draw a shorter curve to form the other side of the arm. Erase the extra lines and our Santa Claus is about to take shape. Now, we draw the cuff of the sleeve by drawing a series of short, curved seams. Now, let's draw the hand part with a curved line, add more detail where the thumb and finger meet by drawing a short curved line. Erase the extra details then you draw a rounded rectangle on one side of the body to form the belt buckle. Next, draw a smaller rounded rectangle in the first round, then draw a set of parallel lines extending to the sides to form Santa's belt. Please don't forget to draw legs for Santa Claus as our image. Draw three short curved lines downward to form Santa's legs then connect them using scalloped curves. Then you draw another scalloped curve below and connect the lines together to form a cuff for Santa's leg. Now, we will proceed to draw Santa's shoes as shown in the picture. Draw Santa's other arm by extending a long, curved line from the shoulder enclosing a small circle for the hand, and using a scallop to form the sleeve cuff. After you finish drawing, delete the excess details.

Step 5 – Draw Gift Sacks.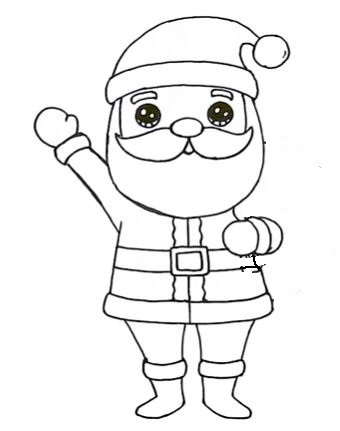 Next, draw a wavy line below the hand to make the top of the sack that Santa Claus usually carries. Then you draw a curved line extending from Santa's hand, around his shoulder and ending at the bottom as shown in the image. Then you draw a shorter curved line extending from the arm and over the shoulder and then delete the redundant details and we will get as shown.

Step 6 – Finish Your Mission With Some Colors.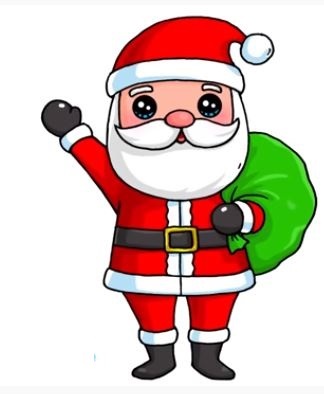 Now, you will choose simple colors and make coloring for Santa Claus. You will use suitable colors and make coloring for Santa Claus to get the perfect Santa Claus Picture. It depends on your hobby that you can choose the suitable colors and make it. Hope that with this article, you can finish an easy mission on how to draw Santa Claus.

You can read How To Draw to learn drawing more coloring pages