Pikachu Drawing Is Complete In 6 Easy Steps
Pikachu Drawing Is Complete In 6 Simple Steps
You will get a Pikachu drawing with our guide. Pikachu is popularly known as the mascot of the Pokémon franchise and one of Nintendo's major mascots. It is also the game mascot and starter Pokémon of Pokémon Yellow and Let's Go, Pikachu! It has made numerous appearances on the boxes of spin-off titles. Pikachu is a cute character with a short, chubby appearance. It is yellow and has horizontal brown stripes on its back. It has a small mouth, long, pointed ears with black tips, and brown eyes. And Each cheek has a red circle that contains a pouch for electricity storage. It has short forearms, five fingers on each paw, and three toes on each foot. Pikachu also has a tail. Although Pikachu is classified as quadruped, it has been known to stand and walk on its hind legs. Now, you can get more information about this character in this article by learning to draw Pikachu. We give the instructions, and you will follow us and our illustrating images. Once you finish your drawing mission, you can enjoy Pokemon Coloring Pages because we update many pictures related to Pikachu and you choose colors to make coloring for Pikachu.
How To Draw Pikachu – Let's Get Started!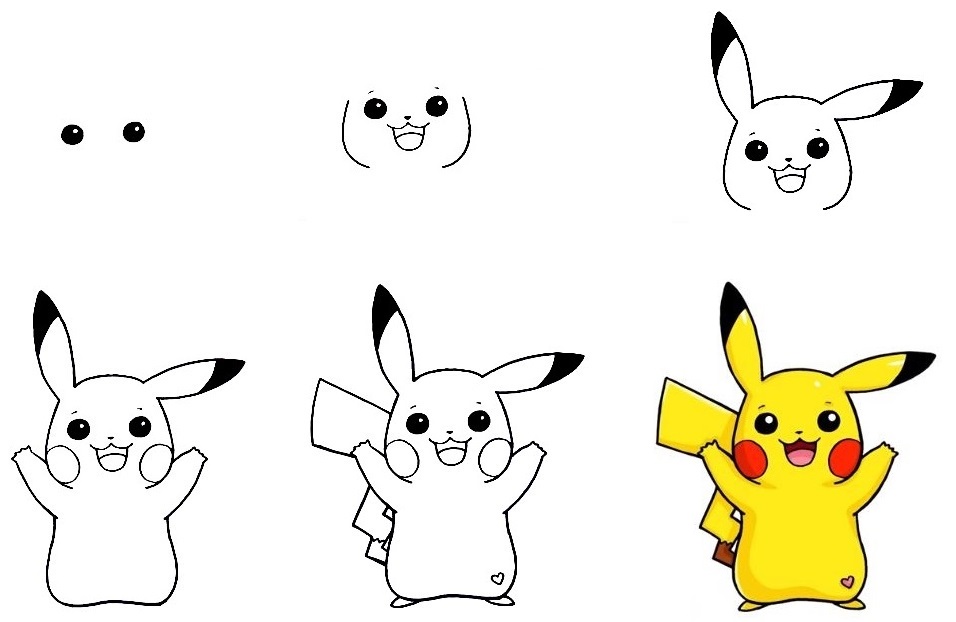 There are six steps for you, and you will go to step by step and make a complete Pikachu character. In each step, we provide the illustrating image to help you realize your task easier. You must prepare some things such as paper, pencil, and colors before drawing Pikachu. In the course of the drawing, you can erase it if you make a mistake. So, even if you are a beginner or you are an expert in drawing, please don't worry. This character Pikachu is pretty easy to draw as his body is made from some pretty simple shapes. That means just about all his fans, including real kids, can make their own Pikachu drawings. You will learn to draw Pikachu with your endurance; With our instruction in this article, you can realize your task and teach your kids in your free time. This activity is good for kids because they can avoid contact with technology devices, such as phones, televisions, and tablets…that are harmful to children's eyes and development. Once you finish your task, you can enjoy Pokemon Coloring Pages at our site for free, related to Pikachu. Now, let's get started drawing Pikachu!
Step 1 – Draw Pikachu's Eyes

You will draw Pikachu's Eyes in this step. You will draw two dots for the two eyes of Pikachu. Then, you will use black to color Pikachu's eyes. You will color and leave white dots so Pikachu's eyes will look more real. Once you have these elements looking as they do in the reference image, you're ready for step 2!
Step 2 – Draw Pikachu's Face Details

You have some tasks in this second step of Pikachu drawing. You must add two small eyebrows for Pikachu with two short lines below Pikachu's eyes. You will continue to draw the curves to make noses and mouths for Pikachu. Here, we use an open mouth for Pikachu to make a happy face. You also use the line to make a face outline for Pikachu. You can finish your task here and move to step 3.
Step 3 – Draw Pikachu's Ears

Here, you will add ears for Pikachu. On the head, you must draw parallel lines to make ears for Pikachu. You use black to make color at the ears end. You can follow our image. It is not difficult in this step, and you must concentrate and use a bit of your drawing skill and finish your task. That's all there is to it for this step, so when you're happy with the look of it, we shall continue adding to this Pikachu in the fourth step.
Step 4 – Draw Body And Hand For Pikachu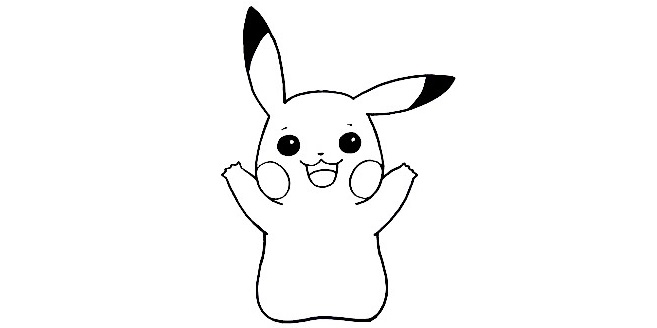 From the face, you draw the line, and you will draw lines down and down to show the arms for Pikachu, then you will draw the body for Pikachu, a little bit bloated and fat. You will draw parallel lines raised for Pikachu's two hands because the hand here does not show fingers so you can simply draw Pikachu's hands like our drawing. So, you finish your task in this step with two circles on Pikachu's cheeks and move to step 5.
Step 5 – Finish Your Drawing Task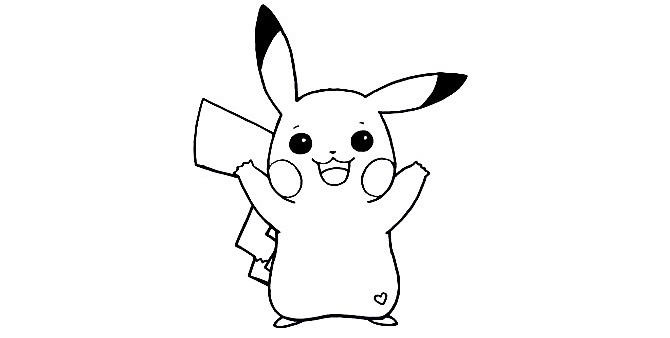 Now, you must finish all details for Pikachu. You will draw the tail with zigzag curves on the back of Pikachu. At the end of the body, you will draw two feet with two small triangles. You can add a small heart in the body for Pikachu; he becomes cute with a heart. Now, you finish all drawing missions here and get more of the last coloring step.
Step 6 – Color Your Pikachu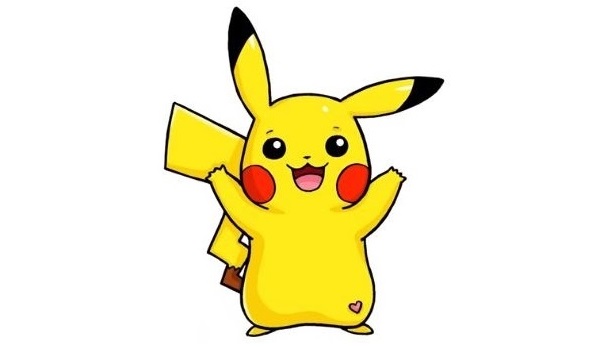 This is a simple step for you because your task is to choose a suitable product. Pikachu is always yellow, so you can take yellow to make coloring for him. You use orange for two circles on Pikachu's Cheeks and a part of the tail. With this mouth and tongue, you can use light pink as our color in the image. So, you finish the task on Pikachu and get your product. You are surely happy about that. If your kids are a fan of Pikachu, don't hesitate to give them this instruction and make products with them. We have many other instructions with drawing tutorials for anything here. Be sure to keep checking our site to make sure you never miss out! You can enjoy coloring pages on our site; we provide many coloring pages here; with Pokemon Coloring Pages, you can use them to refer to your products. If you like our products, don't forget to give us a thumb up and recommend them to your friends! Have a great time!