8 Step Creating A Girl Drawing
Creating a cute girl drawing in just 8 easy steps
Simply follow this easy how to draw a girl step by step tutorial and you will have your girl drawing finished in no time. You will have eight easy and simple steps to know drawing a girl with us. For many people who love drawing, being able to sketch a girl beautifully is the goal. its complex and intricate physical features, so not everyone can draw, especially beginners. Fortunately, we give the tutorial details and help you to draw a girl, if you are a parent, you can learn this drawing with your kids, especially with your girls, they will surely like it. You are here and get an opportunity to draw your idol your way in your free time. This is a useful learning and playing activity for us. You can enjoy it after the hard-working hours. Along with the tutorial, we have also included a couple of free girls coloring pages that you can print off and give to your kids to color!
How To Draw A Girl – Let's Get Started!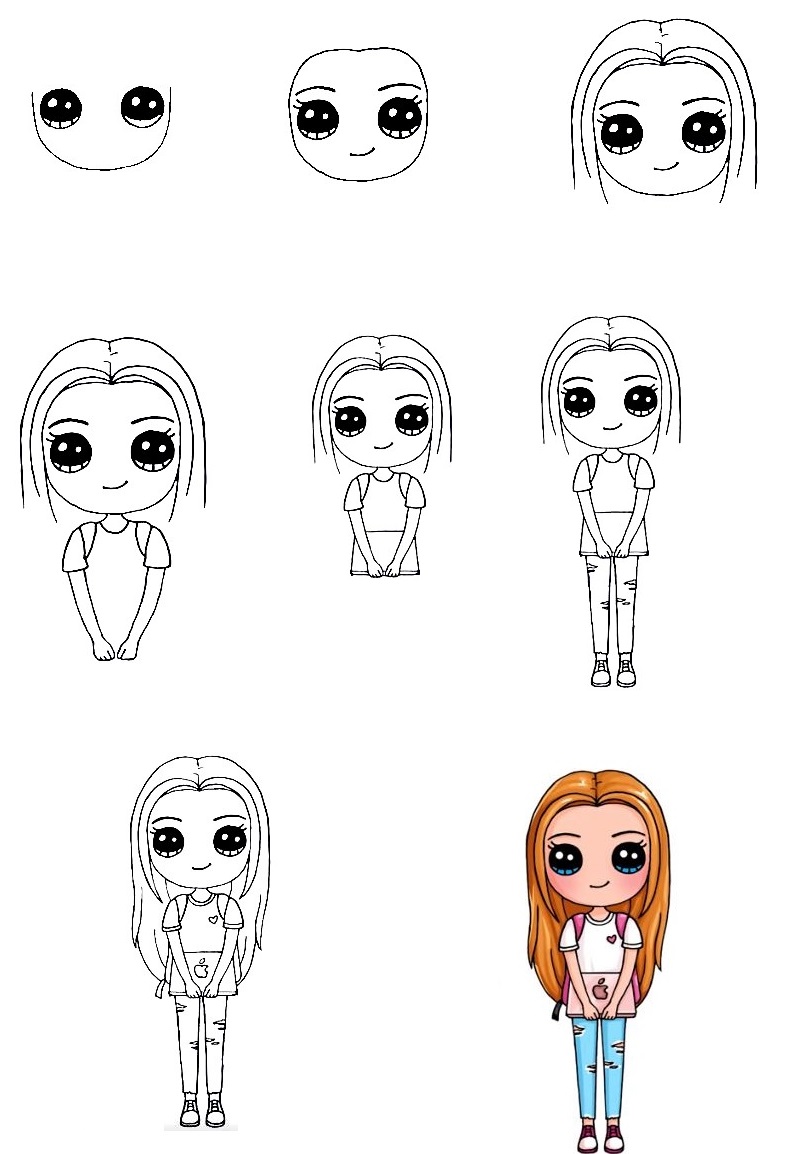 You have eight steps equivalent to 8 tasks to complete a girl drawing. Our guide goes from easy to difficult. Whether you are a novice or an expert in drawing, we're sure you can surely follow these steps effortlessly. You will go to step by step through the instruction to create a complete girl. Very interesting, you learn drawing to relax and forget the stress and worries to improve your life. You can apply these steps whether you want to draw a realistic character for a cartoon character you like. Each step is accompanied by comprehensible illustrations that serve as your visual guide as you follow the instructions. More, you can add your own style and improvise in every step. You will draw in your way and at your favorite time. Now, let's get started drawing a girl with us!
Step 1 – Draw Girl's Eyes

In this first step of the girl drawing, you draw two dots, and within, you will draw two small circles and then fill them with black to form pupils. Now, shade the entire circle shape we drew inside the pupil to add emotion to the eyes! You also left some white space to make the girl's eyes more realistic and interesting. You can go to step 2 to continue your drawing.
Step 2 – Draw Eyebrows, Eyelashes, And Mouth For Girl

Proceed by drawing two downward curved lines near the forehead to form the arched eyebrows. Afterward, draw a smaller upward curve to put a smile on your character's face. For eyes, you use some short curved lines to create the eyelashes for girls. You use another curved line to draw around the eyes and mouth to make a face outline for a girl. You can move to the third step now.
Step 3 – Draw Girl's Hairs

You will draw the girl's hair with some parallel straight lines. You continue by drawing the hairline of your character, which should be above the forehead. Then, outline the hair surrounding your character's entire head. You finish the task here and move to step 4 now.
Step 4 – Draw Shoulders, Arms, And A Part of The Body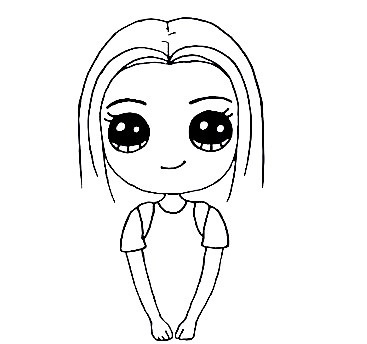 From the head, you draw the girl's neck then you use the lines to make her shoulders. Afterward, draw an elongated narrow shape underneath each shirt's sleeve to create both of the character's arms. Don't forget to create a separate curve at the bottom of both arms to create the finger, her hand is holding the schoolbag in front of her belly.
Step 5 – Draw The Girl's Schoolbag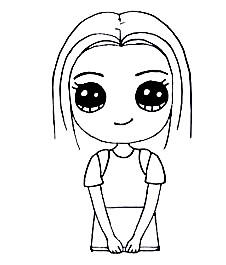 Your task in this step of your girl drawing is very simple. you will use straight lines to create a school bag. From the hand you drew in step 4, you will draw the schoolbag. here, it's the girl holding the schoolbag. Once you have these elements looking as they do in the reference image, you're ready for step 6!
Step 6 – Draw The Girl's Legs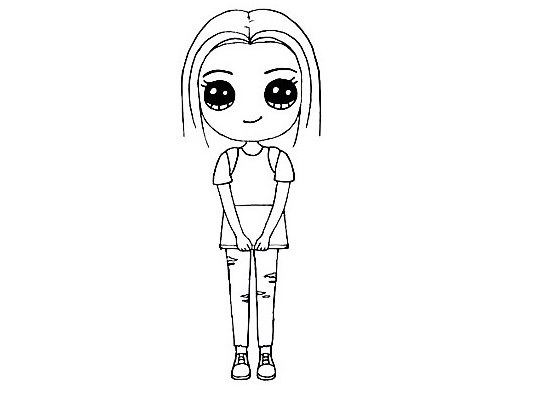 Draw a vertical line on the left side below the shirt for this step of the girl drawing. Then, draw a shorter vertical line parallel to it. Afterward, draw a horizontal line at the bottom, connecting both endpoints of the vertical lines. This creates the left leg of the trouser your character is wearing. Now you proceed to draw the right leg, completely similar to the left leg; use 2 parallel lines to draw the pants leg and 1 horizontal line below to connect these two parallel lines to form the second trouser leg. You finish your task here with a pair of shoes for the girl and move to the seventh step and continue your drawing.
Step 7 – Finish Off Your Drawing Mission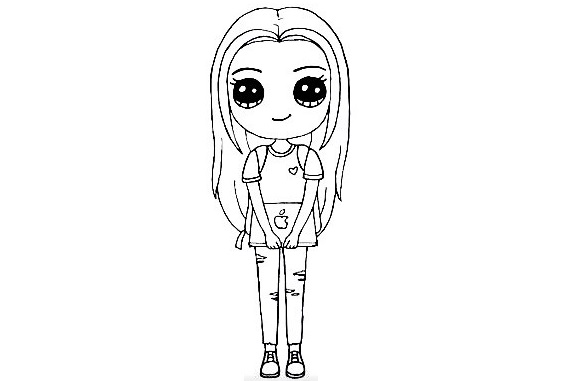 You must finish your drawing mission, you will add some more decoration details for a girl. Then, moving on to the hair, draw two enormous standing oval shapes underneath each eyebrow to form the pupils, you add straight lines down her back to make her long hair. You finish your girl drawing and have more of the last step for coloring.
Step 8 – Color Girl Drawing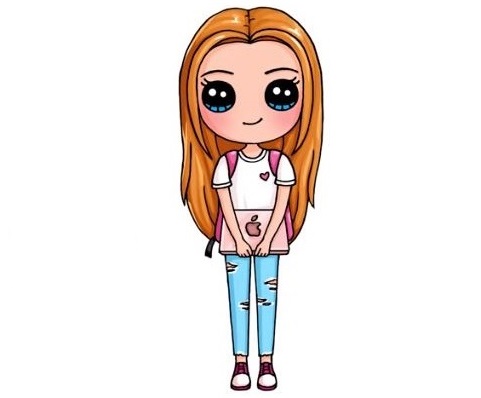 You will choose the suitable colors for your product, a girl drawing. The colors you will choose for your character are entirely up to you! But here's a useful tip: to create a skin tone color, simply combine the colors white, yellow, blue, and red. Depending on the complexion you're trying to achieve, you may need to add more of a specific color. You can take peach for her skin, brown for her hair, black for her eyes and hair, white for her shirt, and green for her pants, like our colors.
Your Girl Drawing Is Complete!
So, you finish your girl drawing and coloring task to create a complete girl. Now, you can move to girls coloring pages to enjoy images related to girls. We also update coloring pages, drawings, and blogs for free here every day. You can come to our site anytime and anywhere with your devices connected to the internet.