Durian Drawing Is Made In 7 Easy Steps
Creating A Fresh Durian Drawing In The 7 Easy Steps
Today, you get an opportunity to create a durian drawing with us to get a great time relaxing. You know that durian is a familiar fruit to us, although this is a special fruit, very expensive, not everyone can eat it because of its unique taste the flavor is described as tasting like cheese, almonds, garlic, and caramel all at once. More, its nicknamed the "king of fruits," and is a large, spiky, greenish-brown fruit. Nowadays with the exchange of economy, durian is everywhere to serve everyone who loves this fruit.
Withdrawing of durian, you can also imagine what this fruit is like, and here our tutorial will teach you how to draw a durian.
How To Draw A Durian – Let's Get Started!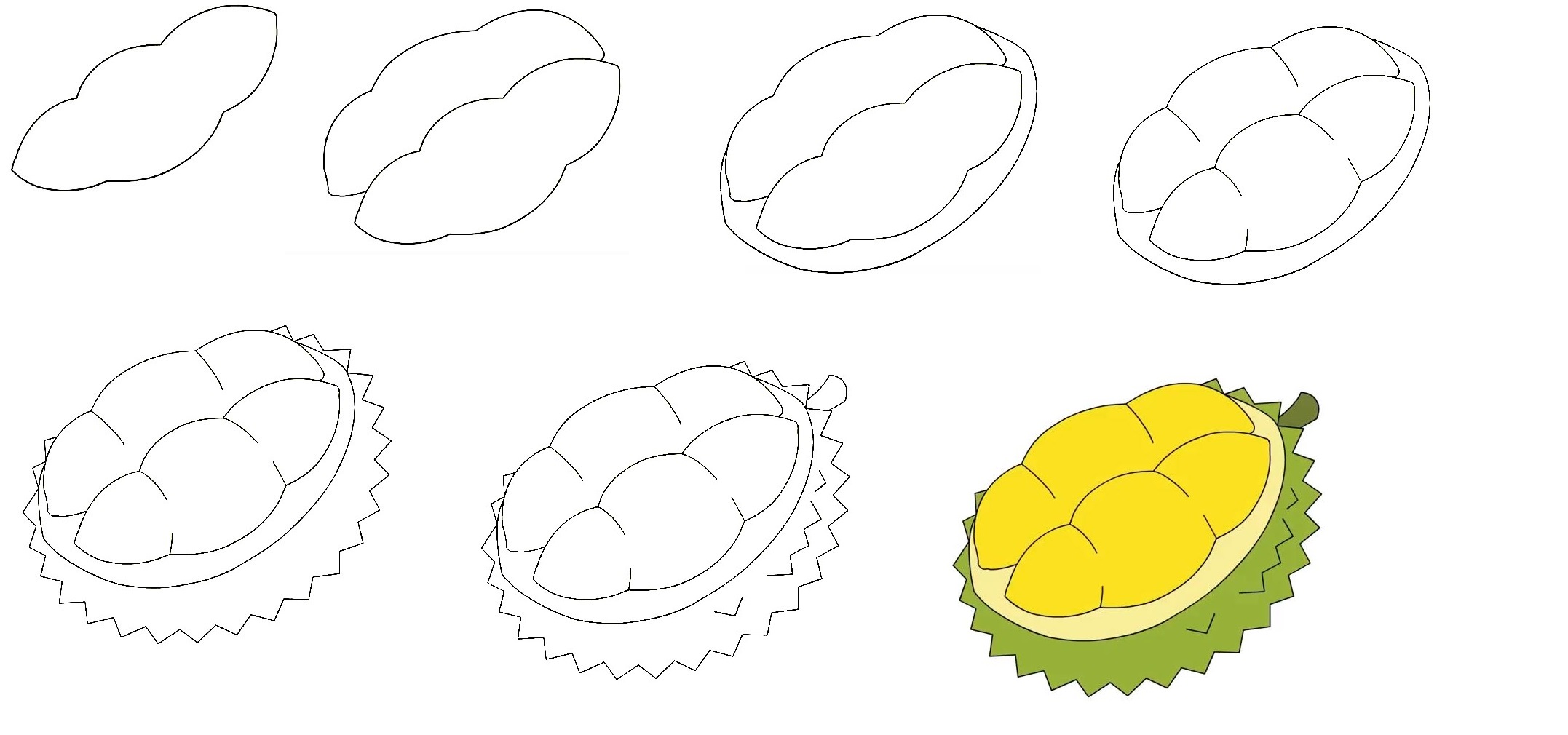 To draw durian, starting from easy to difficult, like our tutorial, you will start from the easiest details, then you will go to more difficult details, and we have arranged the tutorial from easy It's so hard to make it easy for you to do whether you are a novice or an expert in the field of painting. But before drawing, It would help if you prepared a pencil, eraser, colored pencils, and drawing paper. You use a pencil to draw on paper; you can erase your mistakes easily, so please don't be afraid to draw; you can draw in your comfortable mood.
Firstly, you will draw the blurred lines with a pencil then you will erase the wrong lines and highlight the correct lines finally you will choose the color and color your durian drawing. It is very interesting and suitable for everyone, from children to adults. So, you can recommend this drawing activity to your kids, they will surely join you.
Through this 7 easy step-by-step tutorial, you will draw a durian, and I also hope you will enjoy this tutorial with the following details. Along with how to draw a durian, you will provide durian coloring pages that you can use to practice your drawing and coloring skill.
Step 1- Draw The Durian Segment

You will begin the work for durian drawing with a segment, use curves to complete this work, and show a big segment, as you see in our reference. The segments are made up of segments, so show that in your drawing.
Not too complicated with the task in this step but this is the first step so be careful. Our advice to you is to draw calmly and slowly; if you make a mistake, erase it and draw again. Once you're happy with how it looks, then you're ready for step 2!
Step 2 – Add More A Segment

Similar to the first step in this step, you can also draw in the same way, which is to add more of a segment for your durian drawing. It's amazing that you now have 2 big segments.
In this second step, you also use curved lines to draw the second segment for your durian. Now, you can move to step 3 and continue your drawing.
Step 3 – Draw The Durian Shape

You will draw an oval around two big segments. It's so simple; it only takes a few minutes to complete this task.
Before moving on to the next step, look at your drawing again; if there's anything you don't like, redraw it.
Step 4 – Add Details To The Durian Segment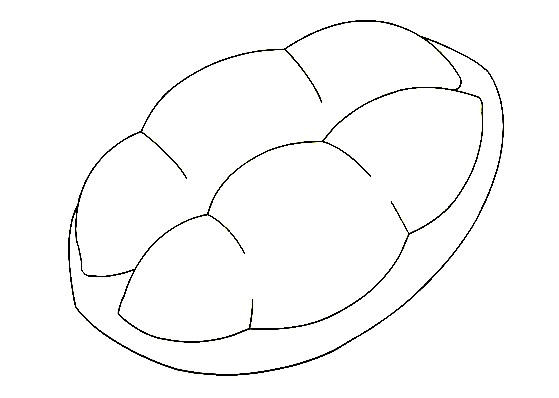 Your task in this guide on how to draw a durian is very simple; you add some curved lines on the segment. It's so simple, you can add two curved lines for each segment to create a segment for the durian segment, and your durian drawing will be more realistic.
It's great that you have already gone through more than half of the entire task for your durian drawing; you will continue your task in the fifth step.
Step 5 – Draw The Durian Spikes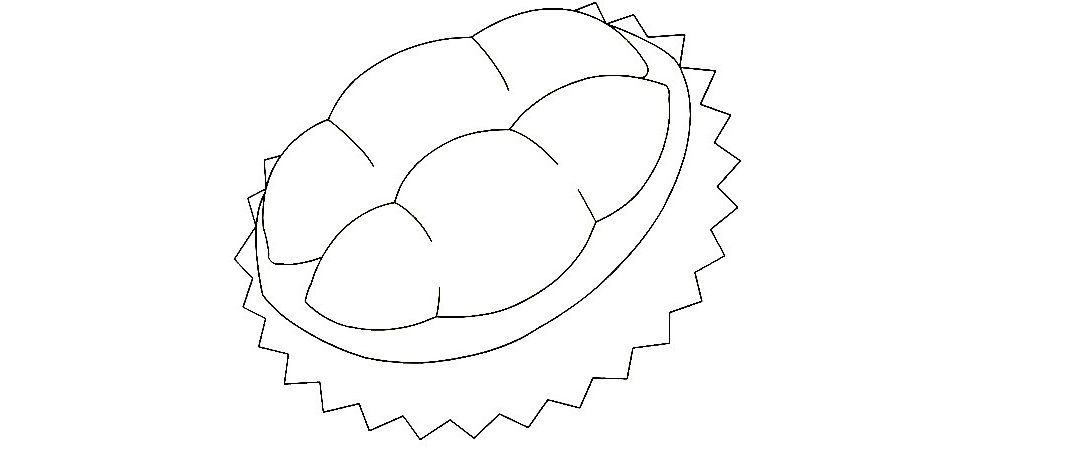 Durian always has sharp thorns around it, so drawing a complete durian will not be without these thorns.
To draw the spikes for your durian drawing, you will create some V shapes at the bottom of the lower curved line.
It is not complex for you in this step; you can draw the, will draw v shapes that are almost equal and follow each other to form thorns for durian. Once you are happy with those spikes, you can move to the sixth step to continue your task for the durian drawing.
Step 6 – Finish Off Your Drawing Mission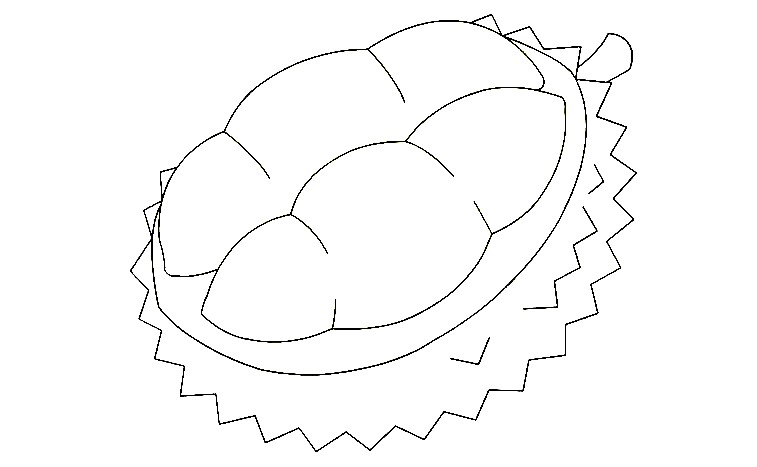 In this sixth step for the durian drawing, you will finish all the drawings for the durian. You will add more detail to the spike of the durian and then will draw the stem for the durian.
It's also simple for you, and it only takes you a few minutes to complete the task in this step. You can add some v shapes to make the spikes, and then you use the straight to make a small stalk for your durian. You have the last step for coloring durian now.
Step 7 – Color Your Durian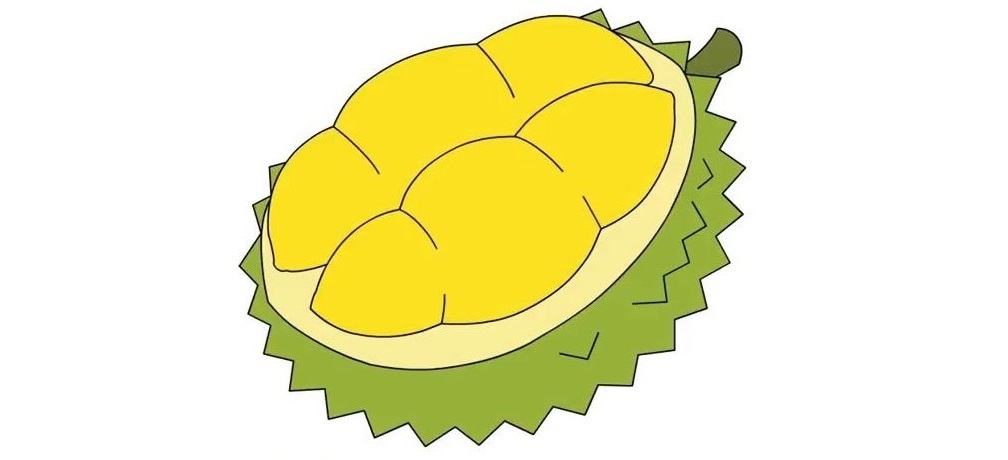 Right now, you choose the suitable colors for your durian drawing. Choosing color is a free step, so you can choose the color according to the preferences you can; however, for the most natural drawing, you should choose the inherent color your drawing has.
You should use yellow for segments and green for the durian shape and its stem. You have a complete durian with full parts by your skill right now
Your Durian Drawing Is Compete
So, you finish your drawing and coloring mission on how to draw a durian with our seven steps. Usually, our tutorial takes about 25 minutes to do. Do you spend this time, or do you spend more than 25 minutes? Our guide for durian drawing is suitable for everyone, from children to adults; if you are a parent, you can give this tutorial to your kids; they will learn to draw and color. More, they can avoid using some technical devices such as television, smartphones, and tablets. They are not good for their eyes and evolution. You can check out our "How to Draw" catalog to explore more free drawing tutorials like this one as How To Draw The Apricots. Which fruits would you like to learn how to draw next? We update many how-to-draw and to color pages for free on our website Coloringcool.com. The benefits of learning to draw and color are many, so whoever you are or what you do, it's a good idea to set aside some time in your day for this leisure activity. You will feel much more comfortable, and you will be more productive at work if you create your work and leisure time accordingly. And children, too, will learn better if you give them the right entertainment channel. Have fun with this durian drawing!