Dragonfly Drawing Is Complete In 6 Easy Steps
Creating Dragonfly Drawing in 6 simple steps
Dragonfly Drawing is made by you with our guide. Dragonflies appeared around 300 million years ago; dragonflies were one of the first insects to inhabit this planet. They've had a long time to perfect the art of flying, hunting, and just being amazing. Here are a few facts that may change how you look at these unique, ancient, and incredibly varied insects. Think "stealth fighter jet" when it comes to a dragonfly's ability to nab prey in flight quickly, effectively, and intelligently. Because dragonflies have a very fast flight speed, they can even fly high. Today, in this article, you will learn how to draw a dragonfly with six-step. You will follow our instructions and observe our image and make.
How to Draw A Dragonfly – Let's Get Started!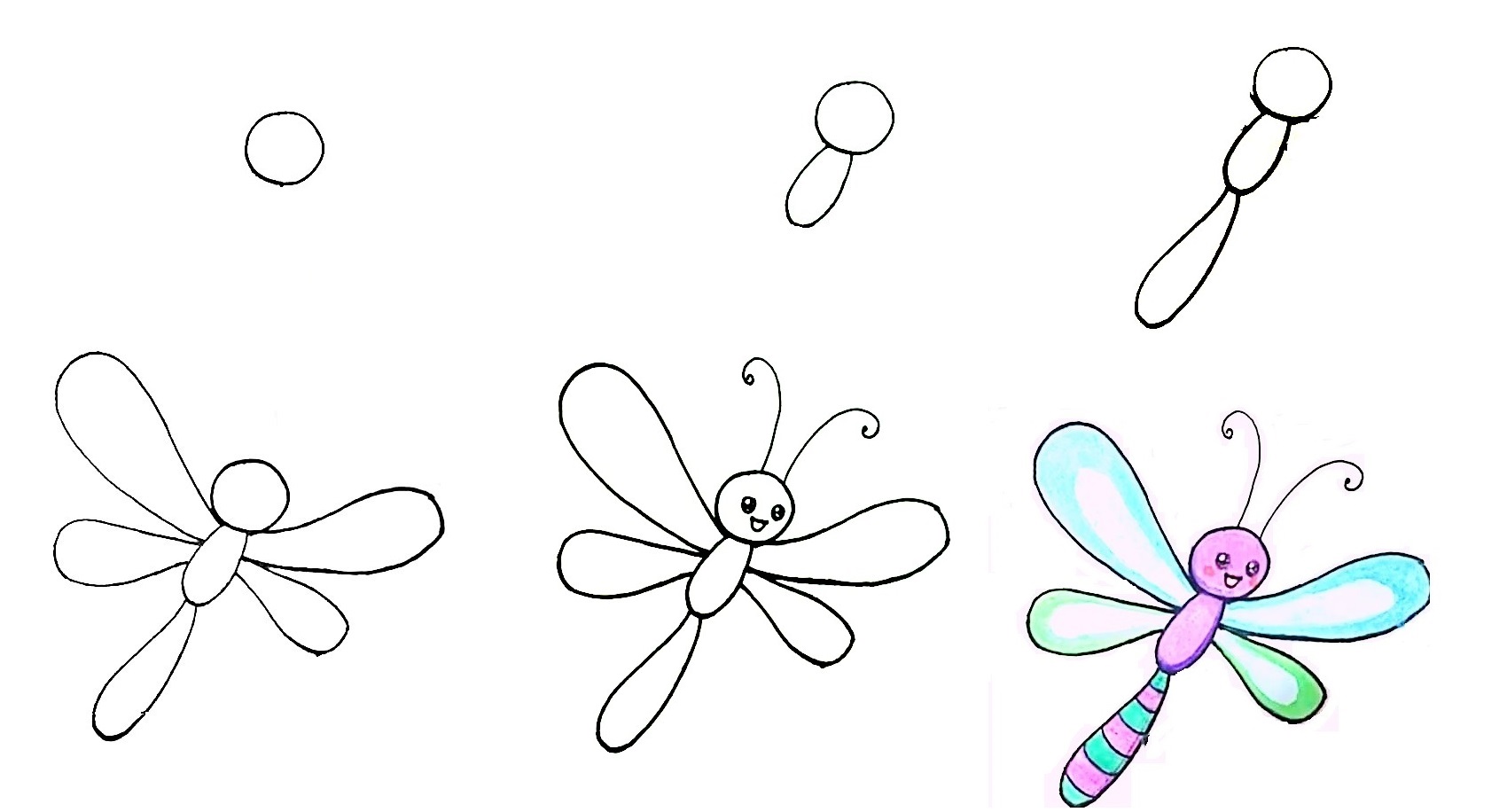 If you look closely at the dragonfly, you will see that it has a lot of details, the eyes have 2 long antennae on the head, and the wings have small dots on the wings to create special features for the wings. Their tail is also very special; there are unique and fancy segments on the tail.
Step 1 – Draw Dragonfly's Head

You will draw the head outline for the dragonfly in this step. Very simple to realize in this step, you just draw a circle for the head outline.
Step 2- Draw Dragonfly"s Thorax

When you finish off drawing the dragonfly's head, below the circle, you draw a small oval. This forms the dragonfly's thorax. Not difficult to do your mission in step. You will draw only an oval here. Please finish your task and go to step 3.
Step 3 – Draw Dragonfly's Tail

Below the oval, you draw a larger, longer oval with a slightly pointed end to create the dragonfly's tail. Then, we will be adding some thick, angled lines dropping down from the body for the six legs of the dragonfly. That's all you need to do for this part, so when you're ready, we shall proceed to step 4 of the guide.
Step 4 – Draw The Wings For Dragonfly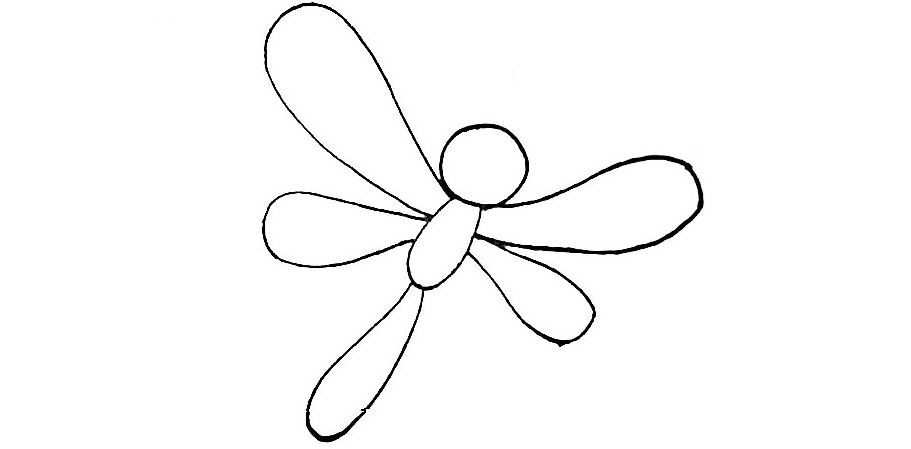 You know that Dragonflies are very good at zipping around through the air, and they're able to do this thanks to their four wings. Now, you will start drawing the wings for dragonfly. Extend a long, curved line from the top of the chest. The curve returns to itself until it touches the bottom of the chest, completely enclosing the wings. Dragonfly wings are very thin and have many small details, and you need to show that in your work. You will have to use closed curves for the wings then you will decorate the dragonfly's wings beautifully by drawing different dots on the wings. Repeat this process on the opposite side to form the second wing. Again, using a long, curved line, connect at both ends to the chest. You will continue to draw the lower wing. Again, you'll extend a long, curved line from the chest, allowing it to duplicate itself back to enclose the shape. Draw the final of four dragonfly wings. Extend a long, curved line from the chest and allow it to duplicate itself back to enclose the shape.
Step 5 – Finis Off Your Drawing Task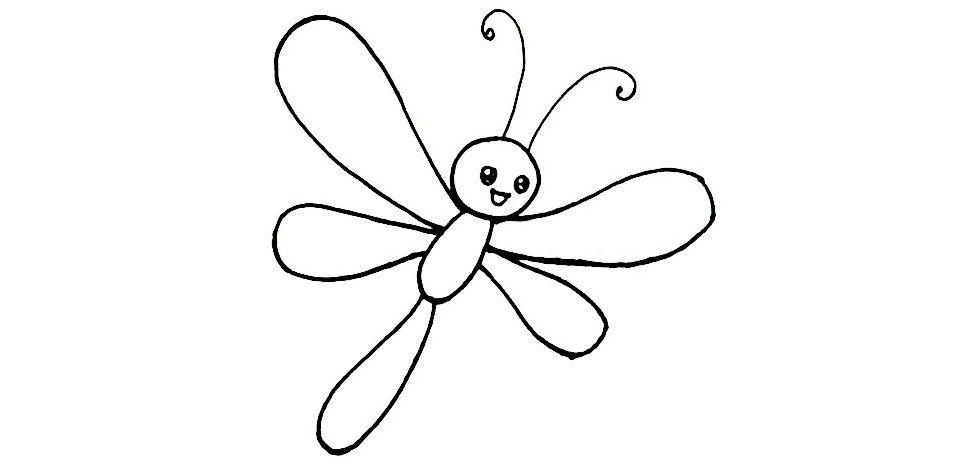 Draw the dragonfly's eyes, nose, and mouth. To do that, you draw two circles forming the eyes and draw 1 small triangle forming the mouth of the dragonfly, using a short curved line for each. Finally, you draw 2 long antennae for dragonfly. At this step is not easy but not too difficult for you; you need to observe carefully and follow our instructions; if you make a mistake, don't worry, you will erase and redraw because you draw completely with a pencil and then color the dragonfly.
Step 6 – Color Dragonfly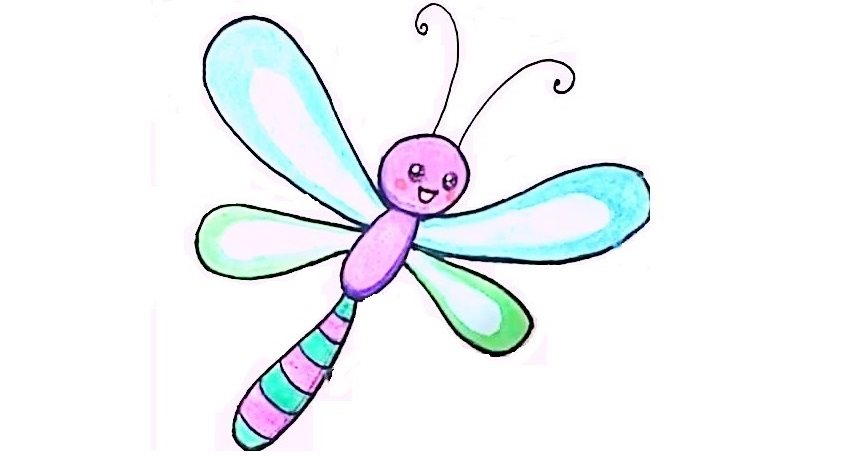 Now, you must choose the suitable colors for Dragonfly. Very simple in this step because you can choose colors as your hobby. Here, we choose light colors for dragonflies, and you can choose any colors that you like. I hope that you can get a fun time here.
Your Dragonfly Drawing Is Complete!
You can go to Dragonfly Coloring Pages on our site to practice drawing and coloring because we have many Dragonfly Coloring Pages for you.